Original URL: https://www.theregister.co.uk/2013/01/11/review_lenovo_ideapad_yoga_13_windows_8_convertible_ultrabook/
Review: Lenovo IdeaPad Yoga 13 Windows 8 convertible Ultrabook
A meditation on the portable PC
Posted in Personal Tech, 11th January 2013 12:00 GMT
To be fair to Lenovo, reviewing the IdeaPad Yoga shouldn't really be all about Windows 8. After all, this touchscreen Ultrabook – that bends over backwards to become a fully fledged tablet – is a well crafted piece of hardware with engineering merits of its own. So what, if it runs Windows 8? So do a lot of PCs these days. The fact is, if Windows 8 didn't exist, the IdeaPad Yoga 13 and a whole host of touch and type 'convertible' laptops wouldn't need to exist either. Windows 7 seemed to do the job quite nicely, after all.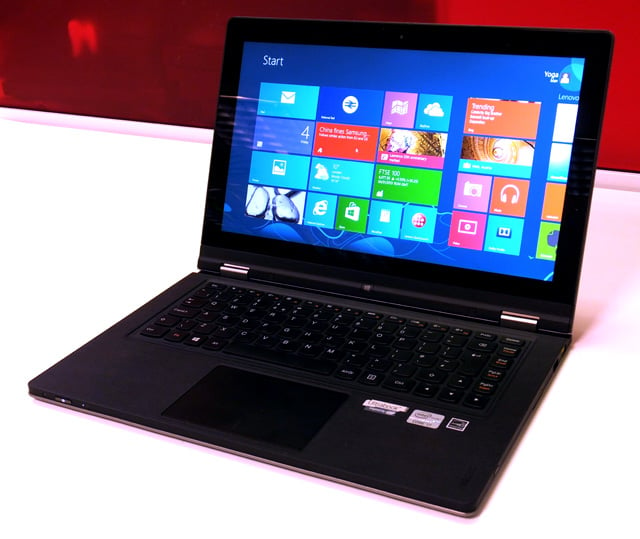 Convertible season: Lenovo's IdeaPad Yoga 13 Ultrabook
Luckily, I'm past the toe-curling hatred of Microsoft's new OS. A bit of familiarity helped, obviously, but so did using the Yoga IdeaPad 13, which made it easier to understand the mindset. Up till then, I'd been using Windows 8 on a desktop machine that lacked any touchscreen features. I was struggling, cursing and complaining to anyone who would listen and it seems I was not a lone voice here.
In short, and if you didn't know it already, Windows 8 without a touchscreen is tedious. The good news is, running Microsoft's new baby on purpose-built hardware isn't all that bad. Lenovo offers a choice of Intel Core i3, i5 and i7 CPUs with the IdeaPad Yoga 13 and I've the 1.9GHz Core i7-3517U model with 4GB RAM here. Its smaller 11in Windows RT companion, the Yoga 11 is an ARM-based alternative and can perform the same bendy tricks but has limited software options.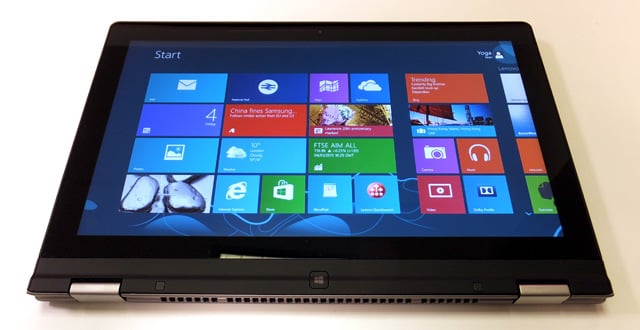 Note the Windows button that toggles between apps and the Start screen
The thinking behind the Lenovo IdeaPad Yoga is to offer flexibility without complexity. Take a look at Dell's XPS 12 flip and spin affair or Sony's Vaio Duo deckchair and you have oddly constructed contraptions designed to position the screen on top of the keyboard and give the impression of a tablet. Lenovo does have the ThinkPad Twist to bring to the party but its approach with the IdeaPad Yoga 13 is refreshing for its elegance and simplicity.
With the Yoga, you can still have a tablet, but the back of it will be the keyboard, which is inactive in this fold over configuration and a virtual on-screen alternative is available. Whether that exposure becomes a problem remains to be seen, but Lenovo has form when it comes to making keyboards that can survive daily hazards, although the AccuType keys here aren't the spill resistant sort found on the company's ThinkPad laptops.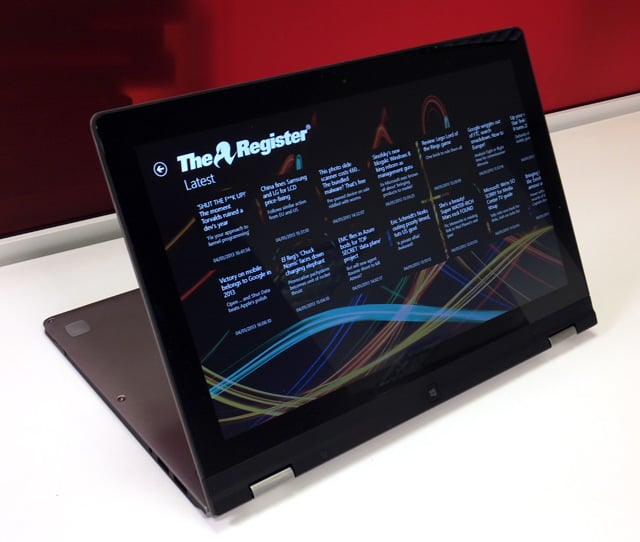 The El Reg Windows 8 app in the Yoga's Stand position
At 17mm thick, the IdeaPad Yoga 13 is certainly slim but lacks any major MacBook Air-style body tapering to make it appear skinnier still. Its robust metallic shell has a classy sheen and lends a hardback book appearance to the recessed black rubberised edges. Due to the screen's gymnastics, you can't open it with one hand while it sits on a desk. The hinges are too stiff and so prising it apart is a two-handed affair revealing a black keyboard and a "leather feel" palm rest surface. It looks pretty good as it doesn't seem to suffer from oily fingerprints and avoids an icy chill of metal or the sweaty slip of plastic.
The keyboard layout is a little cramped and was the main complaint of most that tried it. You can adjust with a little practice but I was forever typing into the line above as I mistakenly hit the Up arrow key instead of the right side shift key. That said, the action is quite superb and the centred trackpad is a boon for us left handers, as I repeatedly perform right clicks unintentionally with offset trackpads. I can forgive the slightly skewed spacebar here, as there's enough of it to find easily.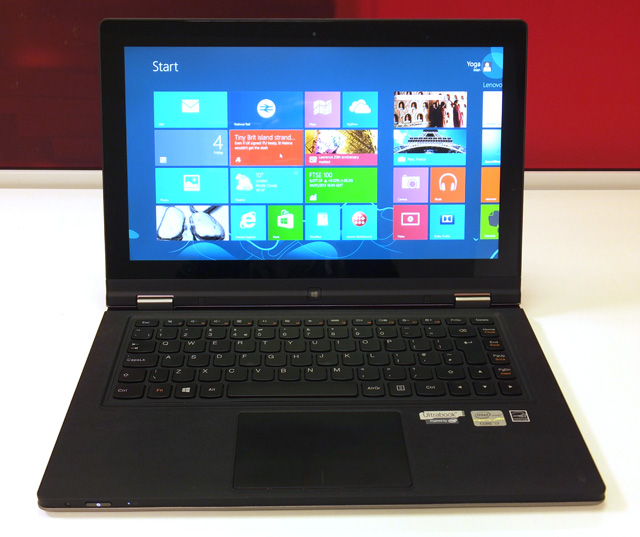 For tablet use various controls adorn the edges with the power button on the front edge
The 10 x 7cm trackpad utilises a Synaptics ClickPad control panel that enables a variety of gestures from pinch-to-zoom to two finger right clicking and scrolling. Rather than having to reach for the touchscreen, you'll find swipes from different edges will perform typical Metro tasks, so you can toggle between the two most recently used applications; open the Charms bar and reveal/hide the Applications bar. The front edge of the trackpad is reserved for the usual left/right click functions.
Out to launch
The only significant disappointment in the keyboard department is that it's not backlit. That said, if you really were having difficulty seeing it, there is always the touchscreen typing option. While the keys can remain fairly clean, the same can't be said of the 1600 x 900 resolution 13.3in IPS touchscreen.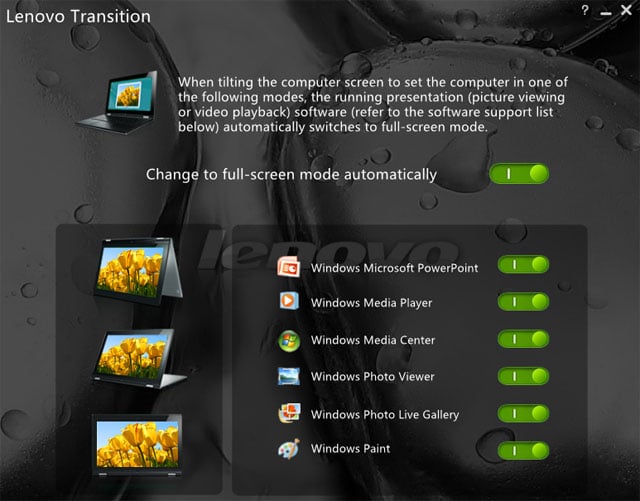 Lenovo's Transition utility
Admittedly, the Yoga 13 did the rounds of twentysomething nephews during the festivities and suffered some serious foodie fingering. The evidence has been hard to shift, as the grease just seems to smear from one corner of the screen to the next. As I type on it now, the grubby black margins of the display give a shoddy demeanour to an otherwise clean machine. It's like this snappy dresser ends up wearing an unironed shirt. Such is the lot of the touchscreen laptop user or 'convertible' I should say. The screen itself is bright, crisp albeit a bit on the shiny side, sticky mits notwithstanding.
Here in traditional desktop mode, the Windows 8 quirks are at their least intrusive although the missing Start bar appeared to have a reprieve of sorts, courtesy of Lenovo's QuickLaunch. It looks like a great idea when you read about it in the Lenovo Companion app that tells you all about the various features available for 'Those who DO...' And yet those who do on an IdeaPad, have to do without QuickLaunch by the looks of things.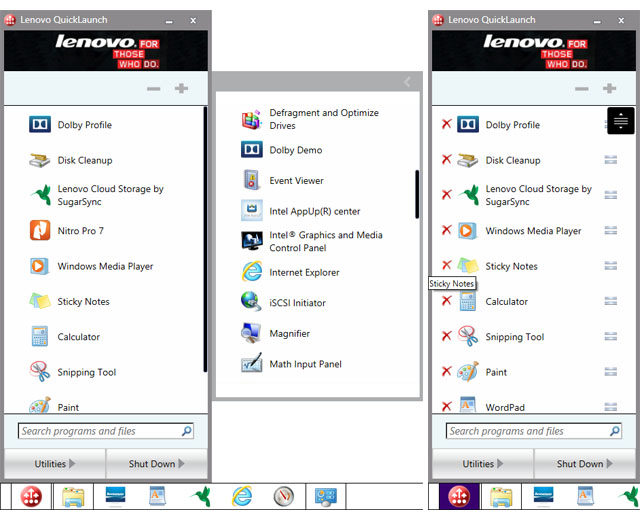 QuickLaunch set-ups: add to the menu (left columns) or remove from the menu (right column)
It's not installed even though the Lenovo Innovation apps video says it is and it doesn't appear in the Store either. After a bit of nosing around, I found a download for ThinkPad, ThinkCentre and ThinkStation, but not IdeaPad. Still, I ran it and it works. If you miss the Start bar, QuickLaunch will offer some welcome relief. Another alternative is to populate the Task bar by pinning apps to it when viewing All Apps in Metro mode, but it's all a bit of a faff really.
Also missing from the Store is Dropbox. Of course, you can instal a desktop version, but it's not the pretty way now is it? An alternative is Lenovo Cloud by SugarSync – a Win8 app that provides 5GB of storage for free enabling folder syncing and access to documents online and from other devices, including mobiles. Setting up worked quickly and easily, stacking up the screen grabs and this very article, among other things, on the cloud.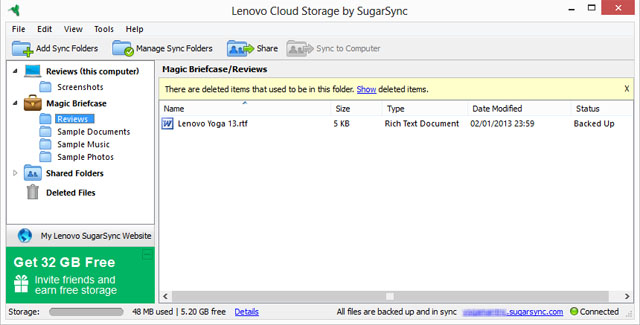 Lenovo's Cloud Storage offering is delivered by SugarSync
There's a revised beta version too, if you're feeling brave. I checked out the mobile sync on an iPhone, as the only Windows Mobile support dates back to version 5 or 6. As you're on Windows 8, you might want to give Skydrive a try anyway, which offers 7GB of storage and sync on most mobile platforms.
All this talk of storage reminds me that, besides the lack of optical drive, there's no Ethernet port on this convertible to access the precious cloud, just 2.4GHz 802.11n Wi-Fi. Unlike Samsung's Series 9, you'll find there's no Ethernet adapter in the box so you'll be looking at a cost of around £30 if you want one that supports USB 3.0 and Gigabit Ethernet speeds. If you need it, Bluetooth 4 is on-board too. Back in the wired world, there are two USB ports – the one next to the power port is USB 2.0, while USB 3.0 sits next to the mini HDMI interface. A media card slot – blanked off with a plastic insert – is also included.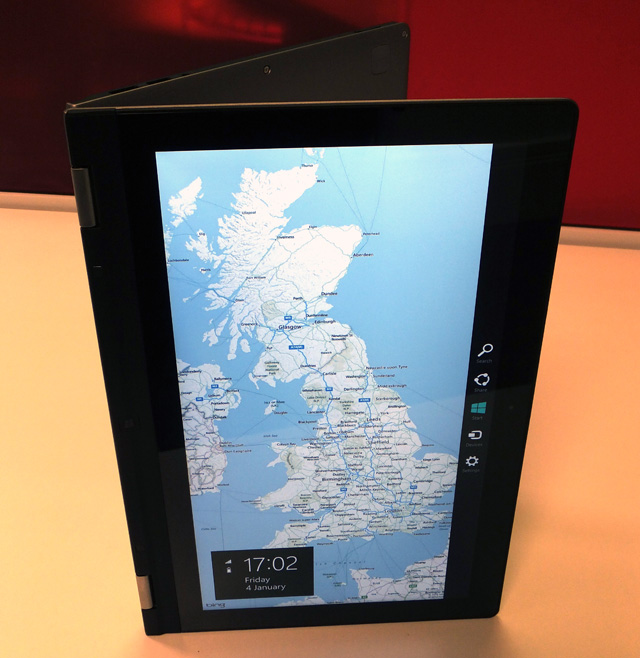 Reorientation isn't always instant, but it gets there soon enough
Lenovo indulges its tablet mode state by positioning various buttons along the edges. There's a volume rocker, an orientation lock and the power switch is positioned along the front edge, which had me fooled for a second when hunting around the keyboard to fire it up. Alongside it is the recessed Novo button which initiates a system restore (OneKey Recovery) and access to the boot menu options which enabled me to run a Ubuntu 12.10 live CD.
A touch of Ubuntu
Interestingly, the Ubuntu side of things worked with the touchscreen and disengaged the keyboard when folded up in tablet mode. The trackpad did remain active but unfortunately, no virtual keyboard appeared for typing when used like this – perhaps there's a workaround, but it wasn't obvious. The biggest disappointment was that Ubuntu didn't recognise the Wi-Fi hardware and, having no Ethernet either, hampered the usefulness of a Linux Yoga instal.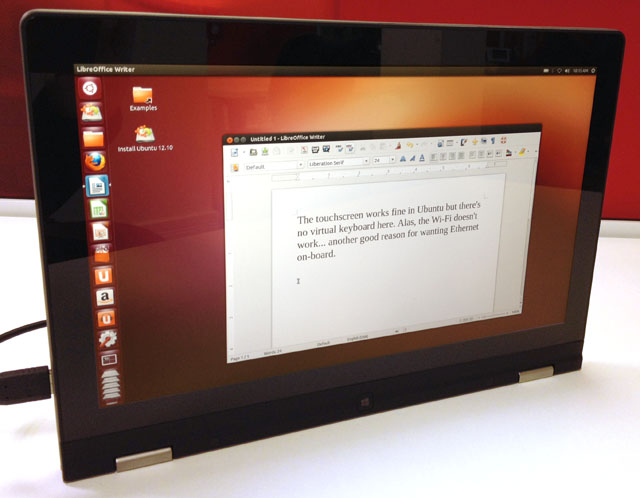 Ubuntu on the Yoga
Following on from intense customisation and quirky installations from kith and kin, I gave the OneKey Recovery a whirl and it was all done in less than 15mins – 6mins for the first copy phase and another 7mins for the remaining installation from a reboot. No doubt the Samsung 128GB SSD helps here but it's a pity it's not bigger though, as there's less than 65GB free out of the box. It's plenty for a tablet, but having half your storage allocation devoted to a default set-up and recovery partition, is less than ideal. I can see that SD card slot coming in handy here.
Incidentally, the start up time from cold is pretty darned swift. In 7secs and you're at the login screen so you can be up and running within 15secs if you're quick with the swipe and type. The Core i7 Ivy Bridge CPU is no slouch, although all the GPU tasks are handled by the integrated Intel HD Graphics 4000. Tests with PCMark 7 notched up a respectable score of 4131 and if you're curious about battery life, it's a shade under 6hrs with casual use, with the more gruelling PowerMark test clocking up a rating of 2hrs 45mins.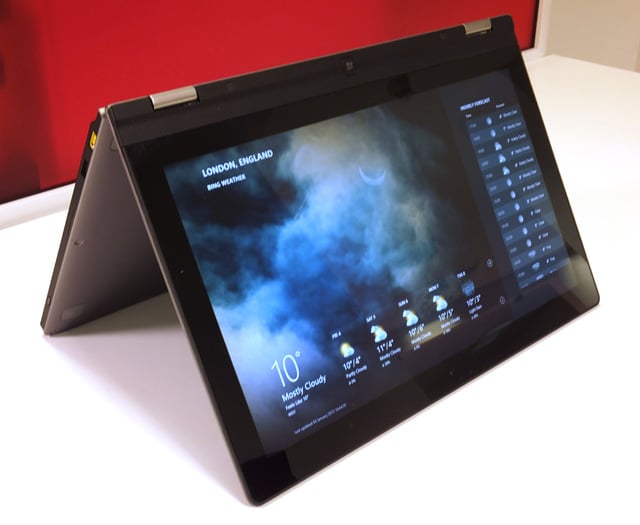 Tent mode is an attractive position for viewing, even on your lap
Now all the bendy modes of the Yoga are intended to suit different scenarios. Tent mode or Adho Mukha Svanasana (that's downward dog for the rest of you) works well for presentation and is quite good for reading too. Although the speakers – they play through the keyboard – won't get such an airing. You can lie the keyboard flat in Stand mode (Bhujangasana or cobra pose) too, which is supposed to be best for movies. I guess it might soften the audio output which, even running Dolby Home Theatre 4, processing is rather harsh and gutless.
I tweaked the Dolby Profile settings for ages here but the speakers just don't have the low end frequency response to warm things up no matter what Dolby's graphic and intelligent equalisers can deliver. The surround virtualiser spatial treatments were effective though, but can sacrifice what little bottom end there is, if overdone.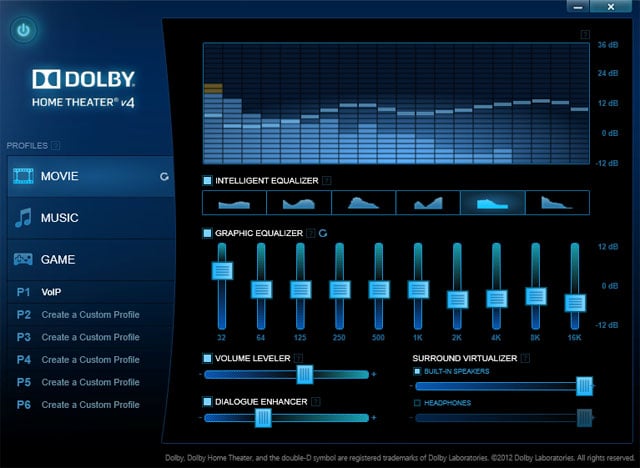 Whatever the Dolby software produces in terms of bass, the Yoga speakers are no match for it
One of the more bizarre aspects of Windows 8 showed itself during the movie and audio tests. If you use the Metro Movie app, then you can't make any adjustments with the Dolby control panel. As soon as you swap over from the Movie app playing in Metro to the Dolby app showing on the Desktop, playback ceases. The workaround is to use Windows Media Player instead if you want to perform both tasks, which you would really. Visually though, movies look fine on the screen, with good viewing angles and the positioning options are helpful in cramped conditions.
When used as a tablet, you're going to notice the 1.54kg of the Lenovo IdeaPad 13. If you're slobbing about at home, this isn't going to be too troublesome, but it can seem unwieldy when whisked out on a train carriage or even casual browsing at a desk. Unless you're engrossed in one of the art or instrument apps and have it flat on your lap, you're more likely to use its touchscreen features when propped up in one of its asanas.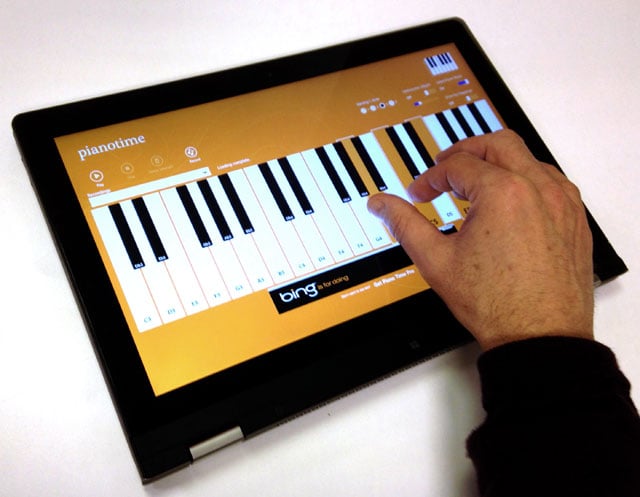 The entertainer: versatile, swift to start and enjoyable to use for casual tasks, but could do with a bigger SSD
The Reg Verdict
While I didn't expect to become a Windows 8 convert, I'm certainly less of a sceptic and I'll admit I enjoyed using the Lenovo IdeaPad Yoga 13, but I'm not convinced working on it is going to be plain sailing. Without hardware like this, Microsoft's big idea seems utterly confusing, but here it all fits rather nice and simply. To say it makes perfect sense would be pushing it, but with additions like Lenovo's QuickLaunch, migration is less irksome and quite a relief if you need to upgrade.
As an Ultrabook it's a fast starter, slim and has a screen resolution that will suit most bemoaning the limitations of 1366 x 768-pixels. Yet, like all x86 touchscreen convertibles, it could do with a couple hours more on battery life. It seems a bit pricey too, but to use Windows 8 effectively a touchscreen is a must and that has to be paid for. Niggles aside, Lenovo's IdeaPad Yoga 13 certainly has plenty of appeal for those looking to buy a convertible Ultrabook, just how practical it is as a tablet with those exposed keys, remains to be seen. ®