Original URL: https://www.theregister.co.uk/2013/01/10/review_hp_envy_x2/
Review: HP ENVY x2 Windows 8 convertible
Display unclips to work as a tablet
Posted in Personal Tech, 10th January 2013 14:11 GMT
The flourishing market for tablet computers has left people wanting more. Those using tablets at work invariably end up buying a keyboard and regularly curse the limitations of a mobile operating system. Those using a Windows laptop at work often wish they could occasionally dispense with the keyboard for convenient touchscreen, hand-held use.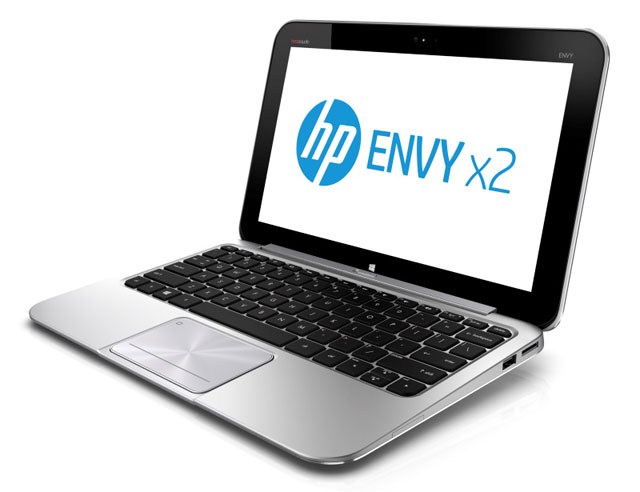 Best of both worlds? HP's Envy x2
So after an autumn of tantalising prototypes, Windows 8 laptops with detachable tablet displays are finally arriving on the shelves. HP's ENVY x2 is one of the first.
Initially, the ENVY x2 looks like no more than a ruggedised, compact Ultrabook. That rugged feel is achieved by its strong but lightweight alloy casing, smooth edges and wide-radius curved corners. It is comfortable to carry in your hands, while the curvy design allows it to slip into a briefcase, messenger bag or backpack very neatly.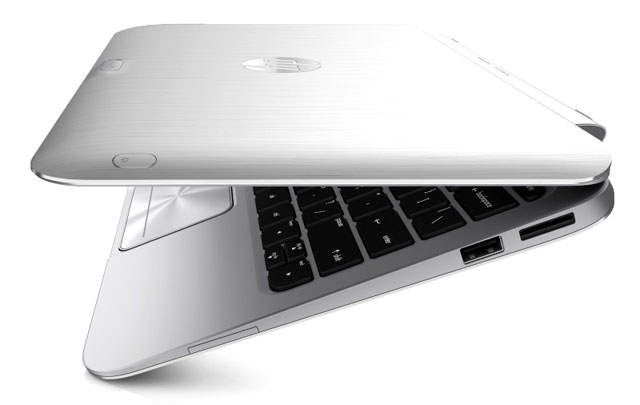 The keyboard base features most of the connectivity
Prise open the clamshell, press and hold the power button behind the display until it vibrates, and Windows 8 boots up in less than 30 seconds. Waking from Sleep mode is virtually instantaneous: try as I might, the split-second wake-up speed proved too fast to measure properly with a stopwatch.
The compact size of the unit, at roughly 30 x 20 cm, is determined by the 11.6in (29.5cm) diagonal display, surrounded by a wide 2cm bezel on all four edges. Despite its size, the display presents a conventional Ultrabook resolution of 1366 x 768 pixels, and its LED-backlit IPS technology supports very generous viewing angles.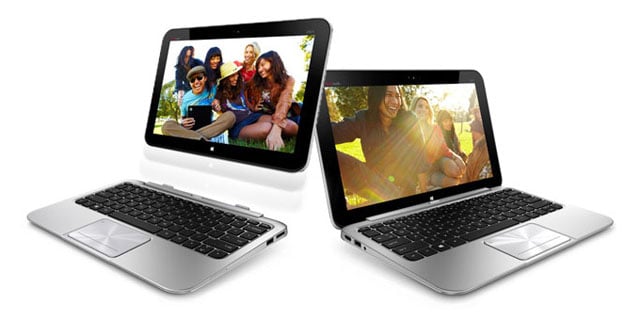 Good enough for typing and plenty of screen for tapping
The ENVY x2's base provides a compact but acceptably comfortable 80-key keyboard with an Fn key that doubles up the tiny Function keys to let you adjust screen brightness, audio volume and media playback. My only complaint would be that the cursor Up and Down keys are crammed too close together, and I frequently tapped the wrong one.
In front of the keyboard is a 9 x 5.5cm trackpad. The front edge is designated for left and right-click presses but the entire surface can be used for light-touch dragging and taps. HP assures me that the trackpad supports multitouch functions, and indeed there are Synaptics ClickPad drivers installed on the hard disk, but I could find no way of enabling or customising them.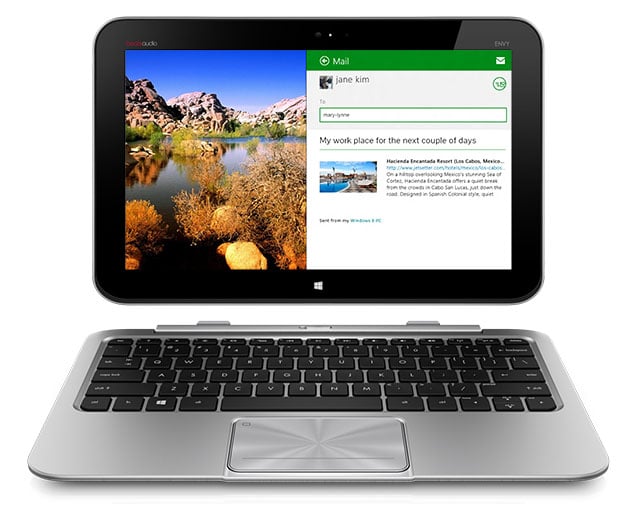 Touchscreen or trackpad? Whatever suits, as both are available when used as a laptop
Since the display itself is a touchscreen, you can use the trackpad and touchscreen in combination, which is particularly effective in Windows 8.
As might be expected of a compact Ultrabook, there is no optical drive and connectivity ports are limited. Both USB ports are USB 2.0 (one USB 3.0 would have been nice but, I suppose, this could have risked too much of a battery drain) and despite the inclusion of HDMI and an SD Card slot, there is no VGA port nor any Ethernet port. Given the typical use for this type of Ultrabook, however, the ENVY x2 provides all you probably need.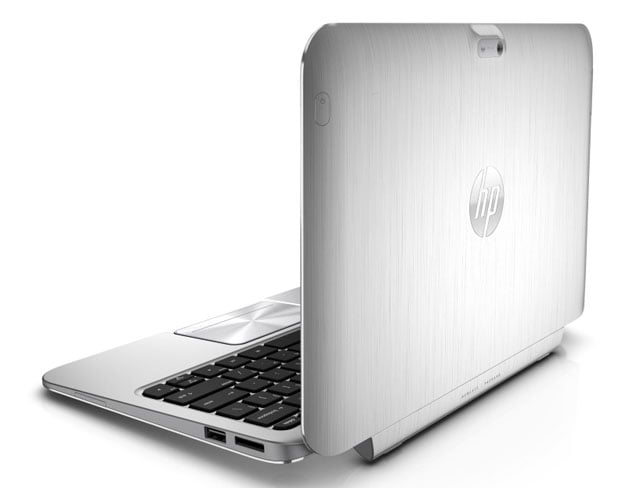 Netbook evolution: the latest generation dual-core Intel Atom CPU powers the Envy x2
The real ENVY x2 magic reveals itself by sliding a single catch on the clamshell hinge to release the display for use as a standalone tablet. Releasing and re-attaching the display can be done 'hot' without causing so much as a blip: there is no need to power down the computer. The sliding catch is a little stiff but the display slips off and clips back on easily enough, and the pair of wide pegs supporting the display on the hinge add to the overall feeling of ruggedness. At no time did I ever feel anything might stress or snap. The ENVY x2 is no delicate flower: it feels as tough as boots and built to last.
HDMI on-board, but only USB 2.0 interfacing
Used on its own as a Windows 8 tablet, the display is surprisingly satisfying to work with. As Windows 8 detractors are keen to point out, on a hand-held device the operating system really comes into its own. At around 0.7kg, it's hardly the lightest tablet you'll ever use (even Apple's hefty Retina iPads are lighter) but the weight is balanced and the wide bezel ensures it is comfortable to hold. The Windows logo on the bottom bezel also acts as a 'home' button, returning you to the Start screen, which is a helpful touch.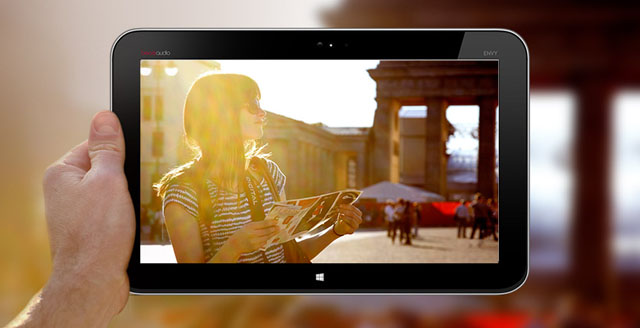 Tablet snapping when needs must
Although separating from the keyboard leaves the port connections behind, the tablet brings everything else with it: SSD hard drive, stereo speakers, front and back cameras and built-in mic, while it comes with its own audio combo socket and microSD Card slot. Mobile music lovers will be pleased to hear that the ENVY x2 utilises Beats Audio™ technology to boost audio performance. Both cameras support HD video and the rear-facing camera can take single-frame shots at up to 8Mp; usefully, the system allows you to customise still and video resolutions before shooting rather than inflicting the storage-wasting, humungous-size-fits-all approach of other tablets.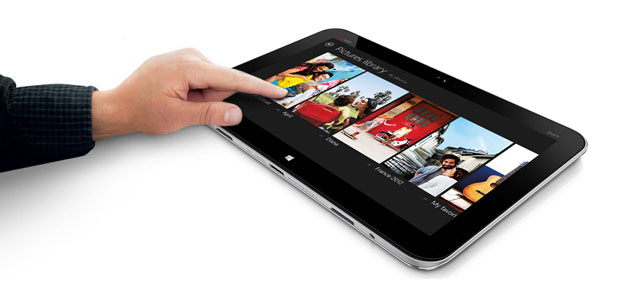 Note the latching slots in the base
Battery life in the tablet could not be benchmarked but I was happily using the device all day without worry. When the battery began running low, I simply re-attached it to the keyboard base - which contains its own battery - and continued working. As long as the tablet and keyboard are connected, recharging the unit will recharge both batteries. Unfortunately, it does not seem possible to recharge the tablet on its own.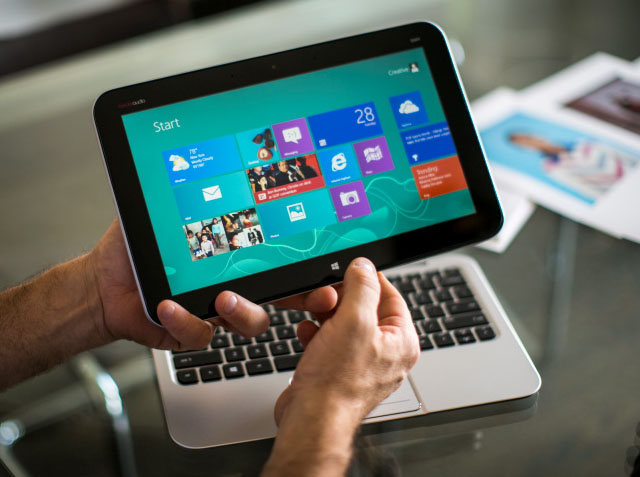 Convertible computing is the best way to experience Windows 8
Verdict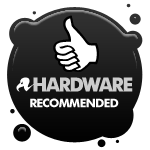 The single most important caveat with the HP ENVY x2 is that its specification is extremely lean: as tested, the device achieves only average benchmark performance and is fitted with just 2GB of RAM and 64GB of storage (with up to 24GB of this being partitioned for system recovery). From a pure Ultrabook perspective, this seems very limited indeed. But viewed as a tablet computer - powered with a dual-core 1.8GHz Intel Atom processor and boosted by a high-quality detachable keyboard with trackpad and connectivity ports, not to mention double battery packs... oh, and it runs Windows 8 - the ENVY x2 is extraordinary.