Original URL: https://www.theregister.co.uk/2013/01/09/review_vodafone_smart_tab_2_3g_android_tablet/
Review: Vodafone Smart Tab II 7 budget 3G tablet
Mobile broadband capability at a lower price than the Nexus 7 - surely not?
Posted in Personal Tech, 9th January 2013 12:00 GMT
Tablets with 3G connectivity continue to command what I think is an unreasonable premium over their Wi-Fi only siblings. Granted, the 3G Google Nexus 7 is only 40 quid more than the equivalent Wi-Fi model but you can't have 3G at all with the cheaper, 16GB tablet. The 3G iPad Mini, meanwhile, carries a £100 mark-up.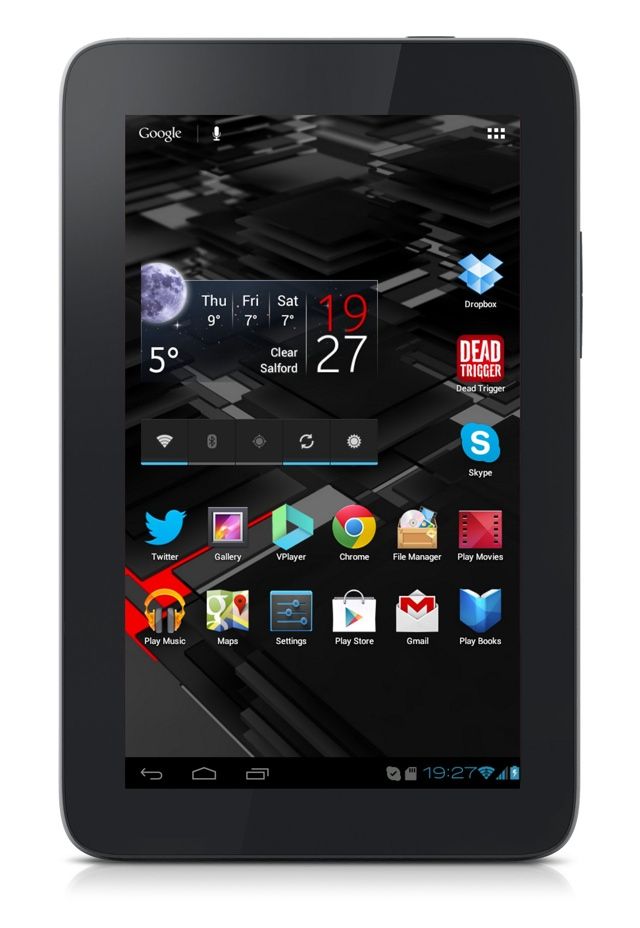 Vodafone's Smart Tab II7: Android tablet with 3G and a £149 price tag, anyone?
To plug the gap, Vodafone is pitching the Smart Tab II7, a 7in Android tablet cobbled together by Lenovo from its parts bin and offered to you by the cellco for just £149. Heaven knows, the £159 16GB Nexus 7 is inexpensive, but can Vodafone really expect us to believe it can offer a 3G-enabled slate for an even lower price?
Physically, the Tab II7 is the same size (192 x 122 x 12mm) and weight (400g) as an Acer Iconia A110, but sports the rounded profile of the Nexus 7. It's a comfortable device to hold, though the dimpled back that it shares with the Nexus 7 is actually firmer to the touch and so less tactile.
The only Vodafone branding present on the device is a commendably restrained logo on the back. Round the the back too you will find a 2Mp camera and a panel that slides off to reveal slots for a Micro SD card and a standard-size SIM.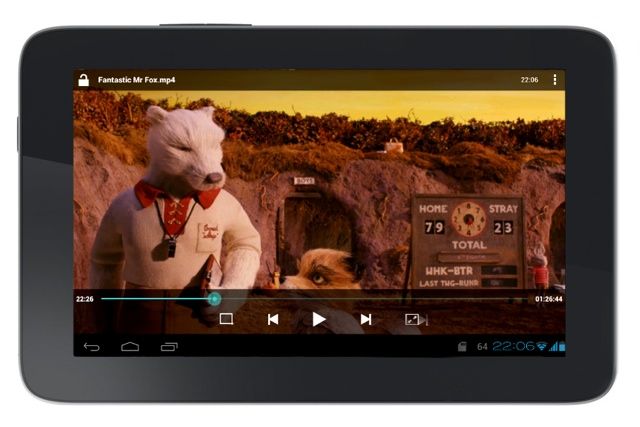 Will play 720p HD video, even if it's SoC is nothing special
The top edge is home to 3.5mm analog audio and micro USB ports, along with the on/off button. There's a volume rocker on the right side. Apart from the 0.3Mp webcam, the front of the device is wholly unadorned.
The screen is a 600 x 1024 vanilla LCD affair which has a pixel density of 170ppi. It performs much like the one built into the aforementioned A110. It looks fine until you put it alongside the Nexus 7's 800 x 1280 IPS LCD display - let alone the Barnes & Noble Nook HD's 900 x 1440 - where it suffers badly by comparison.
Running the show is a MediaTek MT6575, a smartphone-oriented system-on-a-chip comprising a 1GHz single-core chip which has 1GB of RAM to play with. It's not a combination to worry Nvidia Tegra 3-based devices like the Acer or the Nexus, but it does a decent enough job and keeps the UI moving along smoothly.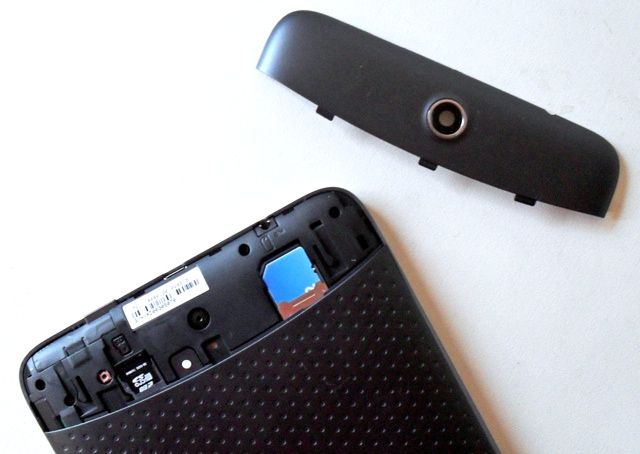 Flip of a bit of the back to get to the SIM and Micro SD slots
Interestingly, the MT6575 platform supports two Sim cards, according to MediaTek. Short of pulling it apart to see if there's a second slot lurking within, I have to say it's not a feature Vodafone - or rather Lenovo - has made use of.
The AnTuTu benchmark app returned an unimpressive score of 3799 though one that's more than reasonable for a device with only one processor core, operating at 1GHz. The Sunspider browser test came in at a surprisingly speedy 2132 using Chrome.
In the real world, the Tab II7 will happily play games like Dead Trigger and 720p video, though you will need a good third-party video player such as VPlayer for the latter. Be warned though it struggled to cleanly stream video from Google's own Play Movies store.
AnTuTu benchmark results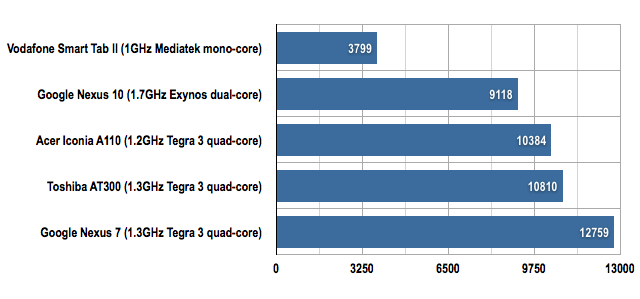 Longer bars are, as they so appositely say, better
Last year's tablet, today's price
Where things start to go more pear shaped is with the storage layout. The 4GB limit is not the problem, rather the way it's divided. So, 1.86GB is available for files but only 503MB is free for apps. The balance is taken up by the operating system, in this case stock Android 4.0.4 Ice Cream Sandwich.
That's an annoyingly old school way of doing things. If all the 2.4GB was free for apps life would be much simpler. Yes, you can move apps to the SD card, but in this day and age you really shouldn't have to be doing this sort of thing.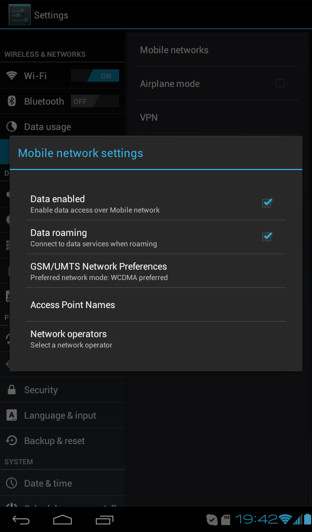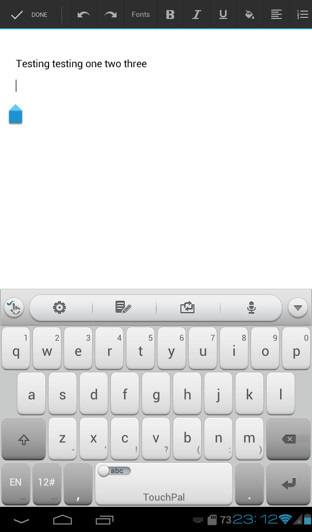 Mobile data (left) is the key feature of the Smart Tab II,
but it also comes with a nice TouchPad keyboard (right)
Another issue is that the Tab II7 lacks the usual Google synchronisation facility with Picasa. Granted, you can access your Picasa account through the Google+ app, but the Tab II7 still lacks a cornerstone piece of Android functionality.
Of course, ICS is now two rungs down the Android evolutionary ladder, and I rather doubt the Tab II7 will ever see Jelly Bean. This is a device you buy for what it is today, not what it may be tomorrow.
The Tab II7's strength is, of course, that cellular modem. Pop a standard SIM card in it and if all you want is an always-connected tablet to serve as an e-book reader, social network portal and communications device - it supports SMS though not voice calls - then the Tab II isn't a bad old Hector.
And don't forget, having cellular data means that Google Navigation can turn the Tab II7 into a fully functioning on-the-hoof aGPS satnav, a feature helped by the usefully loud mono speaker.
Handily, the Tab II7 ships without a network lock so if you don't like the cut of Vodafone's data tariff gib, you can swap to Three (generally faster) or Giffgaff (certainly cheaper). I tested my review device with both and it worked a treat in each case.
The settings menu has an idiot-proof list of options for new mobile broadband APNs and controls for 3G connectivity, including a data cut-off switch to prevent the device chewing through your allowance when you don't want it to. Switch to Wi-Fi at other times: the Smart Tab II7 has 802.11n, but only in the 2.4GHz band.
The Smart Tab II7's battery life is not at all bad. The built-in battery has a 3550mAh rating. When I looped a 720p HD video, the lights stayed on for five hours. That's well shy of what the Nexus 7 can manage but half an hour better than the Acer Aspire A110. Leaving the 3G radio on didn't seem to do much damage either, a full charge regularly getting me through three days' general use.
The Reg Verdict
In many ways the Tab II7 is last year's tech, but it is still perfectly capable of doing most of the things that most of us use our tablets for most of the time. And for under £150, you can't ask for much more. The key feature for me is that unlocked cellular modem, which makes the Tab II7 very attractive at the price. But a Nexus 7 is still your best bet if you're happy to pay just a little extra and you don't care about storage expansion or mobile broadband connectivity. ®