Original URL: https://www.theregister.co.uk/2013/01/07/schmidt_north_korea_arrival/
Google boss lands in North Korea for humanitarian mission
Mr. Schmidt (and team) goes to Pyongyang
Posted in Policy, 7th January 2013 23:02 GMT
Google chairman Eric Schmidt has landed in North Korea for a private visit to the Hermit Kingdom, and he's bringing an interesting entourage.
Schmidt is joining a private humanitarian visit with former New Mexico Governor Bill Richardson to discuss the future of Korean-American Kenneth Bae, who was arrested last month in the North Korean capital Pyongyang for "hostile acts."
"I know the State Department is a little nervous," Richardson told CBS News, "but we did postpone this trip already. Eric and I were going in December, and at the request of the State Department, we postponed it because of the South Korean presidential election. We're not representing the State Department, so they shouldn't be that nervous."
Schmidt is bringing along his daughter and Google Director of Ideas Jared Cohen, a former US State Department employee and Rhodes Scholar who's been collaborating with Schmidt on a study of the impact of internet connectivity on developing nations. Richardson is an old hand at dealing with the North Koreans, having made half a dozen trips out there, but Google's involvement is a new twist to the visit.
It comes after North Korean premier Kim Jong-un made surprise New Year's address in which he called for a new industrial revolution to move the country forward into the technological era. For a state that's barely in the 20th century in many respects, this is a tall order, but it seems that the world's youngest head of state is keen to modernize.
The North Koreans have engaged German industrial analysts and lawyers to develop a Vietnamese-style development model, where outside investment is allowed in certain specific areas. According to German newspaper Frankfurter Allgemeine Zeitung, the results of the consultation so far aren't good.
One economist's conclusion, that the Stalinist state has a "completely rotten manufacturing economy" with around 5 per cent of the productivity of its Southern counterpart, may help persuade Kim Jong-un of the need for change. Certainly based on the state's first computer game, it has a long, long way to go.
Meanwhile, the US State Department has criticized the trip as unhelpful, since tensions are high after the North Koreans sort-of successfully put a satellite into orbit last month. While the country did manage to get into orbit, the satellite is tumbling out of control – indicating that North Korean boffins haven't mastered the "what comes up must come down" principles of rocketry.
It's unlikely that Google's going to be getting any type of access to North Korea soon – only a few top families in the state have full access to the internet and the country is rated the worst in the world for online access. But Schmidt obviously feels it's worth the trip.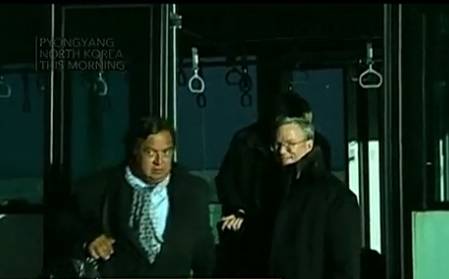 Mr Schmidt goes pleb class
The journey there must have been something of a trial for him however, considering the usually palatial style of Google management's air travel. The company negotiated a special deal with NASA to park its corporate jets at Moffett Field, and the craft themselves have private bedrooms and restaurant-quality dining.
Schmidt and his entourage must have been missing those perks somewhat as they de-bussed at Pyongyang airport from a commercial Air China flight. ®