Original URL: https://www.theregister.co.uk/2013/01/02/idc_system_infrastructure_forecast/
Firms 'coughed $39 BEEELLION' for system software in 2012
Steady OS sales, ramping virtualization and security revenues
Posted in Software, 2nd January 2013 19:06 GMT
The system infrastructure software racket is a steady business and a profit center for the IT industry, and according to projections from IDC, this space is on track to grow steadily over the next few years.
IDC just finished taking a snapshot of this hairball segment of the IT racket, examining the sales of 220 vendors across 26 different sub-segments, ranging from operating systems to systems and network management to virtualization and security tools. As 2012 came to a close, the box-counters at IDC reckoned that companies around the globe shelled out $39.2bn for all of this software, an increase of 2.7 per cent over sales in the prior year.
As you might imagine, core systems software represents the largest portion of this category of the IT sector, with $16.6bn in revenues and a little more than 42 per cent of the pie. Nearly three-quarters of that was for operating systems, and this extremely mature part of the enterprise software stack is usually flat or up a tiny bit in any given year, according to IDC.
Virtualization wares to carve up and manage virty server slices accounted for 14 per cent of this systems software sales in 2012, or around $5.5bn, and is expected to grow by a whopping 12.3 per cent in the coming year. A sub-segment of this space covers just virtual machine hypervisors and cloud management, for which IDC did not provide revenues, but it did say that VMware was the dominant supplier with more than an 80 per cent share of the pie. Virtualization tools are expected to comprise a 20 per cent slice of the overall system infrastructure software market by 2016.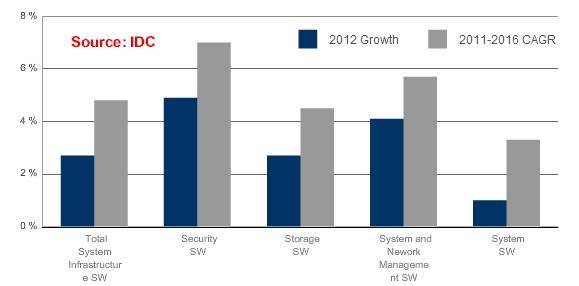 Infrastructure software sales are expected to accelerate
The hottest growth areas in systems infrastructure software have been system and network management, with workload management and automation software sales up 11.6 per cent in 2012. Change and configuration management software grew faster than the overall systems software stack, up 8.7 per cent last year, and event management software rose 8.5 per cent.
Security software is a big piece of the SIS pie, too, and the identity and access management portion of that segment grew 7.6 per cent in 2012 and is expected to grow by 9.4 per cent this year. Endpoint security dominates revenues, with Symantec, Intel, Trend Micro, and Kaspersky the big vendors in this sector. IDC did not provide revenue figures for these segments, saving a bit for the paying customers. ®