Original URL: https://www.theregister.co.uk/2013/01/02/feature_thunderbolt_technology_on_pcs/
Thunderbolt interface strikes YOUR PC: What's the damage?
10Gbps, you say? Now for the reality check
Posted in Storage, 2nd January 2013 12:01 GMT
Thunderbolt has been available on Intel-based motherboards for around six months and although Apple has featured it on its computers since 2011, peripherals with this interface have appeared at a glacial pace. But the ice appears to be melting now. Besides a range of hubs and adapters that take advantage of Thunderbolt's versatility, more and more storage devices now feature the interface. So what's it like on a PC and how does the touted 10Gbps speed really measure up against the more commonly found data transfer protocols?
First, a quick recap on what this technology is all about. Thunderbolt, or to give it its old code name, Light Peak, was first aired at Intel's Developer Forum (IDF) in 2009. Originally, it was designed around optical fibre, but a copper-wired version that Intel was working on allowed the company to lower its costs and has been first to materialise in the wild. This incarnation also has the added benefit of being able to deliver up to 10W of power through the copper cable, sufficient for host powering of external devices.

Data and display
Thunderbolt supports data and display connections (PCI-Express and DisplayPort) concurrently over a single cable and offers 10Gbps of full duplex bandwidth per channel using the mini DisplayPort interface. Since it utilises the existing PCI-E and DisplayPort protocols there is no need for additional drivers to enable a ThunderBolt connection. The data and DisplayPort signals are fed separately into the Thunderbolt controller where they are multiplexed, and at the other end of the Thunderbolt cable the signal is separated out again.
At present, the cable length limit for an active electrical-only cable is 3 metres, and at the time of writing only StarTech offers a 3m cable. However, an active optical cable offers support running up to 20 metres.
Incidentally, the other advantage over alternative high speed external connections is the capacity to daisy-chain up to six Thunderbolt equipped devices including one or two DisplayPort v1.1a monitors. The product at the end of the chain can be, by the use of adaptors, a non-Thunderbolt device such as an eSATA or FireWire external drive. Indeed, Apple's own Thunderbolt monitor features an interface hub on the back panel with USB 2.0, FireWire 800, Gigagit Ethernet and, of course, Thunderbolt for daisy-chaining.
A while back I tried out a Thunderbolt external drive but it didn't impress me very much as it used a standard 5,400RPM mechanical drive – hardly a speed demon. Elgato's take is much more in keeping with the capabilities of this technology, as the company makes an external Thunderbolt drive that utilises an SSD. This offers a promising start to base comparisons on with the other external interfaces that we know and love/hate. Indeed, I found an exact same bare SanDisk Ultra 120GB (even down to the same firmware used by the Elgato) lurking at the back of the test bench that I could plumb in to test other interface options.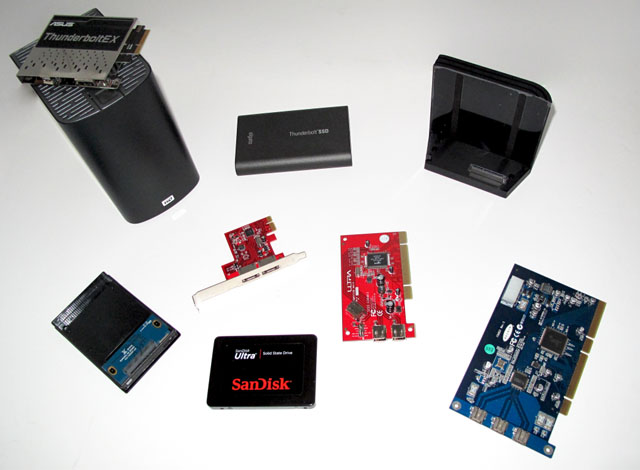 All kinds of everything
So after much rummaging around in the toy box, out came a Belkin FireWire 800 card, an old Ultra FireWire 400 card, a Startech USB3.0 enclosure and 6Gb/s eSATA card. A doctored Verbatim Freecom 35296 Quattro external drive allowed the SSD drive access to eSATA, USB2.0, FireWire 400 and 800 ports, and just for good measure I also used a WD 750GB Scorpio Black 6Gb/s and a SanDisk Extreme 120 SSD drive on the motherboard's 6Gb/s ports for comparison as well. I used two Asus motherboards for testing; the P8X77-V Premium and the P8Z77-V Pro.
Why two motherboards? Well, the P8X77-V Premium – which comes with on-board Thunderbolt – doesn't have any PCI slots. The two FireWire cards I was using are PCI-based (no doubt a great many PCs are configured this way too) which is why I also used the P8Z77-V Pro, as this mobo also supports Thunderbolt but by using Asus's ThunderboltEX add-in card. Incidentally, I checked out the Elgato drive on both the on-board and add-in card and found no difference in performance.
Testing...
I tested the drives and interfaces with the AS SSD benchmark as well as timing the transfer speeds of a 4GB image, a 17GB Blu Ray file and a 50GB folder of mixed file types and sizes.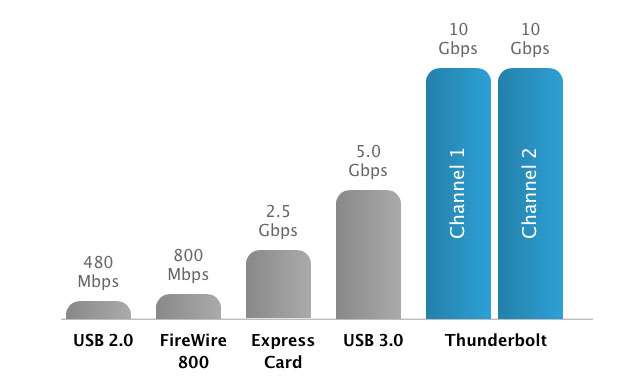 So here's the theory...
Connecting the Elgato drive up to Thunderbolt delivered a bit of a shock in terms of performance. Certainly, it was much faster in the benchmarks than any of the other external interfaces, however, when it came to real life performance comparisons, it was slower when up against USB 3.0 – cue much scratching of head.
The answer to the surprisingly slow performance lies partly in the fact that the SanDisk Ultra uses a LSI SandForce controller – which has a real problem dealing with compressed data, such as media files – and the PCI-E to SATA interface that the Elgato uses. The ASMedia ASM1061 chip uses only a single x1 PCI-E lane and although it supports up to SATA 6Gb/s unfortunately, the SanDisk Ultra SSD relies on a SATA 3Gb/s interface.
Another thing to bear in mind is that although 10W of power can be delivered along the Thunderbolt cable, it also has its own power requirements, as both ends of the cable have active controller chips inside them each with their own draw on power before it reaches the external device.
I also got hold of Seagate's GoFlex Desktop Thunderbolt adaptor which enabled testing of both 3Gb/s and 6Gb/s SSDs in the same device and doesn't rely on power from the Thunderbolt cable as it is mains-powered. Although using the adapter showed the difference between using a 3Gb/s or a 6Gb/s drive quite nicely, the Thunderbolt performance still wasn't that much faster than USB3.0.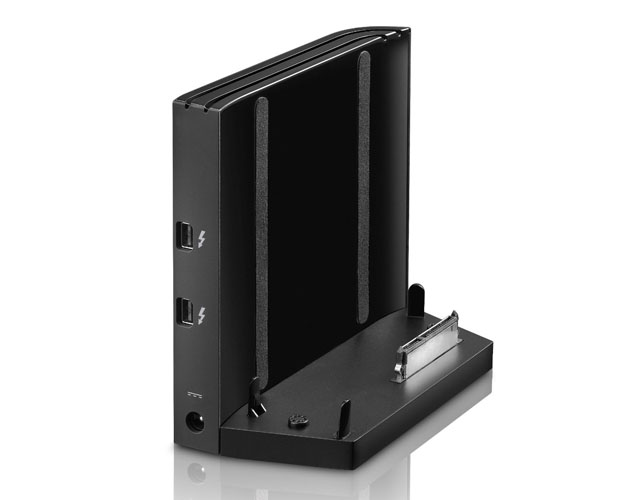 Impressive performer: Seagate's GoFlex Desk Thunderbolt adapter
So after searching around for something that wouldn't throttle the living daylights out of the bandwidth coming down the pipe from the PC, I acquired a WD MyBook VelociRaptor Duo. This is Western Digital's latest external drive which packs two of the company's 1TB 10,000rpm VelociRaptor drives in an enclosure which can be set up in RAID 0 or RAID 1 array. Although the unit also uses an ASMedia ASM1061 controller (like the Elgato device), the VelociRaptor drives are running at the full 6Gb/s speed.
The resulting performance increase of just attaching the VR Duo drive was like night and day compared to the Elgato drive and showed just what speeds the Thunderbolt connection may be capable of. Getting another VR Duo and daisy chaining the two units together into a RAID 0 array sped the transfer speeds up, albeit only by a second for the 4GB image transfer but by a 90secs for the 50GB folder and by 14secs for the Blu-Ray image.
The Reg Verdict
So is the Thunderbolt interface a fast way of transferring data to an external drive? Well yes, but (and it's a very big "but") to get the best out of if at the present time you have to choose the storage device(s) attached to the end of the cable very carefully. When it comes to data transfer, it suffers from bottlenecks in much the same was as other high speed interfaces. Even so, it proves itself as extremely capable of striking performance from external storage devices – those that are a match for its capabilities – with even an HDD topping the charts here.
Given the slow rollout of peripherals, Thunderbolt still has some way to go to prove itself, but its appearance on PC motherboards, at least, should see a ramping up of products that can match its performance potential. ®
Benchmark Tests
AS SSD Sequential Read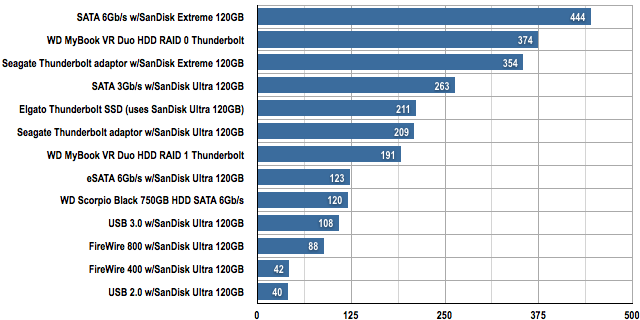 Data transfer in MB/s (longer bars are better)
AS SSD Sequential Write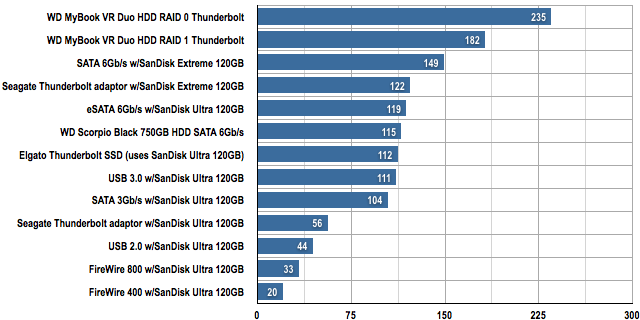 Data transfer in MB/s (longer bars are better)
4GB Image Copy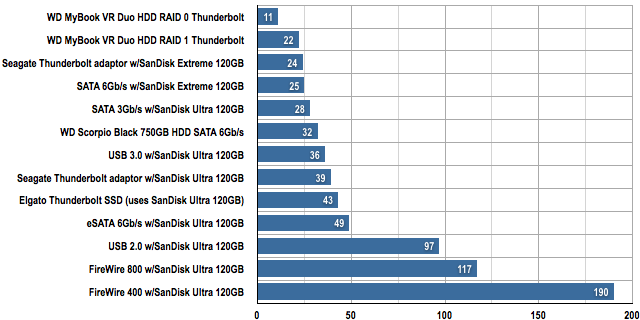 Copying time in seconds (shorter bars are better)
50GB Mixed Files and Sizes Copy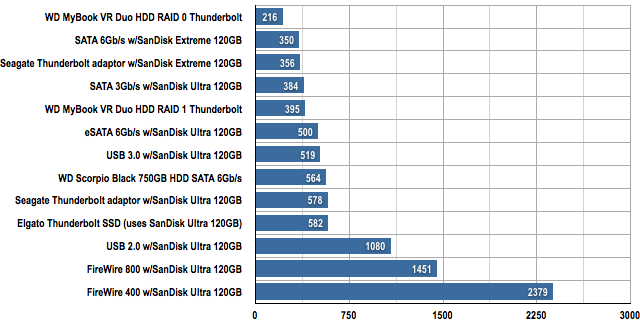 Copying time in seconds (shorter bars are better)
17GB Blu-ray File Copy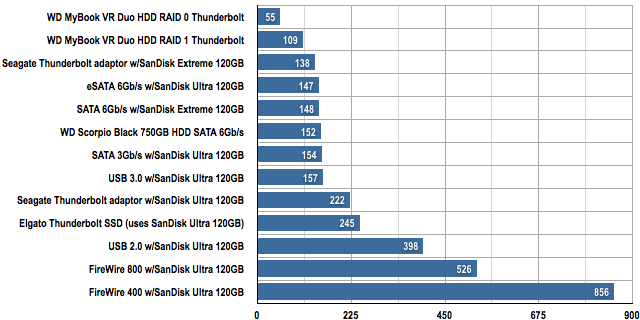 Copying time in seconds (shorter bars are better)