Original URL: https://www.theregister.co.uk/2012/12/31/2012_review/
2012 in tech: Apple up the Cook without a paddle, ARM, slab wars... and MORE
Navigate the year safely, without Google Maps
Posted in Software, 31st December 2012 08:51 GMT
Review of 2012 Great Britain reminded the world who invented the web at London 2012 Olympics, Apple cocked up its maps, Microsoft returned to hardware with Surface, we saw a rise of the machines on Wall Street and many of us rubbed our hands with glee as Facebook IPO's deflated. This was the last 12 months in technology. So put the in-laws on hold and tell your partner you've got some crucial, top-level code that needs debugging. Settle in behind your screen... it's The Reg's review of this year's big stories.
Apple melts its Maps
Steve Jobs was Apple's biggest asset and its biggest problem. Under Jobs, people had started to expect nothing less then genre-busting developments from Apple. What if he weren't around, though? Could Apple deliver? That was Tim Cook's question to answer in 2012.
2012 was Apple's first full year with Cook in charge - the former chief operating officer became CEO in August 2011.
Under Jobs, Apple punched above its weight, harnessing ideas to deliver the Mac, iPod, iTunes, iPhone and iPad and setting the agenda to break Adobe's Flash and forcing the world's largest software company - Microsoft - to follow its lead.
Could Cook keep the balloon afloat? By August 2012 pundits reckoned "yes", cooing over a one-year anniversary that coincided with Apple becoming the most valuable company in history as its value hit $620bn. Meanwhile, Wall St was feeding on rumours of the as-yet-unreleased iPhone 5 and the iPad mini.
It was the calm before the storm.
In September, Apple rolled out a seemingly innocent update to iOS 6 featuring iOS Maps, a supposed alternative to Google Maps. But iOS Maps provoked outrage - the product was light years away from the polish expected of Apple, with crude and low-image resolution that made buildings look like they were melting, inaccurate descriptions and locations, and life-threatening directions.
You are not here: iOS Maps disaster
Politics ensued: Scott Forstall, the exec who oversaw iOS Maps inside the mobile software unit, was asked to resign - or so it emerged after he refused to put his name to a public apology. That left Cook to step up with his second apology, following a September iCloud outage. Forstall was a 15-year Apple veteran and a protégé of Jobs. What followed was an executive shuffle that moved more of the old Jobs execs around and also led to the departure of new retail chief John Browett.
That highly anticipated iPhone 5 debuted in October, to mass confusion. Was it brilliant or just the same old iPhone with a few tweaks? With no Steve Jobs reality distortion field to tell everybody what to believe, no consensus of opinion could be achieved. Five million of the new Jesus phones were sold on its opening weekend in Europe and the US, and two million were snapped up in China - impressive numbers, but not enough for investors. Apple's shares saw their biggest single-day loss in four years – falling more than 6 per cent to $538.79bn on 5 December. Citi Research later downgraded Apple's stock, blaming diminishing hype around the iPhone 5 and improving competition in smartphones.
The market certainly had changed since the days of Apple's blitzkrieg growth in 2007 and 2008. Today, iOS is stable on 15 per cent of the world's smartphones compared to 75 per cent for Android from Google, according to IDC. The analyst reckoned 136 million Android devices were shipped in the third quarter of this year with iOS a distant second place with fewer than 27 million devices shipped.
The iPad Mini also launched in October but to deflating analyst expectations: Piper Jaffray expected between 1 and 1.5 million iPad Minis would sell during the gadget's first weekend on shop shelves, a figure half that of Apple's previous iPad launch.
Apple exits 2012 predictably and inevitably bruised, some might say slightly humbled. The company changed this year. Cook proved he can be a tough manager with the shake-up following iOS maps, but the fact iOS maps was even allowed to happen demonstrated Apple now has a CEO that's not an obsessive perfectionist ogre involved in the minutiae of product decisions.
This year Apple manged two iterations to existing game changers with the iPhone 5 and iPad Mini. Apple should be happy if next year it can do in smartphones and tablets against Android what it did on PCs against Microsoft: carve out a firm presence, with Google and Android playing the mass-market leader role of Microsoft and Windows from the world of the PC.
But the great unanswered remains: what's the next game changer from Apple and from Cook? Is there a big idea waiting in the wings and can it win back the moneymen who fell out of love with the Cupertino computer maker during 2012 and will it continue to woo buyers outside the immediate fanboi herd? Some had, rather, predictably already made up their minds. We're not so sure.
Future shock: Windows 8, Surface and defenestration
The future is a funny thing – it never quite arrives as you'd planned.
Such was Microsoft's fate in 2012. It delivered Windows 8, an operating system it claimed would usher its client operating system into a world of touchy tabs. Microsoft also unveiled its second piece of hardware since the Xbox, the Surface tablet.
Yet reviews of both were mixed, sales seemed to miss expectations and Microsoft lost Windows chief Steven Sinofsky mid-way through the Surface launch cycle in what seemed to be some kind of personal or political clash.
The build-up had been huge.
For more than a year, Microsoft promised Windows 8 wouldn't just bring touchscreen input to computers, and put Windows on tablets, it would also put Windows on chipsets running the ARM embedded architecture. ARM already dominates smart phones with plans to expand into tablets, keeping Intel out.
Only, the closer to launch, the stronger the head winds became. There was a growing drumbeat of criticism over the Windows 8 Metro UI and Redmond's attempt to straddle touch and the classic Windows desktop experience.
Mid-year Microsoft seemed to throw this off with Surface on ARM and Intel, which wowed fans and seemed to confound prophets of Microsoft's doom.
Eject the exec
Yet, with Surface Microsoft was going head to head with the PC makers and channel suppliers who it had relied upon for more than three decades to sell Windows and help make it the world's largest software company.
It seemed a vote against the competence of PC partners' design skills. What of the channel? Microsoft said it would sell Surface through its own online and retail stores and online. Did Redmond also lack confidence in this this veteran institution to sell Surface?
Microsoft certainly caused consternation, with Acer urging the world's largest software maker to re-think Surface. Hewlett-Packard, like Acer selling Windows 8, called Surface "kludgey."
Microsoft CEO Steve Ballmer was bullish. "What we have with the Surface is the greatest example of the PC meets the tablet," Ballmer claimed at launch. "I think we're going to see a lot of growth and vitality and explosion in the PC market."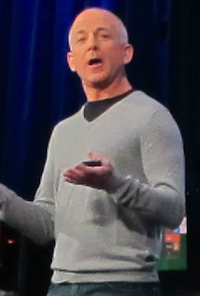 Windows 8 chief Sinofsky:
committed right up until exit
Still, the reasons for Surface weren't entirely clear. Speaking to partners, Ballmer called Surface a "design point" and claimed, "We may sell a few million, I don't know how many." So, move along, nothing to see. But in Microsoft's 10K SEC filing, Ballmer told Wall St money men Surface would compete with PC makers.
What has now became clear is that Microsoft took a lead because while companies like Acer and HP are selling Windows 8 PCs and hybrids that convert into tabs, the normally loyal partners just aren't convinced about either Windows 8 touch, the ARM architecture or Surface.
Sales of the ARM-based Surfaces have been disappointing with a fourth quarter shaping up to be below expectations and with production of Surface units reportedly getting cut. Windows 8, meanwhile, is not selling as fast as its predecessor operating system, Windows 7.
The most worrying development was the Sinofsky exit. The exec who since 2009 has served as president of Microsoft's Windows and Windows Live divisions, quit less than three weeks after the Windows 8 launch. No clear explanation was provided while Ballmer gave Sinofsky a simple farewell "thank you" - two indicators to veteran corporate-watchers that whatever had happened was sudden and unpleasant for all concerned and not part of an orderly transition.
Sinofsky broke his silence to deny he'd gone as the result of a failed power grab to combine his Windows unit with other Microsoft operations and has since popped up to reveal he'll be teaching at Harvard on "sabbatical".
The narrative of 2012 for Microsoft was the coming of Windows 8 and the surprise of Surface in answering the iPad. 2012 was to be Microsoft's comeback year, as it escaped the shadow of Google, Facebook and Amazon and finally gave employees and bloggers something to throw back at Apple and its fanbois.
By year's end however, Microsoft appeared on the verge of pushing victory back down the jaws of defeat. Pressure for a price cut, disappointing sales first hinted at by Ballmer, PR gaffs, a rising tide of niggling complaints about Surface, and a key exec loss all helped tarnish the glory.
As 2013 looms, the story will be how many PCs sell loaded with Windows 8. Microsoft, meanwhile, is mobilising a network of third-party suppliers to sell Surface in a massive retail push outside its own online and retail outlets. This comes ahead of the launch of the Intel-based Surfaces in January. Yet Microsoft handicapped the new machines' chances of success by doubling the price and cutting battery life of the new Surface machines.
As Microsoft takes a second bite at Windows 8 and Surface the experience of 2012 suggests the future could be just as hard as the recent past.
Otellini ARM-wrestled out of Intel top job
It's the little things that can trip you as Intel CEO Paul Otellini discovered.
Otellini announced his plans to take early retirement as Intel CEO in May 2013, after just eight years in charge and 40 years at Intel. Transition will take six months, with a CEO search now underway; Otellini took over from Craig Barrett and was Intel's fifth CEO. Neither Otellini nor Intel gave a reason, but they didn't have to.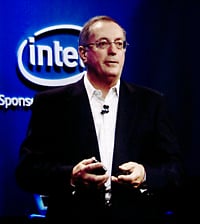 Otellini working on an orderly exit
The problem? In a word: ARM. And in two words: mobile computing, as Intel under Otellini not only failed to squash ARM but ARM prepared to come after Intel with high-density, low-power ARM servers started. Otellini said simply it was time to "move on" – in other words: fresh ideas were required.
Otellini grappled unsuccessfully with mobile from the start. In 2006 he promoted the first the Ultra-Mobile PC (UMPC), a Celeron-based low-end PC in a thick tablet form-factor but this failed to win traction; then he pushed netbooks instead of laptops initially on Celerons and then Atom – Intel's ultra-mobile x86 processors. He predicted Atom would become the foundation for the Mobile Internet Device (MID), a smaller and thinner tablet than the UMPC. In 2009 Otellini would be selling more Atom system-on-chips (SoCs) than regular CPUs by 2014.
The underlying theme was x86, for reasons of history, manufacturing process and compatibility. While Intel was promoting x86, though, Google's was developing Android primarily on ARM while Apple picked ARM for the iPhone and iOS for reasons of device size, performance, battery life and low heat. By 2011, even Microsoft was putting Windows on ARM, breaking decades of x86 fidelity.
ARM grows up
Today ARM supplies chip designs to 95 per cent of the world's smartphone market and 10 per cent of the mobile computing but reckons it can hit more than half by 2015. Intel has about 80 per cent of the PC market, a market whose sales are dropping, while having barely made a scratch in devices.
Otellini was aware Intel had a problem on small devices, and in 2006 he pledged to drive down power consumption with chips coming in 2008. That was clearly too late, though: Google and Apple were already putting out iPhones and Android by 2007 and 2008.
Intel did make its own ARM-based processors when Otellini came to power, with XScale. However, XScale was killed when Intel challenged ARM by saying it would "lead the industry" on Systems on a Chip (SoC) architectures in 2006 with its next-generation microarchitecture (NGMA), which became the Core multi-core architecture.
ARM is growing up. Today we have Chromebooks – laptops - from Google and Samsung running Android. There's talk of ARM-based Macs, too. Apple's last big shift was when it ditched IBM's Power architecture for Intel chips in 2005 under deceased chief Steve Jobs. Apple picked Intel because chips ran faster and generated less heat and Power; Apple, though, has bought chip companies and hired engineers while creating designs based on technology from ARM for the iPhone and iPad.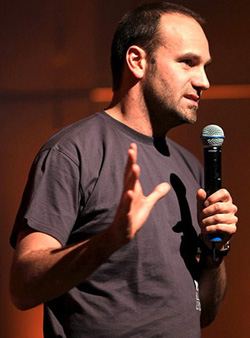 One man and his penguins
In 2012, the data centre started to look vulnerable thanks to recession-linked budget-slashing everywhere. HP in November 2011 announced Moonshot, a project to build hyperscale servers based on Calxeda's EnergyCore variant of the ARM architecture with its first Gemini servers due in the first quarter of 2013. Dell announced its Viking C5000 microserver chassis for ARM, and Intel's x86 competitor AMD announcing plans for 64-bit ARM-based Opteron server processors in 2014. Canonical delivered a commercial-grade operating system, too, with the release of an ARM variant of Ubuntu 12.04 LTS in 2012.
An onslaught of ARM servers are now expected over the next two years but Otellini hasn't let this slip like he did mobile and Intel closed 2012 by launching the Centerton Atom S Series processor – its first Atom-based processor for servers.
As with devices, though, manufacturers haven't put their plans on hold for Intel, and the chip giant once more finds itself trying to catch up. The question will be whether Intel can prove more successful in convincing hardware and software partners to switch horses than it was in persuading device makers to jump in 2007 and 2008.
Making money is hard, burning it - that's easy!
Humility is in short supply among US tech companies. Any acquisition is invariably dressed in hyperbolic terms of transformation, integration and delivery, factors that make it harder to climb down when things go wrong as Microsoft and Hewlett-Packard discovered during in 2012.
Microsoft and Hewlett-Packard, promised the future with their respective purchases of online ads shop aQuantive in 2007 and UK search specialist Autonomy in 2011.
Microsoft chief executive Steve Ballmer sold the aQuantive deal as a "big bet" promising Microsoft was "intensely committed" to maximising "digital advertising opportunity for all." Microsoft paid $6.3bn for aQuantive.
HP, the world's largest PC maker, spent $10.24bn in cash – that's cash – in a transaction to re-invent itself out of a low-margin PC biz suffering falling sales.
This year saw both deals exposed.
Microsoft in July announced it was effectively writing off the aQuantive deal by taking a $6.2bn hit.
The acquisition was to make Microsoft an online advertising powerhouse, serving ads through coordinated and interactive campaigns for clients that would span Xbox Live, Windows Live, Office Live and MSN. It was Microsoft's answer to Google's $3.1bn purchase of advert-delivery network DoubleClick in 2007.
In 2012, Microsoft admitted aQuantive hadn't live up to expectations. Growth and profitability for the Online Services Division – home to Bing – meanwhile were coming in lower than expected.
Yet Microsoft shareholders barely flicked an eyelid at the news and the CEO who lead the deal remained solidly in position at the top by year's end.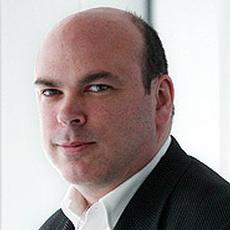 Hurricane Lynch blows into HP
It was an outcome HP could only dream of as HP's news of the Autonomy write down unleashed a storm. HP in November announced it was taking an $8.8bn write down of Autonomy, blaming the UK tech company of "misrepresenting" its value by $5bn. HP promptly referred the matter to the financial regulators in the US and UK and threatened prosecutions.
Mike Lynch, the Autonomy founder and former chief exec who negotiated the deal with deposed HP CEO Leo Apotheker, accused HP of mismanaging Autonomy, of trying to smear him and demanded "immediate and specific explanations of the allegations" against him and his former execs. Lynch's line was that HP had conducted full due diligence on Autonomy's books and questioned that the writedown should come more than a year after the deal. He also questioned the timing of the announcement just as HP published the worst results in its 70-year history.
Shareholders weighed in with a lawsuit against HP saying it violated federal securities laws by issuing "false and misleading statements" about Autonomy's worth.
Apotheker, dumped by the HP board in September 2011 and on whose shoulders the blame for the deal is clearly settling along with Lynch, also stood behind the due diligence process and audits by Deloitte and KPMG. He called it "meticulous and thorough."
Buy me a legacy
What's abundantly clear, is Apotheker wanted a big deal during his tenure and no matter what Lynch says about audits, Autonomy was destined to close.
The episode was another embarrassment for HP's board. It followed the surprise termination of CEO Hurd in 2010, the rash pick and sudden firing of his successor Apotheker – inexperienced material for a CEO – the $8bn writedown of the $13.9bn EDS deal – and the disaster of Palm, bought for $1.2bn cash in 2010 that was written off with the webOS code open sourced a year later.
Zuckerberg hoodie strategy investment burns shareholders
Silicon Valley's always been a step removed from the real world, that's partly why it succeeds in new thinking by breaking the boundaries of what's possible.
Where it fails, is when dreams and business models proven only in the heads of their creators and supporters meet cold, harsh economic realities.
Facebook, GroupOn and Zynga hoped 2012 would be a continuation of 2011 – the year of successful tech-sector and social-network IPOs. And for a while it was. Facebook, the most eagerly anticipated public listing since Google, IPO'd at $38 per share on 18 May, raising $80bn.
But how did the Facebook promise quickly turn from this and this to this and this?
Trading in Facebook was furious: 80 million shares changing hands in the first 30 seconds and the first trade gaining 11 per cent. After an initial rush to $45 per share by the end of week one, though, Facebook was down at $31 per share. Today it's down by half, trading around $21 per share.
Retail investors are estimated to have lost $630m. Investment bank UBS was burned: losing up to $350m and threatening legal action while shares in Facebook did nothing but slide south. Zuckerberg lost $8bn of his net worth thanks to the nosedive.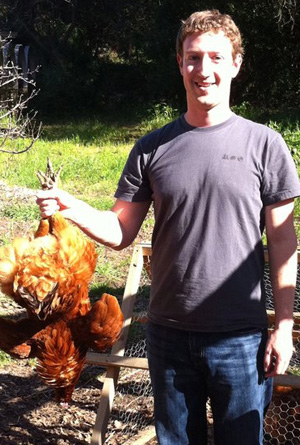 Facebook's IPO turned into a turkey
Technical glitches in the Nasdaq trading system handling the IPO were blamed initially, as people either couldn't buy shares or bought too much.
Within a week of the IPO suits were filed against Facebook, super shareholder Zuckerberg and financial institutions Morgan Stanley, Goldman Sachs and Merrill Lynch who'd brought Facebook to market - it was claimed that they'd hidden the real state of the business from outside investors. The suits were based on claims Morgan Stanley had cut its revenue forecasts for Facebook but withheld the information from all but a few.
Days after the IPO and with the stock falling, operating officer Sheryl Sandberg jokingly urged Facebook users to "click and ad or two" ads while on her company's site. Zuckerberg ended up calling the IPO disappointing and blamed the problems on SEC rules that had prohibited his company from sharing its plans on mobile.
The problem with the Facebook float was unreal expectations and an unwillingness to connect the dots between owning one billion users and somehow turning them into a cash engine for the company. The IPO exposed these challenges to a wider public unfamiliar with the details. To regain confidence, Facebook must show what happens next now it's got one billion users, how it can build a mobile experience they like, and how it can make money from ads in general and ads on mobile in particular, without prostituting users' privacy.
In the meantime, Facebook is trying to build a wall around users. The bricks in that wall involved stopping users bleeding to other destinations, such as Zynga, and owning the end point by creating a "Facebook phone" or "Facebook tablet" - like Apple or Amazon - whose existence was rumoured throughout the year.
Meanwhile, with even it's COO divesting herself of $41m shares in just six weeks, the company now has a long way to go in convincing outsiders it has a future.
The prospect for further stock falls remain, as these problems remain unresolved and shares locked up under the IPO rules are released to market.
Zynga IPO'd five months ahead of Facebook - in December 2011 – but like its web-platform partner Zynga also shared a miserable stock-market story in 2012.
The float came in half of what had been boisterously expected at the start of 2011 - $10 a share, raising $1bn. Zynga was trading at $2.31 by the end of 2012.
The 2012 decline was painful: Zynga twice cut its financial outlook against falling revenue and anticipated losses, it wrote off $95m off its of $182m acquisition of Draw Something game maker OMGPOP, the stock nose dived, the company struggled to attract new gamers - Zynga claims 311 million active monthly users – and lost its chief operating officer financial officer and marketing officer.
The prime problem was Facebook, Zynga's chief financial money maker, which cut the purse strings in 2012. Facebook now wants to keep its users on Facebook, not share them with other social networks. Zynga has also failed to make the kinds of money from mobile games that is shareholders want to see.
Cheapo deals company GroupOn, meanwhile, also rode the stock market south in 2012 as once optimistic investors became disappointed with falling sales.
GroupOn IPO'd at $20 a share in November 2011 making it then the biggest IPO since Google. A year on, GroupOn was selling at $5 a share.
The company reported losses despite growing revenue, cut nearly 1,000 staff and lost top sales execs. The company that tried to introduce some creative ways to count revenue pre-IPO in 2011 had to restate its fourth quarter in 2012 and was probed by regulators following "mistakes" in the reported numbers.
Apple versus Samsung on rounded corners
By November, rumours were circulating the board was moving against chief executive Andrew Mason. The CEO, though, stayed put saying he is still the right man for the job.
Ironically, the best thing to happen to GroupOn's stock price was the anticipation of Mason's exit: his company's stock jumped 12 per cent on the rumors.
Apple v Samsung - oh! What a lovely war
The Battle of the Rounded Corners, or the smart-device patent war between Apple and Samsung, reached a climax during 2012.
After years of lobbing patent suits at each other – and at other device and software makers - the fight between the two biggest dogs in smartphones and tablets came to a head.
Only it didn't quite go as planned for either party.
Apple has been chasing Samsung in the US on claims the South-Korean device maker had copied the design of the iPhone with its so-successful-it-hurts Galaxy. Apple wanted a permanent injunction against the Samsung devices being sold in the US.
Across the pond, in Britain, Samsung sought a ruling that its Tab 10.1, 8.9 and 7.7 did not infringe on the iPad, with Apple counter-suing for infringement.
In the US, Apple claimed to have unearthed proof the electronics giant was in a design crisis over the iPhone while Samsung countered that all phones and devices borrow from each other.
The court, in San Francisco, California, sided with Apple and slapped Samsung with a $1.05bn bill. Days after that defeat, the US International Trade Commission to whom Samsung had turned claiming Apple had infringed on four of its patents, found that "no violation" had been made by Apple on any of the patents in question.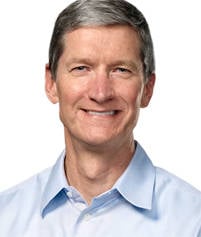 Cook: best of the Samsung case gone?
A trade case legal expert told Bloomberg nobody could get any traction against Apple at the ITC. "If you want to get relief against Apple, it's going to have to be in a foreign forum where it doesn't have the clout or the cachet it has at the ITC or the northern district of California," the expert said.
And so it was to the courts in Britain, where in July Judge Birss of the Patents Court hearing Samsung vs Apple ruled that Samsung had not copied the design of the iPad, in Community Registered Design No. 000181607-0001.
Birss ordered Apple to run ads in newspapers and magazines in titles including The Daily Mail, Financial Times, Guardian Mobile magazine and T3 and on its website, essentially saying "Samsung didn't copy us". The website ad had to run for six months.
But this is Apple, which doesn't subscribe to the rules that bind other people. So Apple ran a churlish, six paragraph ramble with digs at Samsung, that mentioned favourable judgments in patent lawsuits between the pair in Germany, referenced to the iPad's "coolness" and asserted: "Samsung willfully copied Apple's far more popular iPad". On the website, Apple buried the apology at the bottom of its homepage.
Apple was smartly reprimanded by three appeals court judges, staggered by Apple's cheek. "I'm at a loss that a company such as Apple would do this. That is a plain breach of the order," said one judge who'd clearly had little experience of dealing with the haughty computer maker. The judges ordered new ads, with 11-point font size; Apple said it needed 14 days to make the change to its website but was given just hours and replaced it with a new notice acknowledging the inaccurate comments. US tech journalists fulminated at the audacity of a court in sovereign power to find against Apple and then, in their view, treat it so unfairly as to expect it to comply with the law.
The ruling, though, seemed to represent a high-water mark in Apple's legal fortunes. In December, the US judge hearing the case rejected Apple's plea to ban Samsung's US sales. The judge reckoned just a "small fraction" of the Samsung phones' features were covered by Apple's patents and: "It does not follow that entire products must be forever banned from the market because they incorporate, among their myriad features, a few narrow protected functions."
Samsung, meanwhile, was left with a bill for $1bn damages after the judge said there would be no retrial. The gadget giant's legal team had argued for a retrial claiming jury foreman Velvin Hogan was biased and had tried to exact revenge.
Millions of hours in attorneys' fees, thousands of hours of court time have so far been flushed on the Battle of Rounded Corners. Has it made a difference? No.
As the cases have ground on, Google's Android widened its lead as the world's largest smartphone operating system during 2012, trashing the early advantage of Apple's iOS. That's been thanks in large part to massive sales of Samsung's Galaxy family that hit 95 million sold in 2011 beating the iPhone's 37 million and crowning Samsung as that year's biggest supplier of smartphones.
Since its launch in May, the Galaxy S3 has sold 30 million and in the UK it saw off Apple's latest iPhone to become Britain's most popular smartphone. With those kinds of numbers, the Battle of Rounded Corners remained a sideshow running on its own, meaningless logic of courtroom process as the war played out in the market of the world stage.
Rise of the machines
Rogue software crashes US stock markets
In Terminator, the humans are responsible for unleashing Armageddon after outsourcing responsibility for defense to a computer system called Skynet.
On August 1, the NYSE experienced a minor, computer-induced Armageddon of its own, called a "mini flash crash". It saw shares in major stocks from General Electric down to the minors got caught in wild swings thanks a rogue automated trading system that ram amuck for a period of 45 minutes.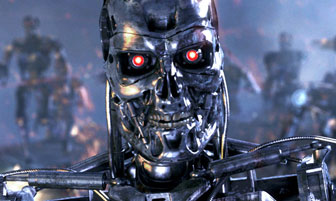 When badly built software goes, er, bad
The problem was traced to a badly written trading algorithm from Knight Capital that cost its owner $440m in cash and 68 per cent in stock. The algorithm was buying shares at ask price and selling quickly at the bid price; only, the system should have been buying at bid price and selling at ask price – the latter often being a few cents more than the bid price. This meant the system was mostly making losses per trade while doing what such systems do well – trading very fast.
As one observer put it: "Do that 40 times a second, 2,400 times a minute, and you now have a system that's very efficient at burning money".
The system is typical of the kind now widely used in a financial markets where quantative analysts and computer scientists find value in the margins and where they trade very quickly. Spookily, this was the second financial trading system disaster of the year blamed on tech, the first being Facebook's IPO. Then, Nasdaq reckoned the software and the "computer systems" in its IPO offerings "were overwhelmed by order cancellations and updates during the "biggest IPO cross in the history of mankind."
Google, Facebook, Microsoft boil the web-privacy frog
Sun Microsystems co-founder and chief executive Scott McNealy is famous for telling us we have no privacy on the web and to get over it.
2012 proved people aren't "over it" and despite spaffing their photos up Facebook and volunteering their data to Google, they get angry when tech companies abuse what's perceived to be a position of trust by trying to make commercial capital from that information.
2012 also proved tech companies will keep inventing ever more creative ways to capitalise on that data.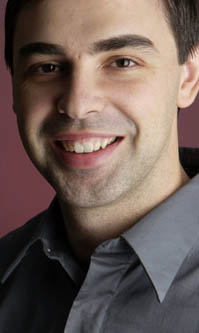 Google's CEO likes his privacy policy
Privacy advocates, data protection officials and top lawyers were outraged in January and March as Google introduced new privacy policy that would let it combine users' data across different sites. The new policy combined 60 existing polices and let users' personal data be used across all Google's sites – Gmail, YouTube and so on. Google pressed on, despite the barrage claiming a change would "confuse" users.
Somewhat quietly, in August, Microsoft tweaked its terms and conditions giving it license to share data of sites such as Hotmail with third parties.
Facebook also introduced a new policy on how it uses its billion-users' data, allowing it to share details with Instagram, the hipster photo-sharing site it bought in October for $715m. As with Google, the idea is to build a better profile of users and enable better-targeted ads.
At the same time, Facebook changed a system that would let users vote up or down changes to the social network; this system registered 87 per cent opposition to the new data-sharing policy in a vote a Facebook PR rep called "unrepresentative percentage of our user community."
Instagram itself provoked an outcry in December when it granted itself the power to use photos uploaded by users in ads; facing a potential walk out by users being told how to remove their pics from the service, Instagram modified the terms, reverting back to its old terms. However, Instagram retained the right to make future changes and to use people's photos as part of advertising.
Open sourcers were compromised, too: Ubuntu's maker Canonical introduced a search feature with Ubuntu 12.10 that married user's searches of their hard drive with results from etailer and cloud giant Amazon.
Ubuntu daddy Mark Shuttleworth defended the feature, saying it didn't compromise privacy - but the outrage was instantaneous and furious, coming from users, open source activists and from privacy advocates with the Electronic Frontier Foundation branding the Amazon integration "a major privacy problem". Canonical, which had only been making a small amount of money from the service, rushed out a button that let users kill the feature, but Amazon search remains on by default.
Browser makers were also sucked in. Microsoft thought it had taken the moral high ground by making Do Not Track the default setting in Internet Explorer 10, the default browser for Windows 8.
Mozilla was the first browser maker to put DNT in place, in Firefox, but it decided Microsoft had erred by making DNT a default option and by not giving users the choice to pick it to let websites know where they've been online. It's a libertarian-brand of argument, and one which open-sourcers and web giants assimilated, helping wreck Microsoft's stance. Apache web server co-author Roy Fielding off his own back updated code for the world's most popular web server so that websites would not work with IE 10's DNT system, while Yahoo! - Microsoft's Bing ads and search partner - said it wouldn't recognise DNT in IE 10.
Regulators versus carpetbaggers
Efforts to introduce an industry standard for DNT through the World Wide Web Consortium (W3C), meanwhile, hit deadlock. Tech companies, especially websites like Facebook and Yahoo! and browser-makers such as Microsoft are compromised, representing on the one hand users and on the other advertisers whose money they take so that they can reach the users.
With creeping changes to privacy and data use, and disarray over DNT, politicians and regulators began to get involved.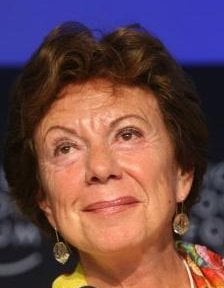 Steelie Neelie: DNT in disarray
The Irish Data Protection Commissioner told The Register that it is seeking "clarity" from Facebook on the proposed rewrite of its privacy policy. European data regulators informed Google by letter in October that had to change its policy to make the terms clearer for users and to give people an an opt-out option for each product so they can stop information being taken from one to the other. Regulators started investigating Microsoft, too, over its new advertising-friendly terms of service.
EU vice president Neelie Kroes told tech companies to reach an agreement on DNT or they'd face a government-imposed option. "Standardisation work is not going according to plan. In fact, I am increasingly concerned," Kroes said.
Privacy and data use rights by tech companies are perennial concerns and it was Google and Facebook in 2012 that – again - made people feel most twitchy. Microsoft's struggle over DNT, meanwhile, proved the industry is riven by groups representing different interests and while they are opposed to each other they can sometimes end up on the same side.
Given the size of companies involved, the billions of people using their services, and the money and power at stake, privacy and data are guaranteed to continue to attract more regulator interest in 2013.
This means we will see tech companies again further push the boundaries of what's allowed and what they can get away with as they try to grow and spin money from nonpaying users. It also means regulators aren't about to give up turning over the Silicon-Valley set's dreams of making easy money.
4G - this ain't dot-com Part II, people
Remember when mobile phones were barely evolved bricks and the most you could except was to have a telephone conversion with somebody else? That was before April 2000, when the Radio Communications Agency in the UK opened up two pieces of broadband spectrum to carriers in an auction that raised £22.47bn for the treasury and let carriers rollout networks capable of providing voice calls, TV-on-the-go, mobile web search and email, and GPS – services and networks known as 3G.
In 2012, the UK started the process for the rollout for so-called 4G services. Plans for an auction were announced, legislation drafted and bidders registered; the auction is due early next year with regulator Ofcom expecting services to start rolling out by late 2013.
Up for grabs is two portion of the wireless spectrum in the 2.6gGHz and 800MHz bands. The former pads out the existing networks making it less choppy for demanding smartphone users and gamers and film fanatics on the go. The latter is analogue TV spectrum that becomes free once the digital switchover is complete and that – in theory – could mean the actual and undisputed arrival of broadband in rural areas.
Seven companies qualified to bid for 4G. Everything Everywhere (EE); HKT (UK) Company - a subsidiary of Hong Kong operator PCCW; Three owner Hutchison 3G UK; MLL Telecom; Niche Spectrum Ventures - a subsidiary of BT Group; O2's parent firm Telefónica UK and Vodafone.
Just don't expect next year's auction to be the same high-rolling, land grabbing affair of 2000. Less spectrum is going under the hammer this time with carriers feeling they overpaid last time around - the auction came off the back of the dot-com boom/bust and it took years to re-coupe the costs on top of network build out.
The spectrum on offer doesn't automatically confer 4G boasting rights: ISP UK Broadband already uses 4G LTE to provide coverage, although the services are patchy, while Everything Everywhere, owner of T-Mobile and Orange, began rolling out a 4G service using LTE.
And, there's plenty of life left in existing 3G. Operators have quietly been upgrading to the latest and much faster version of 3G - dual-channel HSPA+ that can deliver up to between 15Mbps and 20Mbps of data to handsets,
The Chancellor of the Exchequer reckoned he could raise £3.5bn from the 4G sale. Ofcom has set a reserve price of £1.3bn. 4G will rollout in 2013 thanks to the government's actions of 2012: just don't expect the bonanza of a decade ago.
Tim Berners-Lee Tweets from London 2012
If the London 2012 Olympics opening ceremony in July reminded us of anything, it's that Britain gave the world great music, James Bond and the concept of universal health care.
It also reminded the world which nation was responsible for the World Wide Web.
Greatest Living Briton and web daddy Tim Berners-Lee got a brief spot during the Danny-Boyle-directed epic, on stage at the Stratford Stadium.
He snuck in during the middle of a set telling the story of netizen teens Frankie and June, who get together using the power of their mobile devices.
An urban street scene went briefly empty save for a single house with coloured lights pulsating from its windows and that suddenly lifted up to reveal Berners-Lee Tweeting from PC at his desk to the sounds of Emeli Sandé's Heaven. The Tweet: "This is for everyone" with the message played on 70,000 paddle-based screens mounted on the stadium's seats that turned the audience into one giant monitor.
In a ceremony that served the best of British achievement, that fearlessly fused industrialisation, the Lord of the Rings, house music and children's literature for a global audience, it was probably the moment when if you listened carefully you could hear nerd minds across the planet simultaneously exploding.
It was a moment, too, that saw the tiny minds of some US TV anchors unable to cope with the reference.
Ever modest, Lee reckoned he'd simply done it for all the geeks who'd collaborated internationally to build the web, a spirit of collaboration he said existed in the creation of the Olympics opening ceremony, too.
It's a moment that still sends shivers down the collective spine. That and Super Saturday, of course. ®