Original URL: https://www.theregister.co.uk/2012/12/19/product_round_up_ten_tech_stocking_fillers/
Ten... tech stocking stuffers
Last minute shopping ideas to treat your geek
Posted in Personal Tech, 19th December 2012 12:00 GMT
Product Round-up Stuck for ideas for someone who has everything or just in need of inspiration to top up a stack of gifts you already have? It's certainly tricky sorting out gifts that are going to please over those that will be destined for eBay come the New Year. So here we have a bit of mixed bag – or should that be Santa's sack? – ranging from simple to sophisticated, cheap and cheerful to costly and cool. That said, a little idle searching online can deliver substantial savings, so if you're buying for someone with a tech habit that needs feeding, then feast your eyes on this selection.
Datacolor Spyder4Elite

Now here's something for discerning designers and photographers... or just folk who want things to look right. Datacolor's Spyder4Elite goes beyond just calibrating a Mac or PC monitor for colour accuracy, as it can perform the same tricks on iOS devices too. Colour calibrated iPhone, anyone? The Spyder hardware is placed on your monitor or touchscreen and seven sensors gather information from an array of colours that are fed to the display. On a Mac or PC this is a simple matter of running the Spyder4Elite software, measuring the ambient light and then placing the Spyder on the screen. With an iPad or or iPhone you need to instal versions of the SpyderGallery app on both the computer and the iOS device and away you go with easy walkthrough instructions.
The Gallery app allows toggling of calibration on/off and the results certainly make a marked difference. Typically, you notice how blue and bleached out the uncalibrated display is with the Datacolor treatment bringing out more natural skin tones and detail in shadows. The Spyder4Elite even has profiles for video, so if you know anyone serious about imaging you can be sure they don't have a blue Christmas with the gift of a Spyder.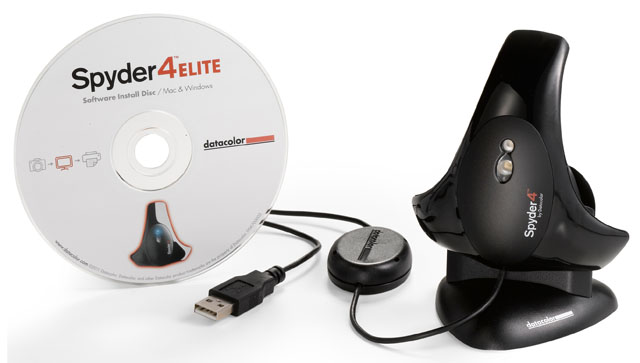 Digitech iStomp

I remember thinking that £50 for a guitar pedal was a bit steep as I mused over the usual line up of dreamy effects from Boss back in the day when Do They Know It's Christmas? was charting for the first time. And today, I feel the same way about the £139 pricetag for the iStomp – alas, pedals are still costly. That said, Digitech's box of tricks can be any pedal you want it to be, all you need is an iOS 4.0 or higher device and you can feed it new effects from the StompShop app.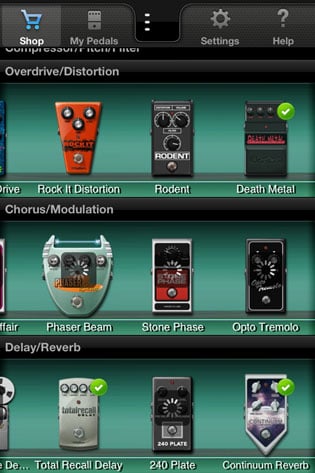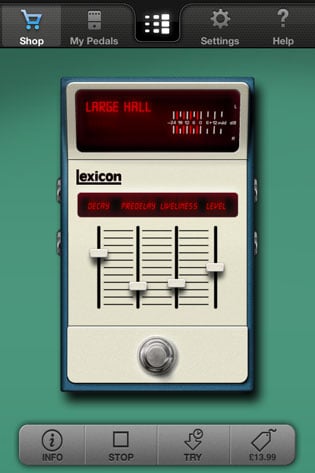 App Shop updating with owned pedals ticked, also the pricey but priceless Lexicon reverb treatment
The app itself allows you to preview effects with short audio clips. You can make in-app purchases and send an e-Pedal to the iStomp hardware using a docking adapter cable. Apps typically range from 69p to £6.99, with the heady £13.99 for a classic Lexicon reverb. But have no fear, earlier this month Digitech announced the iStomp would now feature 10 free e-pedal effects devices and those who already own one will find the new effects are added to the My Pedals library in the StompShop app.
The real pedal accommodates only one effect at a time and it takes less than 30secs for a transfer to complete. As this is a lump of guitar effects hardware, it has the usual effect/bypass footswitch, four controller knobs and features two pairs of 1/4in jack sockets for true stereo set-ups of instrument and amplification – no headphone output here though, sadly. Due to the increased range of free e-pedal apps – that include blissful modulation effects, searing distortion and the resplendent reverb and delay lines – there's little to complain about here given Digitech's pedigree. For those whose guitar gear has lost its flavour of late, an iStomp sounds like it could be Santa's little helper.
Thanks to Sound Technology for the loan of the review sample.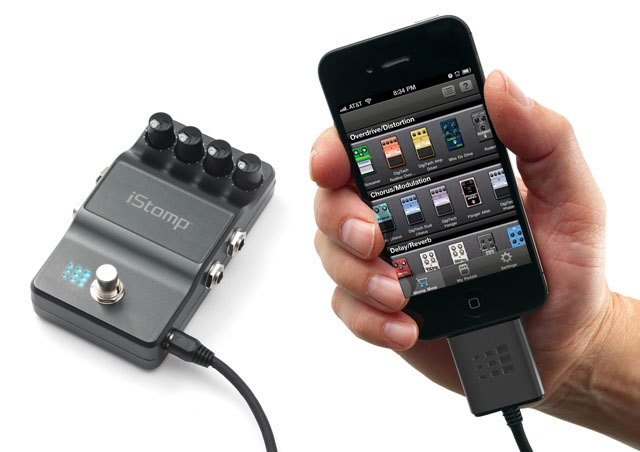 Disgo 9104 9.7in Android tablet

There are plenty of 10in Android tablets out there, but few of them have the screen 4 x 3 aspect ratio of the Disgo 9104 and its 1024 x 768 resolution. With a passing glance, it's easy to mistake for an iPad, especially having silver metal back too. Admittedly, it's a bit on the chunky side, as the display is somewhat pronounced from the metal housing. The screen is bright, rather than dazzling and finger prints need a bit more than a lazy wipe to shift after a session.
The 1.2GHz Boxchip ARM 8 chip delivers a somewhat lacklustre AnTuTu score of 3122, yet the Disgo 9104 runs Android 4.0.3 Ice Cream Sandwich quite fluidly. It's no doubt helped by having 1GB DDR3 RAM on-board along with 16GB of storage that can be increased to 48GB with a micro SD card. Indeed, it works pretty well as a media player and notched up around 5hrs with repeated movie playback and it even has a mini HDMI output. Sadly, there's no Bluetooth and it doesn't officially support the Google Play Store.
Instead, Disgo bundles a bunch of apps for free, including OfficeSuite Pro and relies on the Slide Me marketplace for app downloads. However, there is a neat, easy-to-follow hack, if you know where to look and you're not fazed by the, ahem, limited support: "If you follow the instructions you will be done in 5 minutes, if you don't and can't do it I don't care." I had the Play Store up in no time and the tablet was transformed. Disgo has said official support for the Play Store is coming, but if you can't wait and fancy a cheap 10in tablet, it'll do nicely for most things.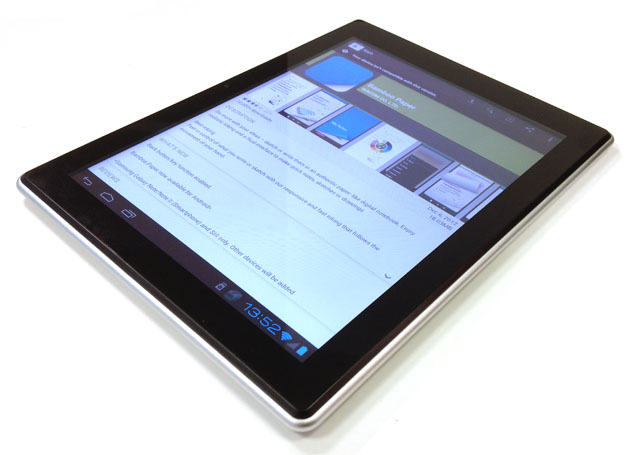 Price
£180
More info
Disgo
D-Link DHP-1565 802.11n router and Powerline combo

If you talked the folks into getting a connected TV last Christmas and they've complained all year about the streaming quality, then getting them kitted out with Powerline gear is one way to ensure tidings of comfort and joy this Yuletide. D-Link's 802.11n wireless router offers only 2.4GHz connections, but that will suffice for most people, and it's the 500Mb/s full duplex Powerline features that are the selling point here. That said, don't forget that you'll need to buy additional Powerline adapters to dot around the house, as the DHP-1565 is just the main router, there's no ADSL modem either.
The Powerline functions are enabled straight out of the device's mains power cable and it is compatible with 200Mbps HomePlug AV gear and has four Gigabit Ethernet ports if you need them. Expanding its functionality further is the USB "SharePort" that can used to connect up peripherals such as external storage for access over the network. It's a neat combination of networking options that can be picked up for well under £100 if you shop around.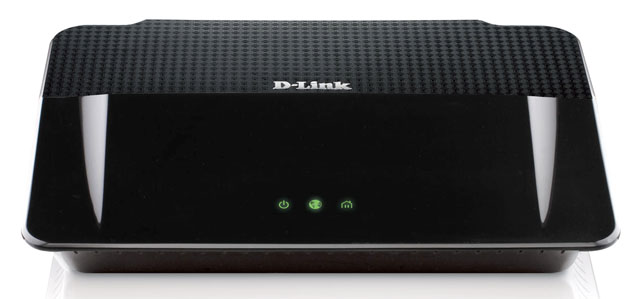 Kingston Wi-Drive 128GB

No doubt you've seen Kingston's fully portable wireless storage Wi-Drive before but the 128GB version only came out this month. This doubling of the previous maximum capacity takes the Wi-Drive beyond its iOS/Android tablet/talker top-up role, to places where it can perform as a versatile storage platform. Its 2.4GHz 802.11g/n wireless connectivity allows sharing for three people and you're not limited to Android or iOS devices either.
Computers can access content wirelessly too, as the Wi-Drive can act as a bridge on an existing network or perform as a standalone access point. Then out on the road it doesn't matter what device you've got to hand, you can hook up to it wirelessly from the Wi-Drive app for iOS and Android. And of course, the mini USB charging point also allows you to mount it as a desktop drive to ferry content to and from it. If you've a multiplatform lifestyle or family and a media habit, the Wi-Drive offers content contentment.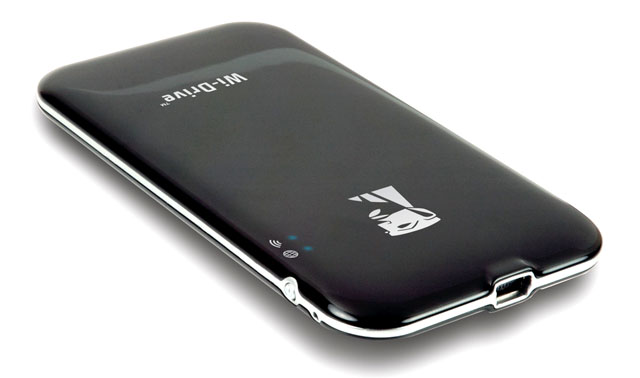 Landmice Aston Martin wireless mouse

My brother, lucky fellow, has an Aston Martin and unbeknownst to him, so do I. While he parks his in a garage overnight, my Quantum Grey model rolls up next to the keyboard on my desk – it even has working lights at the front and rear. I'm not sure what 0-60mph would work out as, for the cursor flying across the screen, but this 1750dpi optical mouse is certainly extremely nippy.
If it's too responsive, you can shift gear by simply holding down the left and right click buttons simultaneously to drop the resolution to 750 or 1250dpi – the scroll wheel on the bonnet flashes the changes. This will also light up when the battery is low, something that those car lights will bring on sooner than its 2.4G wireless connection that uses a mini dongle that's Mac and PC compatible. Along with the auto off feature, there's a three way switch on the bottom for lights on/off and all off – the latter is a good idea at the end of the day, so you're not parked with the engine running. Comfortable to use and light weight too, a perfect stocking filler for Bond fans or a sibling with the real thing. Merry Christmas, bro.
Thanks to Prezzybox for the review sample.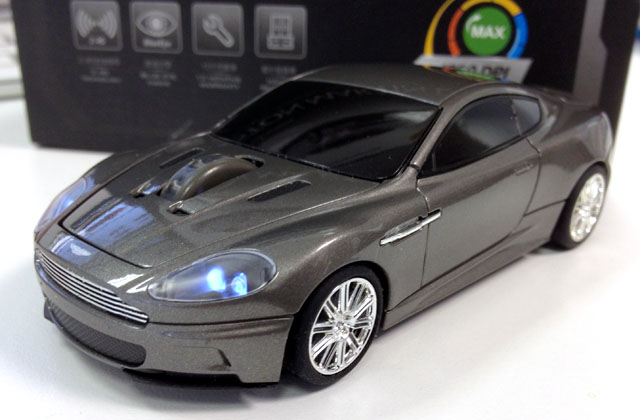 Logic 3 R200 Ferrari headphones

If you've traded in your Aston Martin (and mouse) for a Ferrari, then Logic3's Scuderia collection will no doubt catch your eye. This distinctive range of audio headgear turns out to be pretty classy with a price to match. The mid-range R200 over ear headphones can be folded away neatly for travel – they come with a tough branded zip up case – and have all the connector options you could possibly need. There are three detachable cable options, two have mics for iOS and Android respectively that include control buttons and the other is straight jack to jack connection. The latter cable is actually very useful if you're using a PMP as the mic versions can impact on overall volume for unmatched devices.
Now I have to say, the R200s are supremely comfortable – I wore them for hours without complaint. The leather covering around the earpads doesn't cause a sweat and the springiness of the headband is cosy fit and avoids that clamped in feeling. At moderate volumes you will hear ambient noise but the 40mm drivers can go extremely loud that could almost drown out the noise of an F1 pit lane. As for the sound, nothing appeared out of place, you get a good even output with no artificial bass boosting or harsh resonances to battle with. Sure they're a bit on the expensive side, but they are well made and have an air of exclusivity – a sonic boon for any petrolhead this Christmas. Shop around and the white or black R200s can be found for under £200.
Logitech UE Boombox

Bluetooth is still the way to go for wireless audio for most of us and Logitech's UE Boombox adds to its flexibility in a number of ways. For a start, it has a rechargeable battery with a six-hour endurance and it can pair with up to eight devices. On top of that, three devices can be connected at once so friends can add their own tunes to the party quickly, easily and from up to 50ft away. Pairing is simply a matter of pressing the Bluetooth button and scanning for it on your device – no code numbers to enter or any other fiddle factor.
Made from aluminium and with eight custom tuned drivers, the Logitech UE Boombox is not only robustly built it's sonically sturdy too. Sure it's a boombox at heart but the sound is fairly even – not too bright, not too bassy either – and loud enough for most occasions. Oh, and if you any old kit you want to hook up to it, there's 3.5mm aux input too so nobody's left out from calling the tune.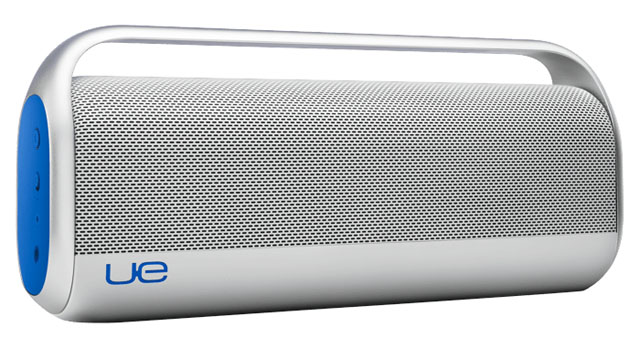 Pong cases

A smartphone case might seem a bit of a throwaway gift but if you know someone who has everything, then a Pong case could well raise an eyebrow. Available for iPhone, iPad and a range of BlackBerry and popular Android handsets, Pong sets itself apart with its claim of reducing exposure to mobile radition while optimising mobile reception. The company web site has all sorts of laboratory claims to this effect too.
Weird science? Snake oil modelling? Take your pick, as it's going to be hard for a user to determine if the improved signal strength is noticeable or if Pong's redirection of TRP (total radiated power) is going to save your life or not. Even so, I found the case I tried had a great tactile surface – it stopped my iPhone 4S from sliding around all over the furniture – and was tough enough to save it from some potentially fatal drops. So in some ways, at least, it proved to be a lifesaver.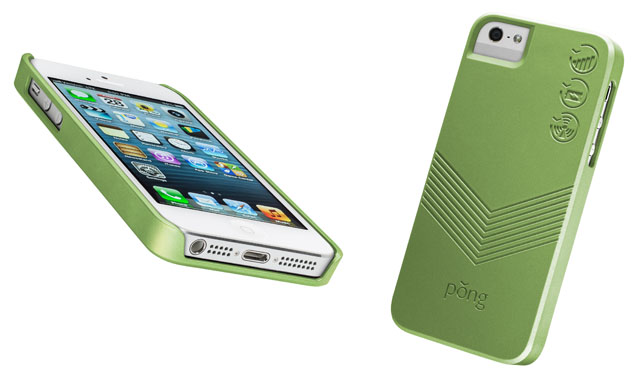 Wacom Bamboo Stylus Duo

For some, the idea of using a pen with an already decent touchscreen display is a retrograde step but products like Wacom's Bamboo Stylus should be viewed as more of an enhancement rather than any kind of replacement for pinch and prod. At one end of the Bamboo Stylus Duo is a soft rubber dome that doesn't miss a beat on the screen and at the other is a real ballpoint pen, with a housing that accepts standard cartridge refills.
As soon as you start using the stylus on a tablet it all feels extremely natural. Scrolls and swipes are a breeze although it might take a while to get used to pressing the home key on an iPad with the Bamboo. Then it dawns on you that you might as well just swap between finger and stylus, as suits. Yet there's more to than just nifty navigation, as Wacom's Bamboo Paper app for iOS and Android is not only a great sketchbook, but you can snap or import images and annotate as you like. On the iPad, the results can be e-mailed, printed, saved to photos or even sent to Evernote. A word to the wise though, the Bamboo Paper app on Android is limited to the Samsung Note series and SIII devices at present, but wider support is promised, hopefully before next Christmas. ®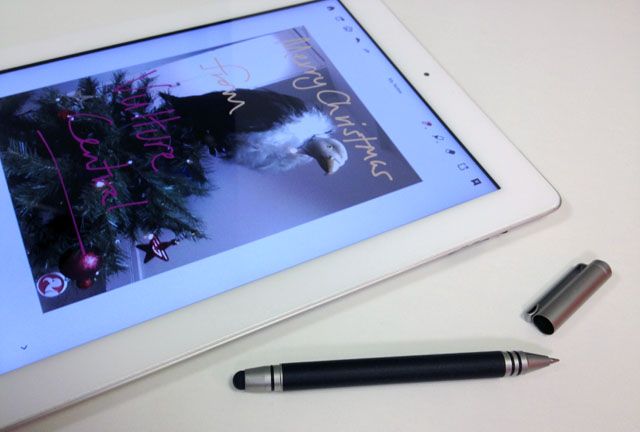 Price £35
More info Wacom