Original URL: https://www.theregister.co.uk/2012/12/18/search_engines_we_have_known/
Search engines we have known ... before Google crushed them
Dot.coms of the past slurped themselves into oblivion
Posted in Software, 18th December 2012 10:28 GMT
Feature Remember when the internet was young, moving your bulky monitor was a two-person job and 1.4MB disks didn't look like a typo? Back then (most) people didn't have to choose which web search engine they were going to use: it came prepared by the operating system maker, such as Microsoft and MSN Search, or the folks you got your broadband from, like AOL Search.
These days many still aren't looking very far for a search engine: Google remains dominant, but an aberrant few are into Bing, Baidu, Yahoo! and Ask.com.
Some web crawlers were crushed by the Chocolate Factory's massive popularity, others morphed into something else entirely, these are the old navigators of what we once and without irony called the World Wide Web. Unsurprisingly, most of them are linked. So let's play the connect game, starting with:
AltaVista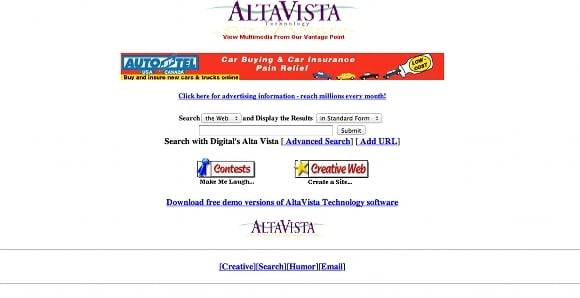 Altavista
Ask folks to name an old search engine, and AltaVista is the one that springs most readily to mind. It was created by researchers Paul Flaherty, Louis Monier and Michael Burrows at the once mighty Digital Equipment Corporation, or DEC, as a way to retrieve files from the public network more easily.
AltaVista was launched for everyone else's use in 1995 and immediately took off. Monier's web crawler was fast and multi-threaded and could cover a lot more web pages than other engines using advanced DEC hardware, making it the first full-text database of the net.
A year later, AltaVista was providing Yahoo!'s search results and getting millions of hits every day, but like most of the old guard, its popularity was going to be short lived. DEC was snapped up by Compaq in 1998 and the following year Compaq redesigned the once clean interface to a portal, much like Yahoo!'s, with shopping, email and other stuff provided.
In 1999, a majority stake in the engine was gobbled by CMGI, an internet investment biz, which was hoping to float AltaVista on the stock market in April 2000. But by then it was all too late: the internet bubble popped, the IPO was abandoned and the site started losing market share to an uncomplicated Google.
By 2003, AltaVista had cleaned up its front page and was bought by Overture Services, a sponsored search firm, which in turn got eaten by Yahoo! and renamed Yahoo! Search Marketing.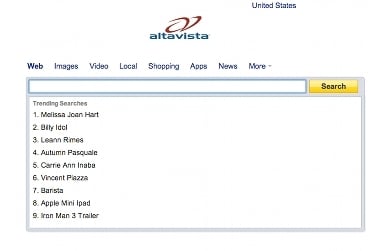 AltaVista bowed out as a separate entity in 2011. The site survives but searches are handled by Yahoo!
Paul Flaherty went on to work as a corporate strategist and management consultant. He died of a heart attack at the age of 42 in 2006.
Louis Monier worked at eBay after AltaVista and then at Google until 2007. He left Google for another search engine Cuil, but that move turned into a dead end. He jumped Cuil's ship after just one month due to differences with the CEO. He then co-founded Qwiki, a website that pulls together interactive presentations of text, video and photographs when users search for information on a particular topic. Monier is the chief scientist of Proximic, which provides real-time data for online advertisers and agencies.
Michael Burrows, a British computer scientist, created the Burrows-Wheeler transform, an algorithm used in data compression. From AltaVista, Burrows went briefly to Microsoft before joining Google.
GoTo.com
Before it bought AltaVista, Overture was known as GoTo.com, an Idealab spinoff that made money out of companies by charging them to appear at the top of its web search results. In early 1998, GoTo.com asked advertisers to say how much they would be willing to pay per click from the search results to their websites, and a couple of months later they were paying up to a dollar for a visitor's mouse-button press.
GoTo.com wasn't the first search firm to think, "hey, wouldn't it be cool to make money out of this?" but it was the first to get away with sponsored results. The idea of advertising on search engines had, until then, been resoundingly rejected by netizens, who thought the internet should be a free and lovely thing, unsoiled by capitalism. But by 1998, the masses were willing to put up with paid-for links, and since GoTo.com hadn't already launched on a free platform, and had gone on and on about how public-minded it was, the site was successful.
In 2001, GoTo.com renamed itself Overture Services and worked with MSN and Yahoo! to monetise their search systems. As well as gobbling AltaVista, Overture was also able to snag search engine AlltheWeb as it sailed through the dot.com crisis.
Two years later, Overture itself was bought by its biggest customer Yahoo! for a cool $1.63bn. The name only exists now in Japan and Korea; everywhere else it's known as Yahoo! Search Marketing.
Snap
The founder of Idealab Bill Gross, who was responsible for coming up with sponsored search, went from GoTo.com to Snap.com. When it debuted in 2004, Snap didn't keep the paid-for ads separate from the search results; instead it mixed them together and flagged them with the orange words "sponsored result".
The web engine was the first to do website previews as well by including a snapshot of sites in the search results. This snapshot feature is all that's left of Snap: the search engine is now marketed to sites as a tool for providing previews if the user hovers the mouse over a hyperlinks.
Snap Shots are provided by Perfect Market Technologies, which has Bill Gross, still CEO of Idealab, on its board.
Infoseek
Michael Agostino, who served as CTO of Snap, was also the co-founder of Infoseek, another of early and very popular search engine. Co-founded with Steve Kirsch in 1994, Infoseek, run by Infoseek Corporation, also offered a free web hosting package, had no advertising and had no limit on file storage.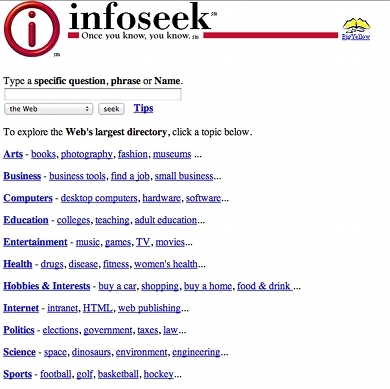 Infoseek
Within a couple of years after the launch, Infoseek had millions of visitors a month. It was the first engine to sell advertising on a cost per thousand page views (cost per mille, CPM) basis and was also the first web firm to target users based on their online web surfer, by using its Ultramatch algorithms. It was an Infoseek engineer Li Yanhong, or Robin Li, who moved to Beijing in 1999 and co-founded China's biggest search engine, Baidu.
Infoseek bought WebChat Broadcasting System at the start of 1998 just a little while before it was bought out itself by The Walt Disney Corporation. Disney then mashed Infoseek into Starwave to form Go.com.
From that year, Go.com was a big web portal, incorporating search, entertainment and other Disney sites such as ABC.com and Disney.com and personal web pages. However, by 2000, visitor numbers were dropping, so Disney decide to focus more on entertainment. The following year, Disney said it was going to shut the whole thing down, but in the end it only ended its search engine, switching to GoTo.com for its results, which eventually showed results from Yahoo!
After Infoseek went to Disney, serial entrepreneur Steve Kirsch founded Propel Software Corporation, which peddles a software to speed up the delivery of web pages. Shortly after that, Kirsch founded Abaca Technology, which built a spam filter, and then last year he started OneID, a secure sign-in service.
WebCrawler
More or less all of the search engines are connected in some way to WebCrawler, the metasearch system that aggregates results from various engines. Originally just a regular search engine, the site started gobbling information from a range of search engines fairly quickly after it was passed around like a hot potato.
Created by Brian Pinkerton and launched in 1994, WebCrawler was bought by America Online the following year and then palmed onto Excite in 1996. After Excite went titsup, WebCrawler was picked up by InfoSpace, which also runs metasearch engines Dogpile and MetaCrawler, all of which are still online today.
Brian Pinkerton now works at A9, Amazon's search and advertising subsidiary.
Excite
One-time WebCrawler owner Excite was a big internet player in the 1990s; it had an instantly recognisable web brand and slurped early search engine Magellan as well as WebCrawler. Founded by a whole bunch of students at Stanford University, Excite went live in 1995.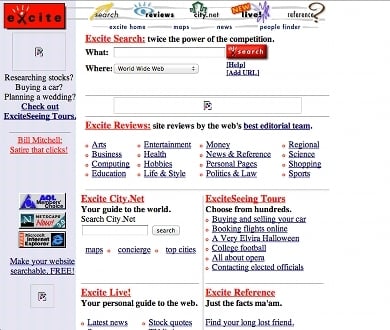 Excite
As well as eating up rival engines, Excite built up solid financial backing and signed exclusive agreements with Netscape, Microsoft and other big boys of the day. In an effort to differentiate itself, Excite started out with reviews of websites, but that idea was dumped in 1998 when it realised users just wanted to get straight to the content. Excite was never just search though, it was a whole portal that included news and weather, email, instant messaging, stock quotes and more.
The portal went public in 1996 and continued to grow and diversify into an early internet behemoth. It nabbed Netbot, the comparison shopping site, in 1997 and signed a deal with Ticketmaster at the same time. But the unwieldy net giant was running into trouble, reporting a net loss at the start of 1998 and admitting it only had enough cash to limp along for the rest of the year.
Yahoo! was the first suitor for the troubled site, offering $5.5bn to $6bn, but Excite went to the @Home Network for at least $6.5bn in January 1999.
Later that year, the website made what was probably the worst business decision of the internet industry to date: two grad students from Stanford named Sergey Brin and Larry Page came to Excite CEO George Bell with a search engine they'd developed that was apparently taking up too much of their time to run when they should have been studying.
Bell could have snapped up Google for $1m but refused, and refused again when one of Excite's venture capitalists managed to negotiate Brin and Page down to $750,000. Just as a reminder, Google is worth at least $220bn today.
Excite continued as a division under the newly named Excite@Home group, and kept up its voracious appetite by eating online shopping site iMall, Blue Mountain Arts, the online card company, and Webshots, a photo sharing firm. But nothing the portal did could save it, with its ad revenues plummeting and its stock value down 90 per cent in 2000, Bell announced his plans to step down as chief.
Excite frantically raised capital, but the writing was on the wall. In September 2001, it sold off Blue Mountain Arts for less than five per cent of what it paid for it and the following month Excite filed for bankruptcy. Bits and pieces of the conglomerate were sold off before iWon.com made a joint bid with InfoSpace for the domain name and brand. iWon changed its name to the Excite Network and continued to operate the site as a portal. It let InfoSpace have the search part of the site.
In 2004, Ask Jeeves acquired the Excite Network and the following year struck a deal with InfoSpace to share the costs and income from Excite search, which is still around today.
Two of Excite's founders, Graham Spencer and Joe Kraus, went on to found Jotspot, which made technology to let users collaborate on shared documents. Jotspot was acquired by Google in 2006 and both Spencer and Kraus work at Google Ventures. Google is also home to Excite co-founder Ben Lutch, who is an engineering director for the firm.
Another co-founder Ryan McIntyre built up early-stage venture-capital firm Foundry Group after a stint at Mobius Venture Capital.
Ask Jeeves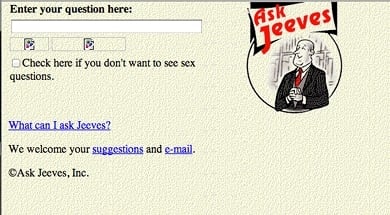 Ask Jeeves
From the beginning, Ask Jeeves had a different take on searching the web, starting out with its signature question-and-answer site in 1996. Garrett Gruener and David Warthen in Berkeley were responsible for designing the original site, which was programmed by Gary Chevsky.
The most iconic part of Ask Jeeves was no doubt Jeeves himself, named after the fictional character in P.G. Wodehouse's novels, memorably played on TV by Stephen Fry. The valet posed next to a text box into which natural language questions could be typed and then answered in the form of web results.
In 2005, the company started phasing out the character of Jeeves as it became Ask.com, pretending he was going into retirement. At the same time, the site was slurped by InterActiveCorp (IAC). Ask did regular web searches as well as the Q&A format and introduced "binoculars" to preview results.
Jeeves came back to the UK and Ireland's uk.ask.com in 2009 and the following year, realising that Google was an unstoppable search juggernaut, Ask reverted to its old-school question answering style with web search matches provided by its Chocolate Factory rival.
Garret Gruener is a co-founder of Alta Partners, a venture capital firm, and also had political aspirations. In 2003 he was a candidate for the Democratic Party in the California recall election.
David Warthen went on to video streaming firm GlobalStreams and also founded Eye Games, a kid's game company. He's now CTO at InfoSearch Media.
Lycos
Another top dog of the early internet was Lycos, a search engine and portal that launched in 1994. The site, featuring the recognisable yellow dog logo, has changed hands a few times in its history.
Lycos was developed as a research project by Michael Loren Mauldin at Carnegie Mellon University and just two years later completed the fastest IPO in NASDAQ history. In 1997, it was one of the first profitable internet businesses in the world.
From 1998, Lycos looked for a way to spend those profits, slurping Tripod, Gamesville, Who Where, Quote.com, Matchmaker.com and more until it sold itself during the dot.com bubble in 2000 to Terra Networks, part of Spanish telco Telefonica. The Spanish firm paid $12.5bn for the engine.
Four years later, Terra was ready to part from Lycos, selling it onto Korean company Daum Communications at the considerably reduced price of $95m. After that, Lycos started to tighten up its service, getting rid of bits like Quote.com and Matchmaker.com. The site has dabbled in video, social networking and email as well as search and since 2010 has been owned by Ybrant Digital, an Indian digital marketing firm.
Michael Mauldin more or less retired in 2006, although he directs the board at Conversive, a company he founded that deals with online customer support. He's also a competitor in the Robot Fighting League and once ran a combination restaurant and combat arena called the Robot Club & Grille. ®