Original URL: https://www.theregister.co.uk/2012/12/17/eurocom_monster_w110er_gaming_netbook_review/
Review: Eurocom Monster W110ER gaming netbook
High-end gaming condensed into an 11.6in notebook
Posted in Personal Tech, 17th December 2012 12:00 GMT
It's hard to see quite who Eurocom thinks will buy its Monster W110ER "gaming netbook". Surely any gamer sufficiently hardcore to feel the need to be able to take a high-end gaming system around with them - and the W110ER is a high-end machine - will want to play on a larger screen than an 11.6-incher, especially when it's capable only of a 1366 x 768 resolution?
Well, that's what the W110ER - actually designed and made by Taiwan's Clevo - delivers, and Eurocom seems confident that there are punters out there who not only so need to feed their PC gaming addiction they can't wait until they get home but also want the convenience of an on-the-move gaming machine that's as portable such a rig can be.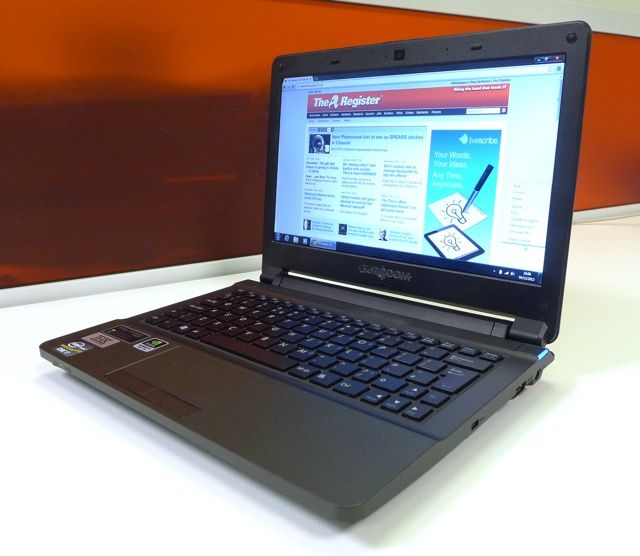 Eurocom's Monster W110ER: condensed gaming
That's the idea behind the W110ER: to cram a top-of-the-line Intel Core i7 CPU and a Kepler-class Nvidia GeForce GT 650M 2GB graphics chip into a compact chassis you can carry around easily. Eurocom pitches the W110ER as a netbook, and it has the inch-plus thickness of an older netbook, though it's slightly larger thanks to the 11.6in rather than 10.1in screen.
Where an ordinary netbook might weigh around 1.3kg, this one a not noticeably more troublesome 1.8kg, which is still less than the 2.4kg a typical 15in machine might weigh, rising to 3.6kg for a 17in gaming notebook. The larger machines are bigger and heavier than the W110ER, sure, but not onerous to carry around in a backpack.
Eurocom is not the first manufacturer to think that some gamers might like a much more compact play PC. Dell's Alienware subsidiary had an eleven-incher, the M11x, out a couple of years ago. It sold so spectacularly well the company stopped making it after a year of so.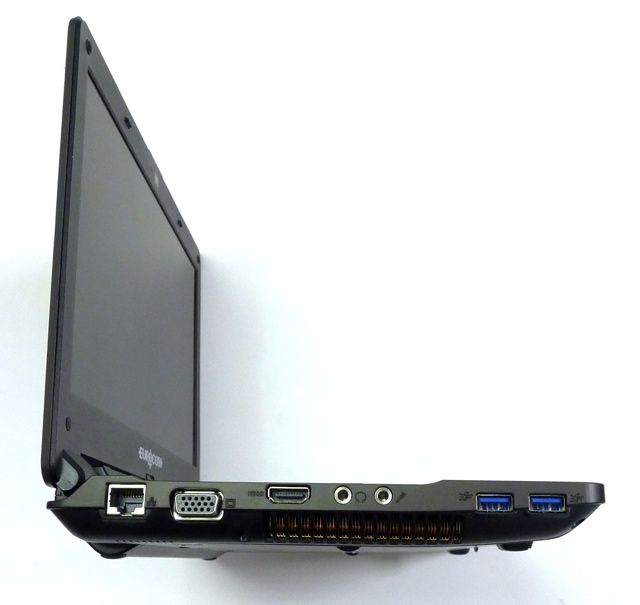 Do people still use VGA? No matter, there's HDMI, Gigabit Ethernet and USB 3.0 here too
Can Eurocom's offering fare better? There's certainly no small choice of build-to-order options here, the better to help an individual buyer balance performance and budget. You get the Nvidia GPU no matter what, but there's a very wide array of Core i7, Core i7 Extreme Edition and even a token Core i5 to choose from, plus a range of Ram configurations and on-board storage alternatives.
The basic model, with 4GB of 1600MHz DDR 3, a 2.5GHz, two core, four thread Core i5-3210M processor and a 500GB 7200rpm hard drive will set you back £669 including VAT, though upgrading to a 3GHz, four-core, eight-thread Core i7-3940XM ups that to £1398, and that's before you've upped the Ram - an extra £67 for 8GB, £350 for 16GB - or gone complete potty and asked for the £2079 1TB OCZ Octane SSD to be fitted in place of the hard drive.
Naturally, Eurocom sent El Reg a model configured with 8GB of Kingston HyperXRam, a 2.9GHz Core i7-3920XM and a vanilla Seagate 750GB HDD, a set-up that would have set me back £1461 had I laid down my own credit card.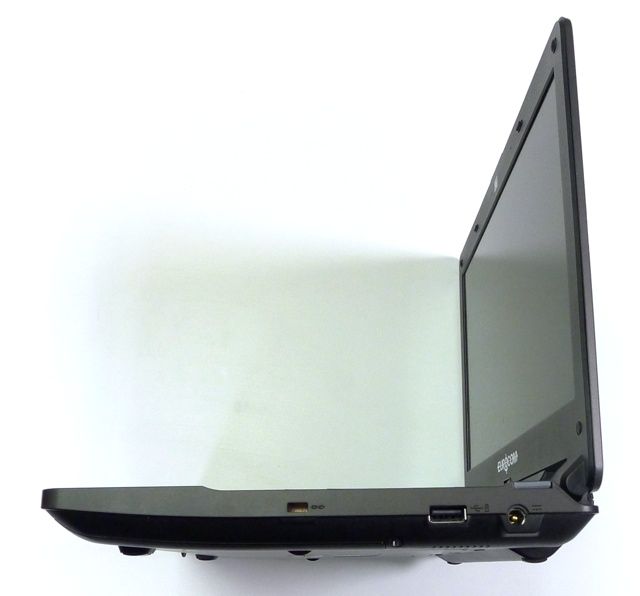 No optical drive, natch, but a USB 2.0 port at least
All of these items are accessible: CPU; HDD; two SO-Dimm Ram slots; half-size, two antenna 802.11 Wi-Fi card - just slide off the base-plate. Careful, though. Don't, as a previous tester of the unit Eurocom sent me, work the plate so hard you break most of the clips that hold it in place tightly. A screw-down plate would have been better, I think.
Beyond the basic limitation of a small display, the W110ER's size means there's no optical drive. PC gamers are all using Steam - which is pre-loaded here - these days, so there's no real need for that, though Eurocom will sell you an external unit if you want one. The other size-inflicted compromise is the inclusion of not only a keyboard but also a trackpad of reduced dimensions. They former isn't a bad one - there's not much flex - but players with big fingers may find the key caps too small for comfort: playing with WASD for movement and Space for fire requires you bend your hand more than you would with a full-size deck.
Portable powerhouse
I didn't find the trackpad tricky to use for its size but for the fact that the wrist rest area's texture extends across it with only a small rise to mark the edge of the 'pad. It's easy to slide your finger off it. Gamers will want to use a mouse anyway.
The W110ER doesn't leave you missing your customary ports - there's a good selection here, including USB 3.0, Gigabit Ethernet and HDMI. Bizarrely VGA too - will buyers be using this boy with an old projector?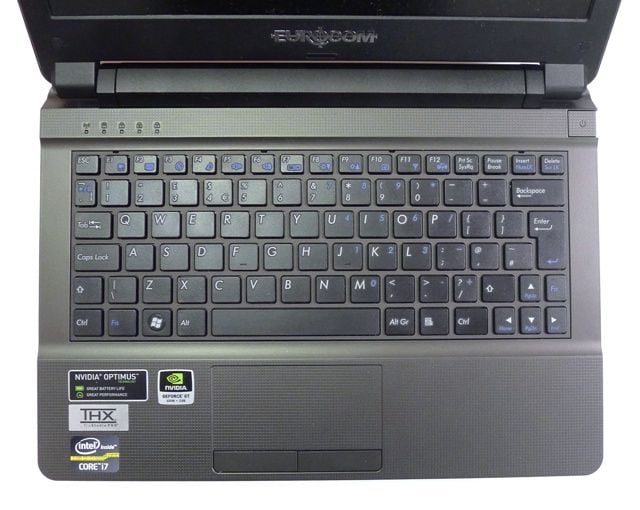 A netbook chassis means reduced-size keyboard and trackpad
Running full tilt, the W110ER sounds like a projector: the fan, you won't be surprised to learn, cranks up mightily. Under less taxing workloads, the fan is near silent, but it nonetheless gives the W110ER a noticeable vibration, which I didn't like. But noise is inevitable with any gaming machine, and laptops in particular. Chances are, players will have their headphones on and won't notice it.
Incidentally, the W110ER comes with THX TruStudio Pro, "the best sound effect you never have on laptop", as Clevo puts it. I'm not sure about that, but it's not at all bad.
The W110ER's battery is a netbook-style clip-onto-the-back job with a 5600mAh, 62.16Wh capacity. Futuremark's PowerMark test yields an "entertainment" battery life of just one hour 20 minutes, which improves by just 31 minutes when the suite's "balanced" test is run. That's poor, even for a netbook. While you might anticipate a low battery life playing games or watching movies, I'd want a longer runtime if all I'll be doing is browsing and typing.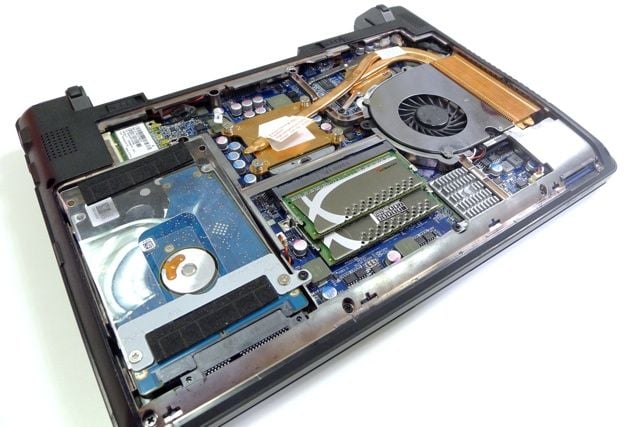 Slide off the baseplate for easy access to the internals
I should note that the tests were carried out with the screen on maximum brightness - lowering that will increase the available runtime. So too, you might think, would tweaking Nvidia's Optimus settings. Optimus switches between the discrete Nvidia GPU and the Intel HD 4000 integrated graphics to maximise battery life, or to deliver the most graphical horsepower when it's needed. But PowerMark defaults to integrated graphics, so those figures already teak the battery saving switch into account.
Optimus, however, is not supported under Linux, at least not as far as my Ubuntu 12.10 live CD was concerned. "Graphics: unknown", it told me. Nvidia is believed to be working on Optimus drivers for Linux, and there's the Bumblebee project too if you favour a more community created offering. A quick play with the live CD revealed Wi-Fi and Ethernet working, but the 8GB SD card I slipped in wasn't recognised.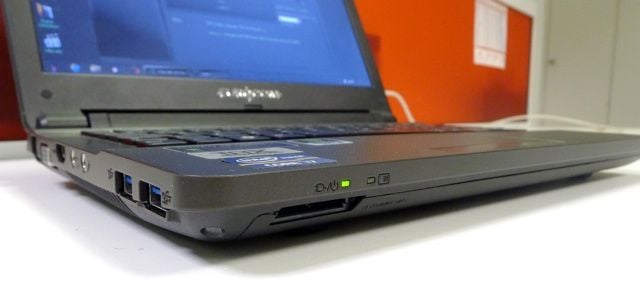 Not everything works in Ubuntu: the SD card slot, for instance
Despite its diminutive size, the W110ER delivers a decent but not exceptional performance. PCMark 7 yields a score of 4048 overall and 3707 for its "entertainment" suite. That puts it well above most other Ivy Bridge Core i5- and i7-based machines The Register has looked at of late - apart from those with SSDs, that is. The Nvidia graphics ensured I got very high frame rates at 1280 x 720 with medium-level detail, and still respectable rates with high levels of detail.
The Reg Verdict
You can't fault the Eurocom W110ER's performance as a games machine beyond the screen size, and that all reduces to a question of how, as a gamer, you rate having a big, in-your-face display over the extra portability a small, 11.6in screen helps achieve. If the W110ER's size meets a need you have - you're sick of carrying big laptops around - then there's nothing beyond the price to put you off. ®