Original URL: https://www.theregister.co.uk/2012/12/12/review_apple_imac_21in_late_2012/
Review: Apple iMac 21.5in late 2012
An extremely thin client
Posted in Personal Tech, 12th December 2012 08:00 GMT
I'm a sitting behind a 2010 iMac. You know, it's one with the dodgy Seagate hard drives that Apple is replacing en masse. I must get this sorted soon, but it hasn't died ye—.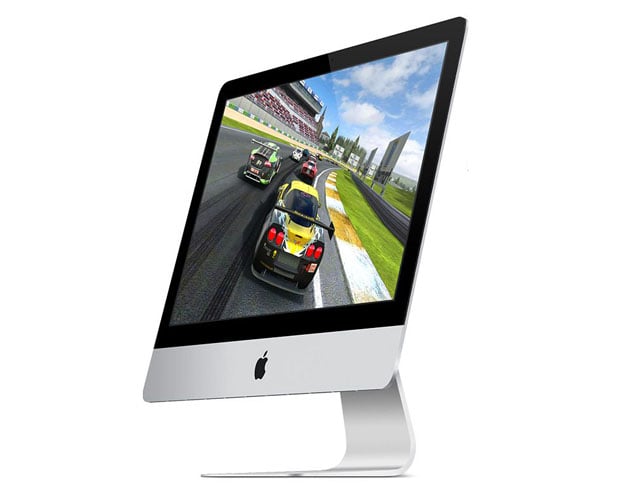 Long time no see: Apple's late 2012 21.5in iMac
Now I'm sitting behind a very late 2012 iMac. It's the super slim one that's all sealed up so no one can get inside it unless armed with a heat gun. And I'm thinking, this could be an arse pain for Apple if the drives in this model go tits up. It's not like this hasn't happened before, eh?
So yes, it's here, at last, the new iMac, not the 27in model that fanboys are waiting for, but the 21.5in base model. And no, this isn't a review model doing the rounds, it was bought and delivered – these things are out there if you join the queue. But why would you want to?
Before we get on to Apple's new design, what's inside the box is where it counts for those concerned more about horsepower than eye candy. Apple has long since abandoned stuffing Intel's mobile chippery into iMacs and with the entry-level model you get a desktop-centric 2.7GHz Intel Core i5-3330S CPU. This quad-core chip also features an integrated Intel HD 2500 graphics engine, but you'll not need to fret about that as there's an Nvidia GeForce GT 640M installed too. Admittedly this is a notebook component.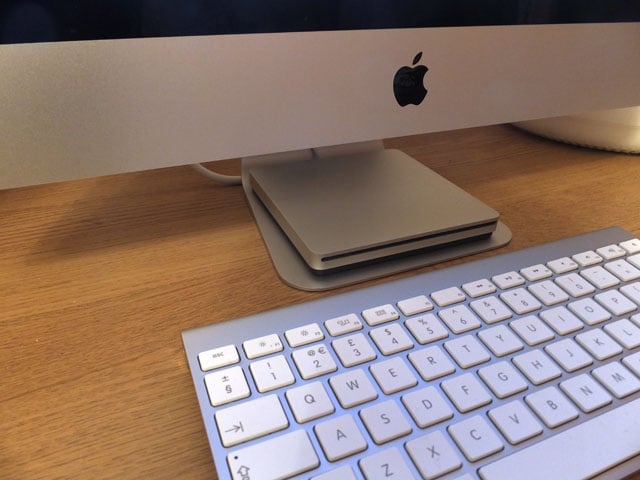 The optional SuperDrive is bound to be on the shopping list for many
Fitted as standard on all new iMacs is 8GB of 1600MHz DDR3 RAM - up to 32GB is supported, but it's not an 'end-user serviceable' upgrade - and a 1TB hard drive. You can opt for an SSD or even a Fusion combo, but it'll cost you. The Dumbo in the room is, of course, the lack of optical drive. Its absence contributes to the new slim form-factor, but those with a back catalogue of CDs and an iTunes habit, lest we forget data back-ups, are going to miss it as soon as the iMac is out of the box. Alternatively, they'll be missing £65 from their wallets if they choose Apple's matching SuperDrive external DVD writer. Blu-ray? We've heard about it.
The iMac was already out of the box when I walked into the room - I didn't buy it, a friend did - and, I'll have to admit, it was a bit of a 'So what?' experience. I spied it face on, so none of its slimness was immediately obvious. You don't notice how thick its predecessor is when you're sat in front of it and so you won't be constantly wowed by the new form-factor either. One thing you might notice or, more to point, fail to notice, is the 1920 x 1080 resolution glossy screen really does a great job of minimising reflections.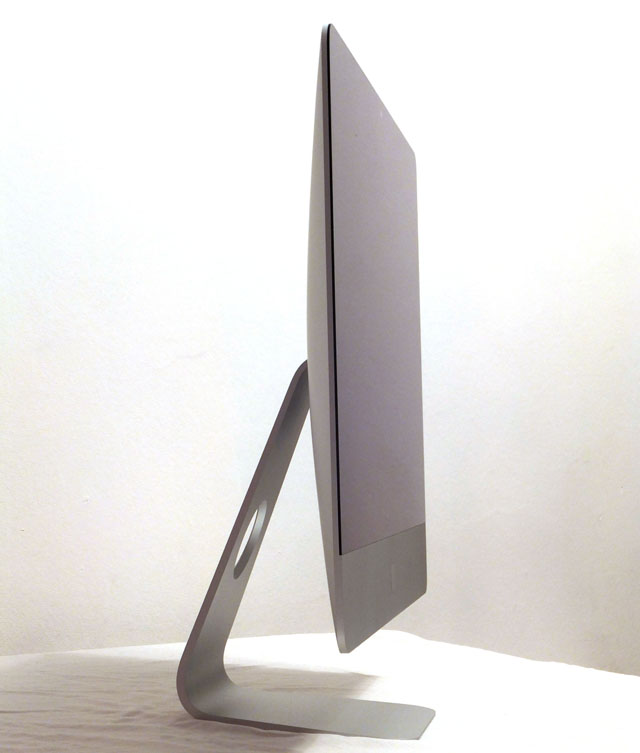 Not such a mirror finish, thankfully
Apple claims a 75 per cent reduction in reflections and I'm not inclined to argue – you really have to make an effort to spy mirroring on the glass. This has been achieved using an anti-reflective coating typically applied on optics – a process called plasma deposition that Apple has scaled up for its displays. The company also utilises another technique called full lamination to get its 5mm thinner LCD panel right up against the glass, improving transmission by eliminating a 2mm gap between display and the protective outer layer.
Frankly, I didn't fully appreciate the panel games that Apple has been up to here. Maybe it's too subtle or only really shows itself when compared side-by-side with its predecessor. That said, the viewing angles are good, with no major intensity issues even around 85° from centre. One thing is for sure, it can be dazzlingly bright. However, the default brightness is set somewhere in the middle of the range, which was absolutely fine, but novices may be unimpressed until they discover where to look.
Laptop keyboard layout for your desktop computer – er, nice
Talking of where to look, in the box you get an Apple Bluetooth keyboard and Magic mouse. The latter is set to Primary click only with the right click disabled by default. Sure you can tweak it in System Preferences, but why Apple has been hanging on to this legacy approach seems bizarre given how many features are accessed using a right click these days. I know from experience that novice users don't know that they can enable the right click and even though you might do it, any additional logins you set up for family and friends will default to Primary click.
Key issues
And don't get me started on having to 'eject' USB sticks and other external storage devices. Given this company abandoned the floppy drive back in 1998, you'd think it could shed some antiquated conventions too without telling me of the damage I may have caused by simply unplugging a USB stick. So this anachronism remains yet FireWire has gone. Naturally, Apple will flog you a Thunderbolt to FireWire adapter for £25, but if your device is bus powered, better hope it doesn't draw more than 7W.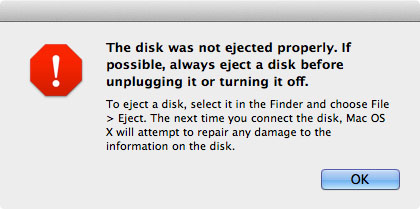 The most advanced operating system in the world, apparently
I use the arrow keys quite a bit on my preferred extended keyboard, so adapting to the more minimal Bluetooth model takes a bit of adjustment at first. It's bit like being on a laptop, which isn't necessarily the experience you want when owning a desktop machine. Apple should also consider either tweaking its keyboard legends or its Help text. The former shows the Alt key while the latter always refers to the Option key. I know this, but not everyone will and I fell foul of similar assumptions when testing the Samsung Chromebox earlier this year.
Firing up the iMac for the first time confronts you with language preferences. There's also a licence agreement URL (rather than the blurb) and you must agree to this unseen text before proceeding. Considering you're not even hooked up to a browser yet, I have issues with this sort of bamboozling.
Furthermore, if you don't have an Apple ID you won't be able to access updates for applications such as iPhoto, among others. From the off, you can still get operating system updates by simply cancelling the Apple ID prompt. Interestingly, once logged in, the iPhoto update popped up first and a few minutes later, the OS X additions appeared in the listing. An Apple ID sign up conspiracy no doubt... or maybe not.

It may indicate headphones only, but the minijack also supports the mic in iPhone headsets
While you don't notice the iMac's heroin chic from the front, you do notice it in other ways. It's really light for a start. You could easily carry it from room to room and given it has wireless peripherals, it's probably less fuss to manage than a vacuum cleaner. When you do want to plug things in, you need to go hunting around the back and that's when things appear less thought out, at least it seems that way to begin with.
The back panel is bulbous – super thin at the edges but swelling in the middle. The array of Ethernet, four USB 3.0, two Thunderbolt/DisplayPorts, an SDXC slot and a headphone socket are not an easy find. Staring down from above I couldn't see them at all given the curvature at the back. My cursing was only momentary though, the display does tilt after all, and lo, the ports appeared each with easily identifiable icons – the camber actually helps visibility here. Incidentally, turning on the iMac is much less of a grope around the back, as the power button is slightly bevelled, so you'll find it every time.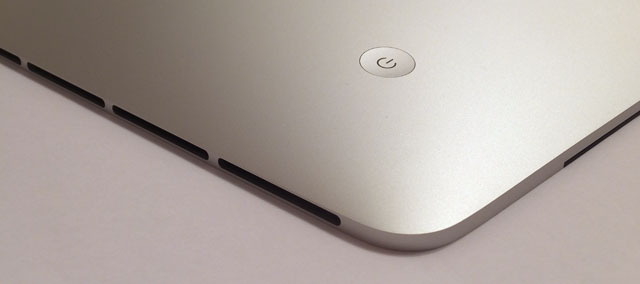 Vents for air intake and sound out. Note bevelled power button – a minor change but significant improvement
Now, flat panel iMacs have never had a reputation for being noisy, but this one is whisper quiet. Even when copying files and running GeekBench, hard drive clatter was imperceptible – a real ear against the screen job to hear what was going on. The 2.5in drive is rubber mounted – this is more than a few grommets – and it makes an incredible difference. Unless there's some patent pending, they'll all be doing it this way soon. Maybe some are, but you can be sure that, just like wireless charging, Apple will have thought of it first.
Obscured from view by the metal stand is the main exhaust vent but in hours of use the new iMac just didn't get hot... or even warm for that matter. Also out of sight and along the underside edge of the screen are the intake vents which are adjacent to the speaker ports. The speakers are surprisingly good and sufficient to enable family viewing of movies from across a living room. There are no nasty resonances present and although the upper mids can be a bit on the sibilant side, the output is fairly robust in the bottom end. Stereo separation is also very well delivered, such that I even had to check the iTunes spatial boosting Sound Enhancer wasn't active.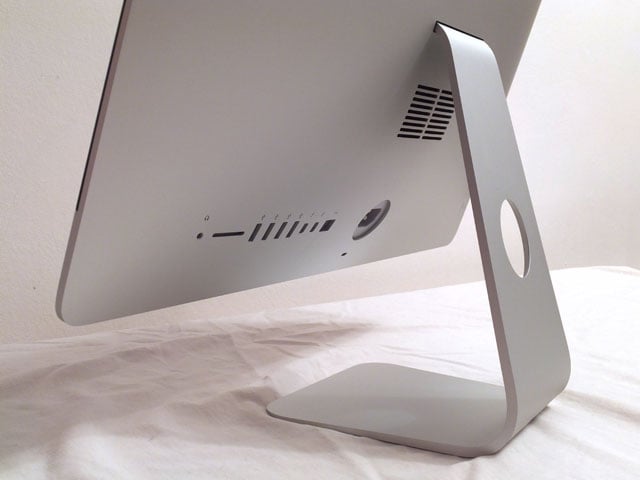 For the most part, the rear vent is hidden by the stand and you'll be hard pressed to hear the fan
With the SuperDrive plumbed in, I tried out a movie with Apple's DVD Player springing into life. The new iMac might not have an optical drive, but it hasn't forgotten what to do with them. Ripping tracks on iTunes was a piece of cake too, with the drive whirring away in all the ways you'd expect, pulling in a 58-minute CD in five minutes using iTunes Plus settings. Apart from the speakers, using the optional SuperDrive is noisiest aspect of using the new iMac.
Hard choices
Yet one of the most irritating aspects is Mac OS X Mountain Lion's compulsion to access to your Contacts for just about every application that's installed. As I was setting up the machine for a friend, I spent a lot of time being hassled to grant permission when I just wanted to be able to say no to all. Apparently, this is an improvement on earlier OS X versions which would allow apps Contacts access regardless. So now you can choose which apps have permission and can tweak this in the Security and Privacy control panel. In a somewhat frustrating way, this appears to be progress.
Geekbench 2.0 Results

Longer bars are better
Tests with Geekbench reveal this entry level iMac sits between the Mac Mini and the MacBook Pro 15 with Retina Display. No doubt the SSD keeps the MacBook Pro in the lead, along with its superior Nvidia GeForce GT 650M GPU. It has been argued that Apple's choice of the GT 640M on the new iMac is one way of tackling power consumption issues which would also reduce the heat it produces. Still, it's passable for gaming and you can even attach a 30in, 2560 x 1600 screen to it.
Having become accustomed to have an SSD installed in my own ageing MacBook Pro 17, I'd say this is where the new iMac suffers. Its quad-core CPU may well be a thoroughly decent number cruncher, but that HDD introduces a measure of lag that, from an everyday user perspective, shows itself compared to an SSD-equipped machine.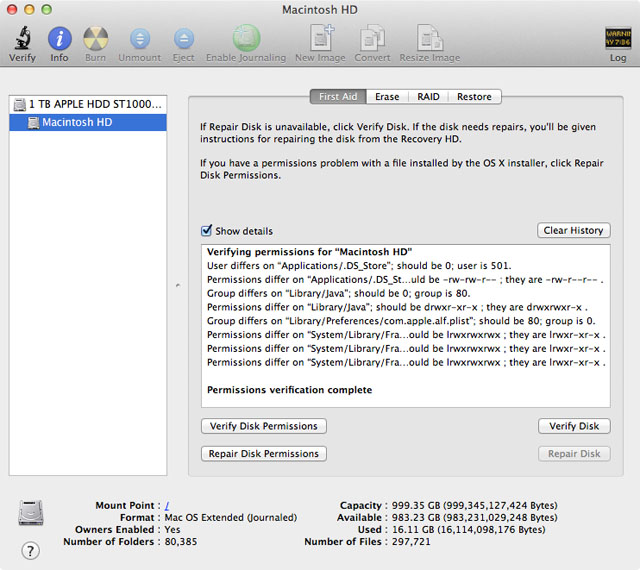 Even repairing a handful of permissions on an HDD takes an age compared with SSD models
Even checking the drive's Disk Permissions had the iMac mulling over a handful of tasks for around three minutes, when an SSD model would have completed in seconds. This does make the case for the Fusion option and, given the design of this new model, you may want to think long and hard about the storage choices you opt for.
Memory ditto since, as I say, this is not a box you can get into without first removing the display, a process that involves softening screen adhesive with a heat gun. Apple clearly doesn't want anyone messing with this thing's innards once the machine has left the factory. I hope it's reliable, or Apple is going to take a big hit on repair costs. I see no reason at all why it doesn't simply hang the back of the iMac on a couple of latches.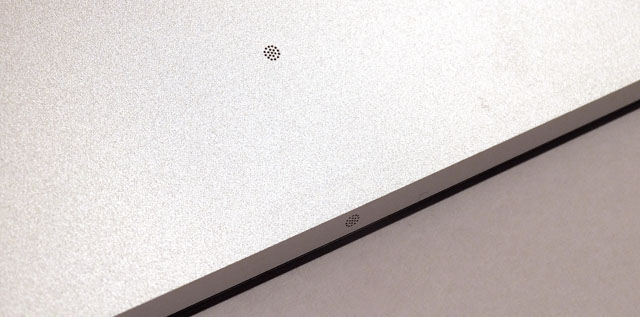 Two mics to accommodate noise cancellation during FaceTime or Dictation sessions
As a seasoned Mac user, it's easy to overlook features that have been introduced recently that are unique to the platform. This review model replaced an older iMac that had been stolen from a family home. Its light weight and looks aside, the new owner loved the Magic mouse with its gestures and was relieved to see all her iTunes purchase restored.
There's FaceTime too, and having a chat on my iPhone 4S over a 3G network was surprisingly good, with the audio from the iMac's dual mics sounding loud and clear with perfectly acceptable video coming through too. Dictation – Mountain Lion's speech-to-text feature – was also an instant hit, being surprisingly adept even with more esoteric words and phrases.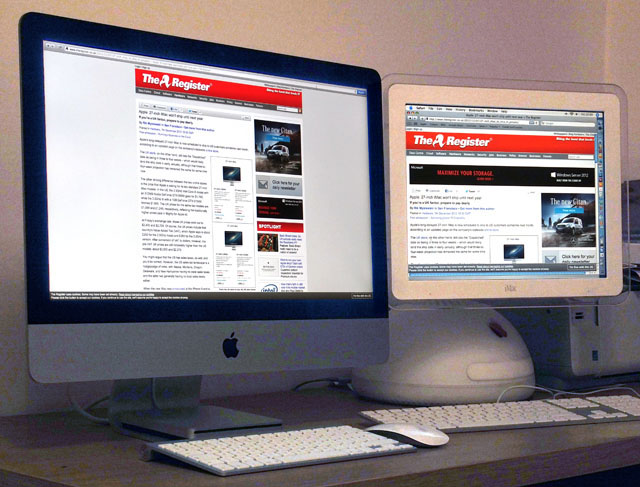 The first iMac G4 flat panel (right) is 11 years old and, due in no small part to it being upgradeable, this one is still going strong
The Reg Verdict
In some respects, the new iMac is too clever by half. When working on it, you'll never know how slim it is, but it does impact in other ways, as it's incredibly light to move around. Apple has been listening too, as the screen really is less reflective by an impressive margin. It even manages to pump out a decent sound while remaining deathly quiet in operation.
The only real issue is the way the HDD storage impedes performance. It's just not as snappy as it could be, and swapping out the hard drive for an SSD is, at best, bloody difficult, at worst impossible. Indeed, if you're looking for a growth industry in 2013, I'd look to heat guns and don't be surprised to see hair dressing salons offering Genius Bar repair services. They could even wash your keyboard while you wait. ®