Original URL: https://www.theregister.co.uk/2012/12/11/windows_phone_8_first_update/
Microsoft rolling out Windows Phone 8 update in Europe
Rumored to fix rebooting, Wi-Fi issues
Posted in Networks, 11th December 2012 20:59 GMT
European Windows Phone 8 customers have reportedly begun receiving the first over-the-air update to Microsoft's latest mobile OS, just six weeks after the platform's formal launch on October 29.
As first reported by Windows Phone Central, the update is being pushed out to international versions of the HTC 8X handset. Those devices shipped with OS build number 9905; the update brings them up to number 10211.
Microsoft has made no formal announcement regarding the update. When The Reg contacted it for comment, a spokesperson would only confirm that an update rollout is in progress and that it includes "several small improvements to Windows Phone 8, including performance enhancements."
That makes it a bit difficult to say what actual changes the update brings, though it seems to include both bug fixes and a few new features.
Based on a screenshot posted by Lithuanian website WPCentras, the update rolls up four separate patches, identified by the Knowledge Base numbers 2788412, 2788409, 2788410, and 2788407. The associated Knowledge Base articles haven't been posted yet, but we can make some educated guesses.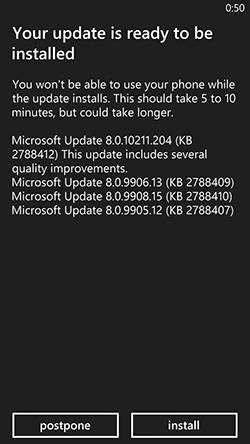 Just one more reboot
Most notably, one of the patches presumably aims to solve the random rebooting problem that some customers have reported. Microsoft owned up to the issue last month and said that it planned to issue an over-the-air fix for it in December.
The update is also believed to include a fix for an issue where the device's Wi-Fi radio disconnects from the network when the display is off.
Interestingly, however, Microsoft seems to be doing more with this update than just delivering bug fixes. Windows Phone Central staffers have poked around with an updated handset and discovered that it seems to include some new features.
Specifically, the update adds a few features to the handset's SMS app, including the ability to save draft text messages, a "Select All" feature for messages, and the ability to reject calls by sending an automated, prewritten text.
If any Reg readers own HTC 8X handsets themselves and have received the update – you never know – we'd love to hear about any other changes that can be confirmed.
In keeping with its overall tight-lipped stance on the update, Microsoft would not share any details as to which regions are receiving it and when it would go global. It also didn't share when it plans to roll out the update to other Windows Phone 8 handsets, such as the HTC 8S or kit from Nokia or Samsung. ®