Original URL: https://www.theregister.co.uk/2012/12/11/idc_storage_tracker_q3_2012/
Storage disks now shipping at over 7 Exabytes a quarter
University of Maximegalon to regain parking lots at last?
Posted in Storage, 11th December 2012 07:03 GMT
IDC's third quarter 2012 disk storage tracker reports that shipped disk storage capacity passed 7 exabytes for the first time in a total disk storage market that grew 3.7 per cent to just under $7.9 billion in revenues.
Total disk storage systems capacity shipped reached 7,104 petabytes, growing 24.4 per cent year over year. IDC's Liz Conner, a senior research analyst, said there was "double-digit growth in multi-protocol storage architecture and strong demand for upper mid-range and high-end storage."
IDC's Storage Systms research director, Eric Sheppard, said the 7EB milestone "occurred at a time of unfavorable economic conditions in Europe and improved utilisation rates contributable to storage optimisation technologies, suggesting demand for storage capacity is outstripping market headwinds."
IDC separately measures external disk storage systems revenues and the larger total disk storage systems revenues, which includes direct-attached disk storage. In the external storage segment it notes:-
- EMC maintained its lead with a 30.0 per cent revenue share
- NetApp and IBM are tied* for second place with 11.9 per cent and 11.7 per cent respectively
- Hitachi and HP finished the quarter in a statistical tie for the fourth position with 9.7 per cent each.
IDC provides this chart of year-on-year third quarter changes:-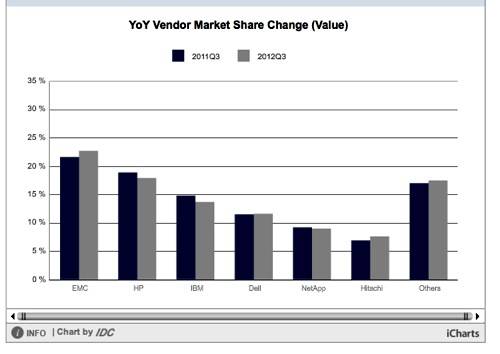 We can see that EMC, And HDS were the two vendors that gained the most share, followed by the others category and then Dell. IDC puts Dell in the Others category in its table of results. Here's a chart of overall external disk storage vendor market share changes over several quarters:-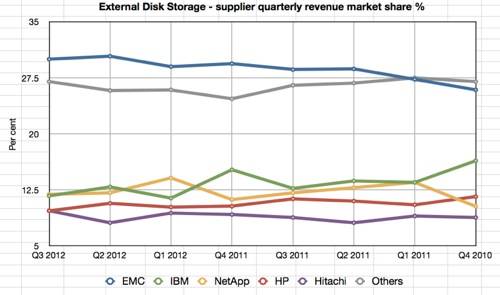 Click on image for larger version
This shows HP declining, HDS rising, NetApp rising slightly and IBM falling. EMC is in a separate league from everyone else.
IDC says the NAS combined with Open/iSCSI SAN segment grew 4.7 per cent year over year in the third quarter to just over $5.1 billion revenues. EMC continued as top dog with a 33.5 per cent revenue share, followed by NetApp with a 13.7 per cent.
In the Open SAN market, which grew 4.4% per cent year over year, EMC led again with a 29.8 per cent revenue share, followed by IBM with 14.0 per cent and Hitachi and HP in qual third place 12.2 per cent and 11.8 per cent respectively.
The iSCSI SAN market grew 6.9 per cent in revenue compared to the prior year's quarter. Dell was number one with a 28.3%percent revenue share - thank you EqualLogic, followed by EMC with 19.8 per cent and then NetApp with 13.3 per cent.
The NAS market increased 5.7 per cent year over year, led by EMC with its 43.6 per cent % revenue share and followed by NetApp with 29.4 per cent.
In the total worldwide disk storage systems market, EMC finished in the top position followed by HP with market shares of 22.7 per cent and 17.9 per cent respectively.
Here's a chart of total disk storage market share changes over the past few quarters:-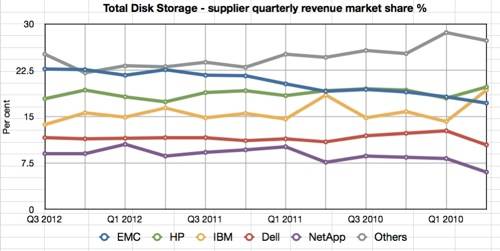 Dell is included in the 'Others' category. Click on image for larger version
EMC's growth is steady. Dell has been holding its position. NetApp's overall trend is a slight rise; IBM's is down as is HP but less so.If IBM continues its decline Dell could overtake it in a couple of quarters, not that Dell is doing well but IBM is doing much worse.
There was a sharp rise in the 'others' category this quarter suggesting customers bought cheaper direct-attached storage rather than the Dell, HP and IBM-provided stuff. ®
Bootnotes
*IDC declares a statistical tie in the worldwide disk storage market when there is less than one per cent difference in the factory revenues of two or more vendors.
The University of Maximegalon, mentioned occasionally in the Hitchhikers' Guide to the Galaxy saga, is known to have a problem with its copy of the Ultra-Complete Maximegalon Dictionary of Every Language Ever, which is apparently kept in a fleet of lorries occupying some valuable parking lots.