Original URL: https://www.theregister.co.uk/2012/12/06/best_ereaders_for_christmas/
The best e-readers for Christmas
Nexus 7, iPad Mini, Kindle Paperwhite - the top book-reading tech of 2012
Posted in Personal Tech, 6th December 2012 12:00 GMT
Feature Digital reading devices separate into two basic types. On the one hand, you have the traditional e-reader, based on e-ink technology, and designed specifically reading. But now we have the 7in tablet, an altogether more sophisticated gadget, but one now starting to challenge the old-fashioned e-reader on price, especially when you consider the extra functionality it incorporates.
During 2012, a raft of new e-readers and tablets made their appearance, all promising to be the acme of the portable library. Functionally, there's not much to separate the members of each group. Which you select will depend on which brands you favour, whether you want books bought from one seller to be viewable on another vendor's device, and what your attitude to legal but significant tax avoidance is.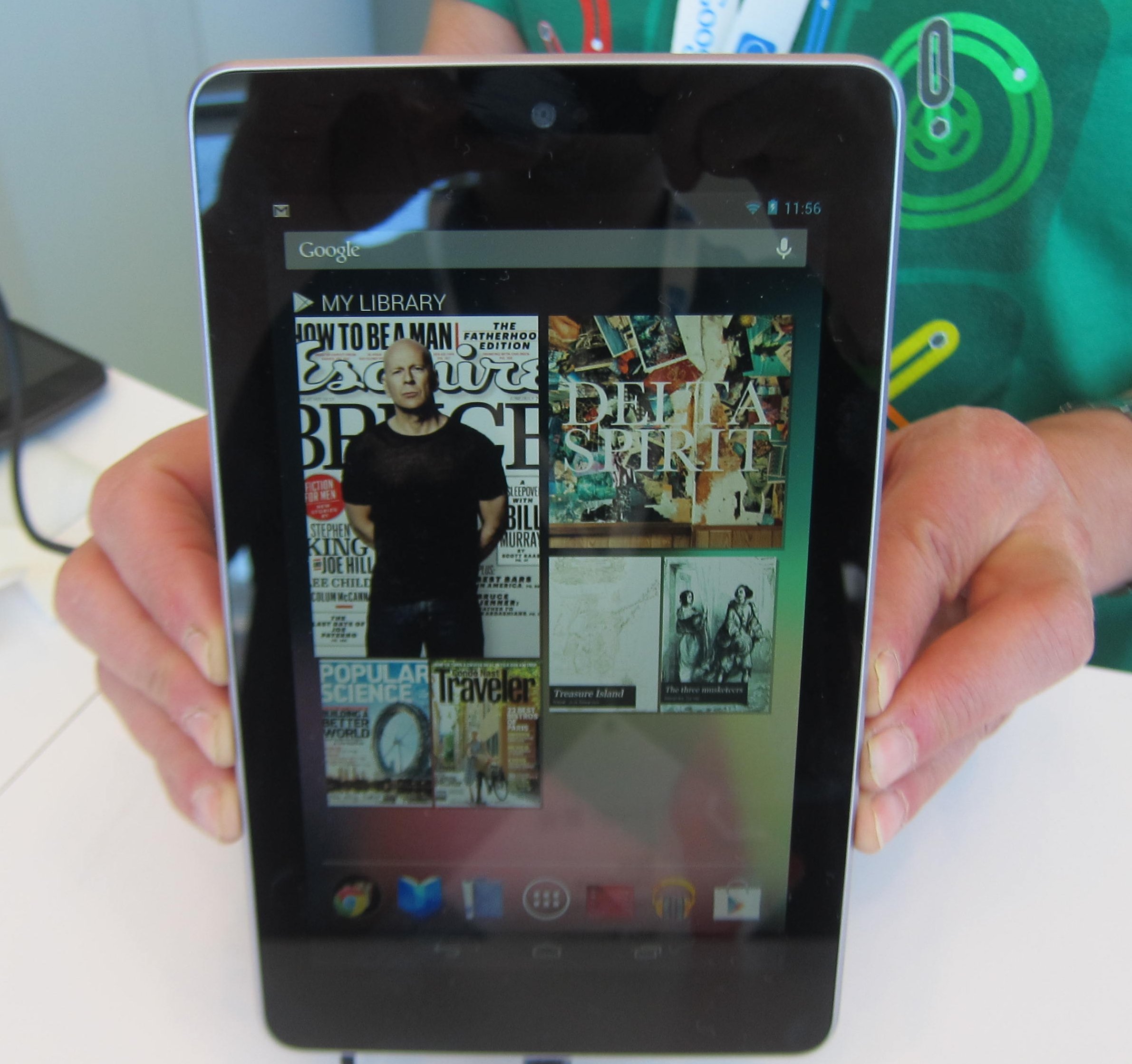 Nexus 7: a generic Android tablet that makes a cracking e-reader
I can't tell you whether you should have an e-ink reader or a tablet - that will depend entirely on how you plan to use it, and where. Me, I have one of each: a Kindle 4 e-ink device and a Google Nexus 7 tablet.
Why two? For me, it's all down to the screen. Traditional e-readers' e-ink screens have a key advantage over the glossy LCD panels of the tablets: they can be read in bright light. That said, even harsh, direct sunlight is too much for even their partially reflective screens. But generally, if you're outdoors, e-ink screens are more legible than LCDs.
Conversely, LCDs are better inside, thanks to their backlighting. They are brighter and crisper, they can do colour, they can show a genuinely white background not the grey of an e-ink screen, and it actually doesn't take much of a drop in ambient light levels for an old-style e-ink panel to become hard to read.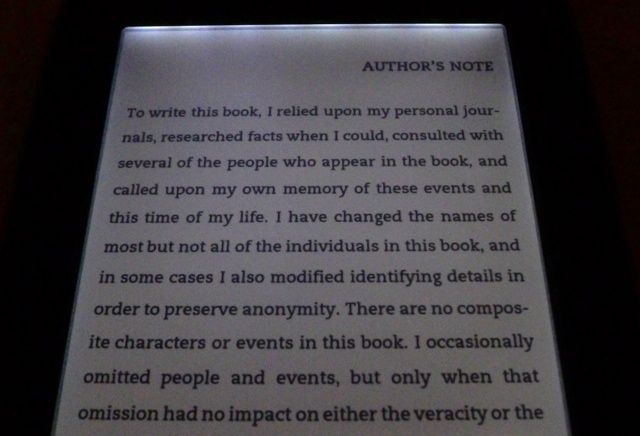 Modern e-readers, such as the Barnes & Noble Nook SimpleTouch Glowight, have illuminated screens for nighttime reading
That was the case until just recently when booksellers Barnes & Noble and Amazon, and e-book reader makers Kobo and Bookeen, released e-readers with illuminated screens. What the Nook SimpleTouch Glowlight, the Kindle Paperwhite, the Kobo Glo and Odyssey HD Frontlight have in common are arrays of LED lights that are positioned to reflect light off the back of the display. The upshot: an e-reader you can view in low ambient lighting conditions as well as outside.
Another plus: they have higher resolution, 758 x 1024 panel rather than the 600 x 800 of the previous generation of E Ink-made screens, though to me the increase doesn't make for a noticeable improvement in the smoothness of text.
There are downsides too: lit e-readers tend to be slightly thicker that their unilluminated siblings - though still less than a tablet - and the light consumes battery power at a greater rate. In practice, you have to have the light on all the time to see the difference - the Kindle Paperwhite is fixed that way - but you still get weeks of battery life out of it. One of the joys of older e-readers is their phenomenal month-or-more battery life, but even illuminated models outstrip tablets when it comes to battery charge longevity.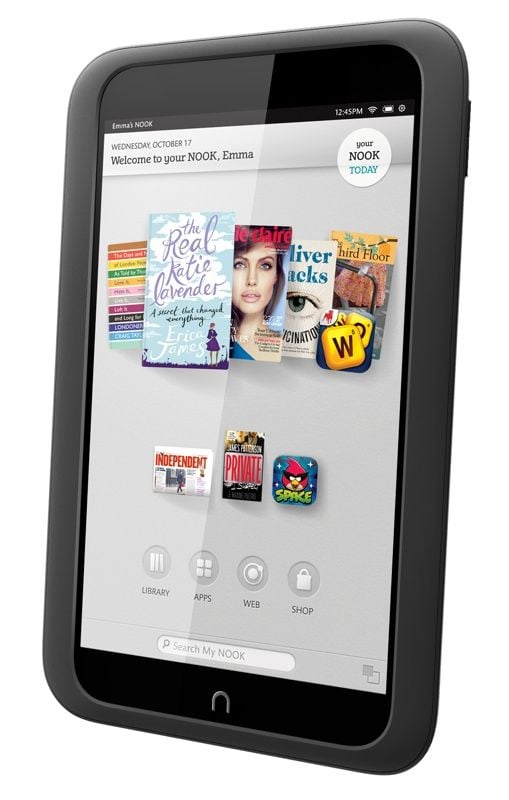 Barnes & Noble's Nook HD has the best display on a 7in tablet - but uses it to sell, as does Amazon's Kindle Fire HD
You might think that that negates the need for a tablet, at least as a device to be used primarily if not exclusively for reading. Not necessarily. For one thing, the new generation of 7in tablets, typified by the Asus-made Google Nexus 7, Amazon's Kindle Fire HD - the old Fire has too low a screen resolution and is too chunky for my taste - and the Barnes & Noble Nook HD, have high resolution screens which, while not quite up their with the latest Apple iPad, deliver a near-retina experience: the screens pixels are so small and sufficiently close together to make them all but indistinguishable to the naked eye.
Tablet or e-reader?
That's why I have a Nexus 7 for everyday reading, saving my old Kindle 4 for holidays in the sun. And given how inexpensive both e-readers and tablets are, having two devices is not an extravagance. Of the three 7in tablets mentioned above, the specs and prices are comparable, though the Nook HD has the higher resolution: 900 x 1440 to the Nexus' and Fire HD's 800 x 1280. The Nook HD also has a slot for Micro SD storage expansion but the quid pro quo is less on-board storage. The Fire HD and Nexus have no such slot, though the Amazon device does have a mini HDMI connector, handy if you expect to use it to show videos on a TV.
It's this kind of functionality that separates the tablet from the traditional e-reader. Tablets have colour screens that are capable of video playback; e-ink screens are monochrome and refresh their images too slowly for movies - even ones that say they can hack it as video players. There's no reason e-readers can't do music mind, and many did in the early days, but that's a feature that has now largely been lost as the devices are more tightly focused on book reading.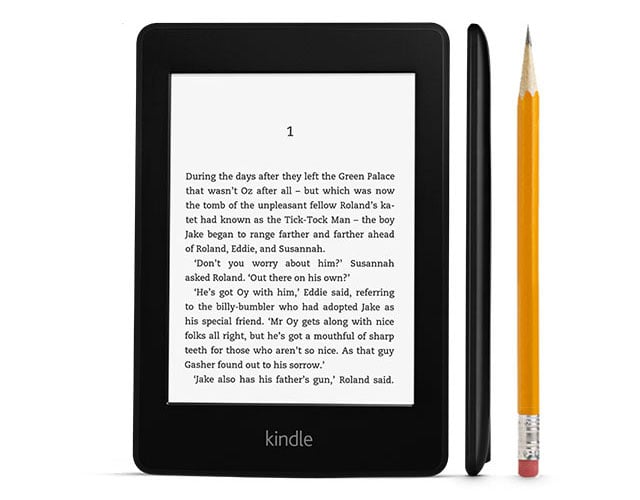 Amazon uses the Kindle Paperwhite's screen illumination to increase the E Ink screen's contrast ratio - but not as much as this PR shot suggests
That's why they have lower storage capacities than tablets, though e-books take up such little space that even a 2GB device - which will typically have around 1GB for books - is plenty for a large library of unread volumes. Some e-readers, such as the Sony Reader PRS-T2, have Micro SD memory card slots to allow you to up the capacity to 32GB - limiting if you want to put music and movies on there too, but sufficient for even the greediest of bibliophile.
E-readers are lighter and thinner than tablets and, I'd say, more resilient. LCD screens are a lot more likely to break when dropped than are e-ink panels. Then there's the user experience. Traditional e-readers and generic tablets like the Nexus 7 don't feel like handheld shopfronts the way that the tablets from Amazon and Barnes & Noble do. I like the Nook HD very much, but I don't want my tablet or e-reader to be a shop window for the supplier's products and services.
While the Nook HD at least supports the closest thing there is to an e-book copy-protection standard - as does Barnes & Noble's other kit, and devices from Sony, Kobo and Bookeen - Amazon uses its own. Books bought from the Kindle store can only be read on Kindles and Kindle apps on smartphones, computers and tablets. For some book lovers, the wide availability of apps makes DRM a non-issue; for others, not being able to make copies for back-up, and the fact that you don't actually own e-books, you only rent them is a big deal.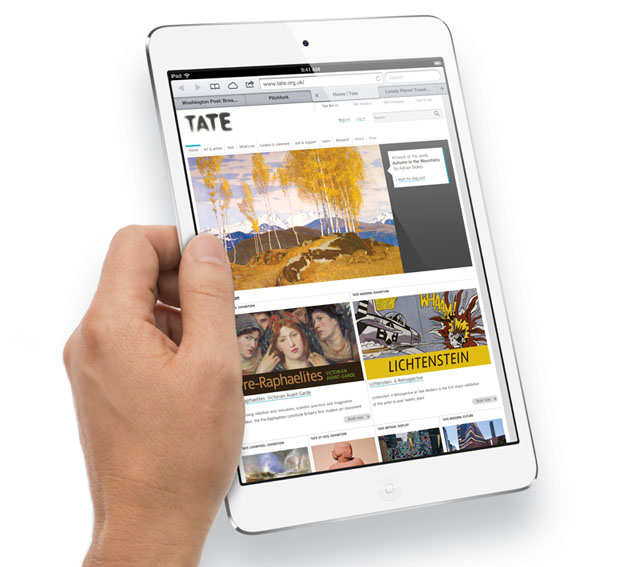 Apple's iPad Mini: not pocket friendly and equipped with a non-retina screen
There's a third DRM technology out there: Apple's FairPlay. It's incompatible with the others so, again, books bought from the iTunes iBooks shop can only be read on Apple devices. Unlike Amazon, Apple doesn't provide iBooks apps for other platforms. This lock-in is one reason why the Apple iPad Mini is less attractive as an e-reader than rival small tablets but, for me, a bigger problem is its lower resolution (768 x 1024) screen which doesn't render text as smoothly or as paper-page like as the others.
Like the Nexus 7, the Acer Iconia A110 and, to a slightly lesser extent the Fire HD and Nook HD, the iPad Mini is a generic computing device so its functionality can be expanded with apps. Of course, if you're only interested in using the device to read books, that might seem less of an advantage but it does mean you can pick and choose which book viewer apps you use. I can buy and read, say, Kindle books right on my Nexus 7, and content from other online bookshops, but that's not possible with the Amazon or Barnes & Noble products, though the latter will accept copies transferred to it by USB cable.
2012's top e-book readers: the best...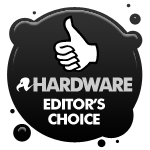 Google Nexus 7
Reg Rating 85%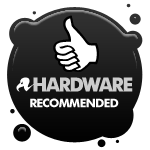 Amazon Kindle
Reg Rating 85%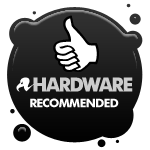 Barnes & Noble Nook
SimpleTouch Glowlight
Reg Rating 85%
...and the rest
Amazon Kindle Paperwhite
Reg Rating 80%

Apple iPad Mini
Reg Rating 80%

Kobo Glo
Reg Rating 75%

Acer Iconia A110
Reg Rating 70%

Amazon Kindle Fire HD
Reg Rating 60%