Original URL: https://www.theregister.co.uk/2012/12/05/2012_a_defining_year_for_home_entertainment_kit/
2012: an epoch-defining year for home entertainment
Analogue telly out, 4K Ultra HD in... and more besides
Posted in Personal Tech, 5th December 2012 12:00 GMT
2012 may have confounded Mayan predictions of global catastrophe, but it certainly proved an epochal year for home entertainment technology. The past 12 months have seen seismic changes to the living room landscape, with analogue TV finally running out of steam, the first sighting of a higher resolution future and a wholesale move to "smart" connectivity.
2012 was also the year that the wheels fell off the Japanese consumer electronics bandwagon, in spectacular style. Huge corporations bellowed and collapsed like men in monster suits at the end of a Godzilla movie, terminally irradiated by falling global demand, a herculean Yen and strategic blunders. It has not been pretty.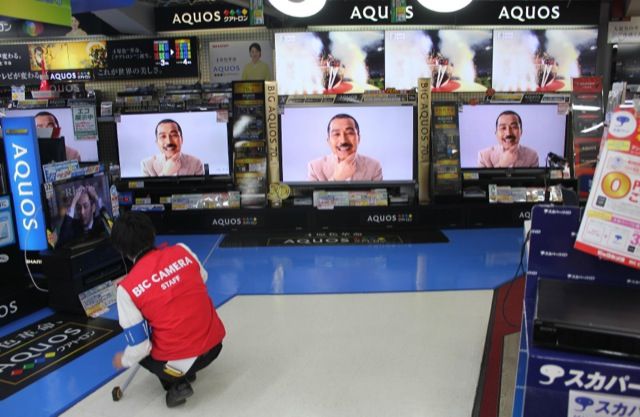 In Japan's AV stores, no one was buying...
With a ¥765 billion (£5.8bn) annual net loss on the cards, Panasonic president Kazuhiro Tsuga conceded that his company was "a loser in consumer electronics", despite releasing arguably the best television in its history, the majestic TX-P50VT50 – a 50in dual-core plasma screen capable of breathtaking image quality. His solution? Head for the greener waters of eco-tech and infrastructure projects.
Things look even worse for Sharp. Once the darling of the LCD business, the company now appears on the verge of extinction. Its futuristic panel making plant in Kameyama spent the bulk of the year running at 30 per cent capacity, forced to turn tricks for mobile device makers. President Takashi Okuda declared "material doubts" about the corporation's ability to survive.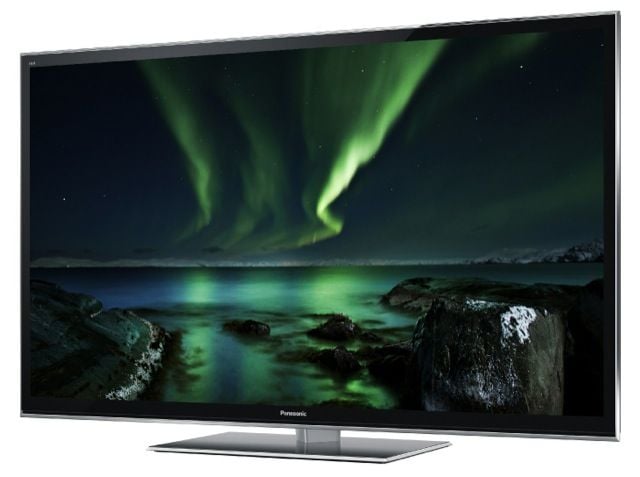 Panasonic's VT50: one of the year's best tellies
Sony's financial plight isn't much better, and other brands are drawing straws to stare into the abyss.
OLED vs Ultra HD
As we get to the end of 2012, you may quite rightly ask: whatever happened to OLED, the replacement technology for LCD and plasma? Despite being touted and flouted by both Samsung and LG, OLED TVs have manifestly failed to make it to market, and could yet be consigned to the TV technology reject bin, alongside Laser Rear Projection, SED and Crystal LED.
The simple reason they haven't appeared is because the panels are next to impossible to make. Paul Gray of DisplaySearch, a market watcher, says the yield rate is a pathetic ten per cent, and even then the good stock still suffers from pixel defects.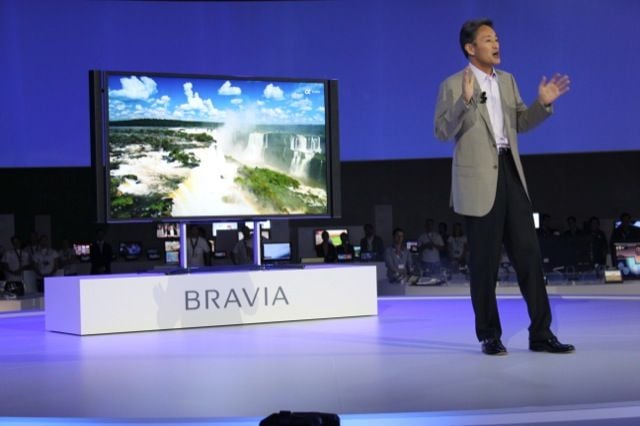 Sony's Kaz Hirai shows off the company's OLED-beating 4K TV
Even so, our two OLED advocates continue to pursue the technology with dogged persistence, not least because the pair is now embroiled in a battle for honour and prestige in Korea. "Both companies under-estimated just how difficult it is to make OLED TVs," said Gray. "It's like watching two drunken guys playing poker."
OLED will hopefully debut in 2013, but no more than 50,000 TVs are expected to dribble out. DisplaySearch predicts this may reach ten million by 2016, but with a constrained fab capacity, prices are likely to stay prohibitively high. Any OLED bluster emanating from January's Consumer Electronics Show (CES) should clearly be taken with a pinch of salt - and a side order of kimchi.
Beating panels
Not that its been all bad news on the telly front. TV sizes have been creeping up, news certain to delight home cinephiles. Sharp offered the mouth-watering 60in LC-60LE636E for a mere £1999, while Samsung tempted with its largest ever Smart TV, the spectacular 75in UE75ES9000 (£8000). Those looking for high impact screens were suddenly spoilt for choice.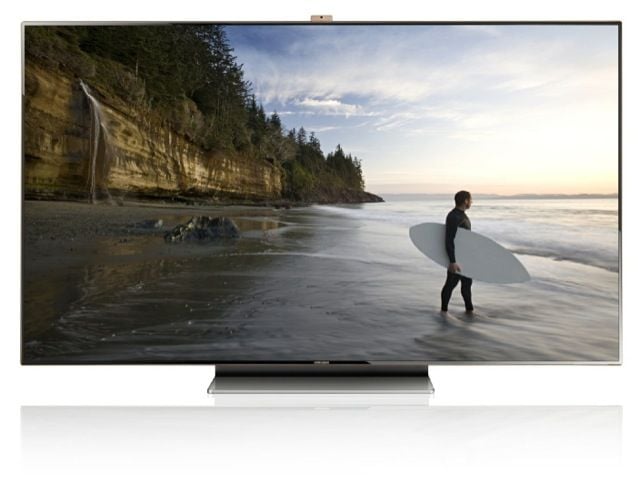 Samsung's stunning 75in ES9000
And with 4K x 2K Ultra HD emerging from the shadows, it seems things are set to get larger still. Sony got the Ultra HD party started at German techfest IFA, with the unveiling of the 84in Bravia KD-84X9005. The set's images were almost as stunning as its price, a cool £25,000. Expensive certainly, but 4K is a genuine evolution of the TV experience.
The screen does a marvelous job of up-rezzing Blu-ray, and Sony even had a neat trick up its sleeve to compensate for the lack of native 4K content: a bundled 4K media player pre-loaded with movies, some of which you might actually want to watch. The catch of course is that this media player is only being distributed Stateside; there're no similar plans for Europe, says Sony UK.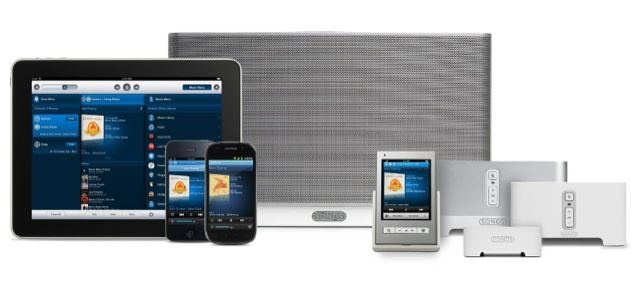 Sonos' wireless hi-fi: the over-air audio pioneer dominated the market in 2012...
LG duly followed with its own 84in Ultra HD monster, the £22,500 84LM960V, while Toshiba waits in the wings with another iteration. With a (limited) 4K Astra channel expected to launch during 2013, it seems Ultra HD is revealing legs - and they look rather lovely.
2012 has also been the year that Wi-Fi Hi-Fi finally became a mainstream proposition. Surprisingly, the driving force hasn't been Apple with its AirPlay tech, but wireless audio pioneer Sonos. £259 gets you the ageing Sonos Play:3 Wi-Fi bridge and an elegant new way to listen to music. The brand's enormous success has caught traditional audio companies napping, but now they're all fast tracking rival systems. Perhaps the most interesting is Pure. Cheaper and distinctly more colourful, the Pure Jongo wireless music proposition may yet become the Swatch of streaming music.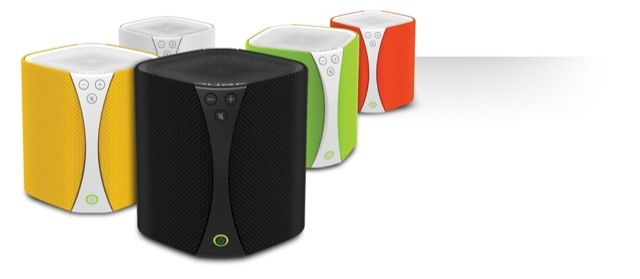 ...but 2013 may belong to the Pure Jongo
YouView at last
The DVR scene also deleted its doldrums during 2012, with a selection of nifty internet-connectable digital TV recorders, the best of which was YouView. It may have landed two years behind schedule and cost £70 million to develop, but this next-generation box, the Humax YouView DTR-T1000, was worth the wait. Seamlessly integrating internet-delivered catch-up with digital terrestrial broadcasts, YouView sets a new benchmark for timeshifters. Freesat was quick to follow with its lookalike Free Time service, again using a Humax-made box, the Humax HDR-1000S. Unfortunately, this proved buggier than an Ikea crèche. View21's Freeview+HD IPTV DVR impressed me too.
If there's been a defining trait this year, it's "smart" connectivity: TVs, Blu-ray players, AV receivers - if your latest toy doesn't have an Ethernet port or Wi-Fi built in, then it's most definitely of the wrong vintage. This trend has fuelled an IPTV gold rush, which has seen BBC iPlayer, Netflix, Lovefilm Instant and numerous other cloud-based services pouring into devices.

YouView showed how to combine catch-up and broadcast TV
2012 was also the year that analogue TV finally shuffled off this mortal coil after more than 70 years of sterling service. It's testament to the efforts of Digital UK that nary a tear was shed when the plug was finally pulled on 24 October.
The switchover, which began in 2008, involved digitising 26 million homes and re-engineering 1100 transmitters, in the process extending Freeview coverage to 98.5 per cent of the country. Oddly, it was the demise of Ceefax, a BBC teletext staple for 38 years, which seemed to elicit more emotion. Ex-PM John Major was even prompted to say that it would be "much missed", confessing he used it to keep abreast of the cricket scores during his tenure at Number 10.
Will 2013 prove just as momentous? Stay tuned… ®