Original URL: https://www.theregister.co.uk/2012/12/04/motorhead_motorheadphones_overkill_trigger_earphones_review/
Motörheadphönes Overkill earphones review
Only way to feel the noise is when it's good'n'loud
Posted in Personal Tech, 4th December 2012 12:02 GMT
I like Motörheadphönes' cans, but when I'm out and about I'd prefer a pair of 'phones that are a little more discreet and, yes, easier to stash when not in use. Enter the band's in-canal cans: Overkill.
And Trigger too, since both sets sport identical business ends. Only price and the presence of a microphone/remote control dongle separate one from t'other. Overkill has the remote, Trigger doesn't, and you'll pay a tenner more for it.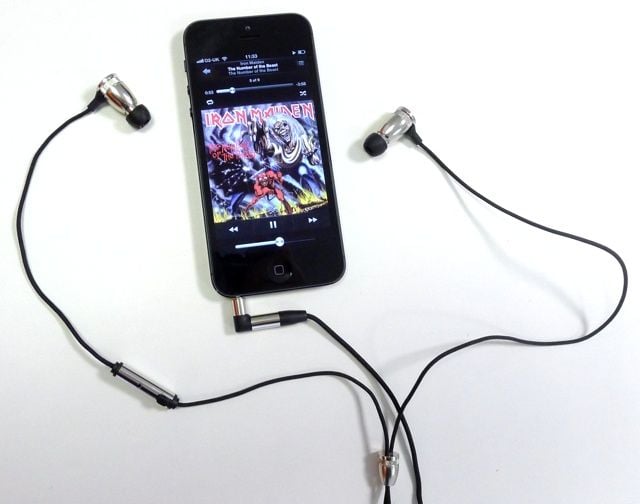 Overkill? They're gonna pull your Trigger
Is it worth it? I'm not sure. Personally, I use the remote for two things: volume control and, less often, track skipping. While Overkill's dongle will happily perform the latter with multiple presses of its large - for a remote control - play/pause button, there's no volume control. Folk who like to use a dongle for actually talking to people will need it anyway, of course.
The dongle is mounted on a "tangle free" woven cloth cord, and it's certainly better than a plastic cable cover when it comes to pulling the set out a pocket or bag and getting into a usable state quickly.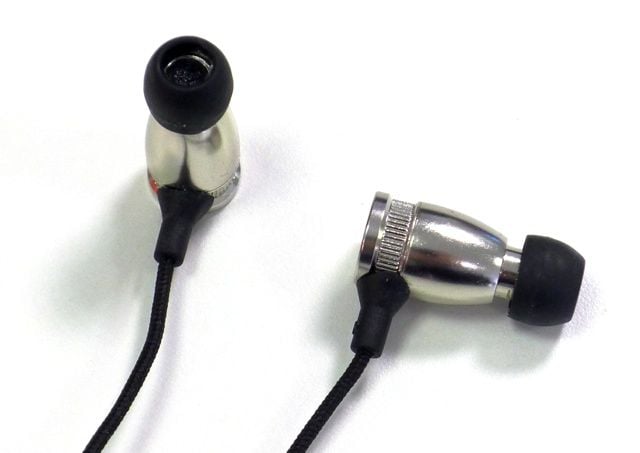 Good sleeves make for a good fit - and good sound
Like other Motörheadphönes, Overkill and Trigger have an L-shape 3.5mm jack mount, and there's a small, bullet-shaped, Ace of Spades-stamped toggle placed after the cord splits into two and runs up or down, close to or far from your throat, to shorten the left- and right-ear lines. The cord splits centrally so neither side is longer than the other.
Of course, with Overkill the toggle only runs as far as the mic, which is place seven inches down-line from the left earpiece.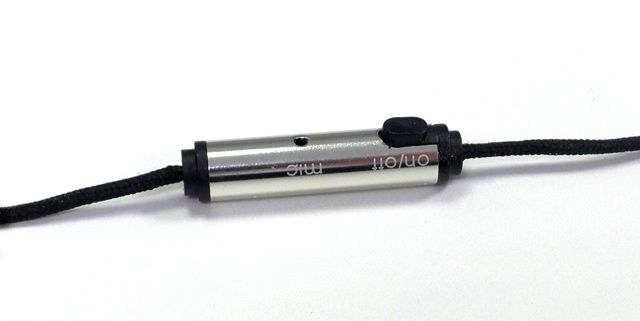 No control on Trigger, only Overkill - and you can't adjust the volume
The earpieces themselves are - see the theme? - bullet-shaped too and formed from aluminium, apparently. My sample set was silver, but you can get 'em anodised black - much, much more discreet - or brass. The cables feed into the earpieces through a thick plastic wrap to keep them snug and minimise broken connections after over-aggressive tugs on the cord.

Squeeze my, ahem, Trigger
The earpieces come with the inevitable set of three black rubbery sleeves - find the pair that fit you best. If you do, you'll get a very good level of isolation from environmental noise, I found. In-canal earphones have fallen out of favour with me of late, largely because I find them growing uncomfortable after a short period. Maybe that's a fitting issue, perhaps with the limited set of sizes this kind of product comes with, or I've just got weird ears. These boys, however, proved to be comfortable for a reasonable duration, and I'd certainly be happy wearing them in on the train, especially with the level of noise-isolation I experienced.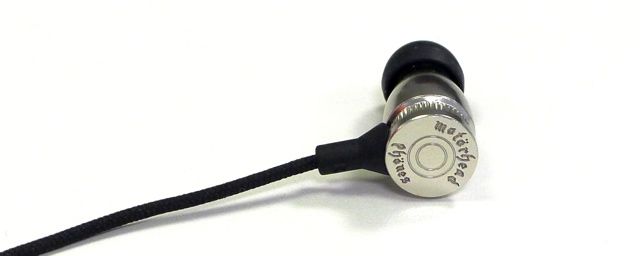 Bite the bullet
The real test, I think: can you wear them throughout a ten-hour flight, not only as sound feeds but as de facto earplugs? That's when I still use in-canal 'phones. I'll let you know how these ones perform after I've next been travelling. If you've already travelled afar with these 'phones, let us know how they worked out.
Incidentally, the sleeves fit tightly onto the metal. Yes, this makes it harder to swap them for larger or smaller ones, but it makes it a lot less likely that you'll pull out the earpieces and find you've left the sleeve behind. Been there, done that and have the A&E discharge note to prove it. Overkill's tight-grip sleeve mount reassures me that this isn't going to happen to me again as it did with a rival brand's offering.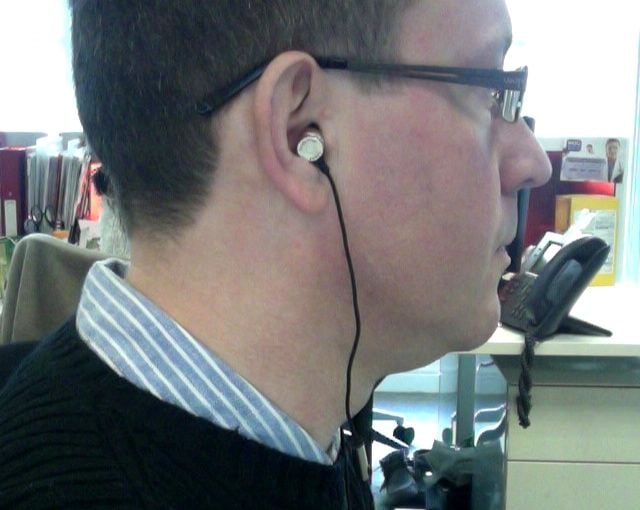 Good fit, great noise isolation, even better sound quality
I'm even more impressed with the sound. In-canal phones inevitably deliver strong bass, especially with a good sleeve fit. Here it doesn't dominate, though it's beefier than it is with the Motörheadphönes cans. The mid-range and higher frequencies could be a little more clear, but treble hasn't been as lifted as high as was the case with the Motörizer pair I review last week. But neither is the sound as flat as the firm's Iron Fist pair.
For me, they've got the balance almost right. These are good rock 'phones. Nice and clear for vocals and down-the-neck guitar riffery, and allowing the drums and bass guitar a drive a good, thumpy beat. Mainstream rock plays well on these, metal too. But so does pop, folk and electronic music. These are good all-rounders for folk with catholic tastes.
Verdict
Announcing your musical affiliation less flagrantly than Motörhead's headphones, these in-your-ear offerings deliver decent audio that plays well with rock and metal but not to the detriment of most other genres. Not at all bad for the price, especially if you don't need the remote control, which won't help you adjust the volume, in any case. ®
More Audio Reviews

Motörheadphönes
Motörizer
Ten gaming
headsets
Ten celeb
headphones
TDK ST-700
Build a
bonkers hi-fi