Original URL: https://www.theregister.co.uk/2012/11/30/nintendo_wii_u_games_console_review/
Nintendo Wii U Review
'Asymmetric gameplay', anyone?
Posted in Personal Tech, 30th November 2012 07:00 GMT
Six years ago Nintendo brought gaming to the masses with the Wii, now it's hoping to repeat the trick. The Wii U signals not only Nintendo's first foray into HD, but the arrival of a new peripheral for us to get to grips with in the shape of the Wii U GamePad and its 'asymmetric' gameplay.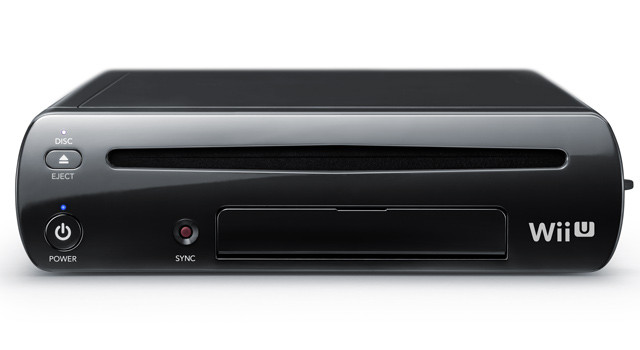 Playing the field: Nintendo's Wii U console
The Wii U comes in two flavours: Basic and Premium. The Basic pack includes the console with 8GB internal storage, a Wii U GamePad and HDMI cable. The Premium contains the same, but with an increased 32GB of storage, a stand and charging cradle for the GamePad, a Wii U sensor bar and a copy of launch title Nintendo Land.
Firing up the console prompts the Wii U to ask you to create your Mii avatar (which can be imported from your 3DS), set up your GamePad so it can change your TV's channels and connect your system online.
Once you're up and running you'll be greeted by an interface very similar to that of the Wii. You'll navigate through channels – eShop, Netflix, YouTube, Settings and the like. Wii owners can even use the Wii Transfer Facility to copy all of their Wii's data to the new console – accessible by rebooting the Wii U in the non-HD Wii compatibility mode.
With so much content copying going on it's perhaps good to start with the issue of onboard storage. My 32GB system, for example, tells me I've only got 25GB free – and that's before downloading anything. Indeed, it seems it's impossible to fit a game like Nintendo Land (3.44GB) on the 8GB system at all.
If you've pre-ordered a Basic model it's time to look into an external HDD then. Wii U supports USB 2.0 drives up to 2TB, and Nintendo suggests a drive which has its own power. Considering the 32GB model is £50 more than the 8GB one, it makes business sense to grab the cheaper version and find a HDD with 500GB+ for not too much over that £50 deficit.
Paddle out
Storage solved, it's on to the real reason we're here: the GamePad. The presence of an easy to use tablet in your lounge will be a thrill for those who have yet to experience the joys of, say, an iPad.
The GamePad's screen at 854 x 480 and 158ppi, while not as sharp as the iPad, still looks bright, vibrant and near enough to HD to mean you won't miss it. It comes with touchscreen, stylus, camera, microphone, gyroscope and accelerometer. It's also surprisingly light and ergonomically designed so that even my longest stints haven't led to aches or finger cramping.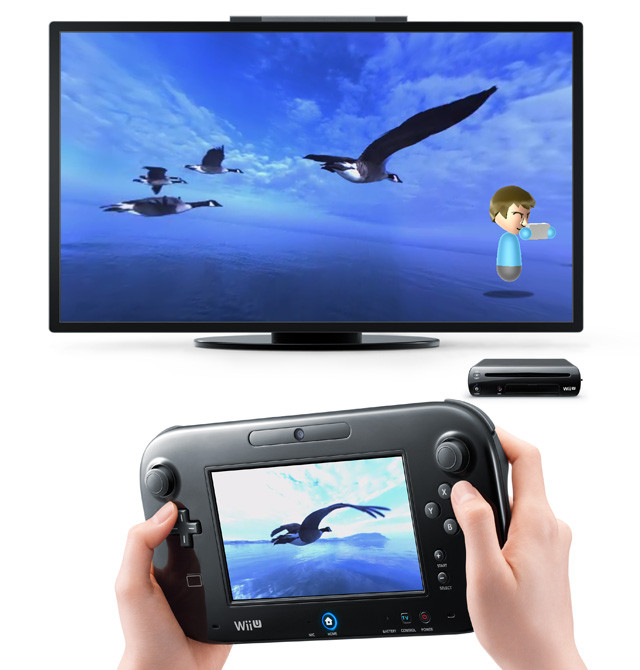 Birds of play
Quickly glancing from TV to GamePad, depending on the requirement of its games, soon becomes second nature. And I've yet to lose the buzz of swapping and changing the action from TV to GamePad to carry on playing even when the TV is unavailable.
Once a game is running on the GamePad play is lag free and the resulting visual down-scaling barely noticeable. However, a little experimentation revealed the GamePad's roaming range is not as great as I'd hoped.
Moving about 5m away from the Wii U is enough to prompt the 'corruption interrupted' screen which means, sadly, that's there's no Mario while sat on the loo for me – a blessing no doubt. It did reach my bedroom though – Batman in bed anyone? – but don't be surprised if its signal won't permeate every room of your house.
Battery life is a concern too; it takes about three hours of play to drain, so you'll have to plug the GamePad in to keep playing. Should you not happen to have a wall socket located handily next to your sofa of choice that'll be an issue, plus the GamePad sure doesn't look as pretty with wires sticking out of it.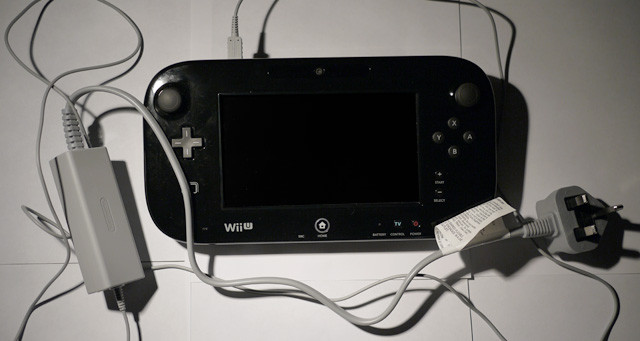 The processing power of the Wii U is a further point of discussion. Hard tech facts like it has an IBM Power multi-core processor, 2GBs of DDR3 SDRAM (1GB to the OS and 1GB to the games), an AMD Radeon-based High Definition GPU, don't really say much to the average consumer.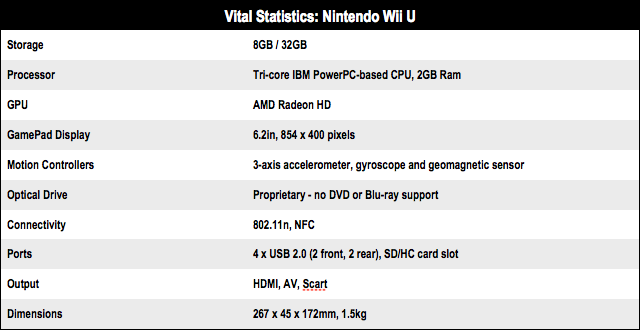 Tap in to modern necessities...
So it's probably easier to judge by the frames per second and resolutions outputted by its games. But then that's difficult too given that ports of Darksiders 2, Batman: Arkham City and others are just that, ports. Therefore they aren't necessarily coded to push the Wii U in the way it was designed to be pushed.
At least we should be able to rely on Nintendo to max-out its own hardware yet, for now, that hasn't happened. No doubt the world will seem a little sunnier the day the first footage of a high definition Legend of Zelda, Star Fox or Mario Galaxy is released. But, so far, how the Wii U's specs will measure up when PS4 and Xbox 'nextbox' appear remains hard to ascertain.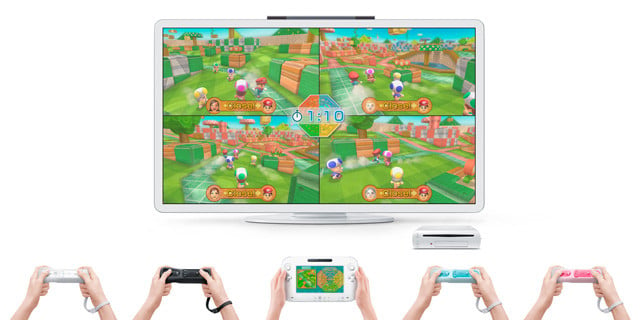 Five alive
Multiplayer with alternate pads
Sonically there are more questions. No Dolby support and no optical output means that, unless your set-up supports LPCM 5.1 via a HD cable, you can forget about hooking the Wii U up to your surround sound system. If yours does, then lossless sound is your reward, but even then it's not the whole story.
Some games such as Batman Arkham City, ZombiU, and Black Ops 2 (and note they are all third party titles) support 5.1; but Nintendo Land and Mario Bros. U don't.
I can just about forgive that of a 2D platformer and mini-game collection, but Nintendo must step it up. If a new Zelda launches without 5.1 then what point is there in Nintendo coming to the HD party at all?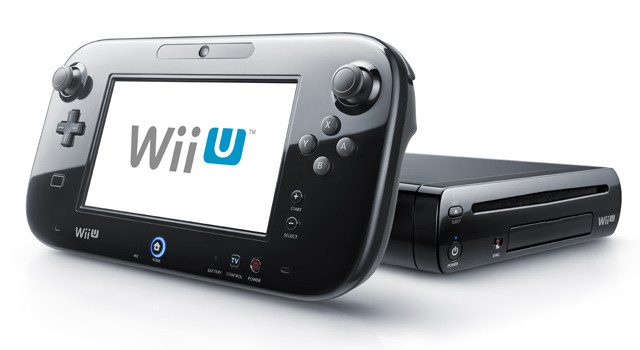 Put it on the tab
Verdict
There's no doubt that the Wii U is pushing the boundaries of how users interact with games. Asymmetric gameplay is hopefully here to stay and seeing our Nintendo heroes in HD for the first time is a watershed moment. But then there are those simple design shortfalls too, such as the GamePad's relatively short battery life, the lack of a universally compatible 5.1 option and the absence of Wii upscaling.
What purchasers will receive, however, is the knowledge that they'll be able to play new Nintendo games for the foreseeable future. And when put like that, £300, or thereabouts, seems a more than reasonable outlay. ®
More Games Console Reviews

Nintendo
3DS XL
PlayStation
Vita
Xbox 360
Kinect
Xbox 360
250GB
PlayStation 3
Slim
Nintendo
Wii