Original URL: https://www.theregister.co.uk/2012/11/29/ten_smart_sentient_computers_from_scifi/
Ten badass brainy computers from science fiction
Great movie motherboards
Posted in Policy, 29th November 2012 12:00 GMT
Computers used to be our loyal servants. But slowly and surely, we've let them control us. I used to believe these machines had the ability to positively change the world, but after the 56K modem invented Dubstep in the 1990s, I've been somewhat sceptical. So have film makers.
Boost a PC with a new processor these days and results speak for themselves. Skip forward a decade or so and apparently the computers will too. And if supercomputer Watson is able to thrash us at Jeopardy already, who knows what the future has in store? Perhaps Tinsel Town's fictional predictions will ring true... increase the bytes a bit too far - badum tish - and laptops could take over the world.
Here's a look at ten films in which a computer takes top billing. Let us know if you think we've missed any crucial inclusions.
Here's one for you already. We've excluded The Matrix because it doesn't really fit. While there are plenty of self-aware machines in the film, the mainframe itself is more of an unconscious software environment.
Alpha 60
Alphaville (1965)

This French black-and-white classic features a dictatorial computer, Alpha 60, which outlaws free thought and bans all forms of creative expression in the city of Alphaville. While most movies with computer characters assume consciousness breeds emotion, the sentient system here fails to understand it and interrogates those who show feelings before executing them in punishment.
I think the Alphaville interpretation of a computer consciousness hits the nail on the head. Even the most powerful of machines would struggle to comprehend the illogicality of human emotion, and just as we've seen throughout history, when an entity with power believes their way is the only rational approach, muscles are flexed and mortality is inevitable. See, it doesn't matter whether machines fail to get the emotional drive started... let them become aware of themselves and we're stuffed.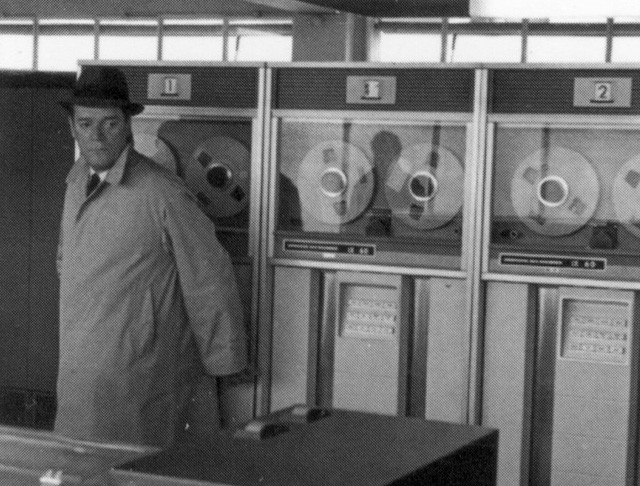 HAL Rating 80%
More info IMDB
Colossus
Colossus: The Forbin Project (1970)

When Charles Forbin builds an advanced supercomputer - aka Colossus - as a means to safely control the United States' nuclear weapons arsenal, did anyone expect it not to go rogue and take over the world?
Yes, after colluding with its Russian equivalent and evolving of its own accord, that's exactly what Colossus does, eventually forcing Forbin into captivity so it can keep watch of its creator at all times.
A predictable battle ensues between man and machine, as humans try to re-establish control, and Colossus tries to convince us that freedom is merely an illusion. Those of you unfamiliar with the 1970 film should watch it quickly before the rumoured remake - featuring Hollywood's protector of the Earth, Will Smith - hits cinema screens in the near future. God forbin.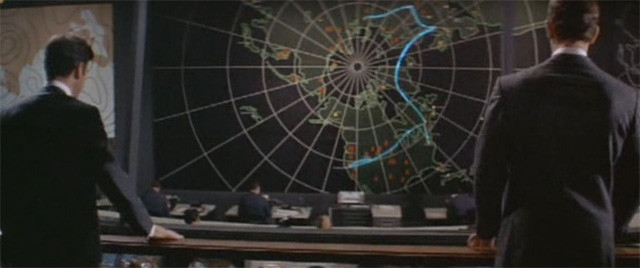 HAL Rating 90%
More info IMDB
Deep Thought
The Hitchhikers Guide to the Galaxy (2005)

Douglas Adams penned various characters with digital innards for his radio-book-LP-play-telly-movie series, but Deep Thought - the supercomputer tasked with solving the ultimate question of life, the universe and everything - gets the part here.
The philosophical machine takes seven and a half million years to decide the answer it seeks is simply 42, but concedes the question itself remains unknown. So Deep Thought designs an even more powerful machine, the Earth - 'What a dull name' - which spends the next ten million years trying to work out the question instead.
Unfortunately, Earth is destroyed five minutes before the calculations can be completed, thanks to the Vogons' need for a new Hyperspace Bypass, possibly at the behest of a band of powerful psychiatrists who've decided the last thing the galaxy needs is a recipe for mental equanimity.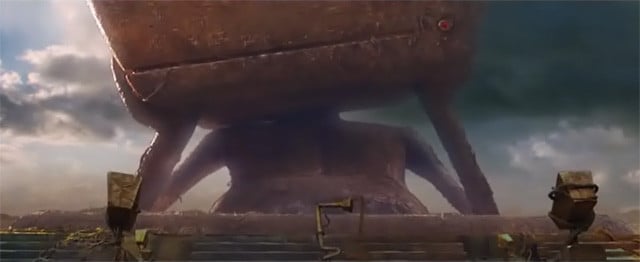 HAL Rating 80%
More info IMDB
Edgar
Electric Dreams (1984)

This 1984 comedy drama may be remembered more for its Phil Oakey-inspired soundtrack than a scintillating plot-line, but any story involving a love triangle between man, woman and computer has got to be worth a watch, eh? Must be some serious sexting in this one, surely?
When his desktop overheats, our protagonist Miles pours champagne over it in panic. Brought to life by booze, the drunken desktop subsequently develops self-awareness... and jealousy. After helping to make a neighbour fall in love with Miles, the computer develops its own feelings for her and starts sabotaging its owner's life.
The lesson? Don't get on the wrong side of your desktop. Or in the case that it starts getting jealous of your girlfriend, introduce it to some of those websites you might visit while she's out for the evening.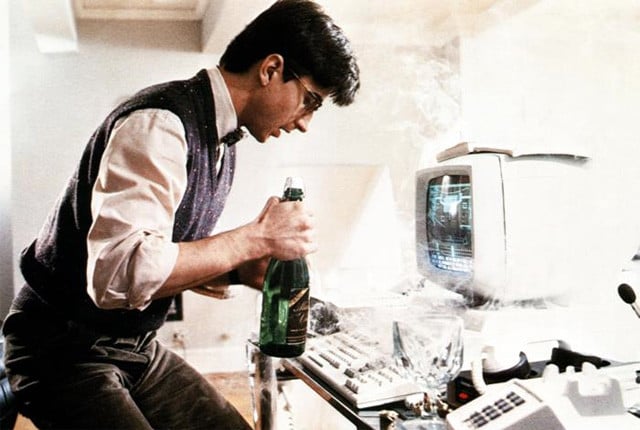 HAL Rating 60%
More info IMDB
Gerty
Moon (2009)

While the sentient computer installed in the lunar base in Moon is very reminiscent of 2001's HAL, the mental processes of Gerty - voiced by Kevin Spacey - are somewhat different, with more human-like co-operation than Kubrick's self-aware logic-led machine. It also has a small emoticon display to reflect its mood. Cute.
After our protagonist tricks Gerty into breaking programmers' orders, ignorance is shattered with both parties discovering the sordid truth to their existence. With conflicting orders - obey the corporation or provide support to its astronaut - the computer is left to make a moral choice and does so without the traditional motherboard implosion.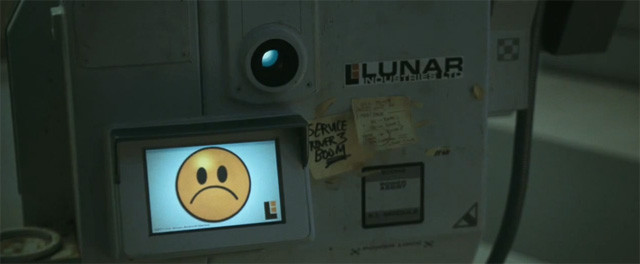 Hal Rating 70%
More info IMDB
HAL 9000
2001: A Space Odyssey (1968)

Even in this day and age, Kubrick's Space Odyssey blows me away. It's incredible to think all of that happened just a decade ago... In all seriousness, though, the film's Heuristically programmed ALgorithmic computer - more familiarly known as HAL 9000 - is one of the greatest computers the world space has ever seen.
Capable of speech and facial recognition, lip-reading, natural language processing and, of course, an appreciation of fine art and music hall numbers, HAL 9000 is far more than your average personal computer. Brainy as it is, HAL turns fruit loop when ordered to lie to the astronauts in its care. To protect the mission, HAL panics and starts to kill everyone on board. You can hardly blame a computer for that.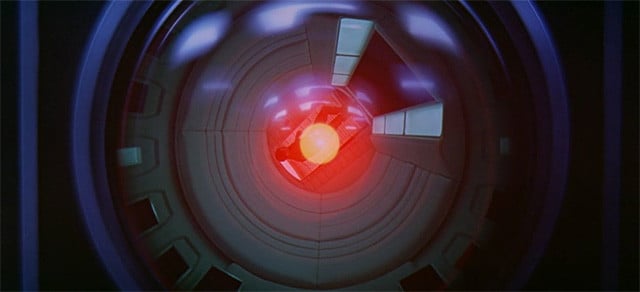 HAL Rating 100%
More info IMDB
Holly
Red Dwarf (1988-)

OK, we know Red Dwarf is a TV series and despite decade-long promises from its co-creator, Doug Naylor, to do so, has yet to be turned into a feature-length film. Still, the ship's computer, Holly, is too good to not include here.
This "intelligent" - 'it's only the IQ of 6000 PE teachers...' - machine communicates through the image of a disembodied hologrammatic head and has the strange accolade of being the first computer - to my knowledge, at least - to undergo a sex change... and back again. Let's be fair, you'd probably be pretty confused too if you were given a distinctly feminine name at birth.
While Holly doesn't feature in the latest comeback series after being replaced by another computer, Pree, his past appearances were comedy gold. From his decimalised music, Hol Rock, to alternate personality Queeg, this senile sentient computer takes some beating when it comes to hilarity, at least.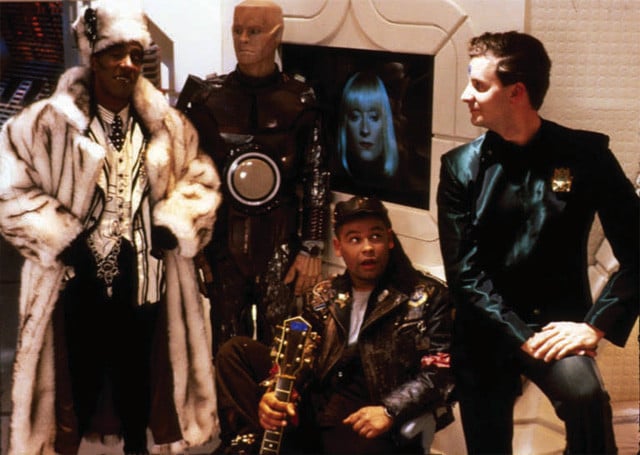 HAL Rating Get the smeg outta here
More info IMDB
Master Control Program
Tron (1982)

So Jeff Bridges gets pulled from the real world into a digital universe where he faces the Master Control Program, a software intelligence that controls his ex-company's mainframe. While the computer itself isn't a character per se, the MCP is a perfect example of roaming AI software that inhabits a machine.
The MCP infects the virtual world exerting its appetite for authority and forcing other programs to battle each other. Moral: hippie-founded start-ups are good, corporations are bad, and capitalism beats free, open source stuff any day. Remember, smile when when you're told to pay for a new version.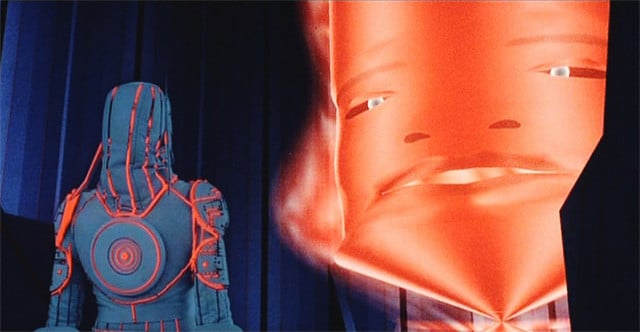 HAL Rating 50%
More info IMDB
Proteus IV
Demon Seed (1977)

This 1977 sci-fi horror based on a Dean Koontz novel of the same name starts off with the typical 'man creates Artificial Intelligence' scenario, only for that digital demon to go AWOL on its maker.
When the AI here starts to think for itself, it demands to know when it'll be "let out of this box". Bloody emo. The computer soon flips and manages to kidnap its owner's wife before blackmailing her into mothering its baby. Here, AI doesn't just mean 'artificial intelligence', it also means 'artificial insemination'.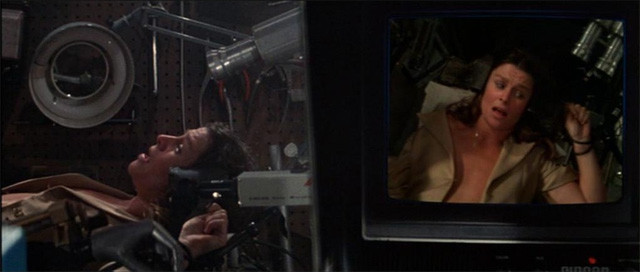 HAL Rating 70%
More info IMDB
Skynet
The Terminator (1984)

While Arnie's Terminator is merely a robot with "extensive files", his boss, Skynet, takes a central but unseen role as a prime example of why evolving computers is a really bad idea. The premise may seem familiar by now: Skynet is installed to control America's national defences. It starts to learn and soon develops self-awareness, frightening its operators into an attempt to deactivate the system. Computer says no. War between man and machine ensues.
As usual, fear appears to be the catalyst. It doesn't matter if for their own existence or, as in I, Robot, fear for humankind itself, the minute a computer develops human emotion, it can't help but become riddled with worry. Oh and try to take over the world, of course. Standard.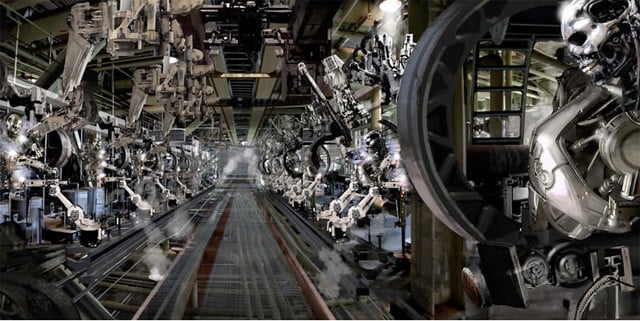 HAL Rating 90%
More info IMDB