Original URL: http://www.theregister.co.uk/2012/11/29/far_cry_3_game_review/
Far Cry 3 game review
Jungle warfare
Posted in Personal Tech, 29th November 2012 08:00 GMT
In a few simple beats Far Cry 3's accidental hero, Jason Brody, goes from being nervy, spoilt rich kid to John Rambo, as his extreme sports holiday takes a turn for the worse. It's a forgivably quick process for plot development purposes, if an abrupt one, but made palatable by the use of subtle tricks skilfully employed to pull the player into the action.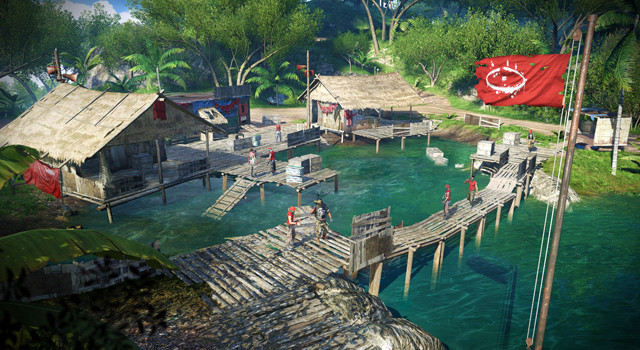 Base bawl
Like all the best tricks, Ubisoft Montreal's is all in the wrist (and hands to be accurate) as Jason's every action is punctuated by dramatic arm movements, each perfectly framed within the first-person perspective. Wince as he pulls shrapnel from his wounds following a grenade blast; scream as a snake sinks its fangs into his forearm, and sweat as he pumps his arms while running for his life.
What makes the experience all the more spellbinding is the perfectly complementary voice work adding layers to his character and plight. Rather than the silent protagonist that many FPS developers plump for, Jason is happy to narrate and relate his own actions, serving to drag you ever deeper into his world.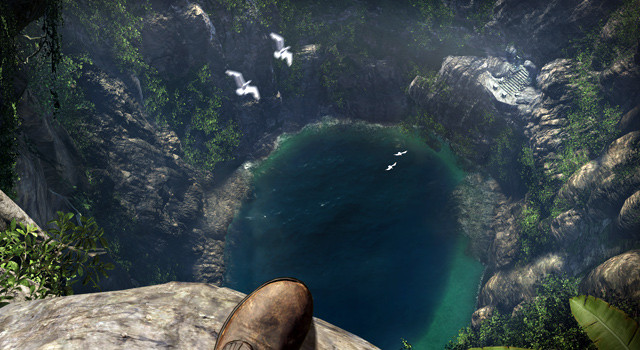 Even Tom Daley would brick himself here
And what a world it is, full of rich characters and the kind of open world freedom that even GTA would be hard pushed to match. Far Cry 3's Rook Islands, located where the Indian and Pacific Oceans meet, is a living, breathing and constantly shifting world complete with warring factions and its own ecosystem.
Under the tuition of Rakyat tribesman Dennis, Jason is soon tagged in the indigenous tribe's mystical 'Tatau' and sets out to rescue his captured friends. Not easy given they're at the mercy of Vaas, one of the most neurotic and, at times, terrifying characters ever committed to videogame fiction. Kudos to the voice work and scripting.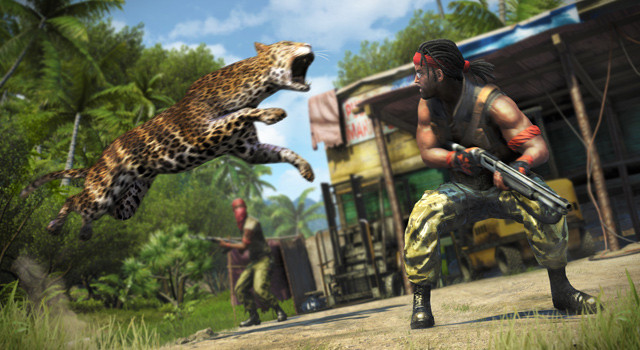 Threat spotted
To aid him, his newly acquired Tatau doubles as a levelling-up system. Experience points earned via completing objectives used to unlock fresh attacking options, improve his health regeneration, aid swifter movement, and suchlike.
All mapped out
Each unlocked power adds to the ever-growing ink, meaning that Jason soon has a whole inked tapestry to behold – a monstrous memento of his transformation from innocent to no-holds-barred killer.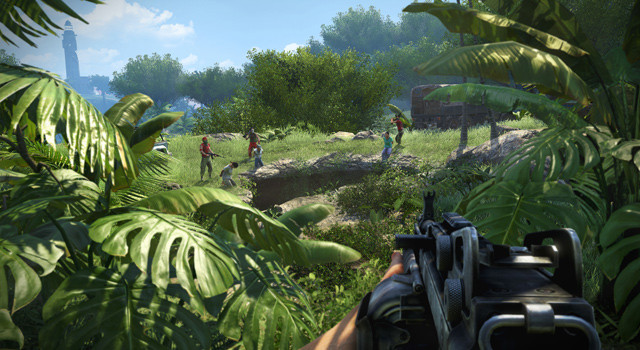 Blazing through the bush
Away from Dennis' scripted missions, you're free to range across the tropical forested mountains and valleys of the Rook Islands as you see fit. Local shop keepers will encourage you to discover radio towers scattered across the islands.
Activate these and you will be able to map sectors of the islands and unlock extra weapons for purchase. Rakyat warriors might also ask you to join them on outpost raids. A secured outpost becoming a new home hub where Jason can buy weapons and ammo, and access new missions using the outpost's job board.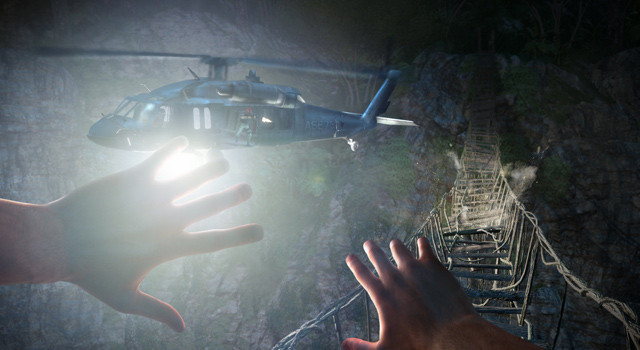 Bright as heli
Roaming the Islands on foot or car, boat, hang glider and more, will soon introduce you to the wildlife too. The rich tableaux of the Islands are home to everything from tigers and bears, to crocodiles and wild dogs. At times you half expect a yeti to come barrelling after you, so aggressive and varied are the Islands' fauna. Not that Jason is defenceless… early close encounters demonstrate his slightly bizarre ability to stab a croc to death while in its grip.
It's within the wilds you'll find the game's most interesting interactions, as non-scripted events tell their own stories. Witness, for example, a pack of wild dogs silently stalking a group of mercenaries, before finally charging into the attack causing a momentous tussle of tooth and claw versus submachine gun.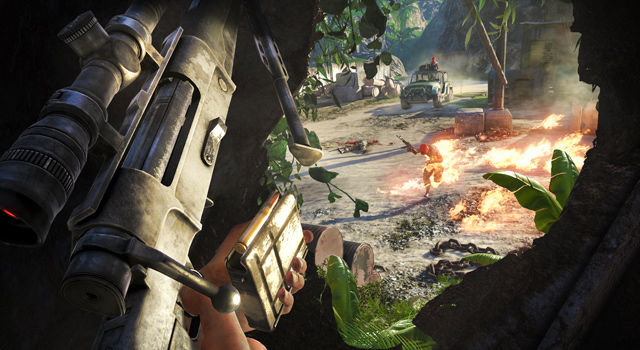 And they say only hippies enjoy burning man?
Hunting game animals also leads to further expansion of Jason's armoury as their hide is harvested to fashion larger wallets, backpacks and arrow quivers, like some cut-down version of Monster Hunter. Plants can be similarly harvested for healing and empowering drugs, while the game also sports some of the coolest drug trip sequences as Dr. Earnhardt helps you expand your horizons.
Talk and trousers
Perhaps with so much unscripted chaos going on, it's inevitable that some of the specifically penned moments fall a little short. Most of Jason's core missions, whether clearing a specific area of mercenaries or rescuing his imprisoned friends, involve storming a part of the map and killing all the hostiles therein.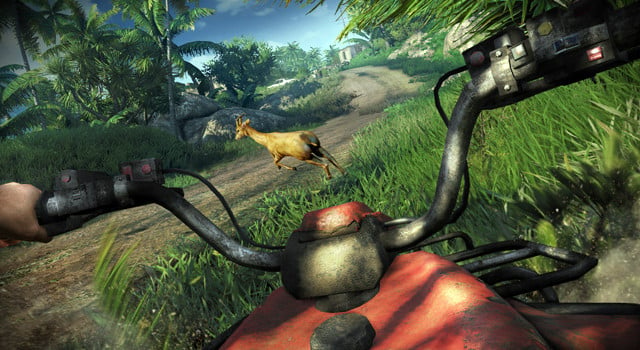 A bad day for Bambi's mother
Such encounters are made more bearable by tools such as his camera (which lets you zoom and tag enemies) and the openness of approach. Choose from stealth, full-on attack or even bring a vehicle mounted mini-gun to the fray. But rarely are such battles as satisfying as witnessing the random machinations of the jungle.
Regardless of the action depicted, expect to see it brought vividly to life by the quite stunning visuals. The blues of the sea and sky, greens of the jungle and yellows of the sand forming the perfect antithesis to the regulation greys and browns of first-person shooters.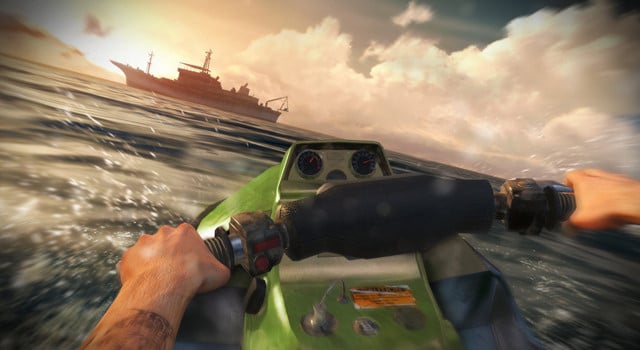 Kenny Powers eat your heart out
Beyond the campaign await co-op and multiplayer modes. Co-op acts as a precursor to the main campaign, following four characters through their plight on the island, while multiplayer offers riffs on capture-and-hold and team deathmatch. Firestorm is perhaps the most novel gameplay type, as teams look to dump napalm on one another from above.
Battle cries, which provide buffs to teammates within earshot; and support weapons such as psyche gas – which makes the opposition see each other as threats – spice up proceedings. Though neither co-op, nor versus modes will prevent Far Cry 3's online options being considered as anything other than forgettable digestifs to the main course of the campaign.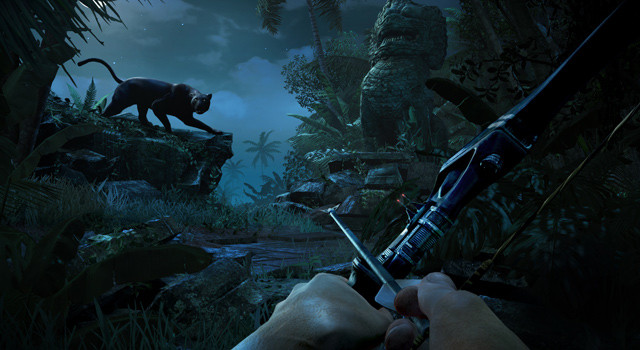 Scaredy cat
Verdict
As engrossing, fulfilling and varied a sandbox as we've been handed the keys to in a long time, is combined perfectly with rich characterisation and storytelling. If you're after an all-action single-player shooter to sink your teeth into, then look no further. ®
More Games Reviews

Call of Duty:
Black Ops 2
Assassins
Creed 3
Halo 4
World of Warcraft:
Mists of Pandaria
Resident Evil 6