Original URL: https://www.theregister.co.uk/2012/11/29/android_jelly_bean_calendar_fix/
Google GRINCHES have change of heart, bring back Christmas
Android fix restores month of December
Posted in Software, 29th November 2012 00:33 GMT
Google has begun rolling out a patch for Android 4.2 "Jelly Bean" that fixes a bug that caused the month of December to vanish from the system's built-in People app.
People is the Android contact-management app, first introduced with Android 4.0 "Ice Cream Sandwich." In addition to storing the usual names, phone numbers, and addresses, it also includes a basic calendaring function that allows users to assign dates to contacts, such as birthdays and anniversaries.
With the arrival of Android 4.2, however, users began noticing an odd quirk: The People app no longer allowed them to enter any dates in the month of December. In fact, the date picker skipped the month entirely, going straight from November to January.
The bug was first brought to light by Rohit Naik, who posted a screenshot of the offending app to the Android message boards on Google Code.
Fortunately, Jelly Bean hadn't canceled Christmas entirely. Only the People app was affected by the glitch, with the date picker of the main Calendar app still behaving normally. The earlier iteration of Jelly Bean, Android 4.1, wasn't affected, either.
Even luckier still, the only devices currently running Android 4.2 are Nexus devices, including the Galaxy Nexus and Nexus 4 smartphones and the Nexus 7 and 10 fondleslabs. Because updates for Nexus kit come direct from the Chocolate Factory, these devices are usually first to receive the latest fixes.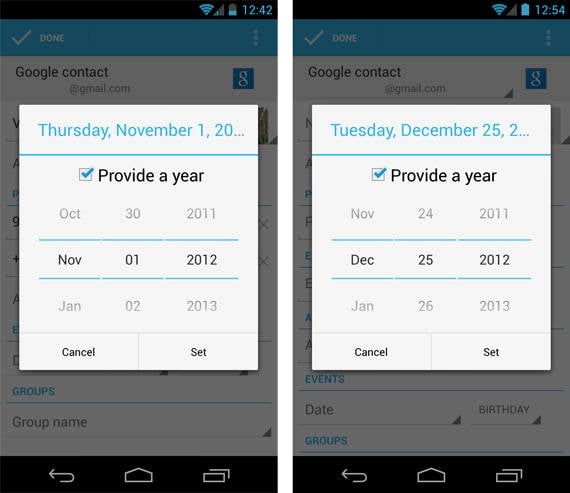 Before and after: In Whoville they say Jelly Bean's small heart grew three sizes this day.
Sure enough, although Google never issued a public statement regarding the calendaring issue, this reporter can confirm that system updates have already arrived for Galaxy Nexus and Nexus 7 devices here at El Reg's San Francisco aerie.
Following the update, devices report their OS as Android version 4.2.1. So far, however, there's no indication that the update brings any other improvements beyond the People app calendar fix. ®