Original URL: https://www.theregister.co.uk/2012/11/28/review_viewsonic_pro_9000_laser_hybrid_led_projector/
ViewSonic Pro 9000 laser hybrid LED projector review
Can a brand new light engine tech make projectors cool again?
Posted in Personal Tech, 28th November 2012 08:00 GMT
Following the extinction of gloriously bulky CRT video projectors, big screen aficionados have had a clear choice between LCD and DLP. Both technologies are capable of great results, yet have distinct weaknesses: single chip DLP projectors often suffer from rainbow fringing, created by the use of a spinning colour wheel, while LCD models struggle to distinguish tomatoes from oranges.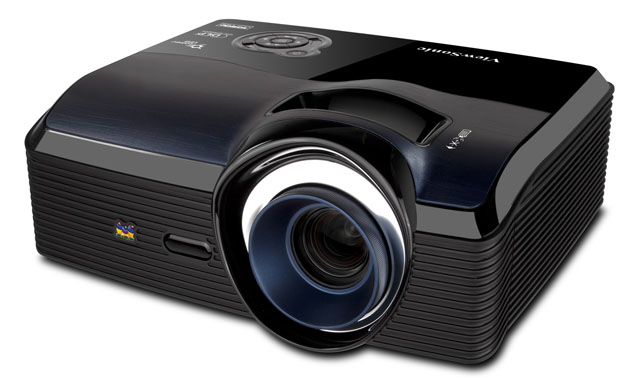 ViewSonic Pro 9000 laser hybrid LED projector
But now there's a third option, Laser Hybrid LED. Viewsonic's Pro9000 is the first such out of the gate, although a number of brands will also be introducing the technology. It's a good looking 1080p model aimed at the mainstream home cinema market.
Just to put things in perspective, the Epson EH-TW6000 is a fairly typical LCD-based home cinema projector, priced at around £1300. It has a typical quoted lamp life of around 4,000 hours but will gradually lose colour intensity and brightness as the bulb begins to fade. Brightness is quoted at 2,200 ANSI lumens and contrast at 40,000:1.
A replacement bulb will set you back around £200. The average power consumption of the Epson is 356W. The Viewsonic, by comparison, is rated at 186W in its brightest configuration. Hence, using a solid state glow stick means no replacement lamps will be required (a significant hidden extra) and way more efficient power consumption. Indeed, ViewSonic quotes a life span of 20,000 hours for the LED light source, as well as a 100,000:1 dynamic contrast.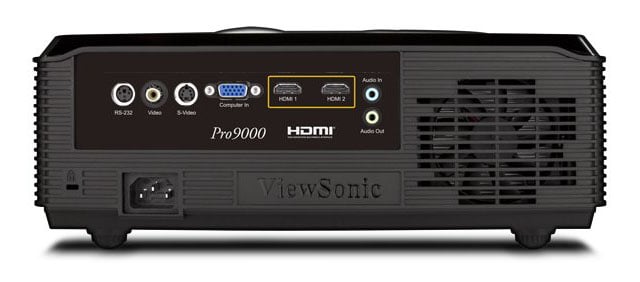 AV interfacing well catered for, but no USB for storage playback
LED laser illumination aside, the projector appears much like any other 1080p hopeful. It sports two HDMIs, PC VGA, composite and S-Video analogue inputs, plus 3.5mm minijack audio in/out. The projector is supplied with a backlit remote control and ships with a cute carry bag. There's also a built-in 2W mono speaker offering rudimentary audio support. Power it all up though and things get interesting.
For starters, the projector offers Instant On. The image is at full intensity immediately, there's no prolonged warm up period. Secondly, it runs cool, even after hours of use. This is great news if you're the type that likes to plop a projector on a coffee table to watch the Big Match or enjoy marathon gaming sessions; even if you sit slap-bang behind it there's no chance of melting your Maltesers.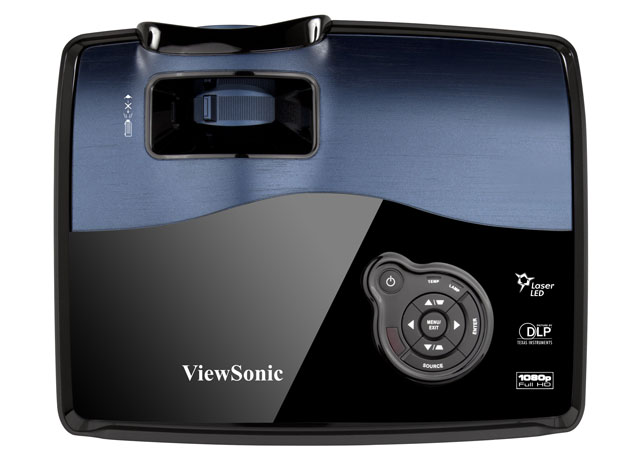 Looks cool, feel it too
Despite the lack of heat generation, it's still a tad noisy though at 28dB. Engaging Eco makes no discernable difference to fan noise in most modes, however it does shave a significant amount of light off the screen which reduces energy usage, from 186W to 118W. You'll need to enter Eco while in Theatre mode to really drop the volume to a more socially acceptable 22dB.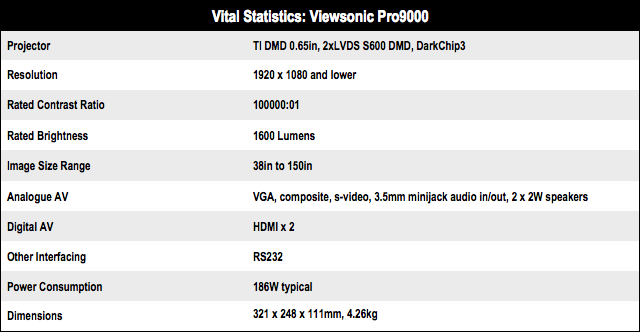 Dark side of the room
The Pro9000 is certainly a comfortable projector to watch. While the image delivers 1080p clarity, the projector doesn't exhibit the same clinical delineation commonly associated with single chip DLP. The result is very cinematic, with colour performance a particular strength. Skin tones are nuanced and believable; deep reds, so often the bane of LCD, exhibit stunning fidelity. The newly remastered VistaVision Hitchcock classics (Blu-ray boxset) look simply gorgeous as a result.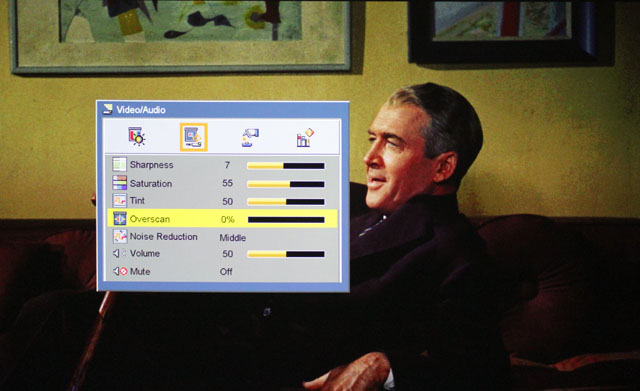 On-screen display tweaks
The projector's light output is rated at 1600 lumens, which in a fully dark room is generally acceptable. At 4m you can throw an image measuring 120-inches diagonally. However, stray ambient light quickly diminishes contrast and colour. You can't use the Pro9000 effectively in a partially lit lounge.
There are other caveats too. Truly deep blacks prove elusive and shadow detail is hard to find. Trees by night take on a blobbyness that wouldn't disgrace Noel's House Party. On the plus side, there's no overt pixel noise either, which at least lends a smooth sheen to darker scenes. The projector is 2D only and can't be used with an external DLP 3D-XL processor.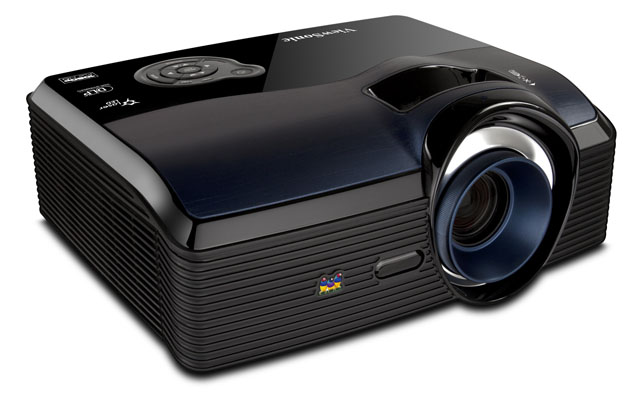 Long running, energy efficient but there's a trade-off in lumens
Verdict
As a technology development, Laser Hybrid LED has a lot going for it. It's only marginally more expensive than similarly specified LCD and DLP models, and its colour performance is striking. However on the Pro9000 it's not quite bright enough to function well in a moderately lit room and blacks still have some way to go before they're Dark Knight approved. Whether the lack of 3D will prove an additional deterrent for buyers remains to be seen. ®
More AV Gear Reviews

Panasonic
PT-AT5000E
LCD projector
Sony
VPL-HW30ES
3D projector
Sony
HMZ-T1
3D headset
BenQ
W1200 HD
DLP projector
Lindy
Wi-Fi extender and
projection server