Original URL: https://www.theregister.co.uk/2012/11/28/microsoft_office_2013_review/
Microsoft Office 2013 heads for the cloud but fails to soar
Deep inside Redmond's cash cow: many improvements ... but ... yawn...
Posted in Software, 28th November 2012 08:01 GMT
Review The last few versions of Microsoft Office have divided users, and Office 2013 – due to reach General Availability in the first quarter of next year but available now as a limited free trial – will likely be no different, even though it largely follows a familiar course.
Office 2007 brought us – love it or hate it – the Ribbon UI. Office 2010 streamlined the new interface and made it ubiquitous throughout the suite, further alienating those who prefer the old-style menus.
With Office 2013, Microsoft has revamped its UIs yet again – but the Ribbon is here to stay. What will likely have users talking about even more are the changes designed to align Office with Redmond's current philosophy of linking applications with subscription-based online services.
A word on that: customers will have two ways to get Office 2013 when it formally launches early next year. One will be, as with previous versions, to buy the suite as a retail product with a perpetual license. The other will be to get the application suite as part of an Office 365 subscription. There's strong evidence that Microsoft would much prefer that customers choose the latter – and judging by Redmond's aggressive pricing, many probably will.
So far, however, Microsoft has only made the Office 2013 apps available through Office 365 via a free preview, so we'll only touch briefly on the differences between the subscription and perpetual-license versions. We'll delve into that topic in more detail at a later date, once all of the subscription features are available.
For now, we'll examine the Office 2013 apps themselves and see how the perpetual-license versions are now more closely integrated with Microsoft's services. We'll also look at various other changes in the suite and how they embody the latest thinking out of Redmond – for better or for worse.
A new year, another new look for Office
It should surprise no one that Microsoft has yet again changed Office's look and feel. Given everything else that's gone on in Redmond this year, it's only natural to assume that Microsoft would give Office a full makeover to have it fit in better with Windows 8.
Curiously, however, that isn't exactly what happened.
Yes, the new Office does follow a lot of the same ideas we see in Windows 8 and Windows Phone 8. Application UIs have been scrubbed of all gradients, faux plastic, 3D rendered icons, and the like. Document windows are stark and monochromatic, with each application coded to a different color.
The change is most noticeable on Windows 7, where Office 2013 windows stick out in sharp contrast to the Aero Glass effects used by the rest of the OS. (It might have been even more noticeable on Windows XP, but that's a moot point – Office 2013 only runs on Windows 7 and up.)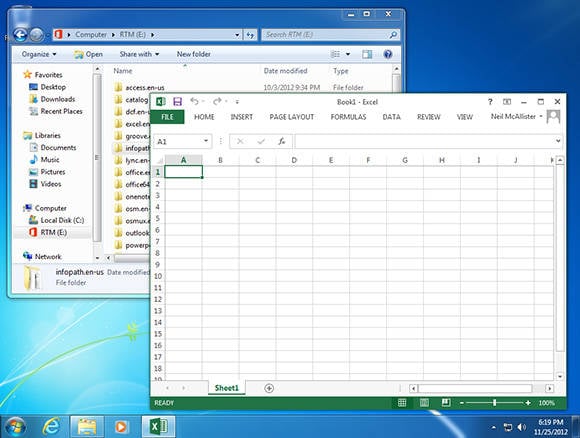 Office 2013's austere windows look rather out of place next to Windows 7's Aero Glass bling (click to enlarge)
Interestingly, though, Office 2013 doesn't really blend in all that well on Windows 8. One thing you'll notice is that the menu titles are rendered in ALL CAPS, unlike the menus in the rest of the OS. Microsoft went the same route with Visual Studio 2012, and many preview users complained, albeit to no avail. I'm not a fan of the look, either.
What's more, Office 2013 windows don't look like other Windows 8 windows. Controls for actions such as closing the window or getting online help are styled differently and are located in different places. The window borders are much thinner, too, which can make windows difficult to resize, particularly on a touchscreen.
It's almost as if Microsoft developed its new visual language for Windows 8 but wasn't entirely happy with the results, so it kept working on it while Windows 8 was heading to market. Office 2013 is the result. As such, you could say Windows 8's look and feel is already out of date (at one month old). Then again, you could also say the Office 2013 apps just look quirky and out of place no matter what OS you run them on. Take your pick.
It's also worth mentioning that the Office 2013 apps are strictly desktop applications, even on Windows 8. They appear on the Start Screen as simple icons, rather than Live Tiles. The suite comes bundled with no Windows Store apps, although a Windows Store OneNote app is available as a separate download
For the most part, however, Office 2013 almost seems to have been developed without the new OS in mind.
If you didn't like the Ribbon before...
One thing Microsoft did in Windows 8 was introduce the Ribbon UI into more applications, such as Windows Explorer and TextPad. Naturally, the new Office hasn't done away with the Ribbon, either. But once again, Office 2013's Ribbons look different than all of the other Ribbons we've seen before, breaking any sense of consistency.
In keeping with the overall Office 2013 UI, the new Ribbon is starker and less colorful, trading the more fully-rendered icons and controls of earlier releases for simplified ones. Whether you'll like this look better than the old one is a matter of taste.
The new Ribbon is also larger. Icons are spaced further apart to give the UI more visual breathing room, and to make them easier to use on a touch-enabled device.
The applications actually offer two Ribbon modes: one for a mouse, and an even roomier one for touch. In practice, though, switching to touch mode doesn't seem to do very much. In both modes, the new Ribbon takes up significantly more screen real estate than Office 2010's did.

The Ribbon UI in Office 2013 (bottom) takes up more screen space to display the same controls as Office 2010 (click to enlarge)
That's not necessarily a bad thing. The revamped Ribbon does look less cramped, and screen resolution is increasing both on PCs and laptops. But increasing the size of the Ribbon does seem like an awkward choice for smaller tablet screens.
Office 2013 does offer another option for users who don't want the Ribbon taking up any of their screen at all. Where earlier versions of Office allowed you to close the Ribbon so that only the menu titles were visible, the new version adds the ability to make the Ribbon auto-hide, so that it disappears completely until you tap where it should be.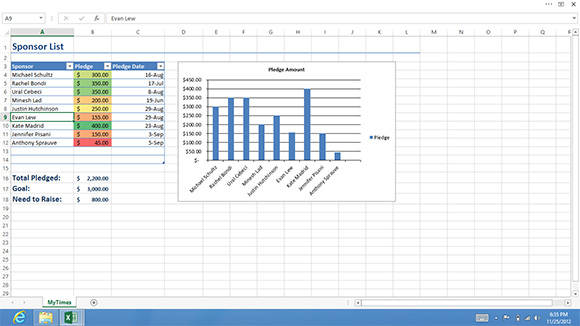 Look, ma! No Ribbon! But there's still no way to bring the old-style menus back (click to enlarge)
Maximized and with the Ribbon hidden, an Office 2013 window becomes a pure document view with virtually no onscreen controls. It's an interesting idea, but the resulting UI is probably a little too Spartan for many users.
How many new features are there really left to add?
As usual, the new Office adds a variety of features to each of the applications in the suite. Many of these are relatively minor – which isn't surprising, given that Office is often accused of being bloated with features as it is. Some new features seemed like nice ideas but weren't very helpful in practice, and probably won't get used much.
Word 2013 introduces an improved full-screen read mode, with a touch-friendly UI that makes it almost seem like a Windows Store app. It automatically reflows text to present a rich reading experience, no matter what your screen size. To achieve this, though, it tends to resize images and other elements seemingly at a whim, so graphics often appear too small or are arranged strangely.
Another new feature is the ability to open PDF files and edit them in Word. This works fine for simple documents, but its support for PDF page formatting is highly limited and it didn't take long to find a PDF that it garbled badly. Think of it as you would an import filter for another word processing program, rather than as a true PDF editing capability.
The new Word also now lets you embed online video into documents, which can then be played back from within Word. Just who requested this rather dubious feature, I cannot imagine.
Excel 2013 introduces a number of new features, mostly aimed at making it easier for users to discover the tools they need to do what they want to do. For example, one new tool will recommend the best ways to summarize data into a PivotTable, while another will analyze patterns in your data to determine the best ways to present it as a chart.
The "killer feature" for Excel 2013 is meant to be Flash Fill, which is supposed to help you fill out tables by guessing the correct values for the rest of a column based on patterns in the data you've entered so far. It's supposed to be useful for untangling data pasted in from other sources, for example. In practice, though, while Flash Fill made nice attempts, I found its guesses were usually off the mark (and on a spreadsheet, there's seldom such a thing as "close enough").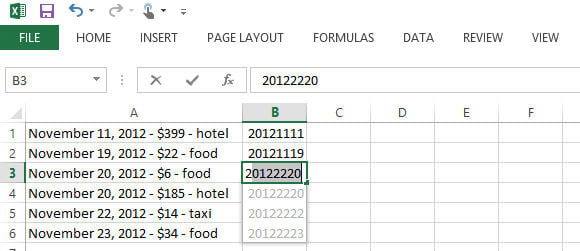 I'm not sure what pattern Flash Fill thought it detected here, but it wasn't what I was going for (click to enlarge)
The other Office apps mostly just add a few new editing tools and minor UI changes. PowerPoint 2013, for example, now offers various guides to make it easier to line up your artwork, and its Presenter View has been improved to make it easier to manage presentations on a second screen. Outlook 2013 can now connect to more types of email servers without installing any additional plugins. Other applications benefit from similar spit 'n' polish.
Office and SkyDrive, joined at the hip
More interesting than the various nips and tucks made to the individual Office applications, however, are the broader changes that link Office to Microsoft's online service offerings. That linkage becomes explicit with an Office 365 subscription, but it's there even for the perpetual-license version of Office 2013, unless you go out of your way to break it.
It all comes down to Microsoft Accounts and SkyDrive. When you install a new copy of Office 2013 and start using it, it makes every effort to remind you to sign into a Microsoft Account. If you're using Windows 8, you're probably already signed into one, so it will use that by default. If you're not signed in and you attempt to create a document, you'll be reminded again.
The idea that Microsoft is trying to drive home here is that Office and SkyDrive are inextricably connected. Each Microsoft Account comes with a certain amount of SkyDrive storage, and once you're logged in, SkyDrive becomes the default save location for new documents and the go-to place to find old ones. If you use Office, you're supposed to be using SkyDrive.
I'm still not totally sold on this. For starters, it means that saving new documents takes longer, because the new Save As screen requires more clicks than the old dialog box that assumed you wanted to save your document to a local drive.
What's more, the whole idea of using a network share on the public internet as primary storage just seems sketchy. Naturally, loading and saving files is slower than with local storage. Worse, it can lead to unpredictable results.
If I open a document from SkyDrive in Word 2013, lose my network connection, then try to save my changes, the operation seemingly completes without an error message. I can even quit Word and my changes are preserved. Open the file again, though, and rather than reloading it from the server, Word loads it from wherever it tucked it away on local storage and warns me that an update to SkyDrive is still pending. How do I know I have the most recent version of the document? What if it changed on the server since I last opened it?
For that matter, why mess around with loading and saving files directly to and from the server at all, when the SkyDrive client for Windows syncs local files to the cloud automatically? Isn't that a faster and more reliable way to handle cloud storage?
Mind you, you can still store files on your local drive. You just have to be explicit about it. But by doing everything it can to ensure that customers are logged into their Microsoft Accounts and storing their Office documents on SkyDrive, Microsoft gains two things: Customers stay beholden to Microsoft's online services (obviously), and Microsoft can offer cloud-based services around Office documents.
Cloudy with a chance of documents
So far, most of Office 2013's cloudy features involve document sharing and collaboration. For example, because every document stored on SkyDrive has a unique URL, it's easy to send large files via email or IM using SkyDrive URLs, rather than as attachments. In Office 2013, you can do this right from the File menus of the various applications, without launching a separate client.
Storing documents on SkyDrive also means they are viewable using the Office Web Apps – which, while not perfect, make documents accessible from any device that has a modern, standards-compliant web browser.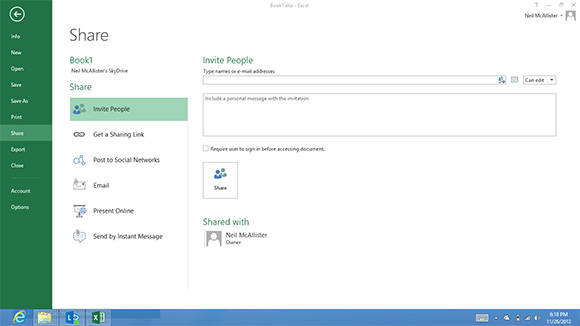 Office 2013 provides many ways to share documents via the cloud (click to enlarge)
Not surprisingly, Microsoft has worked to integrate Office with various social networking sites, as well, including Facebook, LinkedIn, and Twitter, by linking users' social network accounts to their Microsoft Accounts.
In some cases, these links have obvious value; for example, Outlook 2013 can now sync contacts with social networks. In other cases, Microsoft seems to have added social features just because it could. How many times will I need to post an Excel spreadsheet directly to Facebook, I wonder? The option is there, however, if I ever need it.
The new Office includes some additional features for workgroups, too. For example, if you're signed into a Lync server, Office 2013 allows you to collaborate with others on your documents in real time, directly from within the Office applications. The suite also bundles a copy of SkyDrive Pro, which allows businesses to use an on-premise SharePoint server for their cloud storage, rather than Microsoft's servers.
Is this trip really necessary?
Having kicked the tires on Office 2013 for a while, I can say that it is basically another solid version of the familiar productivity suite. If you're using Office 2007 or 2010 and you survived the transition to the Ribbon, there's nothing here that will send you running off to LibreOffice. Rather, for most Office customers the question will be whether Office 2013 brings enough new to the table to justify the upgrade.
Of course, there will always be some people who claim that Office 2003 had every feature they could ever want and then some, and that nothing that Microsoft has added to the suite since has brought any additional value. Fair enough.
For users who have made it all the way to Office 2010, however, the upgrade still seems hard to justify based on features alone. Few of the changes in any of the Office 2013 apps are truly groundbreaking. (It's even possible to save files direct to SkyDrive from the Office 2010 applications today; it's just not the default behavior.)
Windows 8 users may be disappointed to learn that Office 2013 doesn't do more to reward them for upgrading to the new OS. No such luck, as the user experience is more or less identical to that of Office on Windows 7 and 8.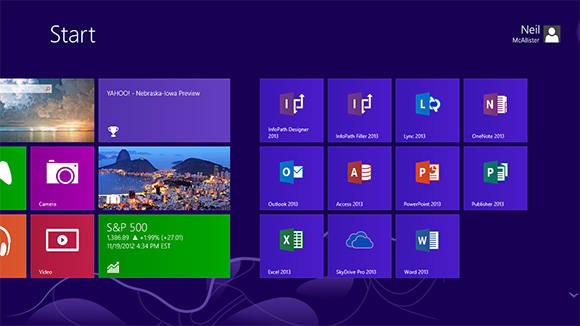 A missed opportunity? Office 2013 does little to integrate with Windows 8's most hyped features
The suite's newfound affinity for Microsoft's online services may actually turn off some customers who aren't ready to bring all of their data to the cloud (or who prefer a different provider). Meanwhile, customers who like the idea of the cloud aren't really gaining much, since getting data in and out of the cloud isn't all that difficult as it currently is.
Some developers may be attracted by Office 2013's new app store, which allows developers to build add-ons for the Office apps using HTML and JavaScript. How much of an enticement that will be for customers, on the other hand, largely depends on the quality of the apps in the store. I'm not seeing much that interests me so far.
Signs point to subscriptions
There is another factor to consider, however, and that's Office 365. As we touched on earlier, Microsoft is offering a number of incentives to entice perpetual-license Office customers to switch to the subscription model, and for some customers these may well be the most compelling reasons to upgrade.
For starters, while a customer with a retail copy of Office 2013 can only install it on a single PC, Office 365 subscribers are licensed to install the suite on up to five machines. What's more, they're even allowed to download single-use, disposable versions of the Office apps onto other people's computers, so that they can always use their own version of Office no matter where they are.
Without revealing anything specific, Microsoft also told The Reg that it plans to roll out new features for Office 2013 on a semi-regular basis following the suite's official launch, and that these new features will only be available to Office 365 subscribers. Retail, perpetual-license copies of Office 2013 will keep the same feature set for the life of the product.
Based on that statement, it's interesting that although Microsoft is using "Office 2013" as the official branding for the retail version of the suite, the apps themselves don't. Word is just Word and Excel is just Excel, with no years mentioned. Perhaps this points to the direction towards which Microsoft would like to go – one in which all Office licenses are subscription-based, new features are doled out on a routine schedule, and the whole concept of a major new Office version launch is done away with.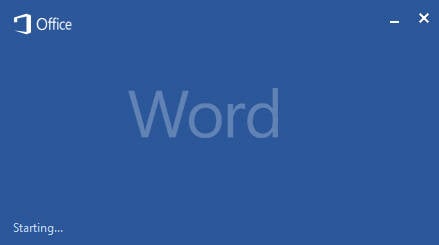 Do Office 2013's year-free startup screens point to a future without major new Office releases?
As mentioned earlier, Microsoft has not launched its Office 365 offering for Office 2013, so we can't yet reliably test how any of the subscription features work in practice. But Redmond has announced pricing for some of the new subscription plans, which should give potential customers plenty of food for thought.
Whether the subscription model or the perpetual-license model makes the most sense is a complex question, and the answer probably varies greatly depending on the customer. We'll dig into the trade-offs more in a future article.
Ignoring the subscription issue, however, Office 2013 is a worthy – if not particularly exciting – follow-up to Office 2010. I had trouble getting on board its cloud-centric focus, and I expect many enterprises will also have the same challenge.
That said, its SkyDrive integration may be appealing to customers who are already heavy users of Microsoft's online storage. Other customers might not see enough new features to lure them away from the version of Office that they're currently using.
But such is the nature of Microsoft upgrade cycles that this is the version of Office that many of us will eventually be using. It's nice to know, then, that if Office 2013 doesn't exactly knock our socks off, at least it does not disappoint.
Office remains the gold standard of business productivity suites, and given its constant evolution, there's little else out there that can challenge it for that title – even if some of its latest features are things we never really asked for. ®