Original URL: https://www.theregister.co.uk/2012/11/28/black_hole_energy_burst_breaks_record_sdss_j1106_1939/
MONSTER QUASAR BLAST blows stunned astro boffins' WIGS OFF
Jumbo black hole thumper silences gossiping theorists
Posted in Science, 28th November 2012 16:40 GMT
Physics boffins have discovered a dying galaxy whose black hole core has emitted the biggest burst of energy ever to be found by scientists.
Researchers at Virginia Tech in the US examined the record-breaking quasar, dubbed SDSS J1106+1939, using a colossal telescope in Paranal, Chile to observe what they described as a "monster outflow".
They explained that the rate at which energy was carried away by the lusty mass of material ejected was equivalent to two trillion times the power output of the sun.
"This is about 100 times higher than the total power output of the Milky Way galaxy," said associate physics professor Nahum Arav.
In other words, while our Milky Way galaxy has a relatively piddly black hole at its heart, the one found in quasar SDSS J1106+1939 is whopping.
The findings were released on Wednesday by the European Southern Observatory, whose telescope was used during the study.
Before now, galaxy hunters could merely gossip about the possibility of such humongous energy flows being generated from the light phenomenon produced by material falling into a black hole.
"For the last 15 years many theorists have said that if there were such powerful outflows it would help answer many questions on the formation of galaxies, on the behavior of black holes, and on the enrichment of the intergalactic medium with elements other than hydrogen and helium," said Arav.
"This discovery means we can better explain the formation of galaxies. There are hundreds of people doing the theoretical side of the work. They hypothesise outflows in their simulations, and now we've found an outflow in the magnitude that has only been theorised in the past. Now they can refine their already impressive models and base them on empirical data."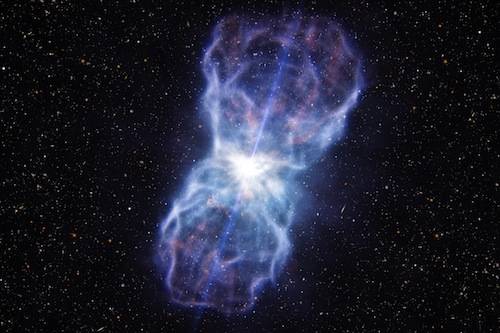 Artist's impression of the huge outflow ejected from the quasar SDSS J1106+1939.
Pic credit: European Southern Observatory
Scientists have known about quasars for 40 years now, allowing physicists to calculate things like the mass of mechanical energy the black hole was emitting by measuring its outflow.
Arav's discovery of SDSS J1106+1939's outflow makes it five times more powerful than the previous record-holder that was also first spotted by the prof.
He enthused: "I've been looking for something like this for a decade, so it's thrilling to finally find one of the monster outflows that have been predicted."
Researchers said that, according to the Virginia Tech's analysis, a mass of more than 400 times that of the sun is streaming away from the quasar at a speed of 8,000 kilometers per second.
What a blast.
A paper - Major contributor to AGN feedback: VLT X-shooter observations of SIV BAL QSO outflows - detailing the research will be published in The Astrophysical Journal. ®