Original URL: https://www.theregister.co.uk/2012/11/27/spiceworks/
Tool time with Trevor: 'Organic' sysadmins' spice mush still pretty edible
When 'eat what's in front of you' just won't wash
Posted in Data Centre, 27th November 2012 07:00 GMT
Sysadmin blog I've talked before about Spiceworks as a social network. It's time to look at the application that serves as the carrot to get you hooked on that social network. Spiceworks has an organic development history; it has grown through developer vision but also through end-user and vendor feedback. This is both Spiceworks's greatest strength and its kryptonite.
There is so much development going on so many different areas that making sure all the bits are joined up and intuitive is difficult. Spiceworks is and automated software and hardware inventory scanner, network monitoring, security scanner, knowledge base and enterprise resource planning software all in one.
Worse, it's hard to get a handle on what Spiceworks is trying to be; what's the grand vision, the endgame? I can tell you exactly what products by Microsoft, VMware, Symantec and so forth aim to be; I've been using Spiceworks for years and it still takes me at least two paragraphs to describe it.
Hello... IT?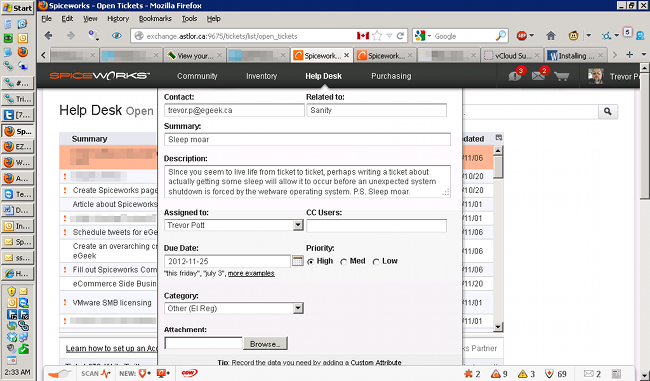 The helpdesk portion of Spiceworks is solid. Set up your email servers within the app and you receive new tickets simply by having someone email you at the email address you've configured. Any updates you make to a ticket go out to the attached users and so forth. If you had to buy something to solve the problem, you can document that within Spiceworks; this has saved me prolonged periods of "where did this come from" more than once. There's even a customizable end-user portal where they can manage their own tickets.
The basic functions are intuitive and easy to master, but some things leave me asking exactly how the devs thought a given workflow was a good plan. The glaring example is ticket categories. The idea of being able to place tickets into various categories is great; the fact that you can't spawn a new ticket category at ticket creation - you have to create the category later by digging into the ticket details - is the worst kind of frustrating lunacy. My wife's experiences with the help desk system mirror my own:
The most basic parts of creating a new ticket are easy, even for the rawest sysadmin recruit. Assigning a ticket to a helpdesk staffer, setting a due date, setting a priority level for the task, and typing comments as the work progresses are all perfectly self-explanatory. It's also easy to find pre-existing tickets; Spiceworks has them sorted into useful lists.

But whatever you do, don't try to just check up on a ticket using a 1366x768 or lower screen. Some of the popup windows in Spiceworks can't be dragged. If you view them on a small screen you may not actually be able to get at the relevant buttons to click them and you will go mad.
It's easy to dwell on the flaws - we all do, regardless of product or provenance - but the issues with the helpdesk side of Spiceworks are ultimately fairly minor. While irritating, they don't get in the way of a useful and usable product.
Have you tried turning it off and on again?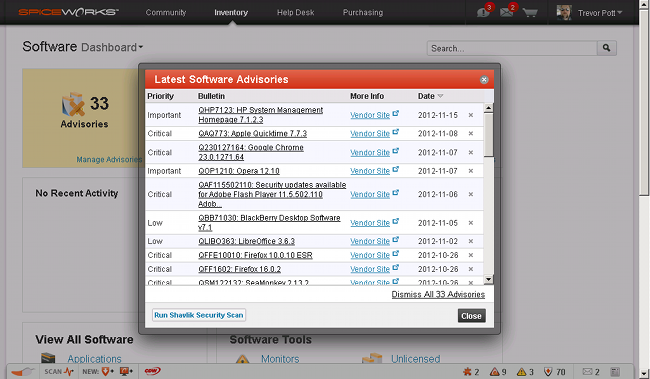 Spiceworks has a hardware and software inventory system. It is agentless - so you'll need to open ports to allow the scanners through - and you might have to reconfigure the scanners if you use nonstandard ports. The hardware scanner picks up everything it can about the system - manufacturer and model number of the various components, free space on the various storage volumes, even which RAM slots are populated and by what.
The software scanner it identifies what is installed, what patch level it is and whether or not it is licensed. There's a cloud services scanner as well; it will pick up things like Dropbox or Teamviewer and report back to you who is using what. The cloud services scanner will even try to find out which domain names are hosted on your servers; it will then find out which registrar they are registered with, whether the primary site sports an SSL certificate and how long remains until expiry.
Spiceworks picks up my Hyper-V and VMware hosts just fine. It identifies them as hosts, lists the VMs hosted on them, and even offers me the ability to turn the individual VMs on or off. It picks up my SIP phone and one of my switches, but can't see the other switch and is confused by the Drobo. That means Spiceworks is batting pretty average compared to the other bits of monitoring software I've played with so far.
To be perfectly honest, there's nothing particularly special about the "inventory" section of Spiceworks ... except that it's free. I can think of a dozen or so comparable products; some are better, most aren't free. The reason that Spiceworks is worth a boo for your inventory needs is that it ties in reasonably nicely with the ticketing system.
Less than 10 per cent free disk space on the domain controller VM? Create a ticket. RAID controller reporting a dropped disk on the backup servers? Create a purchase order, get it sent out to your top 5 vendors for a quote. It's a personal quirk, to be sure, but the bits I most like about Spiceworks are not those that aim to automate some technical aspect of my job ... but those that aim to automate the red tape of dealing with people.
Are you absolutely sure it's plugged in?
It's been mentioned several times that Spiceworks is free; this is actually a lie, the Spiceworks is functionally a marketing expense required to sell you, the sysadmin, to vendors. Many people find the idea of an application littered with advertisements annoying. In this one rare case, I don't want the advertisements to go away. I am legitimately interested in most of what is being advertised at me when using Spiceworks. In truth, the number one frustration I have with Spiceworks are the limitations in vendor integration.
I've recently come off of a massive "learn all the things about Server 2012" project and am diving headlong into VMware's 5.1 offerings. I am 100 per cent sold on the concept of "single pane of glass" management. Microsoft on Microsoft with added Microsoft is an unbelievably impressive stack of products. You have to mortgage a small nation to afford it, but what this integrated stack can provide the affluent sysadmin sure is sexy.
By comparison, Spiceworks feels limited. There is this stack of products from alternative vendors that I use every day; other SMB/SME admins will have their own list. Most of them are even Spiceworks sponsors. In the coming revisions of Spiceworks, these need to see far deeper integration into the UI.
If I am looking up a system in the inventory list and that system has Teamviewer, then it should be offering me the ability to Teamviewer in to fix the problem. Right there from within the Spiceworks interface; RDP, VNC, LogMeIn, you name it. I should be able to run a resultant set of policy scan against any Windows box and see what the GPOs and local policies are doing to that PC, or see what state is being enforced on that system by its Puppet Master.
I'd love to have a major IM provider (read: Gtalk) brought into the loop. Or an offer of "live chat" through the Spiceworks end-user portal, with the conversation logged into the relevant ticket. The list goes on.
It's a trap!
When you deal with Microsoft, you eat whatever is put on the table in front of you, say "thank you" and make sure you say your prayers before bed time. There are no avenues of appeal for the the average Joe. Dissent is dealt with harshly; just ask Mary Jo Foley (skip to the last paragraph).
As a company, Spiceworks is the antithesis of this; they are built from the community up. That means that if I spot a bug or notice a UI flaw, have a feature request or think a given vendor should integrate more then getting it dealt with is a real world possibility. I don't have to be a large enterprise or possess the magic email address. I can be Joe Random; so long as I have a forum account, I can have my voice heard. That notion could get away from me rather quickly, turning into a time consuming hobby. It is more dangerous to me than most open source projects. I don't have the patience to be a truly hardcore programmer; I am not going to recode a buggy Wi-Fi driver.
I do have the skills to do QA testing and type up detailed bug reports, or play the schmooze game necessary to get vendors in the same room and agree to play nice. I am great at coming up with new features, or repurposing extant code in new ways. If I threw enough time at it, I could help shape the Spiceworks application according to my vision; a dangerously enticing idea.
The Spiceworks application does what it says on the tin. In most cases, it does it quite well; more importantly it's free. The hardest part is not making the application work; the hardest part is limiting myself to what it is today instead of dreaming about what it could be tomorrow. ®