Original URL: https://www.theregister.co.uk/2012/11/27/review_nokia_lumia_820_windows_phone_8/
Nokia Lumia 820 WinPho 8 review
Smaller, cheaper... nicer
Posted in Personal Tech, 27th November 2012 07:30 GMT
The Nokia Lumia 820 is the second of Nokia's two new Windows phones. It's the neglected sibling of the flagship Lumia 920, and is barely mentioned in Nokia's presentations.  But I found it a very capable handset, with plenty to commend it. Why does this sound a bit familiar?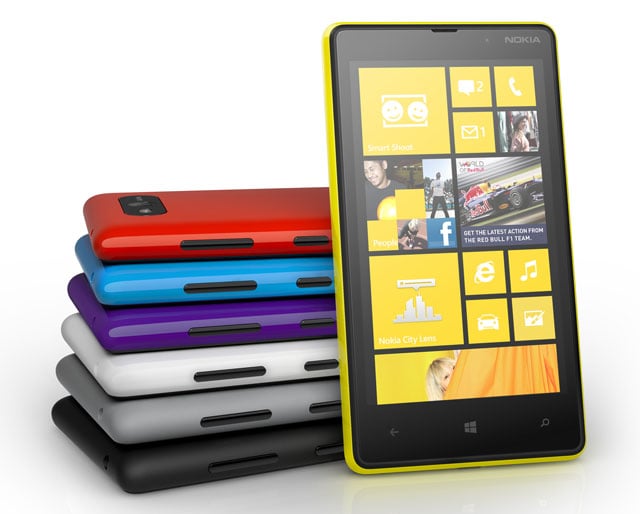 Nokia's Lumia 820: It's like déjà vu all over again
It's because a year ago, Nokia launched its first two Windows phones: the pricey flagship Lumia 800 and its considerably cheaper companion, the Lumia 710. Despite its lower cost, the 710 featured the same motherboard yet was smaller and more comfortable to use. The company has repeated the ploy here: the Lumia 820 processor is exactly the same as the 920, and it's also smaller and more comfortable to use. This time the price difference is much smaller and the 820 certainly isn't a 'budget' option. Or not yet, anyway.
The key differences between the 180g behemoth and the 820 are that this cheaper model features a micro SD slot and a removable battery – the latter is pretty rare nowadays. The 820 has a lower resolution ClearBlack display, compared to the glove-friendly, superfast IPS display on the 920, but I actually preferred the deep blacks and rich contrasts of the 820 - it made the 920's display look washed out. At 4.3in, the 820's display is smaller than its gigantic big brother, although this reduced size worked out easier to use.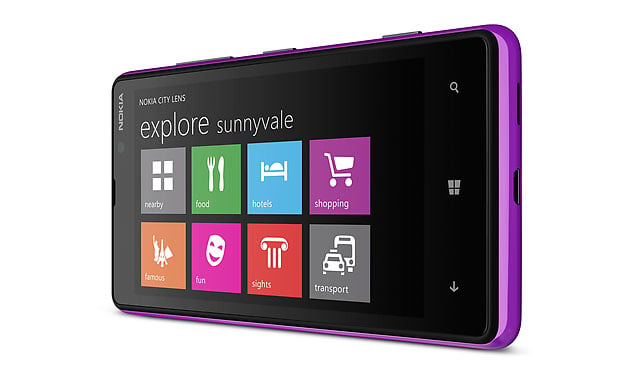 Micro SD expansion and battery swapping too
Expandability is also a big deal – for an extra tenner, you've got yourself a 32GB phone, and the 820 can take cards up to 64GB in size. And you will need some sort of card: the phone has just 8GB built-in for OS, apps and media, and the Windows 8 Phone OS takes up well over 2GB out of the box. Once the Nokia Maps are accounted for that leaves just 5GB free. So a micro SD card is a must. The removable battery is welcome – as battery depletion starts to eat in, about a year into your contract, you'll be glad you can get a brand new battery and swap it in seconds. Just as well; the 820 has the lowest capacity of any Windows 8 Phone
The downsides of the 820 are: the lower resolution screen (which in practice, I was surprised to find I quite liked), and the use of toughened glass rather than Corning Gorilla Glass. And possibly, the weight.
At 160g, the 820 isn't light, but I was surprised to be so pleased with the experience. Why? It's commendably solid, superbly well engineered, and the build quality gives you a great deal of assurance. Some people will prefer all this to the now ubiquitous cheap plastic smartphones today. For example, both new Nokias use zirconia-based ceramic material for the camera button, power and volume keys – barely scratchable stuff – and fitted in a solid housing. It gives a satisfying click.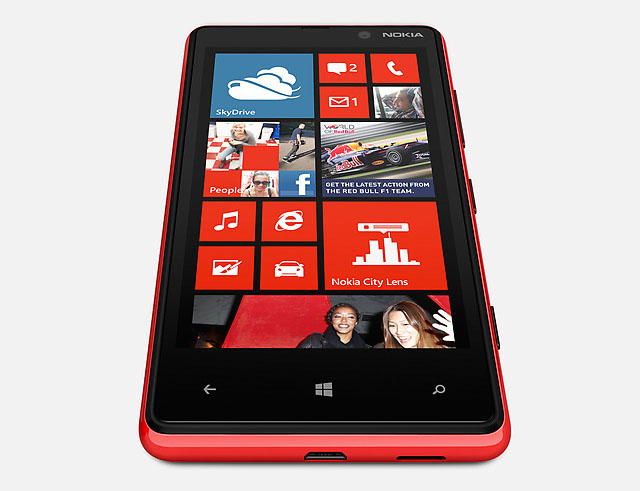 Appealing design and less bulky than the flagship Lumia 920
The 820 also scores over the 920 in having nicely rounded corners, which is hugely appreciated here – it's much more comfortable to pick up and hold, and less of an obstacle in your trouser pocket. That said, HTC's design with its 8x and 8S is much more attractive. HTC has comprehensively out-Lumia'd Nokia's Lumias, giving its two new Win 8 phones a beautiful, and very comfortable contoured case design, a very tactile surface, and a great choice of colours. But the two Lumias are the Volvos of smartphones – boring and dependable. If that isn't an insult.
Put on a charge
Punters might want to consider the 920 for the astonishing camera – and some may decide to put up with the discomfort – because the 920 is a tank that struggles to stay in a jeans pocket. But if you want a solid alternative, are attracted to the Nokia apps (Drive, principally) then this is worth a look.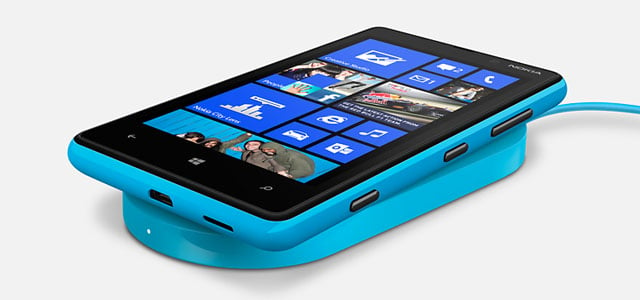 Touch charging becomes an instant habit
One other nice surprise was the inclusion of Qi-standard inductive wireless charging. This is fitted into the removable backplate, but it doesn't take up any additional room – a non-inductive backplate will be just as thin. It's one of those things you're sure you do without, then immediately take for granted. With a charging plate around, the phone is always "topping up". Nokia is trying to seed the market and many channel partners are bundling the plates at low cost or for free, and Nokia is taking a similar tack with the 820: many will have the inductive back cover.
You won't get the amazing photos you get with the Lumia 920 – which features image stablisation that isolates the camera assembly and produces superb results in low light too – but it is pretty good. The phone will happily do 1080 HD video and if you're keen on this idea, you'll be glad of the storage expansion.
One downside is the battery, at 1650 mAh, might barely get you through a day. Once conditioned, I found it was fine to squeak through a day but it's touch and go by 5pm, and could really use a top-up. This is typical for the class of device, yet at 160g you'd expect a bit more juice, especially given some of the extras. As with the 920, Nokia bundles its superb vector-based Maps program, the turn-by-turn navigation app Drive (which can utilise offline maps), CityLens, an improved local listings app with a gimmicky augmented-reality overlay, and Nokia Music.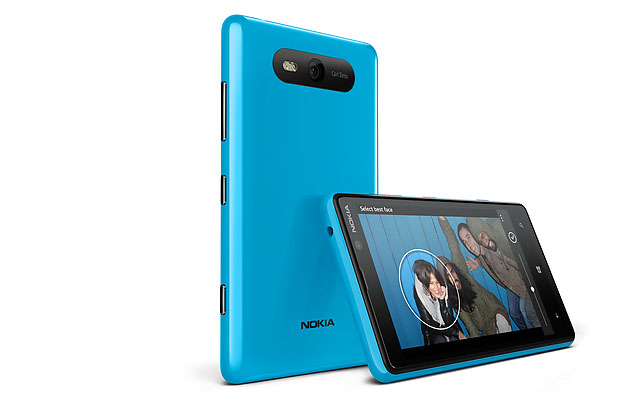 8Mp stills shooting and full HD video too
When it comes to yer actual phone calls, both new Lumias are a curate's egg. They're superb on HD voice calls, in other words, if both parties have an HD voice handset – such as the iPhone 5 – and the networks play nice. I found HD to be almost as good as Skype-to-Skype over broadband, if the background environment is consistent. When it works, it's wonderful.
Where HD voice fell down in my tests is when there's a loud but intermittent background noise on one end, such as a pub. Then the call got choppy, so choppy it was hang-up time. I suspect the phone's noise cancellation is playing havoc with the nice orderly sequence of compressed packets that the HD protocol expects – but this is just a hunch.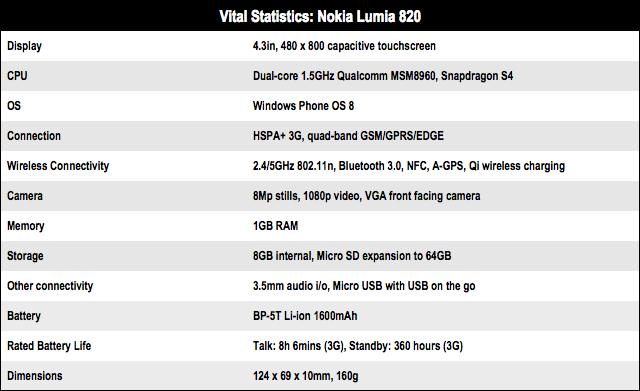 Sample Shots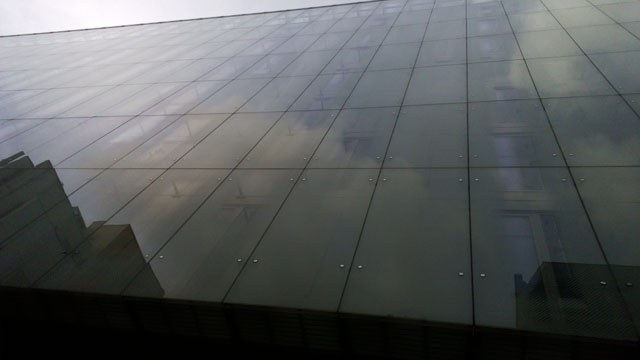 Click for a full-resolution image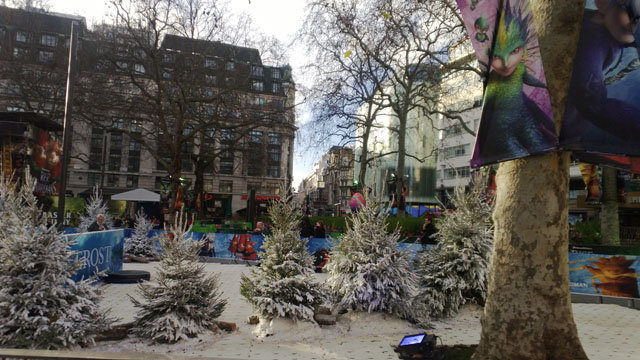 Click for a full-resolution image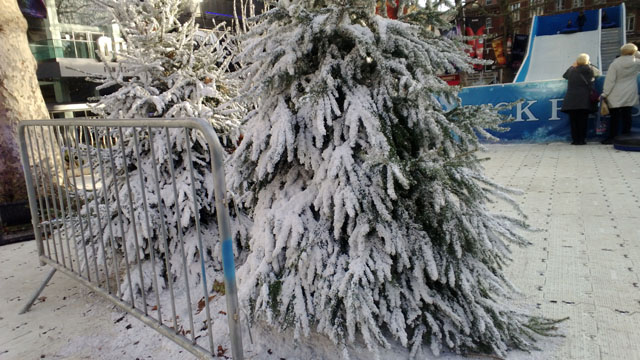 Click for a full-resolution image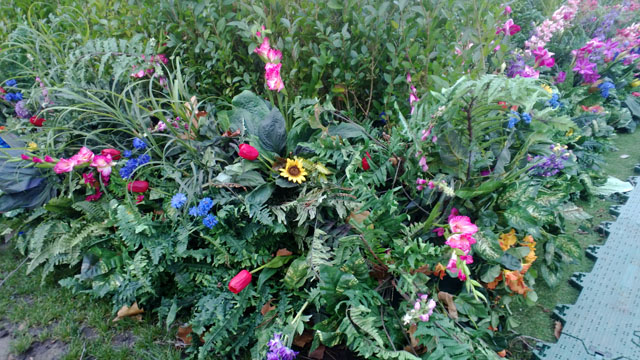 Click for a full-resolution image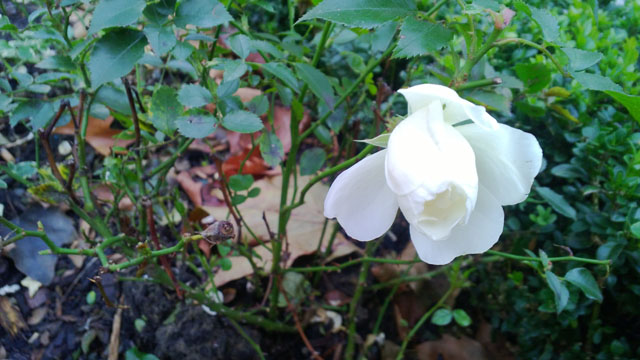 Click for a full-resolution image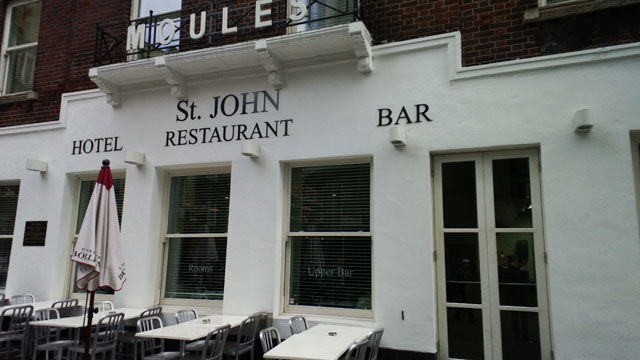 Click for a full-resolution image
"Hello. Hello? I'm on a Nokia"
The story of ordinary phone calls on both Lumias is not, I'm afraid, very good. All calls on this handset sounded muffled, the treble appears to be clipped, leaving the incoming caller muffled. I regularly received complaints of drop-outs. And as with the 920, the ringtone and volume are nowhere near loud enough. On both phones I missed far more calls than usual.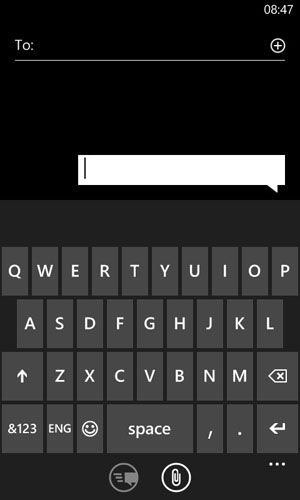 Key concerns: the case for spacebar space
The on-screen keyboard also posed some problems. The space bar is too small, and I regularly found strings of words separated by commas: rather,like,this. Microsoft's word correction is terrific, but it doesn't help with this one. As you can see from the photo, the keyboard designers chose to include dedicated keys for a language button and smileys – leaving the space bar very cramped. Some visual differentiation of the return and modifier keys – a bog standard usability feature of every other smartphone – would also be very welcome.
We've covered the latest cut of Windows Phone and the Lumia 920 in some depth already – so the pluses and minuses will be familiar to you. The platform is terrific for social media integration, and Facebook users love it. Nokia is right in wanting to put WinPhone in front of people, and let it speak for itself. For a Facebook user the experience really blows the rivals out of the water.
Even so, the WP app marketplace hasn't improved much, if at all in the past year, and Windows Phone hasn't received a year's worth of improvements. It's gained tethering, a kid's zone, and sizeable tiles, but it's got some way to catch up. Microsoft urgently needs to make user land improvements – having done the grunt work of putting the new OS on a stable new kernel, it still lacks some bullet-point features standard elsewhere.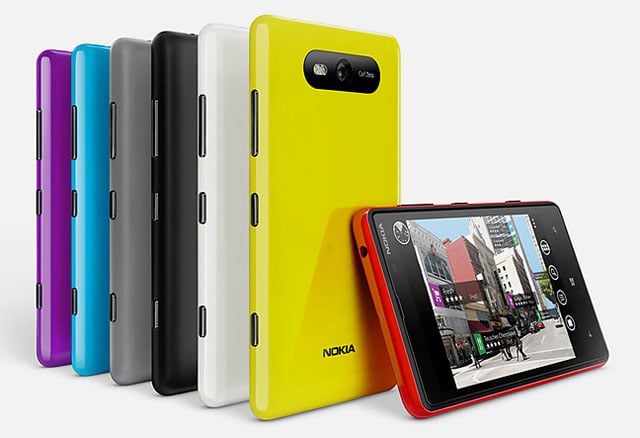 Quirky in places, but likeable all the same
Mac owners should hold off until Microsoft can ship a stable version of the Mac connector client, Windows Phone – it simply isn't usable. You may get one or two successful syncs of small batches of media at first, if you're lucky, but it consistently crashes after that. The device isn't 'browseable' either, as it is on Windows.
Verdict
From my experience, there are question marks over the muffled calls and loudness issues with the Nokia Lumia 820. Likewise, the pace of evolution of the WP8 ecosystem, gives pause for thought. Hopefully a firmware fix will sort the call audio out, which impacts on its review rating a little here. It's a pity because overall I found the handset surprisingly comfortable and reassuring. With the Lumia 820, Nokia has made a solid (no pun intended) mass market phone, looking for a mass market. ®
More Handset Reviews

Acer
CloudMobile
S500
Nokia
Lumia 920
A History of the
Smartphone
Sony
Xperia T
Apple
iPhone 5