Original URL: https://www.theregister.co.uk/2012/11/26/planets_visible/
Venus EXPOSED in predawn threesome with Saturn and Mercury
Jupiter will be up all night in planetary conjunction
Posted in Science, 26th November 2012 15:28 GMT
Any stargazers who manages to get out of bed early tomorrow morning will see Venus, Saturn and Mercury together in the predawn sky.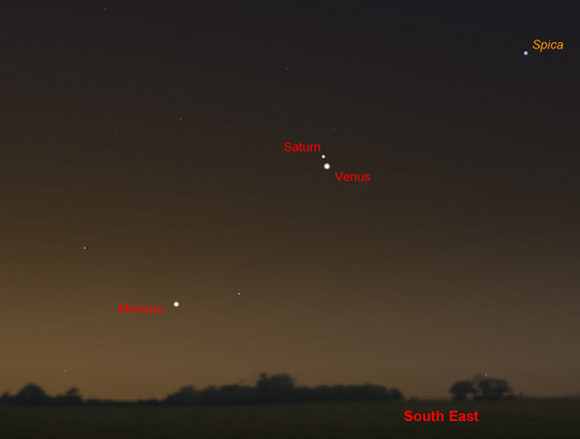 Mercury will appear near to the east-southeastern horizon, while Venus and Saturn will experience a very close conjunction, visible for the next five days within 5 degrees of each other, with the closest pass tomorrow morning.
There may also be a chance to spot Jupiter too, though the planet may not be in view at the same time as the other three. Jupiter will be in the night sky all through the month, as the Earth passes between Jupiter and the Sun.
Jupiter will shine more brightly than any of the surrounding stars, low in the east at nightfall and then rising upwards as the night goes on. If it's still visible at dawn with the other planets, Jupiter will be low in the west.
After the conjunction, Venus and Saturn will part ways, with Venus falling downwards while Saturn rises. ®