Original URL: https://www.theregister.co.uk/2012/11/24/ten_xbox_games_you_may_have_missed/
Ten Xbox 360 games you may have missed
Console food for the Microsoft massive
Posted in Personal Tech, 24th November 2012 08:01 GMT
Games Round-up Our second helping of our console game roundups, caters for those playing on Microsoft's Xbox 360.
Sure you may be preoccupied connecting up smartphones through the new SmartGlass feature, but we wouldn't want you to be caught out for Christmas and be lost among the hundreds of new titles, unsure of what to purchase.
So perhaps take inspiration from some of these, sent to Vulture Central over the last few months, either on disc or as downloadable content. Here are the ten that tickled my fancy most when opting for the fatter control pad of Microsoft's machine. As usual, we've had to omit a fair few, such as Fable: The Journey, which simply failed to cut the dijon, or Angry Birds Trilogy for Xbox – in my view, it didn't really fly.
Dance Central 3

While it's a game I only ever play when my other half brings a crowd of her friends over, honest, it's hard to be too critical when Dance Central provides so much entertainment. These dance games are like the new-kid's karaoke and as long as we've had enough grog to overcome our inhibitions, even the most stringent of hetereosexuals will get their groove on.
Harmonix's annual Kinect boogiefest certainly has the edge for me over Ubi's Just Dance 4. For starters, there's an awesome story mode that spans several decades incorporating relevant hits from yesteryear. Do the Hustle! There's also a crew battle mode, where two teams of up to four players can challenge each other. For those group gatherings, though, it's all about Party Time, which packs several competitive games and encourages freestyle dance offs. Just as well, because I'm terrible at following instructions.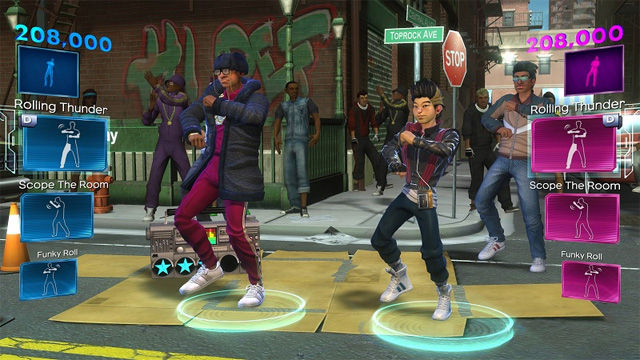 Reg Rating
75%
Price
£28
Platforms
Xbox 360 only
More info
Microsoft
Double Dragon Neon

Fans of 1980's arcade beat-em-ups will revel in nostalgia with this game. DDN is a re-imagining of past Dragon outings, pulled together with the original storyline and an exhilarating axe-thrashing soundtrack that'll feel familiar to the old school gamer generation.
A tradition dictates, the dialogue is cheesy as you traverse the streets collecting cassettes and smashing special attacks upon the waves of thuggish enemies. You'll eventually reach the end of the level where you'll face a typical boss, skeleton dude Skullmageddon. Brilliant.
The controls have evolved with dodges and counter attacks and certainly feel more advanced than the moves we were limited to in the arcade days, but it does get kind of repetitive. Not that you'd expect anything less.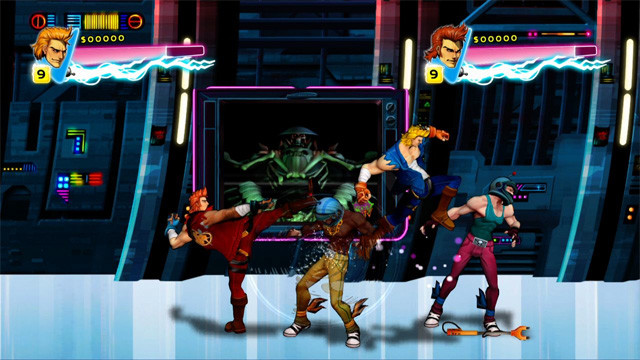 Reg Rating
75%
Price
800 MSP (£10)
Platforms
Xbox Live, PSN
More info
EA Sports
Forza Horizon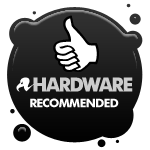 Microsoft's premium racer steers away from its traditional model of a simulated driving experience here and turns a corner into open-world adventure with a fitting narrative. Players drive around, competing in events to gather XP, that unlock new vehicles and races. It feels more arcade-like than its Forza 4 brethren, but that makes it more up my street all the more. Lest we forget, it still has the realistic Forza DNA running throughout.
The showcase events – where you'll race planes and air balloons – are immense as are the various high-end vehicles you can pick up rusting away in secluded parts of the map. There are vast areas to explore, plenty to discover, and tons of content to get your money's worth.
Online modes are where it's at, though, with most of my game time spent on a neat hide and seek feature. Overall, it's definitely one of the better racing games I've played recently. Handling is more forgiving, speeds are exhilarating and graphically, the game is a stunner.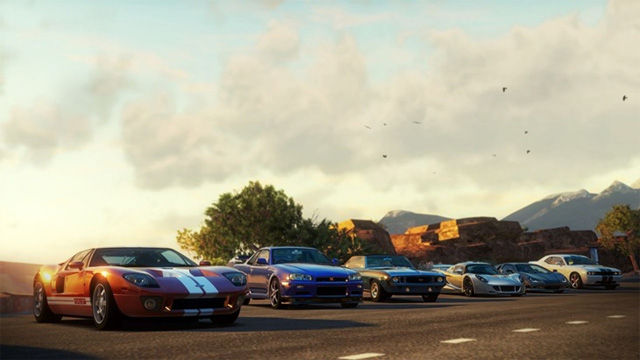 Reg Rating
90%
Price
£40
Platforms
Xbox 360 only
More info
Microsoft
Hitman: Absolution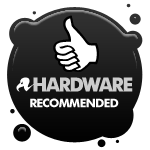 Agent 47 returns after a six year hiatus in by far one of the best Hitman games to date. As usual, the stealthy skinhead sneaks through missions, brutally assassinates targets and ticks off objectives in numerous ways.
Players have the freedom to be creative and make each murder all the more majestic. Spike someone's coffee, plant explosives, or simply whip out the garrotte and throttle before stealing the victim's clothes, hiding the body, and wandering off without casting suspicion. The formula is tried and tested, and it looks like Square Enix has done plenty of the latter here, because this is a far more polished product than any previous Hitman ever was.
The story itself leaves much to be desired, but the hugely inventive level design is impressive, varying enough to keep you gripped all night. There are a few tedious moments when trying to evade guards – that made me wish Agent 47 had Dishonored's powers of possession – but Hitman Absolution sits far more in the realm of realism than Bethesda's shank-fest and it's easy to start feeling like quite the assassin yourself. I love it. Absolution takes the sick-minded stealth genre to new levels and delivers in style.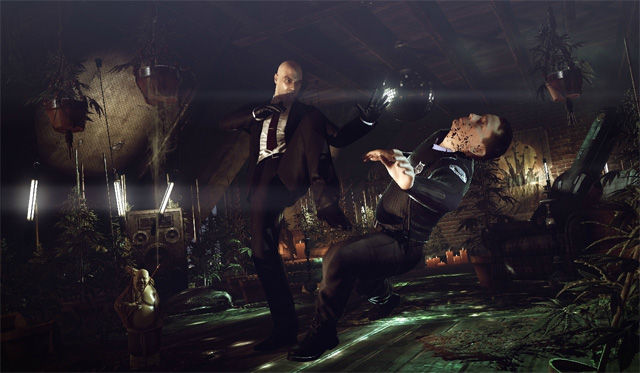 Reg Rating
90%
Price
£40
Platforms
Xbox 360, PS3, PC
More info
Square Enix
Jet Set Radio HD

When JSR first hit Dreamcasts back in my yoof, I was overjoyed. A little street terrorist myself at the time, it was refreshing to play a graffiti game and the quirky Japanese influence accompanied by cell-shaded graphics was something pretty new to me. The sequel, Jet Set Radio Future, spent a long time in the drive of my clunky old Xbox too. However, its hit-button-to-paint system never really compared to the original's skillful thumbstick wiggle, so it's a relief to see JSR return to the latter's more challenging approach here.
For those unaware, the idea is to skate through the the various city levels, tagging over rival crew's signatures and draping walls with spray paint, while bouncing in rhythm to the game's madcap, but truly excellent, soundtrack. Jet Set Radio is more visually stunning than ever now that it's in HD and is as good a game today as it was 12 years ago. If you've never played it, you're in for a treat.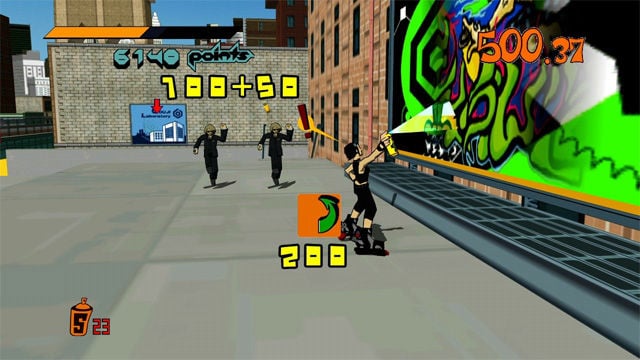 Reg Rating
90%
Price
£6.50
Platforms
Xbox Live, PSN, PC, Vita, Android
More info
Sega
Need for Speed Most Wanted

With Forza shifting its gears into the open world racer market, NFS had even more reason to ramp up the nitro and with Criterion – developer of 2010's Hot Pursuit – behind the steering wheel, it does a pretty good job of doing so.
As with Criterion's previous outing, Most Wanted feels like a mixup of NFS and Burnout, with emphasis on drifts and takedowns and rewards for driving like a lunatic. Before long, you'll have the feds on your tail in true Wanted fashion, throwing increasingly more at you the hotter your notoriety becomes.
While the cars aren't quite as impressive and feel more arcade-like than Microsoft's detailed replicas festured in Forza, each NFSMW game offers plenty of entertainment and you undoubtedly get plenty of bang for the buck. The soundtrack is thumping too, just what you want in a racing game.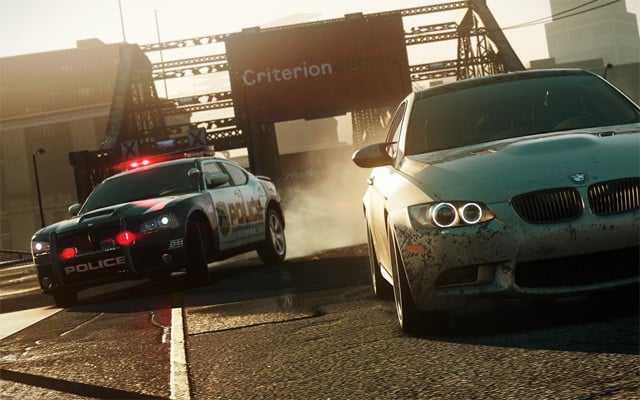 Reg Rating
85%
Price
£38
Platforms
Xbox 360, PS3, Wii U, PC
More info
EA
NHL 13

Here in Blighty we're less accustomed to ice hockey than our colonial cousins across the pond, so perhaps I can be excused for struggling to get to grips with NHL 13. After touching up my knowledge of the sport's rules and avidly studying with the game's controls, I'm still constantly thrashed by the CPU, without fail. Either that, or a friend and I slip about the ice like Bambi until our head-to-head ends scoreless.
Personal lack-of-skill aside, NHL 13 proved to be quite an impressive title with plenty to keep fans entertained. EA Sports games all feature similar structural foundations and appear to push for the utmost realism. NHL 13 is no different, with fresh emphasis on positioning and a new control method that forces better accuracy. In one respect it's essentially Fifa 13 on ice with awesome in-your-face fist fights.
Alas, times have changed from my days of four-player N64 action on Wayne Gretzky's Hockey and for those who appreciate the depth of realism, NHL 13 sets the bar. If you can master the technicality of it all, that is.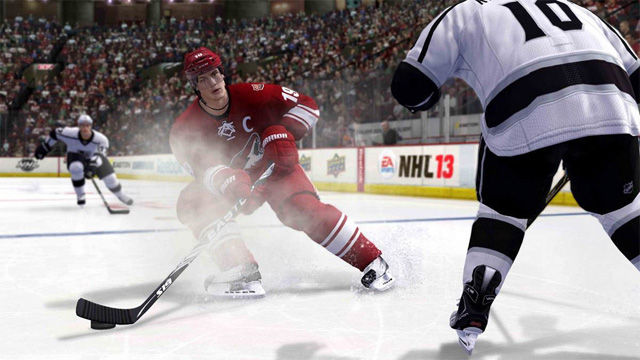 Reg Rating
80%
Price
£37
Platforms
PS3, Xbox 360
More info
EA Sports
Pro Evolution 2013

While these days I still prefer EA's Fifa franchise, Konami's footie epic has come on in leaps and bounds in recent years, transforming far more in many ways than its popular rival has. Evolution, indeed.
That said, it still clearly lacks the same attention to detail and continues to play catchup in terms of graphics, commentary and, of course, licensing, all of which may have contributed to a decline in popularity. Last year, Fifa outsold the franchise by 25:1 in the UK. PES 2013 deserves much more credit than that.
Defenders stick to their positions better, which is just as well, as attacks are fluent and full of clever runs. In fact, aside from the less-realistic way players carry themselves, movement across the pitch just about has the edge to take the accuracy trophy for me. Unfortunately, with Fifa's superior online modes and broader betterments, PES doesn't have the same panache. It's still a hugely commendable alternative, though and offers refreshing gameplay, particularly when six hours a night on Fifa starts to become stale.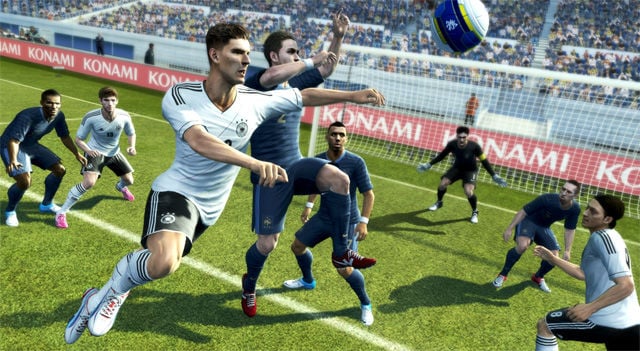 Reg Rating
80%
Price
£25
Platforms
Xbox 360, PS3
More info
Konami
Tekken Tag Tournament 2

It's startling to think that the original TTT was released over a decade ago now. Time certainly flies. Since then we've seen a handful of Tekken titles appear, yet with a near annual update to every similar franchise, I found my interest in button-bashing fighters waning. While yet to rediscover my early enthusiasm, I do find myself throwing TTT2 on for multiplayer fun every week or so when friends – who demand anything but football games – show up.
All familiar characters from the franchise return and the fast-paced combination action – vastly enhanced with extended tag assaults and dual character combos – is ideal for keeping the brain occupied in semi-mindless fashion. Not to say it isn't a challenge. Unless you start mastering these combos, fighting the CPU often ends in an ass-whoop but the tutorial system is a bliss to use, so no worries there. It'll be great to try out the new Mushroom Battle feature for the Wii U version soon, which sees characters grow and shrink after consuming Mario-like fungi, but as I found with fighting games on Vita, touchscreen controls are not for me when it comes to this genre.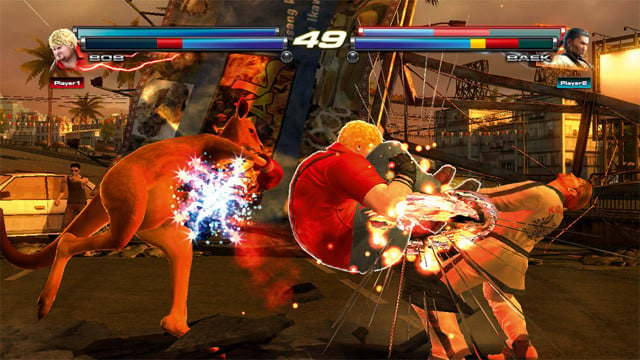 Reg Rating
80%
Price
£37
Platforms
Xbox 360, PS3,
More info
Namco Bandai
WWE 13

Those into the more theatrical world of man hugging might like to turn attention to THQ's latest WWE. It certainly steps things up from previous wrestling games I've played and covers every possible corner of the ring, particularly when it comes to customisation options. Everyone wants to create their own badass character, and you have near-endless options here. There's also the ability to design your own stadium, crowd and entire championship with customised belts and titles. I feel like a 12 year old again, only this puts the Smackdowns of yesteryear into an impenetrable choke hold.
Fights are smooth and players can build up to OMG! Moments, which pave the way for awesome moves and finishers that utilise the environment around you. There's a suitably scripted Attitude Era story mode too which sees players take control of various famed characters throughout a two-year period. When I last enjoyed watching the sport itself, I used to take a WWF lunchbox to school and, of course, the game will never appeal to me in the same way it would a concurrent Wrestlemania fan. Still, WWE 13 is a laudable game, with plenty of replay value and a competitive online mode to boot… right in your face. ®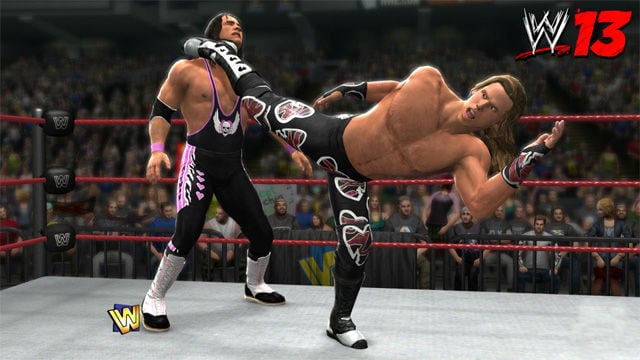 Reg Rating
80%
Price
£38
Platforms
Xbox 360, PS3, Wii
More info
THQ