Original URL: https://www.theregister.co.uk/2012/11/23/review_samsung_google_nexus_10_android_tablet/
Samsung Google Nexus 10 tablet review
The purest, most affordable 10in Android yet
Posted in Personal Tech, 23rd November 2012 08:00 GMT
Why would you buy a tablet other than an iPad? Obviously, some don't care for Apple's locked-in system and others like the way users can dig more deeply into the workings of Android. Good enough reasons, sure, but the truth is that until the day dawns when a tablet is of comparable specification, but substantially cheaper than the iPad, most customers will stick with Apple.
Good morning, Google Nexus 10.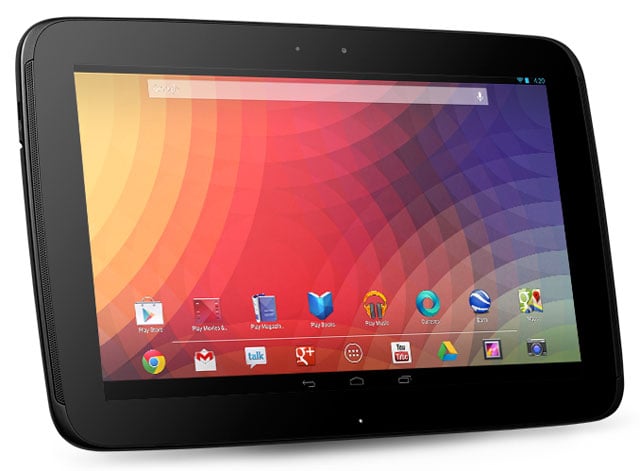 Google's Nexus 10 Android tablet is yet another collaboration with Samsung
The price difference between the latest 16GB Wi-Fi only iPad and a comparable Nexus 10 is substantial – £399 for Apple's fondleslab and £319 for Google's Samsung built model. And the Nexus 10 is no cheap knock-off either. The 10.1in screen, for starters, is actually higher-resolution than Apple's much-trumpeted Retina display, or even a Full HD TV screen. The processor here is powerful, the RAM generous and the design is up to snuff too – it certainly couldn't be mistaken for an aluminium encased Apple product.
Indeed, this tablet looks like it could – finally – be a contender for the title of iPad killer. Build quality is good, for a start. The rubber back is there for comfort, as are the rounded corners and curved surfaces – there's barely a straight line in the whole machine, apart from the screen itself. It's designed for landscape use primarily. It's a little longer than the iPad but it's narrower, thinner and lighter.

Docking pins on side for accessory use, but no micro SD storage expansion
The display is gorgeous: bright, vivid and achingly pin-sharp. Which is all very well but there's no point to it if it knackers battery life. And since Android is known for draining battery life through too many background programs running, say, that could have been a possibility. Happily, though, the Nexus 10 runs pretty much as long as an iPad, that is around 9 hours in my experience, a good deal longer than the 7 hours claimed.
Even so, turning the screen to full brightness meant there was a noticeable hit to battery level, something you're more likely to notice with extended use, such as watching a movie. Video playback, by the way, with a high-definition source, was impressive. While initially jittery when the file opened, playing Transformers: Dark of the Moon continued smoothly and flawlessly. Incidentally, the Nexus 10 has support for a number of mainstream codecs including MP4, H.264, DivX and WMV.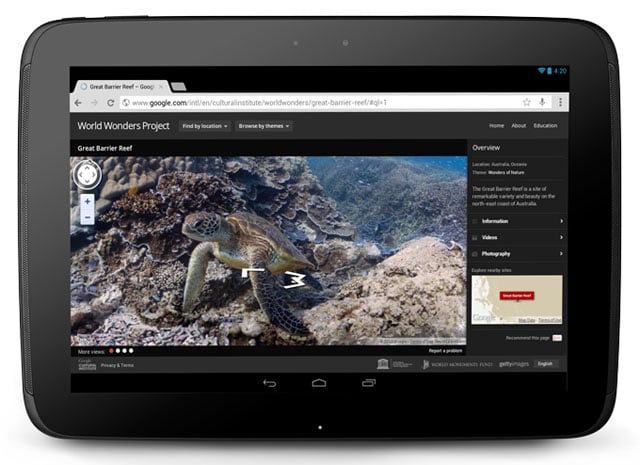 Viewing is geared mainly for landscape use
Movie buffs also take note – the sound on this tablet is way better than on rivals, thanks to the long, front-mounted stereo speakers running down the short edges. On the iPad, for instance, it's easy to muffle the sound if you're holding the tablet on the edge or back. Here, there's no problem, it comes booming out, loud and clear.
Vanilla Jelly Bean
If you're a fan of OS overlays, there isn't one here – this is pure vanilla Android. Version 4.2, which is Jelly Bean. Still, since some OS skins feel like they get in the way or are an excuse for adding bloatware, this is no bad thing. Indeed, overlays can slow update cycle for phones and tablets which vanilla machines get immediately, particularly those made by Google.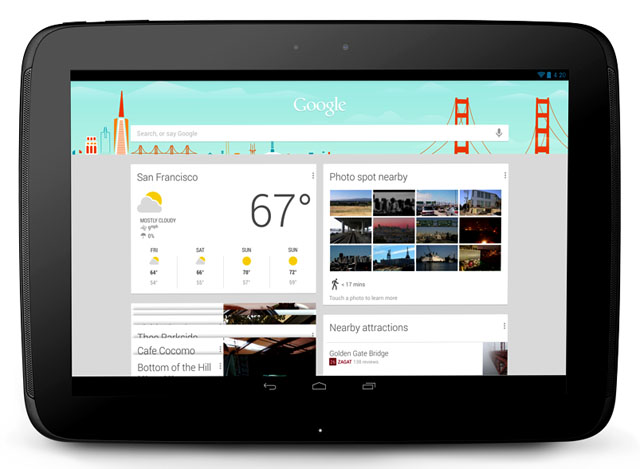 Android 4.2 Jelly Bean on-board, just the way Google made it
Another omission, and one you may feel more keenly, is the microSD slot. There's no expandable memory here, which is a shame, so you're stuck with the capacity you paid for, just like iPad users. This tablet is Wi-Fi only although, unlike many tablets without a cellular connection, it does include GPS. This is of limited value if you're planning to use the gadget as a galumphing satnav if you haven't downloaded maps when you were in a suitable hotspot.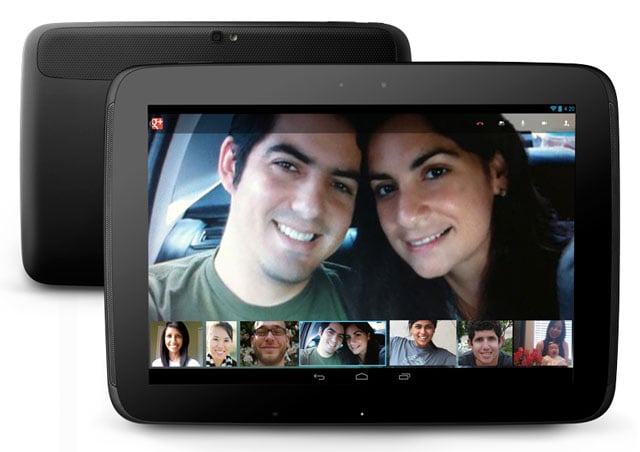 Google search: "Should cousins marry?"
Cameras on tablets are never a great idea since it's hard to hold a big slab of glass and plastic still for long. However, the 5Mp sensor here is not bad, and the Google camera software is excellent, with neat features. For instance, a long press on the screen brings up a dial of configuration options including flash, white balance and shutter adjustments. You're still better off with a camera, mind.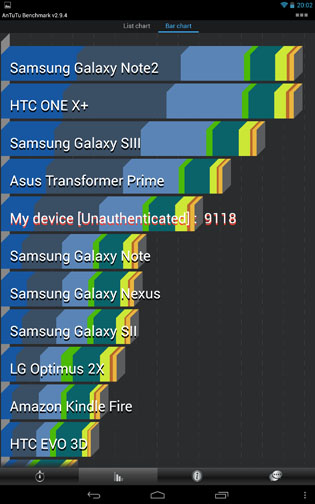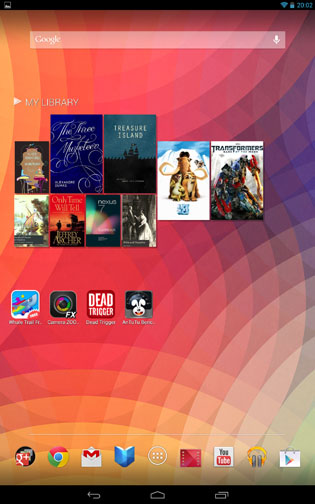 AnTuTu results and Homescreen
Other useful software tweaks include a quick settings menu, which appears when you swipe down the screen from the upper right (upper left still gives you the familiar window shade). Here you'll find icons for brightness, Wi-Fi, Bluetooth, airplane mode, battery level and whether auto rotate is on or not. Since locating settings in Android is one of the things you need on a frequent basis, the link to full settings here is very useful.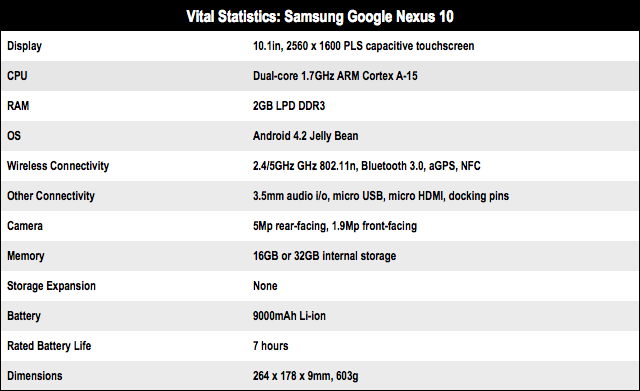 Store front
As an entertainment consumption device, the Nexus 10 is hard to beat, although a 7in screen tablet is easier to hold for a long time. But there are the strong video playback and efficient streaming services the Google Play Store offer – even seamlessly downgrading playback to standard definition if your broadband isn't up to HD suddenly. That store is also good for music, and of course games, books and other apps.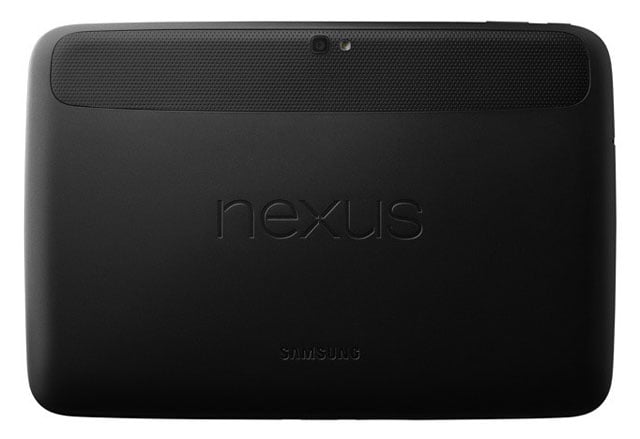 Shaping up: Curvy lines and a rubber back conjure up a Marmite moment here
And while it may not have a consistently high-quality range of apps as Apple's store, the range is impressive and numbers are high (over 700,000). But the extra screen size and rounded edges of the Nexus 10 also count against it, making it feel more unwieldy than the iPad, even if it is a touch lighter. Of course, there's more to the Nexus 10 than movies and games, but it somehow never feels as complete as a work tool as the iPad – and has some way to go to become a comfortable, temporary substitute for a PC .

Even thinner than the iPad, apparently
Still, there are no complaints in terms of power. The dual-core chip at its heart is impressive, backed up by 2GB of RAM. No slowdown, no struggling, whatever you're doing. Oh, and one more thing, as they say, Android 4.2 now comes with multiple user accounts. These are simple to set up and mean that family members can have their own tablet with customised wallpapers, their own apps and so on. Though only one person can use it at a time, obviously.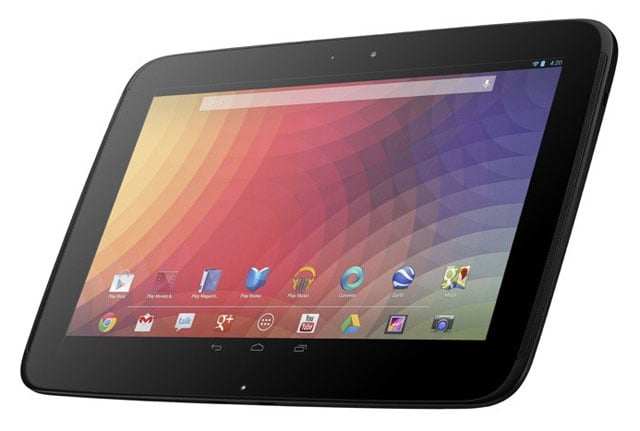 Multiple user accounts and a hi-res screen, what's not to like?
Verdict
This is a powerful, effective tablet, especially if you want it for media consumption. It's great for watching movies, listening to music and playing games, with the screen resolution looking particularly smart and the front speakers beating other tablets easily. The fast processor and 2GB of RAM ensure the tablet rarely slows down either. Does it kill the iPad? Not really, due to Apple's iOS ease of use and plentiful supply of high-quality apps... but it comes close. ®
More Tablet Reviews

Apple
iPad Mini
Microsoft
Surface
Ten...
Apple iPad Mini
alternatives
Toshiba AT300
Acer
Iconia Tab A700