Original URL: https://www.theregister.co.uk/2012/11/23/classic_match_foosball/
Convert your iPad into a foosball table and relive the dot-com days
Is this the ultimate fondleslab accessory? Could be ...
Posted in Personal Tech, 23rd November 2012 19:04 GMT
Sometimes an idea is so effing brilliant that we face-palm our foreheads and wail, "Why didn't we think of that?"
Behold "Classic Match Foosball, The Ultimate Mutliplayer [sic] Experience for your iPad," created by New Potato Technologies and brought to our attention by Technology Tell.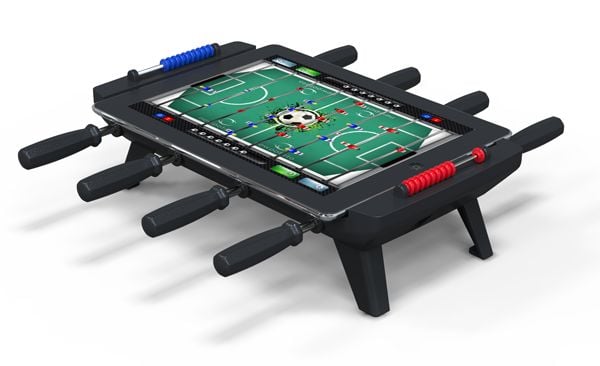 Both Mutliplayer and immesrive!
The Ultimate Mutliplayer Experience? Perhaps. The ultimate iPad accessory? Undeniably.
Classic Match Foosball – may we presume upon its magnificence, and merely call it CMF? – is just what it appears to be: a miniature foosball table, complete with two-axis control bars. CMF's creators promise that these "tactile elastomer handles provide a multi-sense immesrive [sic] experience."
Really, who could ask for anything more?
Those Reg readers who were around during the dot-com boom at the turn of the millenium will certainly remember whiling away hour after hour at the company foosball table. Ah, for a return to the days when software engineers were so hard to come by that companies plied them with food, drink, and games – foosball being the favorite.
Here in the second decade of the 21st century, however, everything has been downsized – including the foosball table itself. But seeing as how this is the decade of multifunctional mobility, all you need for your foosball fix is the $99 CMF and its iOS app, available free from the iTunes Store – although you'll need to wait until both ship, hopefully before your holiday shopping binge is satiated.
"Now you can work your pull, snake, bank and bread and butter shots, fake out your opponent and deliver the ball into the goal with a resounding 'thunk'," the New Potatoes croon temptingly, "all on a table top foosball dock for your iPad."
Like little children on Christmas Eve, we await the arrival of snake 'n' bank Santa with dewy eyes. ®