Original URL: https://www.theregister.co.uk/2012/11/23/apple_black_friday_2012/
APPLE goes on crazy, price-SLASHER Black Friday RAMPAGE
Discounts kit by a whopping, er, 8%
Posted in Personal Tech, 23rd November 2012 14:23 GMT
On the day when stores slash prices and punters queue for hours to sweep up tech bargains, Apple has slightly reduced prices on its iPads and MacBooks. Black Friday is bargain bonanza day in the US - and increasingly, the UK - and Apple has tentatively joined the cost-cutting orgy with some 8 to 9 per cent discounts. Form an orderly queue.
In Apple's modest offerings there are no discounts on iPhone, iMacs or iPad Minis, but it's probably a good day to pick up a MacBook Air.
Today only, the $499 iPad with retina display gets an 8.2 per cent price cut, taking it to $458, saving punters $41.
If you wish to spend the change on a smart case for your new fondleslab, it's only $34 in the Apple Store today, down $15 from $49. And you'll have $7 of savings left from the original price to go wild with.
The iPad 2 is now $368, saving buyers $31 on the normal price. And there are decent discounts on the MacBook lines.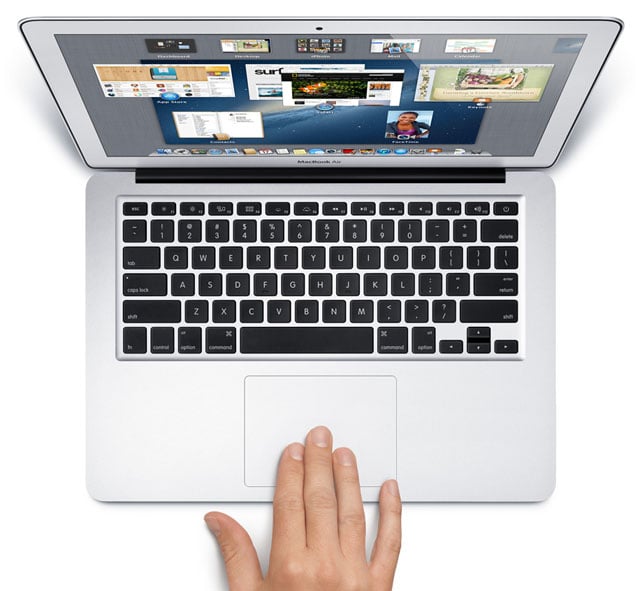 Black Friday: A good day to buy a MacBook Air - the price is down by 10 per cent
All MacBooks are down $101, a saving that shows up best for the MacBook Air, which is down to $898 today from $999 - a cut of 10.1 per cent.
The standard MacBook Pro is down 8.4 per cent from $1,199 to $1,098.
The MacBook Pro with retina display costs $1,598 today instead of $1,699, a fall of 6 per cent.
No discounts on the iPhone 5, which doesn't even sell contract-free in the States, but you can get $31 off the latest iPod Touch - taking it to $268. Percentage reductions are bigger on lower-cost accessories: the Magic Mouse and wireless keyboards are both down 16 per cent to $58, while EarPods are down 25 per cent to $22.
The discounts are being offered out worldwide - Brits have similar 7 to 8 per cent discount on the same range of products - iPads, MacBooks and accessories.
Apple is not likely to break the bank offering these 8 per cent discounts: the Apple profit margin - across all its whole business - is a very comfortable 25 per cent. ®