Original URL: https://www.theregister.co.uk/2012/11/22/review_asus_vivobook_s200/
Asus VivoBook S200 11.6in touchscreen notebook review
Taking a swipe at Windows 8
Posted in Personal Tech, 22nd November 2012 12:00 GMT
A few months ago I tried a preview of Windows 8 on my 11.6in HP Pavilion and frankly it made about as much sense as a vegetarian bacon sandwich. Why? Because, without a touch screen the Windows 8 Metro Modern UI lacks a crucial ingredient. Armed with only a keyboard and mouse, facing a wall of tiles just gets in the way.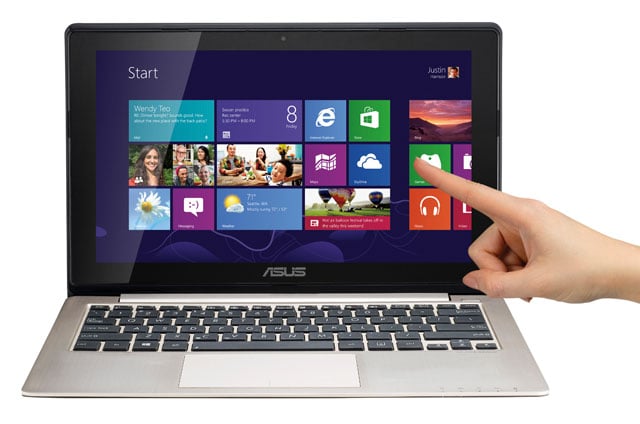 Touch and type: Asus' VivoBook S200
Asus' new semi-budget 11.6in VivoBook S200 has a lot in common with the Pavilion but with the significant addition of a touchscreen which will surely make more sense of Windows 8 – here's hoping.
Straight out of the box the S200 doesn't come across like the £400 machine it is. Rather it feels like a very good, if diminutive Ultrabook. The lid and keyboard deck are made of a metal alloy, the keyboard itself is rock solid and the screen hinge feels very robust and will cant back to 135 degrees.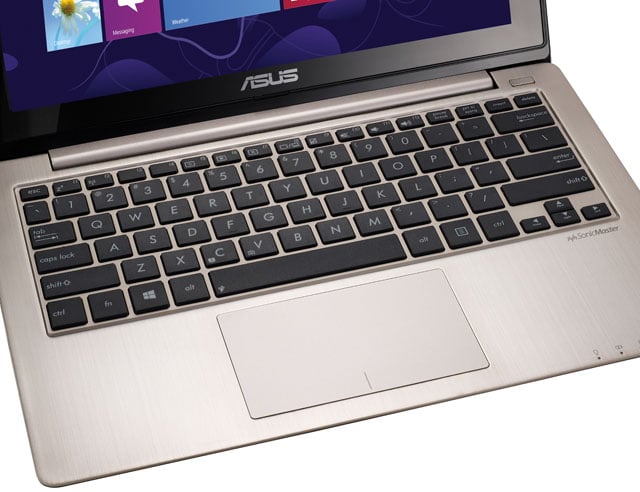 Good keyboard and trackpad, but no backlighting at this price
Make no mistake, this is a very solid and well made little notebook. If I had to pick a hole it's that the keyboard isn't backlit but at this price it hardly comes as a surprise. In all other respects, the keyboard excellent, as is the trackpad. Weighing 1.4kg the S200 is lighter than Samsung's new 11.6in Chromebook and measures the same 20mm from top to bottom. It's nicely rounded design and has a decent set of rubber feet on the underside to enable air circulation around the cooling grille.
Portability is further helped by the impressively small and light 1.75A mains charger. I've seem bigger packed with mobile phones. Alas, the glossy LED backlit screen is none too bright, so while fine indoors, it isn't so great in sunlight. It reflects its surroundings badly too and in this era of 1080p and retina display tablets, 1366 x 768 will seem a bit low-res to some. On a more positive note, the colours are strong and very well balanced.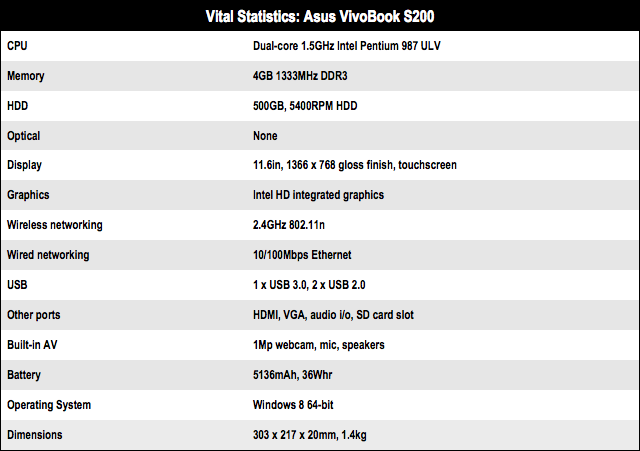 Swipe protocol
The multitouch capacitive touchscreen part of the equation is more impressive. It registers taps, prods and swipes reliably and consistently and is a genuine a pleasure to use. It's arguable whether or not a notebook should need a touchscreen but once you've grasped the Modern UI navigation is focused on swiping, it becomes more intuitive.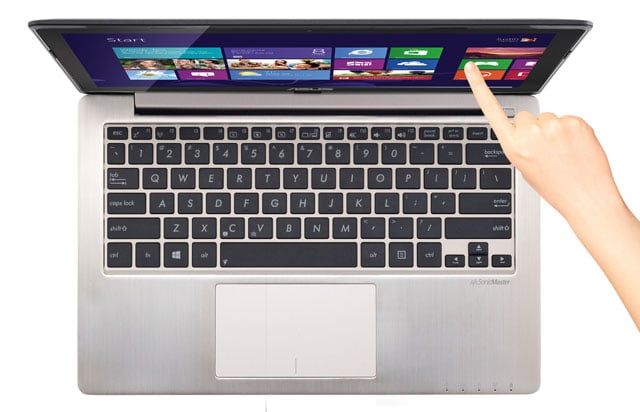 Essential ingredient: Having a touchscreen on-board the only way to really appreciate Windows 8
Indeed, I quickly came to appreciate the way it improves casual interaction when I had the S200 in my lap or on a desk watching a movie, listening to music or making Skype video calls. Thanks to the swipeable touchscreen the clumsy transition between the Modern UI and the Windows 7-like desktop lurking below seemed far less jarring than on my Pavilion.
In a machine this slender, there's naturally no room for an optical disc drive but you do get VGA, HDMI and 10/100Mbps LAN ports, an SD card reader and three USB sockets, one of which is USB 3.0.

Well equipped for general use connectivity but lacks Gigabit Ethernet
The slim design has imposed some limitations on tinkering though. To swap out either the 5136mAh battery or the 500GB HDD, you will need to remove the underside and make with the screwdriver. If you want to upgrade the 4GB of RAM forget it. It's soldered in place and there are no free slots for more.
Though also available with a Core i3 chip my review machine came with Intel's Pentium 987 Ultra Low Voltage (ULV) 1.5GHz dual core processor. This is a Sandy Bridge chip and lacks such features as Turbo Boost and Hyper-Threading but just you try finding anything about this particular 900-series CPU on the Intel site.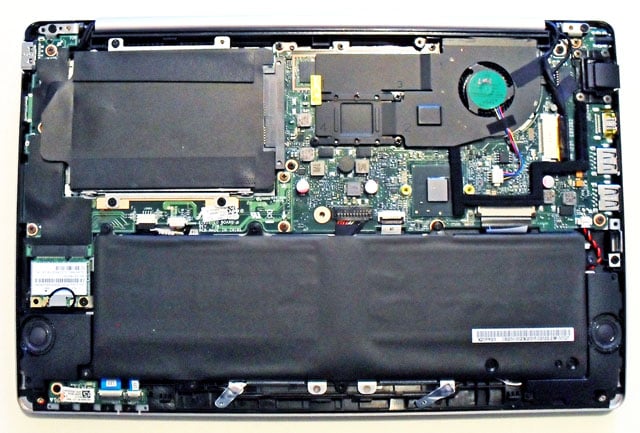 Storage can be swapped out, but RAM is soldered in
With a chip like that the benchmark scores were never likely to set anyone's pubic hair alight. PCMark7 returned a score of 1347 which is rank average even for a machine clearly not designed for gaming (even Crysis 1 is totally out of the question) or intensive graphics work.
Getting the boot
That said, it's still an eminently fast, smooth and usable machine for the vast majority of day-to-day tasks and can stream 1080p video reliably. This is in no small part due to Windows 8's major redeeming feature: it's less taxing on the hardware. It boots up quickly too, taking less than 20 seconds from cold.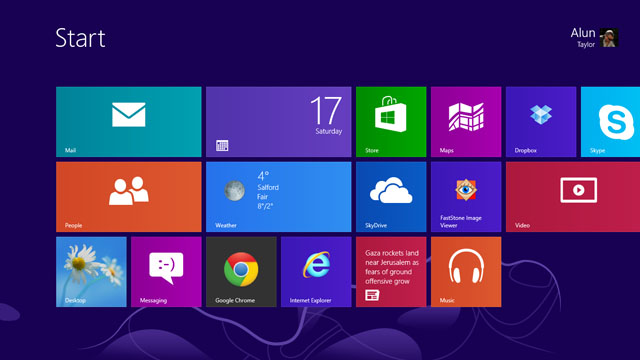 Get into swiping and it all begins to makes sense
Now a word to the wise if you are thinking about buying an S200 to run Linux. I tried it with Ubuntu 12.04 and everything worked perfectly with the exception of the touchscreen, which remained stubbornly inert.
That ULV chip only pays a small dividend when it comes to battery life. Running the aggressive PowerMark 1.2 benchmark, the lights went out at 2hrs 25mins. Looping an HD video with the screen at 75 per cent brightness got me to 4hrs 15mins. In more mixed use, I averaged around 5hrs 30mins between trips to the socket, which is acceptable in my book.
Obviously, the 1.8GHz i3 version of machine will be faster but will set you back £50 more. Frankly, either machine should satisfy. Obviously you can't separate screen and keyboard as you can with the latest, but much more expensive generation of Windows 8 transformer PCs but as a halfway house between them and a conventional laptop it will do quite nicely.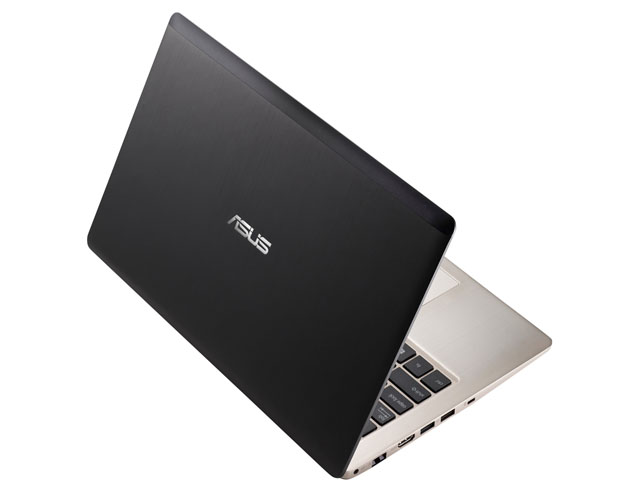 A well-made touchscreen notebook that offers and affordable way to experience Windows 8
Verdict
Even without the touchscreen, the small, solid, cheap and light Asus VivoBook S200 would make a case for itself. Yet put the strokeable screen into the equation and it comes together nicely as an attractive little package. ®
More Notebook Reviews

Lenovo
IdeaPad
U410
Sony
Vaio T13
HP
Spectre XT
Acer Aspire
Timeline M3 Ultra
Toshiba
Portégé
Z830-10N