Original URL: https://www.theregister.co.uk/2012/11/22/color_labs_apple_lawsuit/
Apple DID buy social video network - check out this BONKERS lawsuit
Employee alleges Color Labs boss 'intimidated' workers with Glock-toting pal
Posted in Policy, 22nd November 2012 07:27 GMT
We know that start-up culture isn't all free pizza, statement fish tanks and beanbag snuggling, but an explosive court case in Santa Clara, California, has intimated there might be a darker side to Silicon Valley workplaces than we usually see. The court filing also confirmed Apple's rumoured purchase of the start-up, it has emerged.
According to a lawsuit filed by a disgruntled employee, it was firearms rather than frappuccinos at Color Labs - the photo and video-sharing start-up which has now been confirmed as a recent Apple puchase. The former Color Labs employee alleges that boss Bill Nguyen brought a man with a Glock into the office with the intention of "intimidating employees".
The case, brought by ex-staffer Adam Witherspoon, brings six complaints against his former boss, Nguyen, and the board of Color Labs - including the intentional infliction of emotional distress on employees and retaliation for office whistleblowers. TechCrunch notes the suit confirms Color's assets had been bought by Apple, which had not been confirmed on the record until then.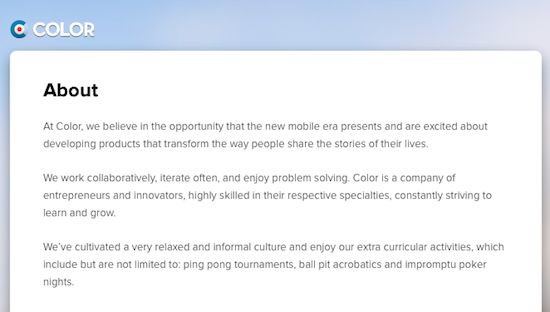 The 26-page complaint [here, via BusinessInsider] details allegations about Nguyen's behaviour including: allegedly calling an employee a "pussy" after she stepped on a metal spike at a marketing event and required stitches, as well as allegedly putting a ski instructor on the company payroll. The suit also alleged that Nguyen fired an employee via speakerphone.
The filing claimed there was a culture of "intimidation", "retaliation" and "financial irregularity", which culminated in the boss of Color Labs allegedly bringing a friend armed with a Glock into the office in a manner that employees found "exacerbated the feeling of employees being threatened with retaliation and violence in the workplace". The allegedly armed man named in the filing is Corey Dunphy, who is said to have been an employee of the US Defense Department's Office of the Inspector General (OIG) at the time.
The complaint states:
Defendant Nguyen bragged to Color employees - including Plaintiff Witherspoon and Indelicato - that Dunphy was able to put employees who crossed Nguyen on no-fly lists, have those employees' credit ruined, and was otherwise able to get those employees into other types of trouble, by virtue of Dunphy's position at the OIG.

On or about July 12, 2012 Plantiff Witherspoon, along with many other Color employees, observed Dunphy enter Color facilities with his firearm in plain view.
The board of Color is listed as a co-defendant for allegedly "[turning] a blind eye to Defendant Nguyen's questionable business practices, erratic behaviour and outrageous and despicable treatment of employees."
The complaint comes two months after Color Labs was bought out by Apple in September. The majority of Color's employees, approximately 20 workers, were hired by Apple and now work there.
A quality assurance engineer, Witherspoon maintained Color's servers and facilities, and was one of two employees who were not taken on by Apple after the takeover, a fact he attributes in part to the actions of Nguyen in his lawsuit.
Nguyen is a serial entrepreneur who has previously sold a company to Apple: Lala in 2009 for $90m. At the time of Color's sale to Apple, Nguyen was described as "charismatic" and noted for his ability to bring big venture capitalists onboard by CNET.
Bill Nguyen's current position is unconfirmed.
We have asked Color Labs and Apple for a response to the case, and more information about Bill Nguyen's current position, but have received no reply.
A notice on the Color Labs website states that the service will be shutting down at the end of this year. ®