Original URL: https://www.theregister.co.uk/2012/11/21/review_nokia_here_ios_maps_app/
Nokia HERE iOS maps app review
Can the Finnish phone firm solve Apple's navigation woes?
Posted in Personal Tech, 21st November 2012 13:47 GMT
There's never been a better time to publish a mapping app for iOS. Apple's own Maps app is a laughing stock and Google is apparently dithering over whether to bother submitting an app version of its mapping solution for Apple's approval, or lack thereof. So Nokia has stepped into the breach with HERE, a re-branded version of its highly-regarded Maps navigation offering.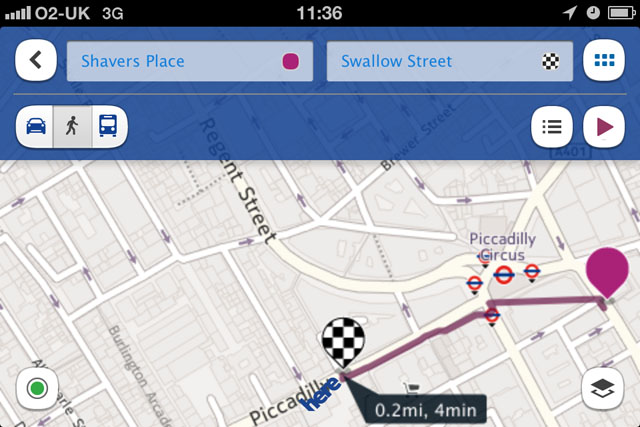 A walk on the wild side: Nokia's HERE maps app shows the way to go
HERE Maps is a universal app that will work on any iOS device running iOS 4.3 or above. And while it provides all the basic features you'd expect of a mapping tool, it adds several new ones, and, sadly misses one or two out.
Fire up HERE maps for the first time, and provided you have Location Services switched on and have given the app permission, you're presented with the standard Map view of your current location. The all-important first impression is that, while all the data is there, its presentation leaves something to be desired.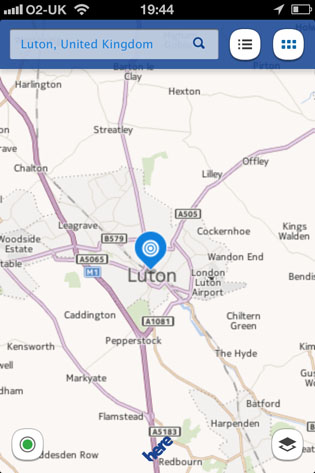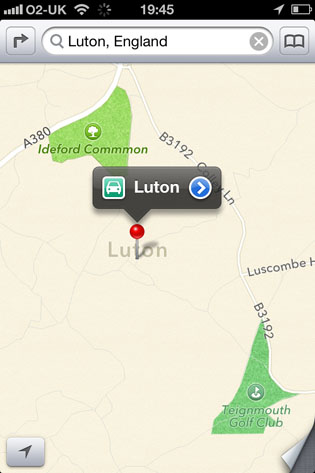 Spot the difference: Nokia HERE (left), Apple Maps (right)
If Apple can be criticised for placing too much emphasis on making its Maps look pretty – at the expense of important stuff, like putting towns in the correct place – HERE Maps does the opposite. That's fine when the result is a park represented as a flat green splodge, rather than the textured image preferred by Apple. Less so when it means street names are blurred and difficult to read.
Legibility improves considerably when you zoom in, a task performed, as you'd expect by stretching, or 'un-pinching', your fingers over the area you want to inspect more closely.
Sadly, zooming fails to work as it should. Place your fingers either side of a street to zoom in on it and you'll find that as you zoom, the street moves off-screen, because the focus is on the centre point of the screen when you start zooming, rather than the location of your fingers. That's not how it should work and means you need to shuffle the map back into position as you zoom.
Walkie talkie
In addition to the basic Map view, HERE Maps has Satellite, Public transport, and Live traffic views. The Public transport view is excellent. In London for example, tube lines are correctly colour-coded and named, along with over land railway lines and bus routes. The further afield you move from London, however, the less information there is. In Edinburgh, for example, there are railway lines and the coach station, but no bus routes.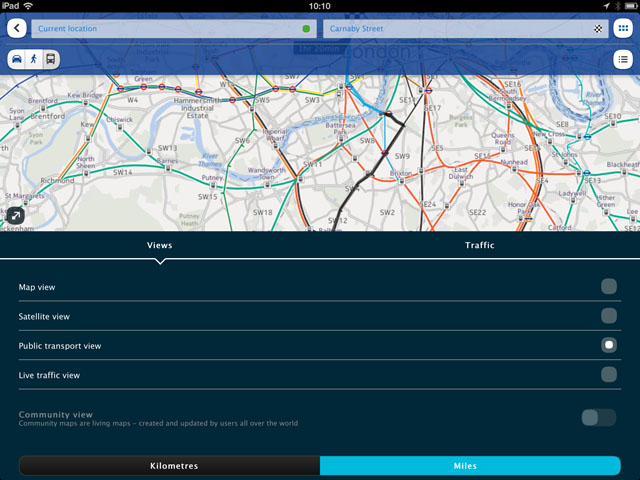 Map view choices
Live traffic view is useful, too, highlighting areas of congestion and allowing you to easily see where you should avoid. Satellite view is less successful though. Images are lower resolution and consequently less detailed than Apple's offering, particularly outside major cities. There's no 3D view currently, but Nokia's recent acquisition of 3D mapping service, Earthmine means it surely can't be far away.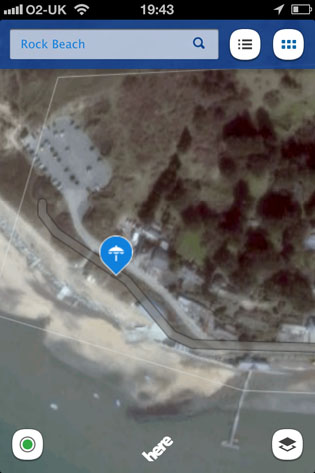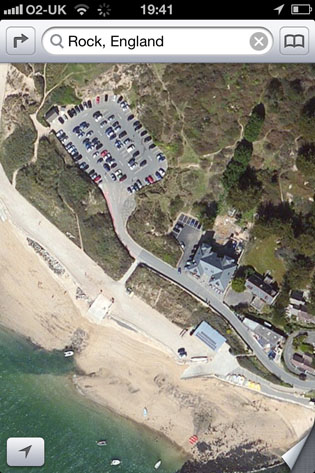 Satellite view – spot the difference: Nokia HERE (left), Apple Maps (right)
Key to the success of any mapping app are the accuracy of its directions. HERE Maps scores highly because it includes public transport directions in both image and list form. But, bizarrely, every route from outer London to inner London tested utilised bus and tube, but not mainline rail routes. Telling a user to travel from, say, Croydon to Oxford Street by bus and underground, rather than rail won't win it any fans.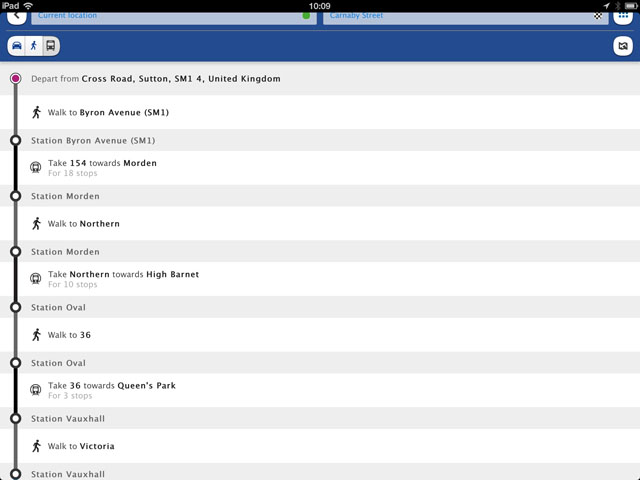 A step in the right direction?
There are walking directions, for distances up to 30 miles, and driving directions too. Sadly, however, audio instruction is limited to walking, which means HERE Maps can't be used as a substitute for an in-car satnav.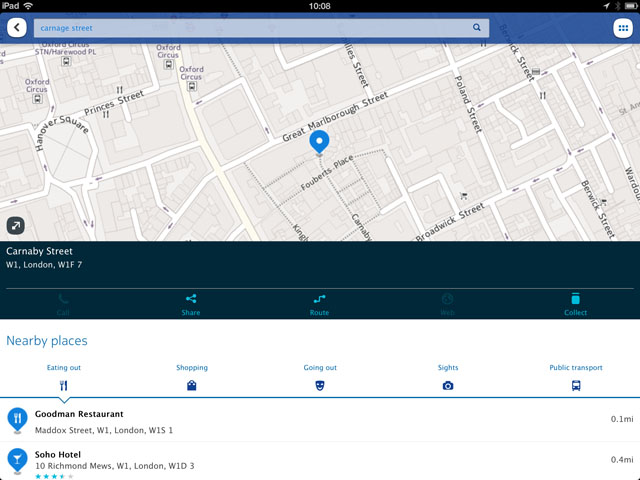 Create an account and use Collections to build up a personal database of places of interest
Crowd-sourced data is plays a significant contribution to HERE Maps and is presented in the form of Community view. Where content is available, Community View is highlighted along with the other views and allows you to see maps submitted by other Nokia maps users. It's a neat idea, allowing individual users to submit details of new roads, for example, and make them available without waiting for the app to be updated. But there currently appear to be few submissions for UK locations.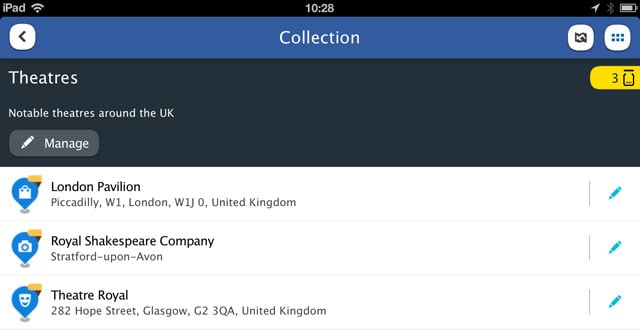 Collections listings
The other social element of HERE Maps is Collections. You'll need to create an account with Nokia and sign in to use it, but once you've done so you can create lists of say, restaurants, theatres, zoos, or any other place of interest, and access it from any device on which you're using HERE Maps.
Location, location, location
For the most part, HERE Maps gets it right where it counts most: the location data. A search for Luton, for example, returns the Bedfordshire town, rather than the much smaller town in Devon, as it does on Apple's app. And both the Traffic and Public Transport views are excellent. The lack of inclusion of suburban rail journeys on public transport directions, however, is baffling.
The presentation, while not as smooth or pretty as Apple's Maps is good, particularly where it combines information on shops, restaurants, and the like, with the local map. That said, it seems your location choice dictates when the bugs will make themselves known. For instance, a search for Blackheath on a 3G iPad using Community View (which didn't have much to show) would take the app some time to redraw when zooming in, losing POIs in the process, only to give up and revert to map my current location in central London. Other view choices were less troublesome.
Your mileage may vary, but if you are holding off from upgrading to iOS 6 for fear of losing Google Maps, you might want to wait a little longer for Nokia to release a few updates to iron out some of the bugginess in HERE.
Verdict
Having a decent track record on mobile navigation services, Nokia's HERE could be a good deal better than this initial offering. Certainly, it is streets ahead of Apple in some areas, yet it stalls badly in others. Still, it has some useful features that broaden its appeal. First though, Nokia needs to sort out pinch zooming and public transport directions, add audio instructions for car journeys, and incorporate 3D maps, then there's potential for HERE to even give Google a run for its money. ®