Original URL: https://www.theregister.co.uk/2012/11/21/feature_why_do_smart_tvs_suck/
Why do Smart TV UIs suck?
Inconsistent, inconvenient and in my *!#!!?* telly
Posted in Policy, 21st November 2012 12:00 GMT
Feature Years ago, TVs were simple. My grandparents' set, for example, had a single channel-change button which clunked through to the next VHF preset each time you pushed it. My own family's TV had two standards, enabling us to "Switch to U for BBC 2" in time for Play Away.
Inevitably, matters have became much more complicated than that as the number of channels has mushroomed. The Electronic Programme Guide (EPG) has helped by providing a timeline based list of what's on and what's coming up. But most people have managed pretty well pressing numeric buttons for channel numbers, and using a 'source' button to access their VCR or Sky box.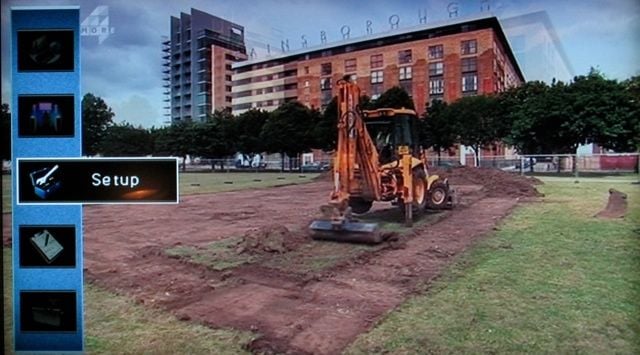 This is a sophisticated, modern UI. Apparently...
In recent years, though, the complexity of home entertainment has suddenly grown exponentially. We've added Blu-ray players, games consoles, DVRs, media streamers and AV Receivers to help compensate for the poor sound of ultra-thin tellies. Better internet connectivity has brought us catch-up services like BBC iPlayer, and online rental services like Netflix and Acetrax. Modern TV can make video calls, show the weather and let you Tweet your commentary on the latest instalment of Strictly.
And have the finest minds of the consumer electronics and technology industries worked hard to make all this as simple and straightforward as using a TV used to be?
Have they heck.
No, driven by marketing tick lists and a seeming disregard for how ordinary people will use their products, manufacturers have simply chucked more and more features into their sets until existing user interfaces have creaked at the seams with it all.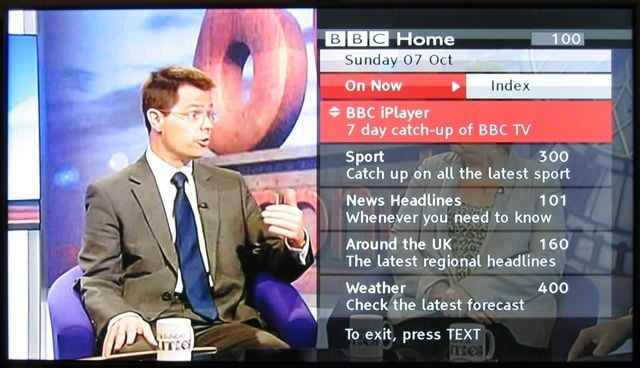 BBC iPlayer the easy way: two button presses on a Freeview HD-compliant box
Even new UIs, designed from the ground up - you'd have thought - to deal with the vast array of content accessible through a smart TV would have improved matters. But no, vendors have instead been content with flinging smartphone-style UIs at big screens in the hope that the buzz surrounding 'apps' will stick.
Not so smart
Here's a simple example: if you're marketing a new set-top box or TV in the UK, and you want to call it 'smart', then it's a given that it should feature BBC iPlayer. So, you build your TV to the latest Freeview HD specs, get it certified by the BBC, and your users will be able to access iPlayer through the Red button. Users press Red, followed by OK, and they're in.
That's how it should be. But in a recent batch of smart TVs I tested, not one of them launched iPlayer like that. Instead, they all presented it as an app within their own portals. Every set had it filed away in a different place.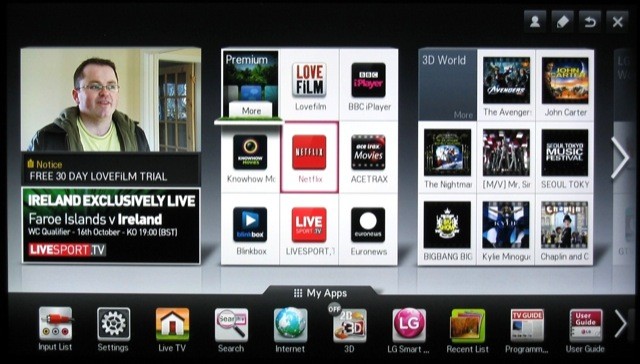 LG's 'Premium' section doesn't contains such valuable offerings as Dixons' Knowhow channel
With all the various video-on-demand services that the companies now try to cram in, you start to find arbitrary categories being created. LG's 'Premium' section might suggest that it's for paid services, like Netflix and Lovefilm, but it includes free ones too, iPlayer among them.
So for 'Premium' we can read 'not full of junk'.
Pop into Toshiba's 'Places' and iPlayer is included – in fact, it's the only thing – in the 'EPG and Catch-up TV' section. Yes, that's right: there's no EPG in there, effectively giving iPlayer a section of its own - there's a separate 'Video on demand' section for other choices.
Inconsistent, inconvenient and in my TV
Similarly, Sony's sets tuck iPlayer away in the 'Internet content' menu, a term unlikely to mean a lot to those outside the tech world. That said, Sony manages to find space at the top level of the UI for its own Sony Entertainment Network and to distinguish between 'widgets' and 'apps'. Why?
Small wonder then that iPlayer views from the iPad vastly outnumber those from all connected TVs combined.
As if that wasn't bad enough, a lack of attention to detail makes the user experience of many sets clunky and confusing. The Director General of UK industry body the Digital TV Group, Richard Lindsay-Davies, reckons connected TVs now offer a more "seamless" experience, but the only thing that comes close is the backward-scrolling EPG found on YouView, which is probably far closer to a rational UI than what comes out of the big brands' development teams.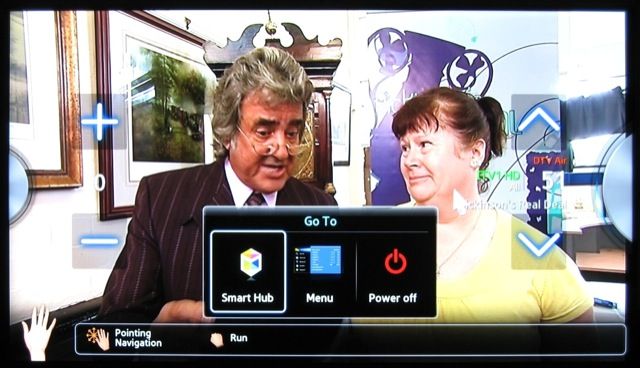 Samsung is at least trying new control methods, such as gestures
Highlight an icon in Sony's video-on-demand apps list, like Demand 5 or Lovefilm, and the atrocious XMB UI urges you to "Click here for additional assets", whatever that means. I know. You know. But will ordinary punters know? Sony's 'Play Memories' photo sharing option allows you to read the service's Ts&Cs. If you do so, it launches a web browser showing small print which requires no fewer than 35 key presses to scroll through.
Sony is not the only offender. Samsung's 'Family Story' – a simple Facebook-type service to tie you and yours into Samsung products – merits a button of its own on the remote control. Yet aspect ratio control doesn't, and it takes 16 key presses to change the screen to 4:3.
To be fair, some vendors, Samsung and LG among them, are trying new things, like gesture control and voice control. The former, I mostly found tiring, and worried about a Father Ted moment should any visitors peer through the window and see me with right arm outstretched towards the TV and angled upward. Voice control is more likely to find a use in homes, but I suspect more as an assistive technology than a permanent way to control the set.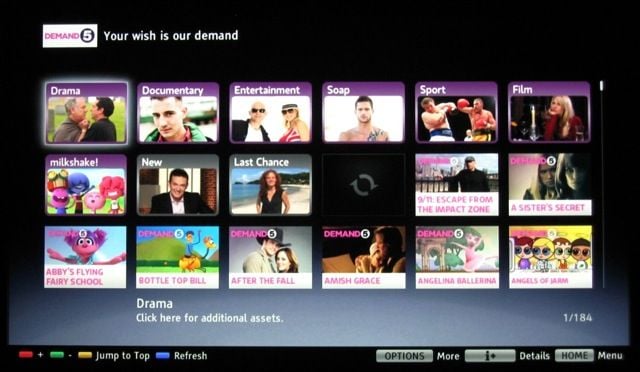 Sony helps you to Demand 5 and other services' 'assets'
Who's for sale?
Thanks to the obsession with 'social', plenty of people are building Twitter or Facebook into their TVs. But when it's executed in a way that means you can't watch TV at the same time, or you can't follow hashtags relating to the programme you're watching, what's the point? It makes more sense – it's more private too – to pick up another device and use that at the same time.
There's sometimes an apparent disregard for customers. A complaint raised against Panasonic TVs for years centred on the inclusion of adverts in the EPG. After spending hundreds of pounds on a new telly, you don't want to be marketed at when you press the guide button. This year's sets have finally, thankfully, dropped the in-guide ads, but they should never have been included in the first place.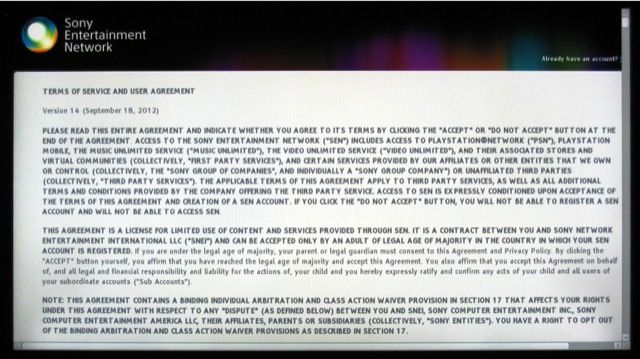 Thinking of using Sony's Play Memories? You'll be asked to read these 35 pages first
Toshiba has yet to learn the same lesson, with a video promoting Acetrax playing in the main menu of their 'Places' UI. A special mention should also be made of Sony. It may not have adverts in its UI, but unless you opt out during the last step of its setup wizard, its smart TVs are granted the right to send information about how you use your TV back to Sony.
Many sets don't let you enter your details for services like Flickr or Twitter there and then - you have to go off and do it through the vendor's website, then link services to devices, and devices to sites. While there's a reasonable argument to be made that on-screen keyboards aren't much good for this kind of thing, I can't help feeling that the real point is not ease of use, but the gathering of information.
Outside the box
It's not just smart TVs that suffer from ill-conceived UIs - many other pieces of AV kit do too, as will be evident to almost anyone who's looked at a Blu-ray Disc with 'BD Live' content, or media streamers that – even if we charitably leave aside the nightmares of DLNA compatibility – offer poorly rendered menus and a slightly different UI for every individual online service.
Those online services themselves don't help, of course. Netflix, for instance, simply provides an option on its website to unlink linked devices. That's all of them – you can't specify 'Samsung TV' or 'Roku media player.' So if you sell or get rid of your telly, you also have to reset all the other devices linked to your account. The only way I could persuade the Roku to connect again was to delete and re-install its Netflix app.
My Yamaha AV Reciever, only a couple of years old now, has on-screen graphics that appear not to have been updated since the 1990s, and require the selection of an icon from a vertical list, which opens a horizontal panel of more icons, which then open pop-ups in the middle of the screen.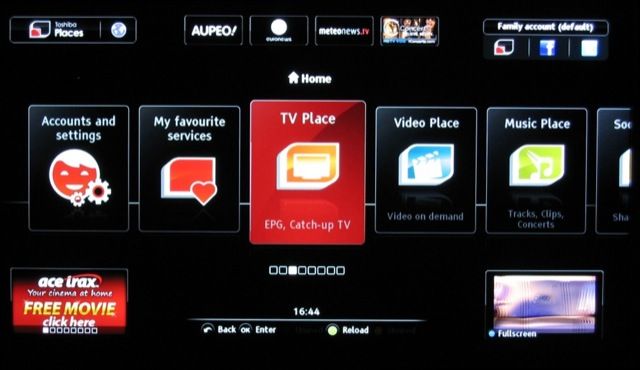 It may say there's an EPG in there, but there isn't. And the Video Place isn't the only one with video, either
As Reg Hardware's Steve May commented on another Yamaha AVR, "any GUI which forces you to cross reference it with a manual constitutes a Fail in my book". Amen to that.
Matters are, he says, made worse by the way in which some kit works, such as those that output surround sound only through optical connections, requiring the SPDIF port to be assigned to an HDMI video input, a common enough configuration that nevertheless took the best part of a day to set up on a new Marantz AVR.
Is there a solution?
Just before he died, Steve Jobs apparently claimed to have cracked the TV UI, and pundits have long been speculating about how an Apple television might revolutionise TV interactivity. Heaven knows we need a fresh look, but it probably won't come from Apple. The interface on the company's bijou media player may be fairly straightforward, but as more services have become available, it's apparent that not even Apple is immune from UI clutter. And the current UI is Apple's third attempt to get it right.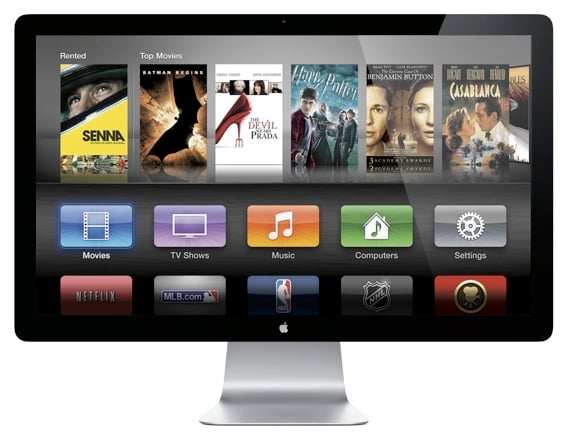 Even Apple can't get it right
And clutter is not the only problem. Rights can cause problems for the unwary too, and even the might of Apple can't always solve those. Take an iPad, for example, which can fling video to the TV over Wi-Fi using what Apple calls Airplay technology. Now rent a movie using iTunes on the iPad: if you'd bought it, you'd be able to play it through the Apple TV, but not if it's rented.
For many people, a TV is increasingly a device to be used to present content from other sources than broadcast television. So do we really need smart TVs at all? Or would it be better to have industry agreed open standards that let 'companion devices' such as tablets and smartphones interact with our displays, reliably and consitently?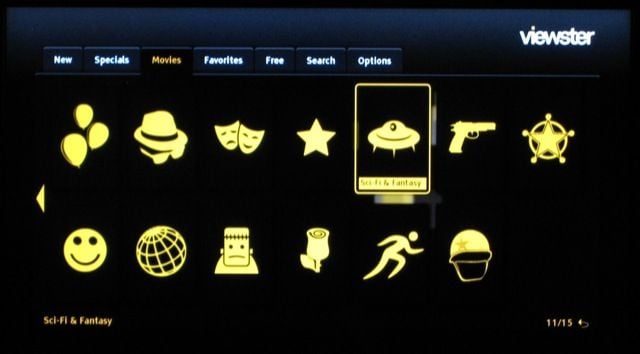 Viewster on Toshiba: is yellow the new black, or black the new yellow?
Reg readers, for the most part, will be able to find their way around the latest AV and TV gear, whatever its idiosyncrasies – but would you want your mother to? There has to be a better way. ®
How would you redefine the TV UI? Do you have AV UI horror stories? Let us know through your comments.