Original URL: https://www.theregister.co.uk/2012/11/21/esa_approves_russia_exomars_partnership/
Russia steps into NASA's place on upcoming ESA Mars plans
UK, in 'historic' move, to help on manned US Orion ship
Posted in Science, 21st November 2012 17:18 GMT
The European Space Agency has approved an agreement to get Russian help for the ExoMars missions that NASA dropped out of. The ESA, which just finished its annual ministerial council meeting, said that Roscosmos would get the Martian missions in 2016 and 2018 off the ground with its Proton rockets, sending first a satellite to look for methane and other trace gases in the atmosphere, and then Europe's own rover.
The US dropped out of the projects earlier this year, threatening cancellation for the whole idea, but Russia showed its interest not long after. ExoMars started out at the end of 2005 and over €400m (£322m, $513m) has been spent on it already.
Both sides still have to sign a formal contract by the end of this year, but the ministers are provisionally happy to give the deal the nod.
"It's a pity that we've lost the partnership with NASA but it's good that we've now got the Russians coming in instead, so we're optimistic that this is now on track," British Science Minister David Willetts said, according to AFP.
Frederic Nordlund, head of international relations at ESA told the BBC that the partnership could lead to other joint ventures.
"Esa has selected JUICE (the Jupiter Icy Moon Explorer)... and in Russia there is a plan for a Ganymede lander which is of interest to Europe," he said.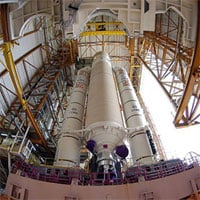 Musk-monikered "no hope rocket" Ariane 5
"We are initiating discussions to see how we could co-operate on those missions. But this could extend to lunar robotics where we would like to see if we could join forces as well.
"Russia has its Luna-Glob and Luna-Resurs missions, which are already being implemented, but we're considering other opportunities for this in other areas."
In return for providing the rockets, Russia wants some instrument space on the satellite and rover and, naturally, access to their scientific discoveries. According to some reports, Roscosmos would put some of the instruments it already tried to get to Mars aboard the failed Phobos-Grunt satellite onto the first ExoMars mission.
Meanwhile, a €500m (£402m, $641m) project to send a lander to the Moon's south pole by 2019, proposed by European space company Astrium, is unlikely to go ahead, as is a proposal to team up with China in a three satellite space weather forecasting system, AFP said.
The ESA will put money into an upgrade for its Ariane 5 rocket, rubbished by Elon Musk earlier this week. Musk said that the rocket had no chance to compete with his Falcon 9 and Falcon Heavy because of its high cost and the agency should move to Ariane 6.
But ministers only agreed to build an Ariane 5 Mid-Life Evolution upgrade ready to fly in 2017 and said they would do a study on Ariane 6 now and have a meeting for the new launcher in 2014.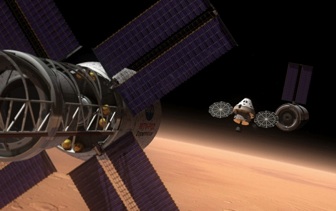 If you squint, you can see a Union Jack...
The meeting also agreed to provide the propulsion unit for NASA's new manned capsule Orion, which event the UK agreed to help with. Blighty has stayed firmly out of sending folks into space up till now, but pledged a one-off €20m (£16m, $26m) contribution because of the tech development it could give British companies.
"The UK is on the space station. It's a historic moment," ESA director-general Jean Jacques Dordain said at the final press conference.
The space agency got ministers to agree to a €10.1bn (£8bn, $13bn) programme, which Dordain said was pretty good considering the economic climate.
France and Germany are still the big contributors, handing over €2.3bn (£1.85bn, $2.94bn) and €2.6bn (£2.09bn, $3.33bn) respectively, but the UK's newly enlarged offering wasn't too shabby either at €1.2.bn (£964m, $1.54bn). The money will be spent over the next five years. ®