Original URL: https://www.theregister.co.uk/2012/11/20/microsoft_poo_powered_data_center/
Microsoft building poo-powered carbon-neutral data center
Sewage plant systems profitably full of crap
Posted in Data Centre, 20th November 2012 19:13 GMT
Microsoft is spending $5.5m to build a data center in the Wyoming hills that's powered by methane created from the waste of its nearby residents, and sees a lot of opportunity for mixing computing and crap.
The methane produced by decomposing waste at sewage farms has traditionally either been left to float off into the atmosphere or is burnt off. But Redmond reckons it has cracked a way to use the gas to reliably power a data center off-grid via fuel cells, then use the heat generated to help run the sewage plant and capture any remaining carbon dioxide for industrial use.
"By capturing and reusing biogas on premise with our data centers, we will be able to significantly reduce their carbon emissions while producing beneficial uses at the same time," said Sean James, senior research manager at Microsoft's data center advanced development group.
"This project will study new methods for providing a stable, clean, scalable, and economically efficient power source for data centers that could become a best practice for use by other industries in the future as well."
To prove its point, the company is building a 200kW Data Plant (as it's calling the design) at the Dry Creek Water Reclamation Facility in Cheyenne, Wyoming. The plant will use specially tailored microorganisms to break down the sewage and release methane, but they need to be kept warm to operate.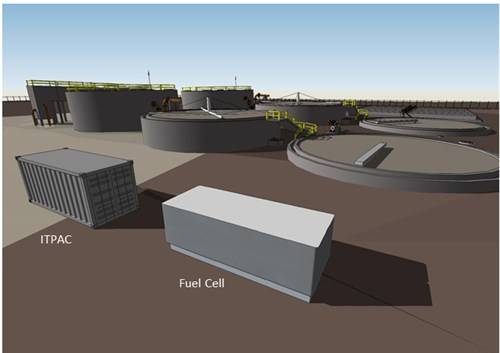 Admittedly not the nicest place to do tech support
Microsoft's Data Plant comes with a 300kW molten carbonate fuel cell that's powered by the methane, once it's been scrubbed and dried. The cell generates the power for the data center, with the hydrogen and carbon dioxide generated in the process getting collected, and the waste heat from the servers redirected to the sewage plant tanks.
Using biogas for power isn't new, but it's traditionally siphoned off and mixed with natural gas. Microsoft thinks this new system will eliminate the need for a gas line, because the modular Data Plants can be sized to match biogas production and the closed generation system is so efficient.
"In a sense, wastewater treatment plants can be considered distant cousins of data centers – they are mission critical facilities with high availability infrastructure built into the plant," said James. "These plants cannot go offline any more than a community can stop flushing. The result ensures a very consistent and reliable flow of biogas to power our Data Plant." ®