Original URL: https://www.theregister.co.uk/2012/11/16/call_of_duty_black_ops_2/
Call of Duty: Black Ops 2 game review
Playing with fire
Posted in Personal Tech, 16th November 2012 12:00 GMT
The knives have been sharpened, the vitriol pumped, the maps cleared of bodies and the zombies starved. It can only mean one thing: Call of Duty: Black Op 2 is upon us.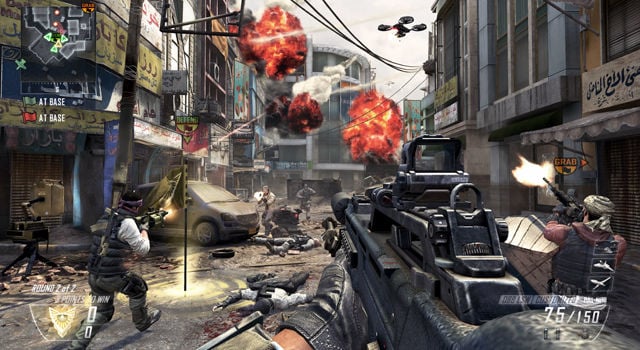 Flagging the issue
It's the series where reviewers can never win, and Activision's coffers never fail to be filled. Where one wrong word can lead to talkback meltdown – just try suggesting it looks better on PS3 than Xbox 360 (I'm not, but try it). And where console owners, whose device has a layer of dust an inch thick, will inexplicably feel compelled to hit their local games store because "You know, it's Call of Duty isn't it?"
So what of Treyarch's Black Ops 2, the continuation of a brand new saga which Activision is no doubt hoping will equal its other clockwork Call of Duty series, Modern Warfare.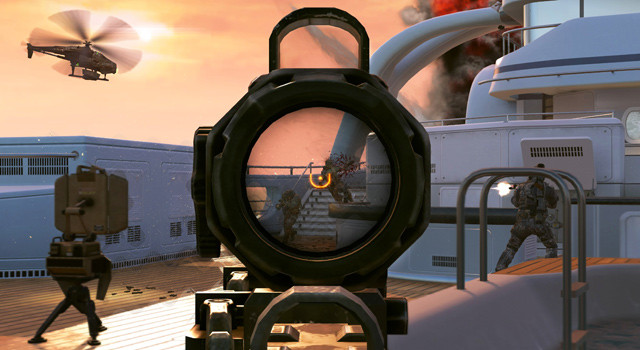 Ship shot
2010's Black Ops single-player campaign was something of an oddity, a mishmash of missions derived from various recent conflicts, all-threaded together by a genre-standard, over-egged plot.
Yes it had its moments, but it also relied far too much on tired principals. First there was "infinitely spawning bad guy" syndrome, where countless hostiles would harass the player until you had progressed a preordained distance. Then there were bottlenecks, where only killing "x" amount of enemies would have an area declared clear, thus enabling advancement.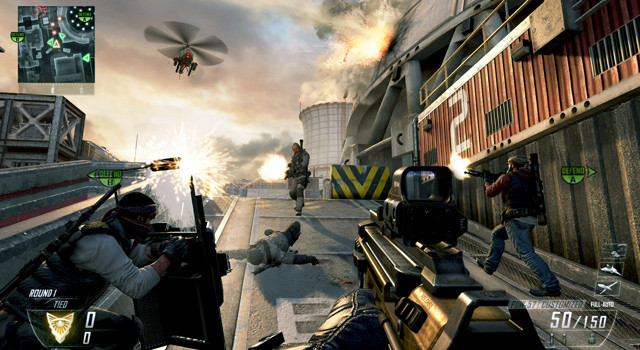 On a rampage
So, in two years, what's changed? Has Treyarch learnt any new tricks with which to bamboozle players, or has the series finally run out of luck?
Wails from the script
Well, the setting has changed for one. Much of the game is now set in what could be dubbed "future warfare" where governments have gone drone happy and China controls much of the world's resources.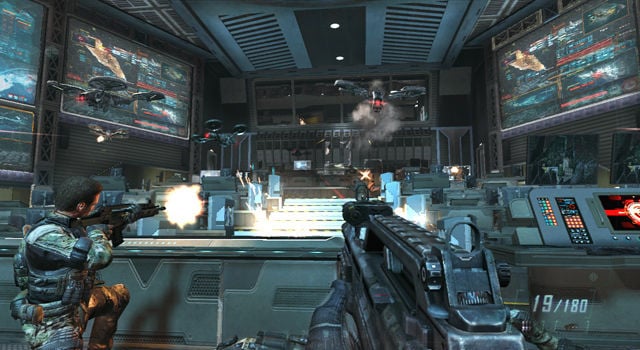 Shut down the computer
Thing is, China isn't the villain of the piece, that honour goes to Raul Menendez who, much like your average Bond villain, has a victim complex a mile wide leaving him firmly in the "Death to America" camp. No prizes for guessing you'll be gunning for Team USA then – in missions that flit between past and future battles – as Menendez's sob story is laid bare.
I'm just going to say it now: Black Ops 2, despite involvement from some Hollywood scribes, including David S. Goyer – The Dark Knight, Blade – won't be winning any awards for its narrative. Indeed, if Goyer was as involved, as stated, then he's evidently decided against bringing his best to the project.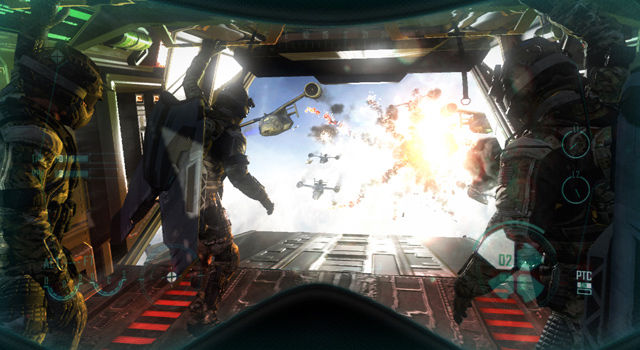 Aim to chute?
That said, strides have been made to revolutionise its narrative structure. This is still no Mass Effect, but story branches will split based on your mission success. This, at least, lends some replayability to proceedings. Further variation comes courtesy of numerous Strike Force missions. Think, single player assault-type missions with casual real-time strategy thrown in for good measure.
These are not only an attempt to splice something new into the Call of Duty formula, but also affect the game's progression (and even ending) depending on how well you perform. Previously missed objectives might also be completed here too, should you perform well.
Aside from these few sections, however, the spectres of aforementioned bottlenecks and survival episodes remain unexorcised, meaning the actual nuts and bolts of the gameplay doesn't lend itself well to repeat servings.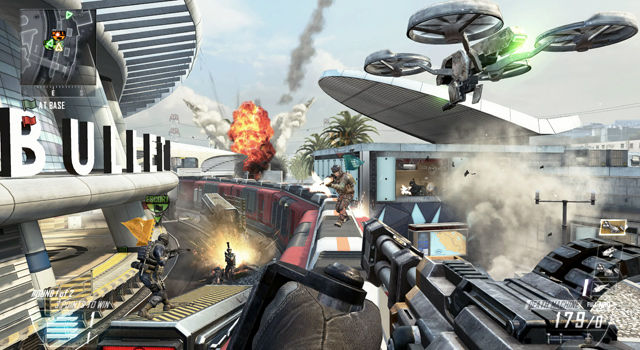 Attack with the Parrot drone
Treyarch has gone all out to impress with toys – flying suits, operable mechs, cloaking fatigues, even cavalry charges – but such options fall flat when used against enemy forces lacking any semblance of personality or intelligence.
Zombies, the lot of ya...
Even Halo 4 has its share of issues, but at least you can always count on an entertaining scrap from dogged foes. Here, we're back to the same-old fairground rifle-range, as enemies pop in and out of cover. I also lost count of the number of times bad guys would take supposed safe shelter behind glass partitions – a move that surely anyone with half a brain should work out is a bad one...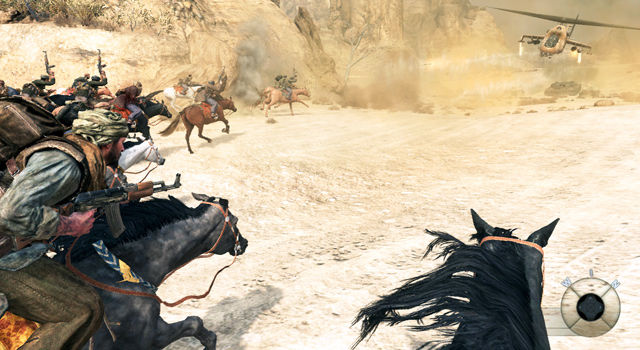 Desert strike
Talk of the cerebrally challenged brings us succinctly to Zombies mode, the second third of Black Ops 2 – the first being the solo campaign and the final the regulation multiplayer. Zombies has become a Black Ops' staple, and here we witness the finest version of the undead survival extra yet seen.
New ranking systems and leader boards keep the rewards and achievements flowing with the likes of Grief – two teams fighting off waves of zombies until one falls – and Tranzit, which apes Left 4 Dead by delivering a four-player zombie holocaust survival campaign. Both provide tense stand-offs versus the throngs of undead, if ultimately falling below that of Valve's classic.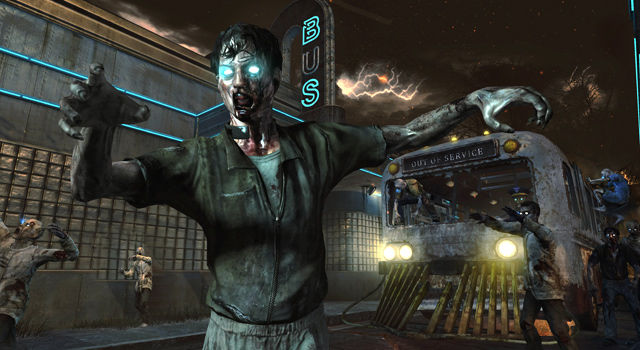 Wouldn't wait at that bus
Over to the traditional multiplayer, and though it is early days to give anything like a final analysis, what is clear enough is that your deathmatching options remain as frenetic as ever. Expect quick kills, sudden deaths and instant respawns – life is cheap in Black Ops 2.
Maps tend toward the small, creating bombastic zones of concentrated fire, the perfect place to chain your kills and level up in a bid to unlock ever more game-changing guns and equipment. Play variations deal in the usual capture-and-hold and team warfare types – same as in all the other Call of Duty titles – meaning you'll already know if it's right for you.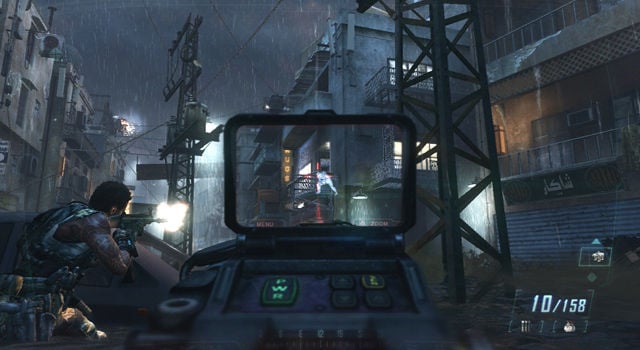 Predator 3?
Verdict
Perhaps my chief concern in recommending Black Ops 2, is the feeling of almost arrogant assurance that Treyarch, and Activision in turn, don't have to vary their game. Simply release it and let the hype take care of the rest.
Such confidence belies flaws such as barely changed gameplay, unambitious AI and an engine that is really beginning to creak now – some textures appear distinctly sub-HD in comparison to the likes of Battlefield 3, Crysis 2 and Halo 4.
Fans will point to the multitude of multiplayer modes and, if fast-paced, instantly gratifying multiplayer is your thing (and why shouldn't it be?) then come right this way. However, for those already tired of their previous Call of Duty purchases and looking for a new experience, it's time to look elsewhere. ®
More Games Reviews

Assassins
Creed 3
Halo 4
World of Warcraft:
Mists of Pandaria
Resident Evil 6
Dishonored