Original URL: https://www.theregister.co.uk/2012/11/15/review_viewsonic_vsd220_aio_smart_display/
ViewSonic VSD220 22in Android mega tablet
The display with ideas above its workstation
Posted in Personal Tech, 15th November 2012 08:00 GMT
Depending on how you might want to look at it, the ViewSonic VSD220 is either an expensive 22in monitor or an inexpensive tethered Android tablet. But then you'd be missing the point: it's actually both and neither. It's an unusual mashup for which ViewSonic deserves credit simply by giving it a go.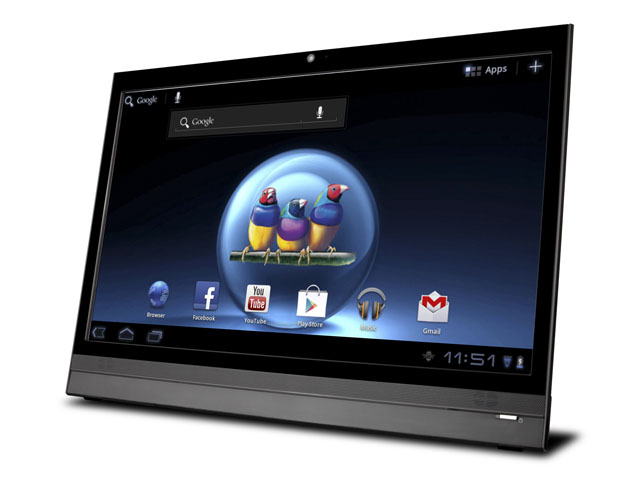 Launching Android 4.0 on a 22in display is unexpectedly delightful: it still looks great
The product is essentially an all-in-one desktop computer based on a dual-core 1GHz OMAP 4430 chip running Android 4.0 (Ice Cream Sandwich). Referring to it as a "22in tablet" is just silly: as Chromebooks have ably demonstrated, just because a computer runs Android doesn't mean it's a toy.
As with any all-in-one desktop computer, the VSD220 looks at first like nothing more than a large monitor, in this instance a 22in LCD (LED-backlit) display offering a native resolution of 1920 x 1080 pixels. Being a touchscreen device, it sensibly eschews a central column for a more stable lean-back stand with rubber feet to resist gentle pushing.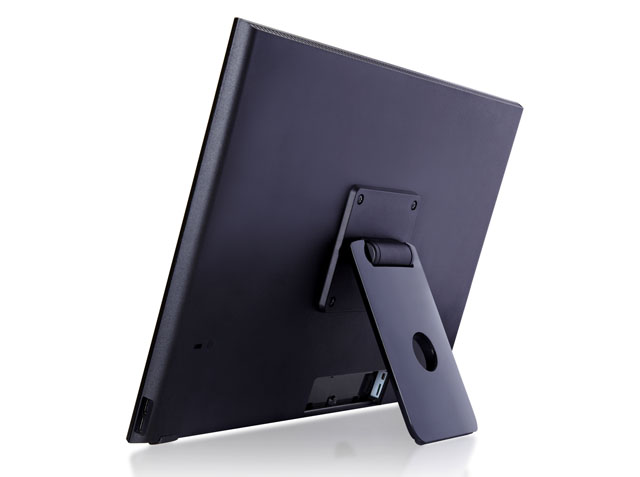 Power, Ethernet, HDMI and microSD card connectivity are hidden under a panel behind the sturdy lean-back stand
A pair of 1W speakers are built into the fascia underneath the display, with a 3.5mm headphone socket on the left-hand edge. The speaker audio quality lacks bass, as you might expect, but it provides a big sound and can be boosted with SRS enhancement with a couple of on-screen touches.
In addition to USB ports on either edge, ViewSonic has fitted standard Ethernet and HDMI ports alongside the power-in socket behind a removable panel underneath the unit's tilt-back stand. There's even a microSD memory card slot in there to allow you to expand the (admittedly meagre) built-in 8GB flash storage.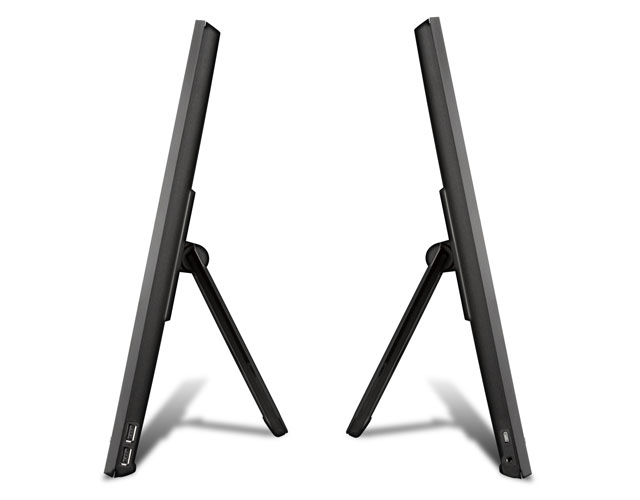 Two full-size USB ports feature on the right-hand edge, with a 3.5mm audio out and micro USB port on the left side
Contrary to expectations, watching Android launch on a 22in display is a delight, especially if you resist the temptation to lean in too close. Remember, it's not a tablet: 1920 x 1080 pixels spread 22 inches across do not look great from a distance of just 10 inches from your nose.
Taken to task
Sit back and treat the VSD220 like any other desktop touchscreen device – a simpler, lighter, silent alternative to HP's TouchSmart series, if you like – and the user experience is very effective. Of course, as well as navigating by touching the display, you have to enter text using the on-screen keyboard, but you can just as easily pair up an inexpensive external Bluetooth keyboard.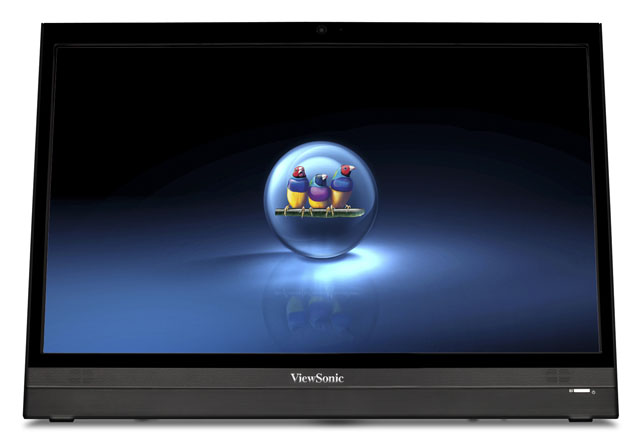 A pair of 1W stereo speakers are integrated into the front bezel under the display
ViewSonic has integrated an 'OSD' icon in the Android taskbar along the bottom, providing quick adjustment to screen brightness and audio volume without need for hardware buttons. Otherwise, this feels like pure Android 4.0, letting you instal whatever good or rubbish Android apps you fancy and allowing you full standard customisation of your Android desktop home screens.
Here's the clever bit: connect another computer using HDMI and you can toggle the VSD220 into dumb monitor mode with a couple of screen touches from the OSD – no restart required. In fact, it can be better than a dumb monitor if you additionally hook up the other computer via USB, thus enabling basic touchscreen control of that computer. For touch control of the external computer from the VSD220 display to work, the external device needs to support touchscreen functions natively, so it's fine with Windows 7 (haven't tried 8, sorry) but not with Mac OS X.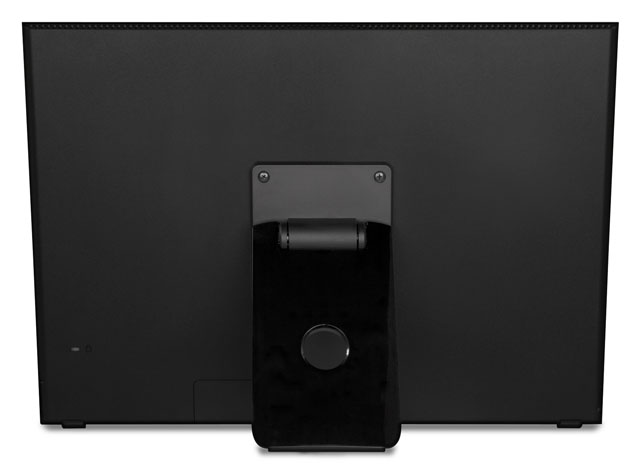 The prop stand allows near-horizontal positioning too
Despite my initial reservations, it doesn't take long to imagine plenty of places where a product such as the VSD220 might come in useful. Point of sale, advertising, hotel and customer kiosk implementations are obvious choices. Mount it on a wall or stand it on a desk and it's immediately ready to display whatever you want or interact with customers via touch control, even feeding wirelessly from the Internet, without needing to attach an external computer.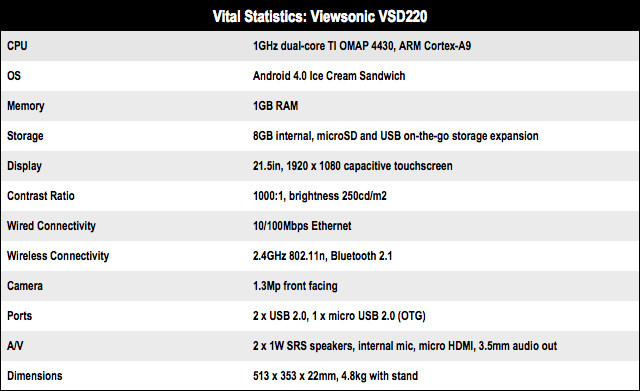 Smart thinking?
I can also see the VSD220 as a multifunctional ad hoc computer for domestic use. Stick it in a living room, and you can use it as a monitor for hooking up to TV or gaming devices, while instantly being able to switch it back to Android mode for writing emails, finishing homework and so on, not to mention browsing the web, messing around on YouTube and doing everything else. If only ViewSonic had thought to integrate a digital Freeview HD receiver, it would have left Smart TV chewing the dust in its wake.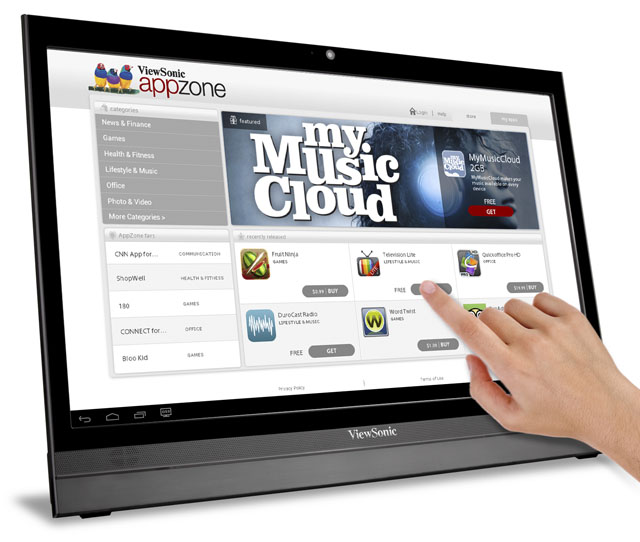 The optical sensor often picks up your finger proximity without you actually having to touch the screen
Verdict
It's possible that the VSD220 will come across as too weird a concept to be widely accepted as a general-purpose multifunctional desktop computer. This would be a shame. It might be a weird concept but a 22in desktop all-in-one Android computer with essential wired and wireless connectivity, while doubling as a second full-HD monitor on demand, and yet costs barely more than an iPad 2, surely has plenty of potential in the big wide world. ®
More Touchscreen Tech Reviews

Apple
iPad Mini
Toshiba
Qosmio DX730
Wacom
Cintiq 24HD
Sony
Vaio L VPCL22V1E
Samsung
Galaxy Note 2