Original URL: https://www.theregister.co.uk/2012/11/15/review_humax_hdr_1000s_freesat_plus_recorder_with_freetime/
Humax HDR-1000S Freesat+ recorder with FreeTime
TV from space, time travel by broadband
Posted in Personal Tech, 15th November 2012 12:00 GMT
The all-new Freesat recorder has arrived, after a long gestation, sporting a nifty user interface and the FreeTime system that integrates catch-up services such as the iPlayer and ITV Player into a programme guide that goes back in time, as well as ahead for planning hard disk recordings.

Viewing in style: Humax toys with design ideas on its glossy HDR-1000S Freesat box sporting smooth corners and tapered sides
There are inevitable similarities to the recently launched YouView. The first off-the-shelf YouView product to hit the shops was also made by Humax and the (non-discounted) prices are the same. The basic version of the recorder has a 500GB capacity, with a 1TB edition available for £299.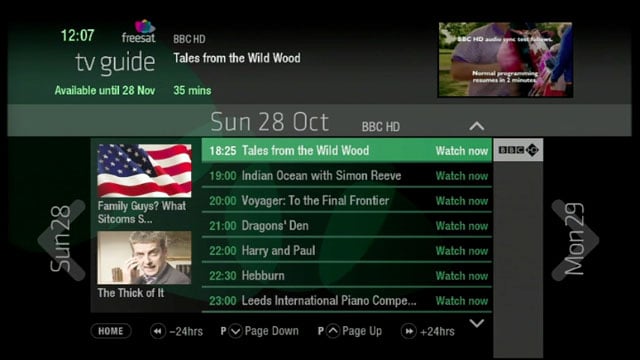 The EPG also goes back in time, linking through to the relevant online catch-up player, like TiVo and YouView
As with YouView, the backwards EPG is one way of launching the relevant online player to catch recently missed shows. There is also a separate menu page for accessing each player individually and browse around. 4oD and Demand 5 both have icons here, though at the time of writing, they were still "coming soon". A remote-controlling mobile app, similar to the Sky+ version, is also in the works.

A standard set of connectors, including the all-important Ethernet port – a second USB port is at the front
The twin-tuner HDR-1000S is quick and easy to set up. If you are an ex-Sky customer, or there's a dish on the building, that's all you'll need, plus a broadband connection for networking and/or catch-up TV. Humax recommends a wired Ethernet link (or Powerline adaptors or Wi-Fi dongle) with at least 2Mbps of speed. If you don't have a dish, you'll need one fitted. You can use the receiver in "normal" set-top box mode to view – but not record – free-to-air satellite channels that aren't part of Freesat's line-up.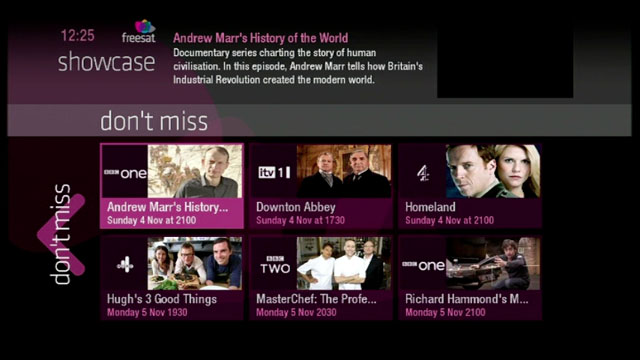 The Showcase menu is Freesat's pick of recent or upcoming shows
The new Freesat TV guide starts with a simple now and next listing. Press Back on the cursor and you can browse what you missed and – if available online – go straight to the catch-up player. Press Forward on the guide and you can set future recordings in the usual way, with prompts for HD versions, series links and alternative showings, again, when available. There's also a curated area called Showcase that picks upcoming TV highlights or recent ones using catch-up.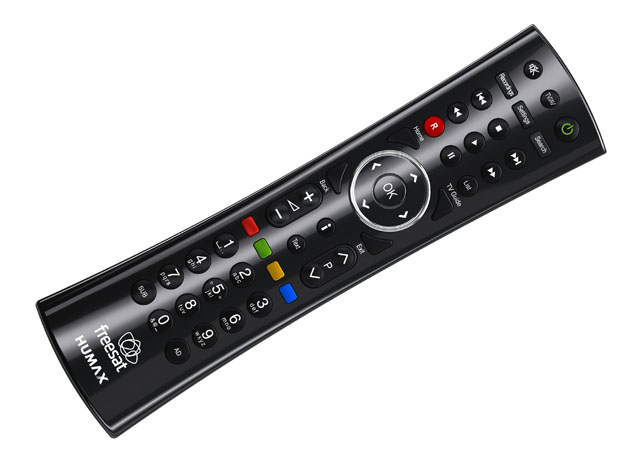 A near-identical remote control to Humax's YouView box, and pretty user friendly
The overall search feature appears on a different page than the guide and works for future TV and radio programme names, though not catch-up TV, differing from YouView here. You can sort the EPG by genre if you want to narrow down channels by type. Catch-up TV is not searchable unless you go to the individual portal – such as the iPlayer section – and look there.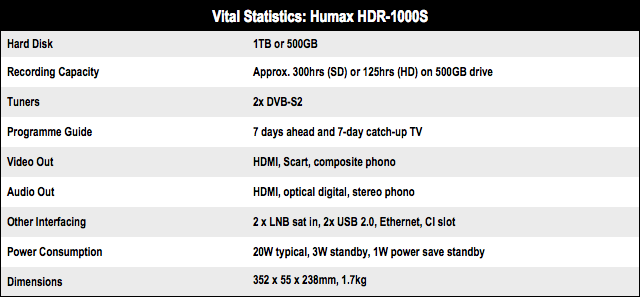 Content management
The menu redesign doesn't help when managing your recordings list. It's slightly confusing, erratic and, like Virgin Media's TiVo, involves a few too many button presses, especially compared to the more straightforward Sky+.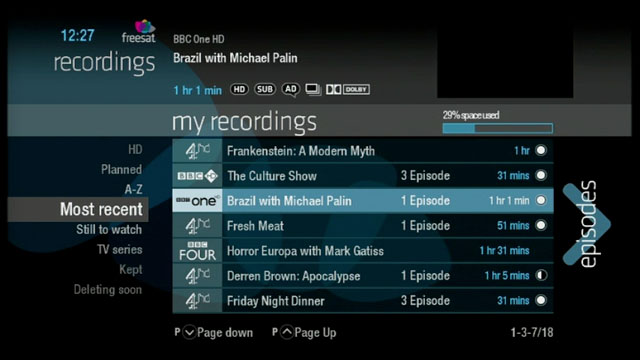 Recordings can be sorted by date, name or still-to-be-watched, among other options
It's likely that some pay-per-view content could appear on the Freesat platform for on-demand programmes and movies, though it's not clear which companies may provide this. The box has a Common Interface slot in case pay channel options are ever added.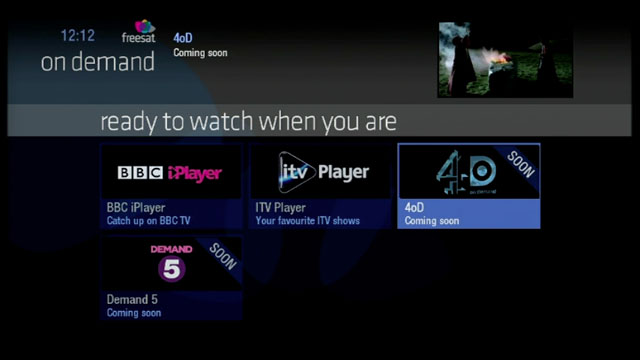 Catch-up TV can be accessed from the programme guide or from this menu
The FreeTime system uses elements of HTML 5, Open IPTV and HbbTV (Hybrid Broadcast Broadband TV), the specification for connected-TV devices commonly used in Europe. It means that other online services could be added to Freesat using this generation of boxes without too much development time, especially if service providers already offer something similar elsewhere.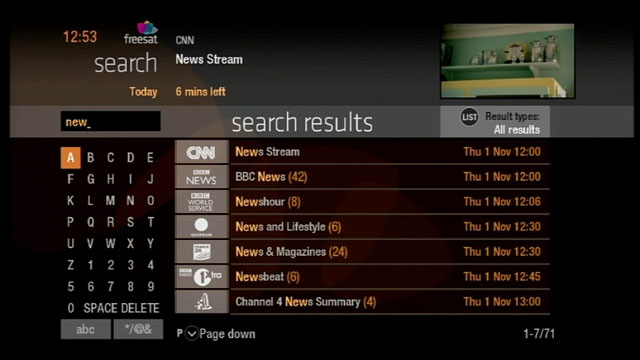 The search feature lets you plan future recordings for TV and radio
The picture quality is excellent and generous bitrates result in a better looking image than on Freeview for the main standard-def channels. The box also has a decent scaler to nudge SD closer to HD. Freesat's actual number of HD channels is only five, comparable to Freeview HD, but with potential for many more. Freesat also avoids the bulk of the interference that 4G/LTE mobile broadband signals may inflict on digital terrestrial TV in parts of the UK.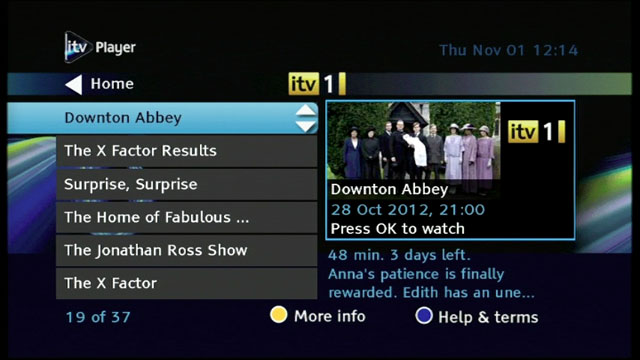 The ITV Player app is not as sophisticated as the Beeb's iPlayer
The box's iPlayer feature is slick and offers HD if the programme supports it. The more basic ITV Player looks blurred in comparison. Like YouView (and in contrast to iPlayer on Sky+, PCs and mobile devices) you can only stream catch-up content rather than save to disk.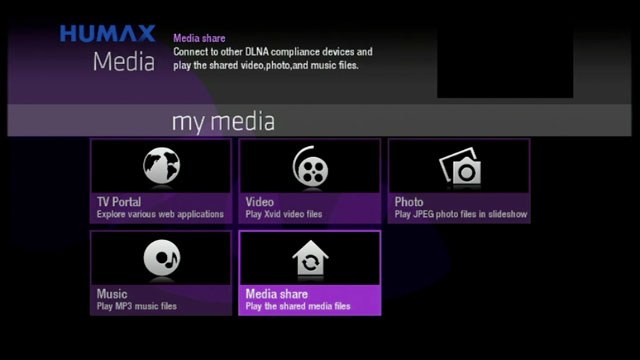 The box will also play various multimedia files from USB, hard disk or your network
Rather hidden away under the Humax label on the Home screen is the box's section for playing multimedia from USB (or copies moved to HDD) and shared DLNA devices, plus web services such as Flickr and Picasa (and not much else). The video icon names XVID/AVI as the supported format but it handles a decent range of alternatives too, including WMV, TS, MP4, M4V and MKV, though HD video fared better from USB than over the network. For audio files, however, it is just MP3.
The weakest link?
The current Freesat UI does not currently support sharing or offloading the hard disk's TV or radio recordings (hopefully one day it will), but its extra multimedia options already give it an advantage over YouView hardware for now.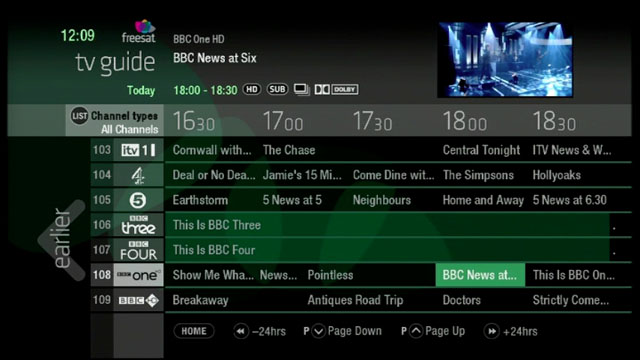 Freesat's new on-screen menus are very appealing, as far as PVR user interfaces usually go
Like most feature-rich DVRs, things do not always run smoothly. During the two-week test period the HDR-1000S occasionally froze when going into or out of the media player and iPlayer (unrelated to internet speed). At least one series link was also "broken" – skipping an episode that was definitely shown – and one or two recordings got clipped, although these could be due to broadcaster metadata hitches. If you don't trust the machine at any time, there is a manual timer, albeit heavily concealed.
Verdict
The Freesat platform has evolved to the point where it's a viable alternative to Freeview in terms of the number of channels available. If you're not bothered about premium content (or can't afford it), it's a respectable option for thrifty telly fans instead of Sky, Virgin Media, BT and TalkTalk TV.
It's a confident step forward for Freesat, and there's much to like. The menus are great to look at and a pleasure to use, apart from the recordings section, which is less polished. You get a more fully developed interface with Sky+, admittedly, but that's had more than a decade to mature.
Inevitably there are bugs to fix, but our review sample was generally less glitchy than the YouView box at launch. When this new-generation Freesat DVR gets a full complement of on-demand options, it'll be an even more serious contender. ®
More AV Reviews

View 21
IPTV
Freeview+HD DVR
Ten... monster TVs
for all budgets
Build a bonkers
Hi-Fi
Apple TV
2012
Humax
YouView
DTR-T1000