Original URL: https://www.theregister.co.uk/2012/11/14/kobo_mini_5in_e_reader_review/
Kobo Mini 5in compact e-reader review
Pocket-friendly alternative to the mass-market paperback
Posted in Personal Tech, 14th November 2012 08:00 GMT
If you think the Kindles and Nooks of this world are too large, Kobo has an alternative: the Mini, a pocket-sized e-ink e-reader with a 5in screen.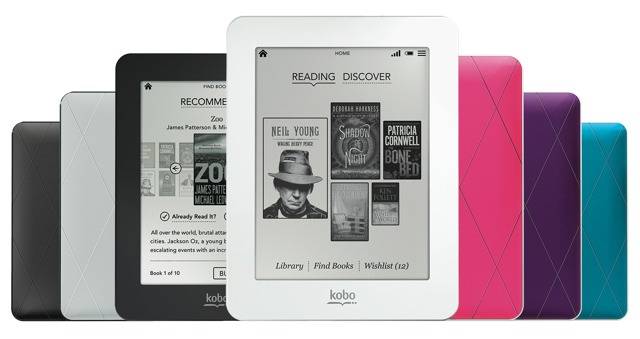 Kobo's Mini: pocket friendly for your e-paperbacks
Most e-readers out there have 6in panels, but the Mini's is no less readable for the reduction in size. Kobo's own 6in Glo reader, for example, is a typical 157 x 114 face on, a little shorter than a B-format paperback. The Mini is three-quarters of the size: 133 x 102mm, a little smaller than a mass-market A-format paperback.
Put the two devices alongside each other and the Mini doesn't feel radically smaller than the Glo, but on its own it feels smaller than it is. It's a centimetre thick, but that tapers to 5mm at the edge so it's comfortable to hold one-handed. The bezel is just wide enough to give an adult male thumb a good grip without too much chance that it'll accidentally tap the touch-sensitive screen. But it's easy to just move your thumb over to tap the right side of the screen to move to the next page, or tap the centre to trigger the appearance of the header and footer areas, which contain status icons and links to page settings and such.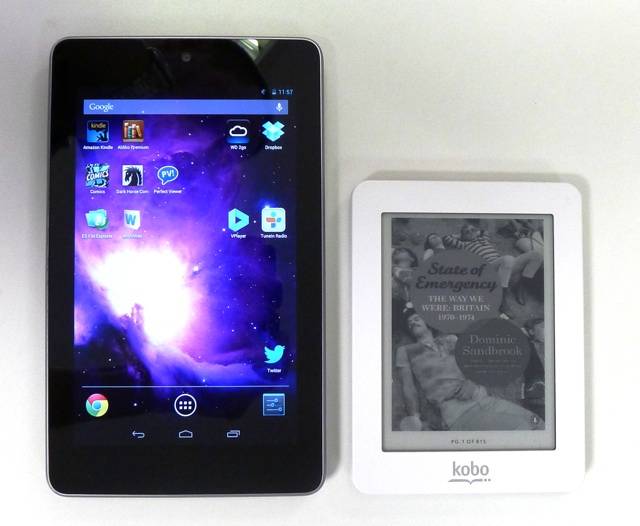 Smaller than a Nexus 7
If you hold your e-reader in one hand, the side in your palm, the base supported by your little finger, you won't strain your thumb to reach to the left side to go back a page, though I had to use my other hand to reach up to icons in the top left of the screen.
The 600 x 800 panel actually comes the usual suspect, E Ink, though it's not the usual Pearl display. The V110 display in the Mini doesn't have as good a contrast ratio as a Pearl screen, but there's not a lot in it to my eyes. If there's a flaw it's in Kobo's firmware, which defaults the display refresh - the way an e-ink screen blackens all its pixels before rendering the page image - to take place every six page turns. This leads to some speckled text and a fair bit of ghosting before the refresh, but it's easy to disable it in the device's comprehensive settings.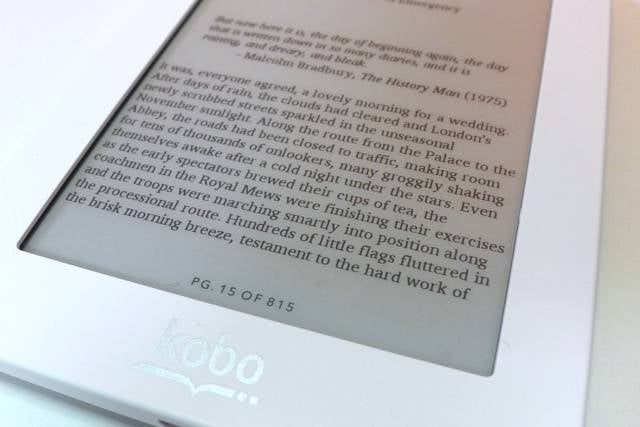 The 5in Vizplex V110 display is almost, but not quite, up there with E Ink's Pearl
Another flaw with the firmware: manually loaded books - as opposed to those downloaded from Kobo's online shop - don't take notice of margin settings, though font, character size and line spacing are applied correctly as you adjust the on-screen sliders. It's a small issue, to be sure, but running text right from the left edge of the screen to the right makes it a little harder to read. Something to think about if you have a lot of DRM-free ePubs downloaded from the likes of Project Gutenberg.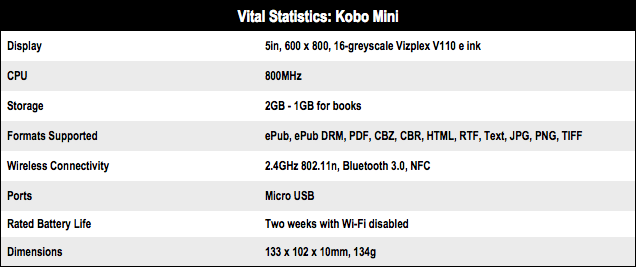 A small read
Fortunately, most of these are available directly from Kobo, which has no shortage of free e-books on offer, accessed on the device as well as the separate desktop library and device manager, which you'll need to initialise the device after connecting it - it has a micro USB port. In this day and age, you really shouldn't be forced to connect a device to a computer before it will work - especially a gadget with wireless internet connectivity on board. Kobo loses points for that.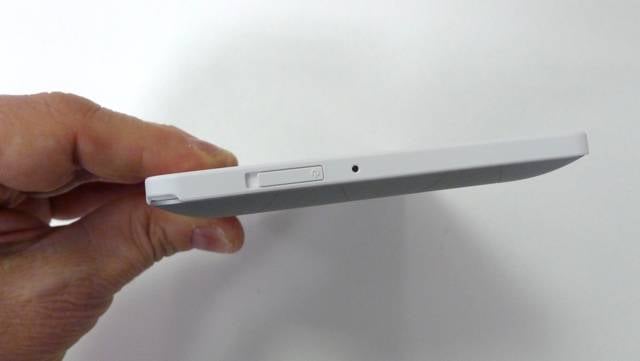 Small, but not skinny
Back the screen, though, and it suffers from the same level of insensitivity as other e-readers' touch panels: there's a lag between a touch and the UI being updated to reflect it. It's not good for fast text-typists, but it's not very much worse than other touch e-readers I've tried. Other than the power slider on top, there are no physical buttons on the Mini.
Tapping to turn pages isn't so bad, though - it's really only a pain when you're keying in text for searches and Wi-Fi passwords, and adjusting settings controls.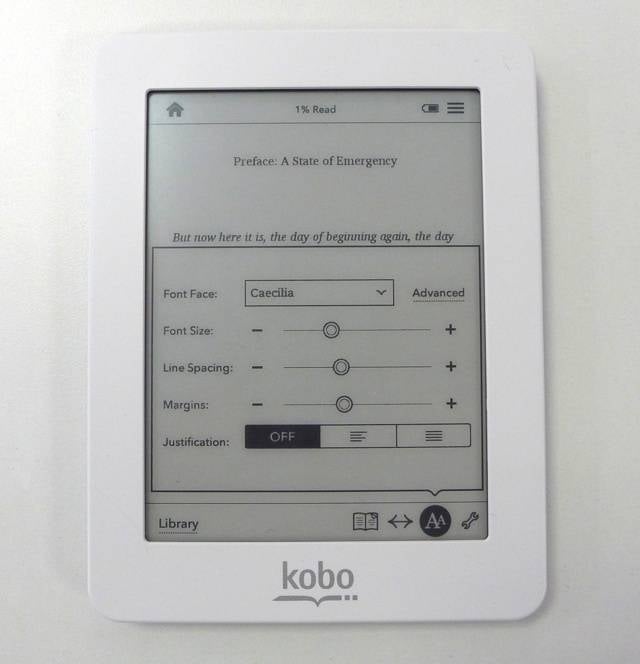 Adjust the page's appearance to your heart's content
Quite apart from being physically small, the Mini is cheap too, just £60. That gets you 2GB of storage, though only 1GB is available for book storage. There's no memory card slot, but you can still get a fair few books on it, not just ePubs but also PDFs, images, and CBZ and CBR files. That said comics aren't much of a pleasure to read on a screen this size when, though there's a zoom, panning around the page is such a slow process. And they'll be in monochrome of course.
A small size means less of a battery too. Kobo separately claims a month's or two weeks' usage when the Mini's Wi-Fi pick-up is disabled. I'd suggest the latter, especially if you get the device to refresh the page on every turn, as I did. Still, it's way better than a tablet will give you, and a reasonable trade-off for the size of the device.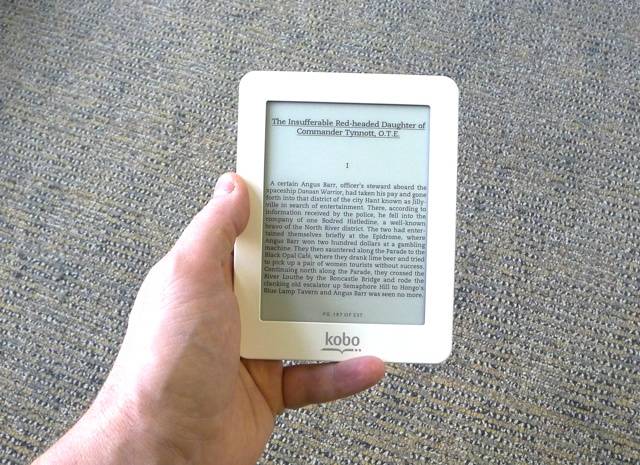 One final point: like other Kobo e-readers, the Mini includes and optional font intended to make life easier for dyslexia sufferers, OpenDyslexic to be precise. It looks odd for the rest of us, but it's said to help prevent the textual flipping and swapping dyslexic folk experience. Nice touch.
Verdict
The Kobo Mini's strength is not its low price - the basic, touchless Kindle is only £9 more and has a larger display - but its size. It's perhaps a niche product: one for folk who want an easily pocketable e-reader they can keep with them at all times, though they'll probably use a phone instead. But it's particularly apt for kids and if you want the e-reader you take to the beach to be a little more discreet. ®
More E-Reader Reviews

Barnes & Noble
Nook Simple Touch
Glowlight
Samsung
Galaxy Note 2
Google
Nexus 7
Bookeen
Cybook Odyssey
Amazon
Kindle 4