Original URL: https://www.theregister.co.uk/2012/11/14/curiosity_soil_for_sam/
Curious robot rover Curiosity chews a second mouthful of Mars dirt
Truly, these Earthling probe droids behave curiously
Posted in Science, 14th November 2012 14:48 GMT
The Mars rover has stuck a pinch of the fine sand and dust of the Red Planet into its Sample Analysis at Mars (SAM) instrument for its second soil analysis.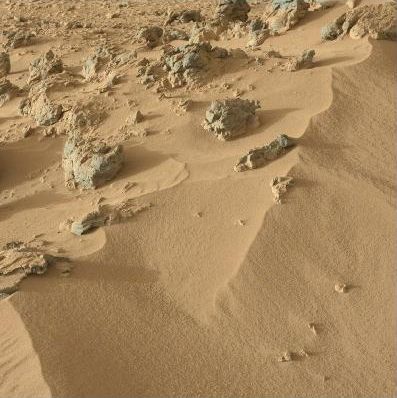 An earlier scoop of Martian surface has already popped out results from Curiosity's CheMin instrument showing the mineralogical makeup of the soil. SAM examines the chemistry of the samples it slurps, checking particularly for chemical evidence that an environment can support life.
Curiosity's robotic arm hoisted a taste of Mars to the SAM on November 9 and for the next two days, the instrument used mass spectrometry, gas chromatography and laser spectrometry to analyse the sample.
Now SAM boffins will sift through the dust data before they let anyone know what SAM has found.
"We received good data from this first solid sample," said SAM Principal Investigator Paul Mahaffy.
"We have a lot of data analysis to do, and we are planning to get additional samples of Rocknest material to add confidence about what we learn." ®