Original URL: https://www.theregister.co.uk/2012/11/13/review_apple_macbook_pro_13in_retina_display/
Apple MacBook Pro 13in Retina display review
Exorbitant eye candy, anyone?
Posted in Personal Tech, 13th November 2012 08:00 GMT
When I reviewed the latest version of the 13in MacBook Pro just a few months ago, it seemed to me that Apple was getting a bit complacent. The mid-2012 update did gain a new Ivy Bridge processor, but the modest speedbump that this produced no longer justified the MacBook's starting price of £999 – especially with classy new Ultrabooks such as HP's Spectre XT selling for £899.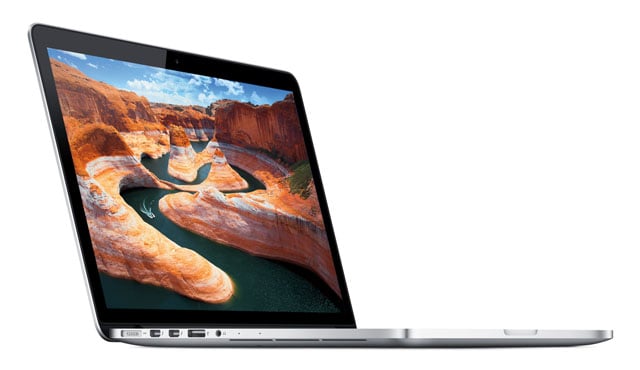 New gear's resolution: Apple's MacBook Pro 13in with Retina Display
In contrast, the 15in version of the MacBook Pro released at the same time got itself a major overhaul, sporting a slimmer, lighter design and becoming the first Mac to sport an eyeball-gasmic Retina display. It was clearly only a matter of time before the 13in model got the Retina treatment too. Indeed, the new 13in MacBook Pro With Retina Display finally delivers the upgrade that we should have got five months ago – along with yet another hefty price increase.
Like its 15in counterpart, the display is very impressive. Even at 13.3in, it delivers a resolution of 2560 x 1600, which is a little lower than the 2880 x 1800 of its 15in counterpart. To put this into context from a desktop perspective, it's still higher than the 2560 x 1440 resolution of the 27in screen that I use for Photoshop work in my office.

The 15in and 13in MacBook Pro models with Retina displays
The image is quite luxurious – pinpoint sharp, with rich, bold colours, and the IPS panel ensures that the image stays bright and clear through a viewing angle that is pretty close to Apple's claimed 178-degrees. You can even read text clearly from way out to one side, so smooth and sharp is the font rendering on the Retina display.
And, like its 15in brother, this model does the same scaling trick that allows it to 'look like' a lower resolution display by adjusting the size of text and icons to enhance visibility for those of us that don't have high-definition eyeballs.

Wakes from sleep before you get the lid fully open
I was also pleased to see that the screen isn't as reflective as it used to be. It still has a glossy finish, but in an office environment, the glare and reflection from the overhead lighting was noticeably reduced and less annoying. It'll be terrific for browsing through your photo collection or watching movies and TV programmes.
Slipped disk
Even the speakers seem to have picked up a bit too – they're still a little shrill on higher frequencies, but there's more weight to the sound than on most of the laptops I've tested recently, so you can listen to some tunes or music videos without automatically reaching for your headphones.

Positively portly: the 13in MacBook Pros compared – standard model (left), Retina model (right)
Along with the Retina screen, the MacBook Pro also gets a slimline makeover. At first glance, the 'unibody' aluminium case looks unchanged. It certainly feels as sturdy as ever, with a large and comfortable keypad and trackpad. However it's a full 11mm narrower than before and Apple has also sliced half a centimetre off the thickness of the unit, bringing it down to an Ultrabook-esque 19mm.
I'd take issue with the weight though – Apple quotes it at 1.62kg, down from 2.06Kg – but it felt a little heavier than that to me and my Jamie Oliver kitchen scales put it closer to 1.7kg. Even so, that's still quite firmly in Ultrabook territory and you can pick it up with one hand and slip it easily into a backpack or briefcase when you're ready to leave the office.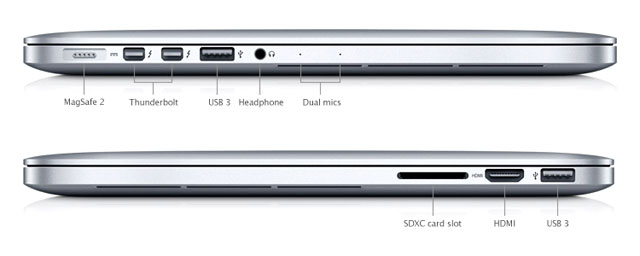 No FireWire, no Ethernet and no adapters included in the price
Performance is something of a mixed bag, though. The 2.5GHz dual-core i5 processor remains unchanged, although the memory has doubled to 8GB and the poorly performing 500GB hard disk of the previous model has now been replaced with 128GB of solid-state storage. Using BootCamp to run the PCMark 7 benchmark software did produce a big improvement – increasing by almost 90 per cent from 2450 to 4600. But since the processor hasn't changed that improvement seems to be almost entirely due to the use of the solid-state drive.
The most tangible benefit of the solid-state drive is that the MacBook Pro boots in just 10 seconds, and I was also rather impressed by the way that it wakes from sleep before you've even fully opened the screen panel once more. However, it doesn't feel noticeably faster for routine tasks such as web browsing or running MS Office, and a quick burst of Far Cry 2 produced the same 30fps as the non-Retina model.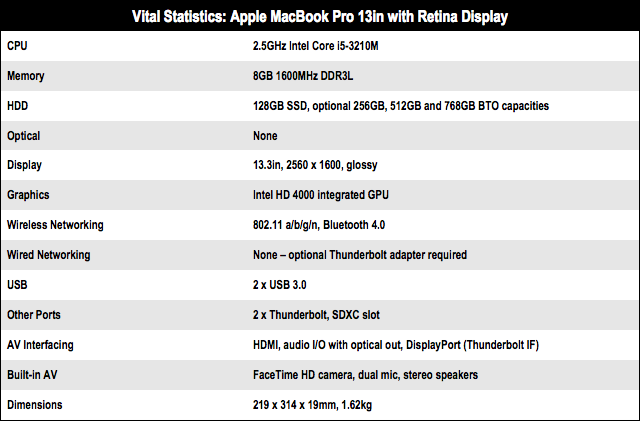 Pass the port
Battery life was a pleasant surprise. I'd thought that the Retina display might give the battery a hard time, but the intensive PowerMark 11 test squeezed a full 3hrs 45mins out of the MacBook Pro. It also held out for 4hrs 45mins when using Wi-Fi to stream video off the BBC iPlayer, so you should get close to a full day's work between charges without too much trouble.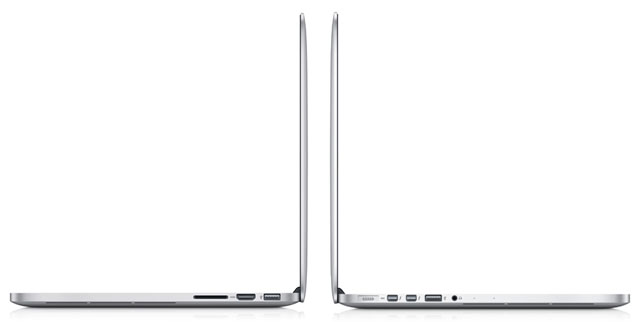 Visual feast at an eyewatering price
I do have some complaints, though. I can live without the optical drive, but the loss of both Ethernet and Firewire ports on this model is irritating, as I still use both in my office. It does gain HDMI and a second Thunderbolt port, and you have the option of buying Thunderbolt adaptors for both Ethernet and Firewire. They'll cost you £25 each, though, and with a starting price of £1449 for the base model those adaptors really ought to be included as standard.
And, of course, it's the pricing that brings everything down to earth with a bump. At £1449, the 13-inch MacBook Pro With Retina Display is £450 more expensive than the standard model – which Apple has kindly kept on sale for the hoi polloi – and that £450 just gets you the Retina display, an extra 4GB RAM and the SSD drive. That strikes me as a pretty hefty premium – especially when you look at the 15in MacBook Pro and see that there's only a £300 difference between the Retina and non-Retina models, and that the 15-inch model also gets 256GB of solid-state storage.
Verdict
In all fairness, the 13in MacBook Pro with Retina Display is undoubtedly a terrific laptop. It provides good performance and battery life, lightweight design, and a screen that none of its PC rivals can even come close to matching. But at almost £1500 it's very expensive indeed, and I'd have thought that the professional users who can afford that price would be more likely to opt for the 15in model anyway. It'd be a tempting upgrade at around £1300, but at this price I reckon Apple is pushing its luck. ®
More Notebooks Reviews

Apple
MacBook Air 13in
Apple
MacBook Pro 13in
Ten...
Ultrabooks
Apple
MacBook Pro 15in
Retina Display
Apple
MacBook Air 11in