Original URL: https://www.theregister.co.uk/2012/11/11/pee_powered_generator_hypegasm/
Teen project sparks WORLD-WIDE PEE-POWERED HYPEGASM!
Urine generator will save the world, apparently
Posted in Science, 11th November 2012 22:44 GMT
File this one under "pending": a group of African students has shown a hydrogen-powered generator at Maker Faire Africa in Lagos that uses urine as its fuel source.
Maker Faire Lagos put the story here, crediting Duro-Aina Adebola, Akindele Abiola, Faleke Oluwatoyin and Bello Eniola with the build.
And what a sensation it's made: Engadget, CNET, DigitalJournal, io9 and others give the general gist that pee will save the world.
The basics are clear enough. Urine contains hydrogen, which can be extracted by electrolysis. If you're then careful enough, you can most certainly store the gas, and burn it in a generator.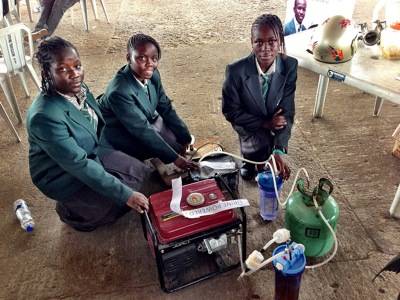 Three of the African school-girls with their generator kit.
Source: Maker Faire Lagos
Where The Register would like help from someone with the right training is in this rather startling claim: that one liter/litre (strike out whichever spelling you dislike) of urine is sufficient to run the generator for six hours.
That's got some debunkers working overtime. There's a critique of the apparatus here, for example – but it seems to me to miss the point: there's quite an abundance of hydrogen in water, the main constituent of urine.
To cite the Fountain of All Knowledge, Wikipedia, you don't need a high voltage to separate hydrogen from water, so I can accept it as "plausible" that you could run the hydrolysis kit from portable solar or wind (with an efficiency loss along the way).
Why not simply use solar/wind power to directly provide 240V? Well: hydrogen (if you'd solved the storage safety problem) is a handy way to store a fuel against needing power when the sun's not shining or the wind isn't blowing. Fair enough …
And El Reg can also understand why, in a place like Africa where water is scarce, it might be preferable to use recycled rather than potable water.
It looks to El Reg like the whole thing has been seized on as a "save the world" technology, rather than being praised for what it is: a pretty good teenage science project that should get full marks in its own right, without gadget-fans' myth-making. ®