Original URL: https://www.theregister.co.uk/2012/11/10/ten_gaming_headsets/
Ten gaming headsets
Bang, crash, wallop
Posted in Personal Tech, 10th November 2012 08:00 GMT
Product Round-up Recently, I have battled underwater in Guild Wars 2 and fought through the Temple of the Jade serpent in The Mists of Pandaria. Luckily, during my adventures, I have had the opportunity to test some of the best gaming headsets money can buy, but which headset allowed me to hear every bubble burst and even the quietest Windwalker footstep?
Admittedly, I am an MMO bass head but I also appreciate you need some tingling top end to hear grenade pins pulled in an FPS. Indeed, it's all 5.1 or 7.1 surround sound on offer these days and the highest fidelity headsets could cost me a gold farmer's fortune. This last year, I have been more than happy with my wireless Logitech G930 cans but looking at this year's hotshot headgear, it seems the time has come to trade them in.
Astrogaming A50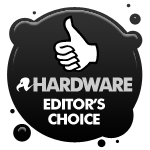 True beauty comes from within but obviously at a bloody steep price. This wireless headset weighs 1.8lbs but I can't really feel it due to the clever weight allocation. I can't tell you how much I enjoyed sliding the ear cushions up and down on that tubular metal adjuster, and the ability to control in-game chat by pressing on the outside ear enclosure is a very clever and innovative design decision. The other side's enclosure has a mini equaliser with three different modes, movie, FPS and MMO. Also, the unidirectional mic has a flip up mute, which is great.
The wireless mix amp transmits digital simulated surround sound from my PC to the A50. Operating at 5.8GHz, it has a great range without any distortion or static – clear selling points for sure. Still, before I reviewed this headset I heard some rumours of glitches, so I was glad to see that Astrogaming had released a firmware update to iron out any hiccoughs, and for this price I want perfect. Indeed, the immersive sound quality and intuitive design make this headset worth its hefty price.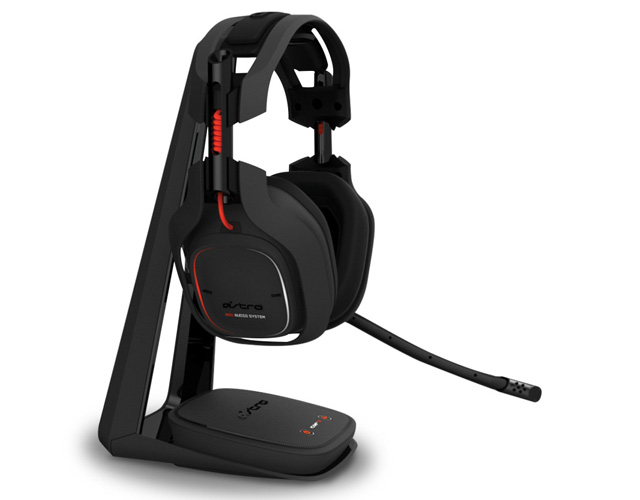 Creative SB Recon 3D Omega

With a price way up there with the Astrogaming and Razer headsets, I was expecting something versatile and outstanding here. Creative's cans are all about build quality, although the pulsing blue lights and steel headband just add to their physical presence. Yet the sound is exceptional, the bass is stunningly profound, and the rich highs and thunderous lows don't eclipse each other. The 7.1 virtual surround sound is impressive and the 2.4 GHz wireless range is trouble free. It's just a shame the detachable mic seems to be slightly over-sensitive in Skype and Ventrilo.
Scout mode is a witty gimmick that amplifies my enemy's footsteps and reloads but best to turn it off while watching a movie to get the bass back. Creative's 'bundle' includes the sexy black recon 3D external USB sound card (usable with any wired PC headset) that features the SoundCore3D quad-core audio processor. It has everything you would expect from a SoundBlaster internal PC soundcard, hence, customisation is finally brought to consoles. My main gripe is that during a long session these cans do feel a little tight for my liking compared to the Tritton. Hopefully, they give a little over time.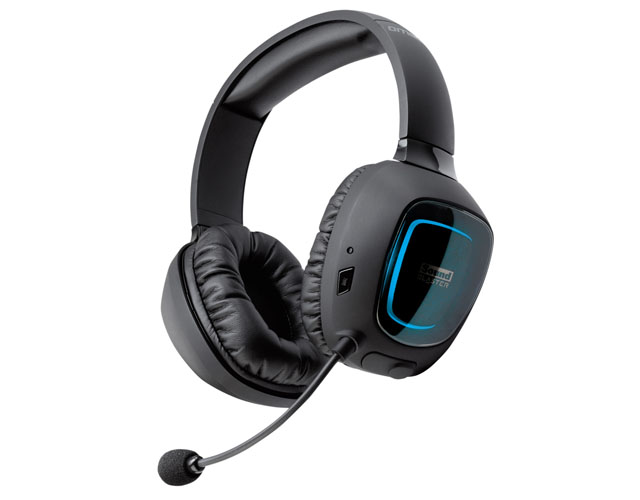 Reg Rating 85%
Price £190
More info Creative
Logitech F540

My Logitech G930s have done me well over the last 12 months or so and even if they aren't the most visually dynamic looking examples of headgear, the build quality is great. With the F540s, swapping from PC to my PS3 I immediately noticed the 2.4GHz wireless connectivity is excellent and extremely strong. A nice touch is the triple input capability on the wireless base station.
The headphones beep to warn me of low battery, which is handy, as are the two independent volume controls for voice and game audio plus a microphone mute button that glows red when active. The F540 have extremely crisp clear sound with no bass fuzziness and give console gamers that Logitech experience that's practical and offers decent value for money.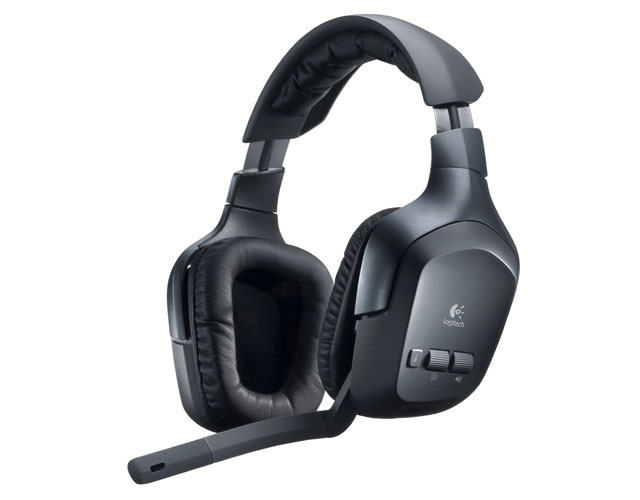 Reg Rating 80%
Price £129
More info Logitech
Plantronics GameCom 780

Instal the software first. It's a good job I noticed this little orange card or I might have been a tad underwhelmed with this wired model and its 2m USB cable. Certainly, for £40, the build quality looks fine. However, on closer inspection, everything from the mic to the dials seems quite stiff in comparison to other headsets, such as the well oiled A50s.
The felt padding may well be very comfortable but it picks up a lot of dust and ferret hair. Sonically, the noise-cancelling mic turns out to be quite good quality and the drivers reproduce 7.1 digital surround sound surprisingly well for this rock bottom price. If you're after a spatial experience and aren't too concerned with refinements, then you'll get your money's worth here.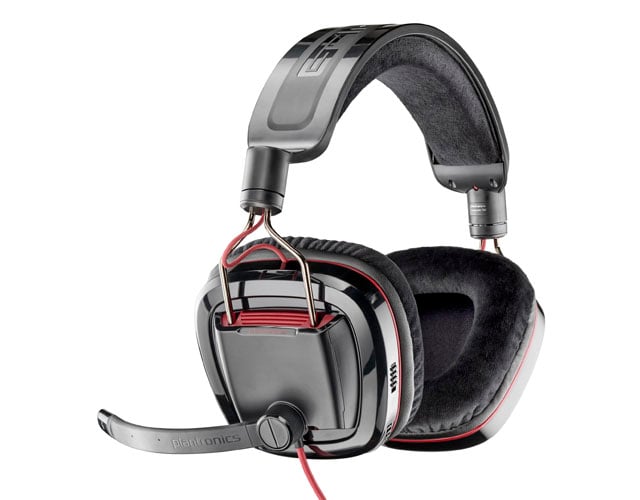 Razer Tiamat 7.1

Claimed to be the first true 7.1 surround sound PC gaming headset, the Tiamat gave my Creative SoundBlaster X-Fi a real workout with its cluster of 5 x 3.5mm jacks driving the audio channels and USB for power. The cabling is a generous length but there's no wireless functionality here. The design is chunky but in a good way and I also like the squidgy padded elastic band across the top of the headset. Replaceable inside earpad covers and swappable outside casings give this headset a feel of customisation, as does the retractable mic with a swivel tip.
The audio control unit has the obvious Razer design aesthetic, enabling control and fine tuning of each audio channel along with toggling between stereo and 7.1. The headset has five pairs of drivers – sub woofer, front, and back, centre and side. This isn't simulated 7.1, you can tell immediately, as more than once I turned my head to look behind me. The overall sound quality doesn't come close to the Astrogaming A50's as there is definitely a lack of depth to the bass but the Tiamat is certainly on par with the Turtle Beach PX5.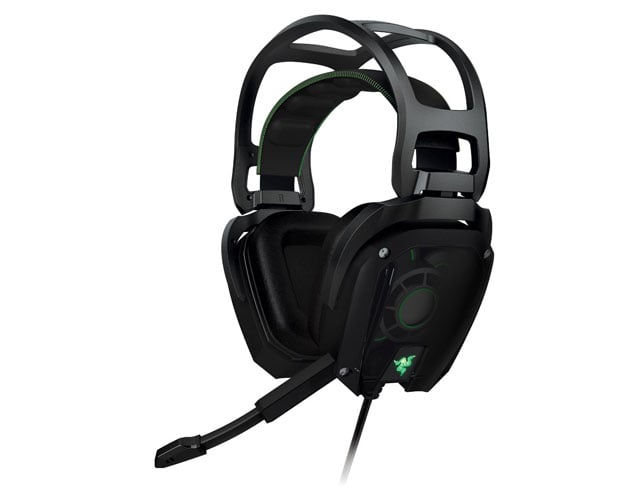 Reg Rating 85%
Price £160
More info Razer
Sharkoon X-Tatic S7

Sharkoon should be praised for creating a headset that works with just about any audio set-up. The downside? For a start, these aren't wireless and you do end up with an awful a lot of cables, with the longest overall length to the headphones being around 4m. Luckily, squeezed in the box, there is a concise manual for to help configure the X-Tatic S7s with your gear too.
While seeming quite large on my head, this headset feels extremely well made and surprisingly light. And I'm a sucker for the red and black colour scheme. While robustly catering for bass up to the mid-range, the contrast of the slightly poor high-end response becomes all the more obvious. This is a sturdy product and, in general, sounds authentic too, but apart from its interfacing versatility, it doesn't bring much to the party beyond the various Dolby output offerings, when it could really benefit from some more additional audio tweaking functions.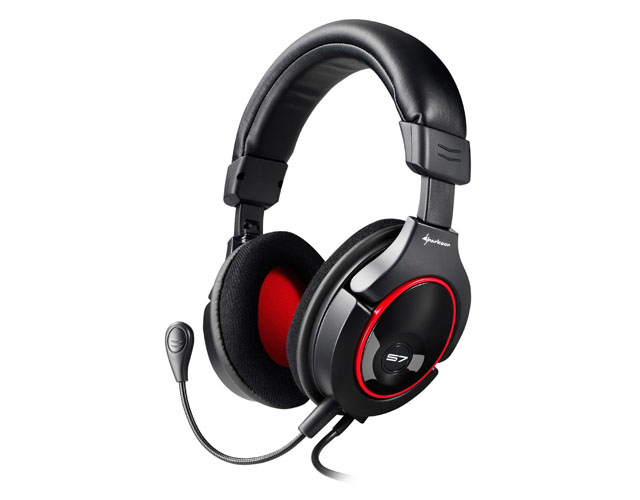 Reg Rating 75%
Price £100
More info Sharkoon
SpeedLink Medusa NX 5.1

Evidently, Speedlink isn't focused on glamour but luckily these cans come over as quite durable. In use, my main moan is the control box has too many adjustments dials and an annoying flashing blue light when I'm in chat. The flexible mic has I nice feel to it but unfortunately isn't removable. The Medusa has an easy set up, connecting through a single USB port instead of the previous analogue multiplug version.
The equaliser is simple but effective and the preset functions include a Karaoke function for desperate times. The 5.1 surround sound with bass vibration and noise cancelation are all fine but this headset sounds a little flat. Even with Channel Phantomisation simulating two extra speakers, there is an evident lack of richness or depth, despite being suitably loud. These are comfy headphones with plush ear cushions and headband but I'm not really sure why these are foldable, as they are quite large and I wouldn't use them as a portable headset. But hey, thanks for the free waterproof Frisbee case.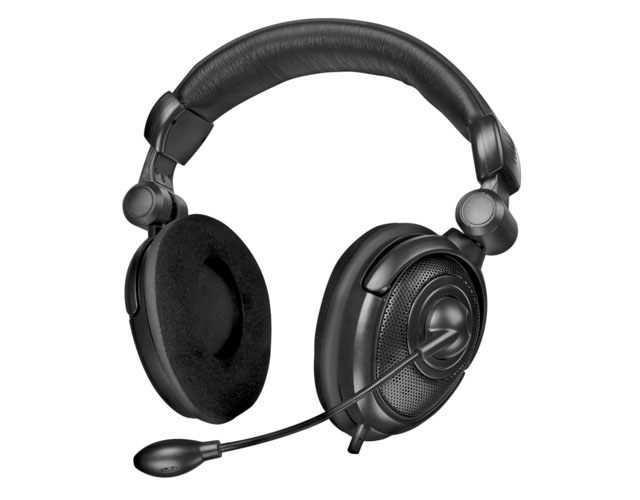 SteelSeries Siberia V2 Frost Blue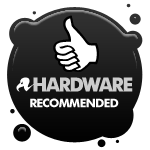 Steelseries are coming across all Lady Rainicorn this year with this glowing blue and white 'Frost' headset, a pink Siberia V2 to raise money for breast cancer research and last but not least a cute red and white Guild Wars 2 headset, that I was immediately taken with. The Siberia V2 Frost Blue looks are quite striking, as is the way they sound. With an excellent range from 18Hz to 28kHz there's plenty of bass when all hell breaks loose in PVP, and the clarity of the mids and upper ranges makes all conversation a pleasure.
The sexy retractable mic picks up almost no background noise, when the ferrets are smashing up my room, while I'm talking to my sister in Vancouver. There's no wireless capability here, just a 1m cable and 2m extension to tether you, but no flat battery woes. Sonically precise and visually appealing, they're fun too as the Steelseries engine allows me to control the equaliser and the glacial lighting on the ear pads – behold, I am a walking AV hallucination. Hey, Squarepusher, in your face.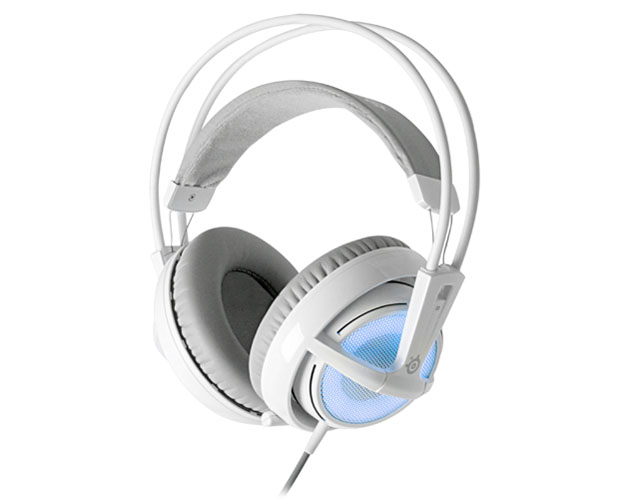 Tritton 720+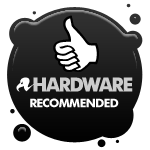 The revamped 720+ has spiffy new features including an upgraded detachable and very flexible mic; bigger 50mm speakers and independent game and voice volume controls. Overall, it's a more streamline design featuring swivelling ear cups which allow the headset to rest comfortably on my shoulders. The control box is slightly too heavy for my liking, luckily there's a clip to attach it to my bra strap.
The larger decoder box connects with both USB and optical cables and creates convincing 7.1 virtual surround sound. At first glance, this might not appear to offer the same level of versatility as say, the Sharkoon or Razer headsets. However, optical interfacing is certainly more elegant, less prone to interference and has been around for ages. An optical cable is supplied and you do get a range of adapters for consoles including an analogue one for old school PCs and the like. While not wireless, this headset is comparable to the Astrogaming A50 in terms of comfort, if not quite in sound quality. All in all, it's an impressive package.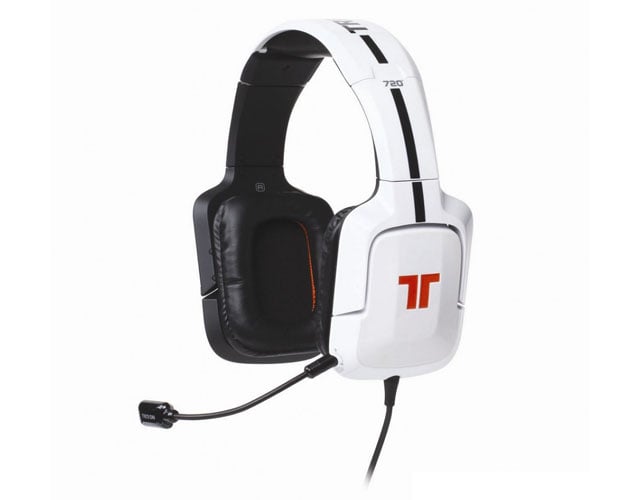 Reg Rating 90%
Price £130
More info Tritton
Turtle Beach PX5

The console-focused PX5s aren't as vivacious as SteelSeries' Siberia V2 headset but nonetheless feel solid and durable. The ear cushions create an impenetrable seal around my ears and there's a nifty detachable bendable mic too. The wireless base station works as a neat stand too, but for some unknown reason doesn't have a function to charge the headset. Instead, the headset is powered by two AA batteries, giving around 10 hours play time – enough to kick ass on my PS3 playing Tekken Tag Tournament 2.
The eight different presets – including super human hearing and bass boom – showcase this headset's remarkable sonic capabilities, that work particularly well in game. The ability to download and customise my own presets is extremely useful too. Dual band Bluetooth allows pairing with my new iPhone 5, so I can listen to Grimes in the background or even answer a call – while continuing to fight in Tekken Tag Tournament 2 on my PS3 – are impressive selling points, sadly missing from the Tritton 720+. A near miss for a Recommended award, just invest in some high capacity rechargeable battery kit and you'll have yourself a top notch wireless gaming audio rig. ®