Original URL: https://www.theregister.co.uk/2012/11/09/review_volkswagen_beetle_vw_car/
Volkswagen Beetle car review
Retro done right
Posted in Science, 9th November 2012 08:00 GMT
Retro car designs fall into one of two categories. The Good like the Fiat 500 and the Bad like the 1998 VW Beetle and BMW's huge Mini. The 1998 Beetle was a particularly bad example with underpinnings that represented a nadir of VW engineering and a body that betrayed its lazy California-penned origins. It was an insult to Ferdinand Porsche, the man responsible for the 1938 original.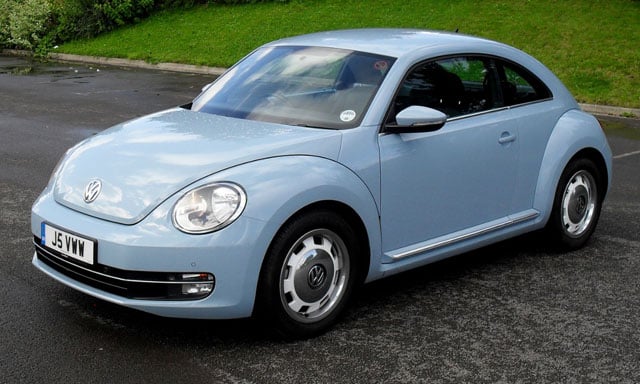 A bug's life: The Beetle evolves
The new Beetle is an altogether less wretched machine thanks to a 1.2L turbo engine, new chassis and body, a rather stylish interior and a clever, if optional at extra-cost, 7-speed dual-clutch automatic gearbox. In short, it's a far more worthy successor to the original iconic Volkswagen.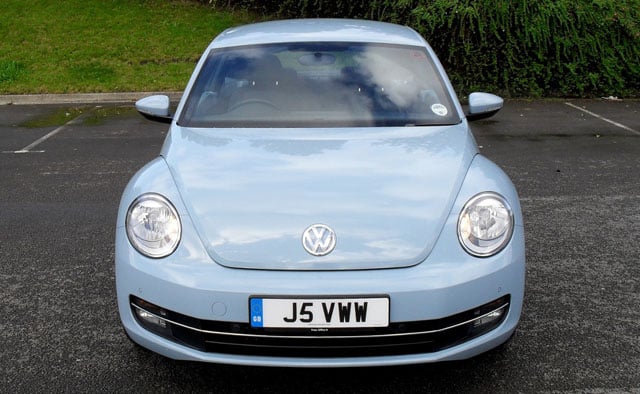 Cosmetic improvements up front
Under the skin the new Beetle borrows heavily from the Volkswagen Group parts bin, in this case the A5 platform that underpinned the Golf V and the current Golf VI. As platforms go it's a country mile better than the dull and wretched Golf IV/A4 gubbins used in the 1998 re-invention.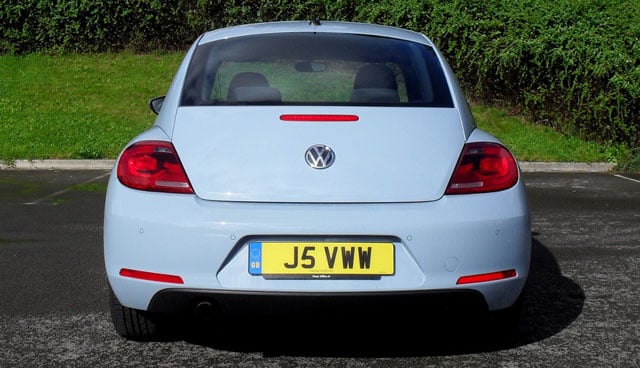 Not so retro that the engine has ended up at the back
The improved chassis is matched by improved looks. The new car is longer, wider and lower than the old model and much the better for it. The new look isn't quite 3-door hatchback or coupé but something in between. It's a stylish and balanced piece of work though the daft rear spoiler available on some models does it no favours and is best avoided.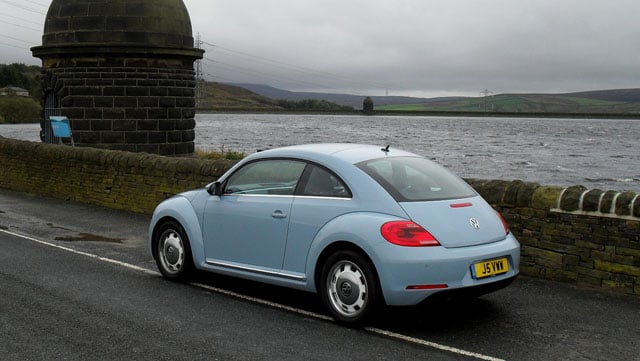 Looks a better without a silly rear spoiler
Under the bonnet you will find an example of the modern tendency towards small capacity forced induction engines. The 1.2L four-pot turbo delivers 105bhp and 129lbs-ft of torque at 4,100 rpm. It makes for brisk rather than outright fast performance with the 0-62mph dash covered in 10.9 seconds and a top speed of 111mph.
Sonic vroom
It's a very willing and tuneful motor though and makes up in brio what it lacks in outright grunt. Economy is reasonable but no more. VW reckons the Beetle should average 47.9mpg but I only just managed to make it over the 40mpg mark in a week of motoring that seldom took me into urban areas. Carbon dioxide emissions are nothing out of the ordinary either – 137g/km isn't bad but nor is it going to win any awards. This rating drops the Beetle into band E for car tax or £120 a year in old money.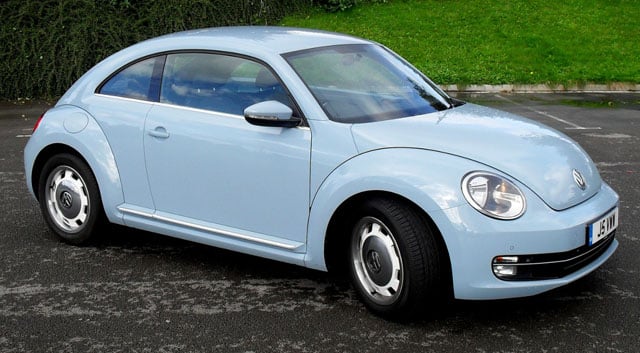 Looks are closer to 1938 than 1999 model
Bolted to the engine is the latest version of VW/Audi's highly regarded DSG or Direct Shift Gearbox, now with 7 speeds. It's a clever transmission with two dry clutches, two input and output shafts and more electronics than you can shake a stick at. Other than a desire to hold onto the short first gear a bit too long on getaway and too many ratios – you really don't need more than six – it's a very nice box and does what you want when you want almost all of the time.
There are no flappy paddles to override the automatic cog swapping but you can stick it in manual or Tiptronic mode and nudge the gear selector back and forth to change up and down, which is a pleasingly rewarding way to drive.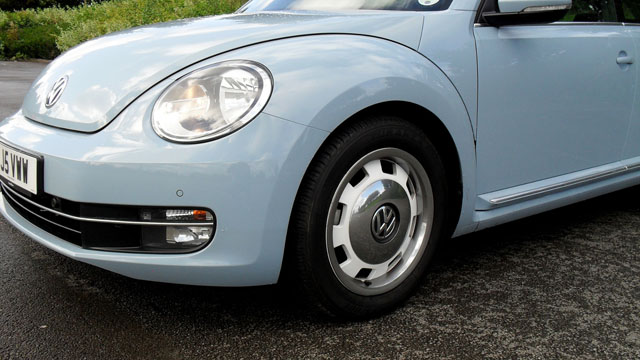 Alloys are made to look like steel
The cabin design has a lot in common with the minimalist VW Up due to the abundant use of colour-coded metal and plastic. Borrowing from a cheaper model is a risk but it's paid off. The Up is one of the most pleasant cars I've sat in recently – the eight grand price tag notwithstanding – so I have no complaints about encountering a similar design ethos in the Beetle.
Considering the shape of the rear metalwork, it's a surprisingly spacious car. Yes, the headroom is at a bit of a premium when sat in the back but I managed to get all 5'10" of me behind a 5'7" driver without any excessive contortion or discomfort. The boot's not a bad size either.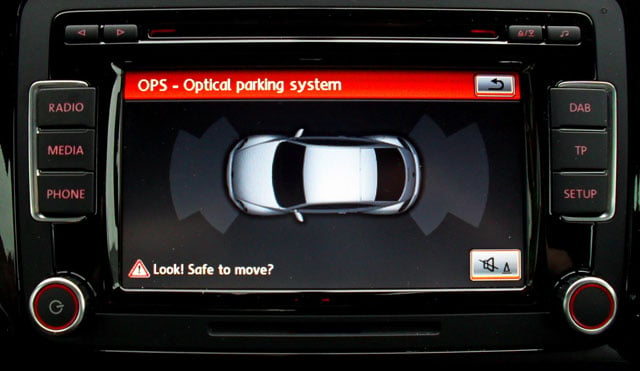 Parking sensors - a must-have option
I've heard more than one motoring hack opine that the Beetle's ride is too firm but that's stuff and nonsense. In my opinion, VW has struck a near ideal compromise between handling and comfort, with even pretty vast potholes not causing too much of a disturbance. In all circumstance, the Beetle handles very well and can be hustled down twisty roads with gay abandon.
Inside the Beetle – in pictures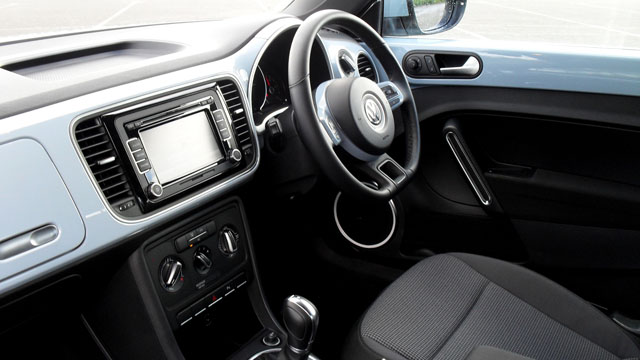 Painted metal and plastic redolent of Up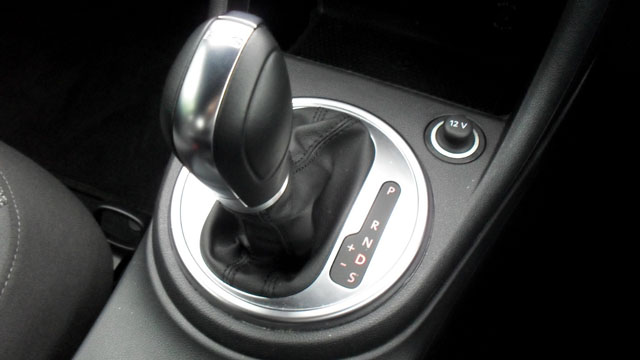 No flappy paddles but auto box can be used with stick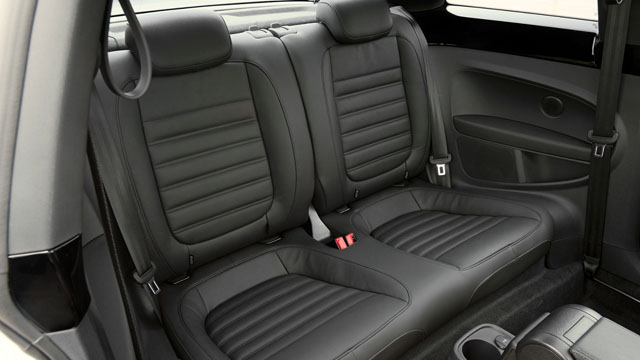 The back is quite spacious, but the roof is low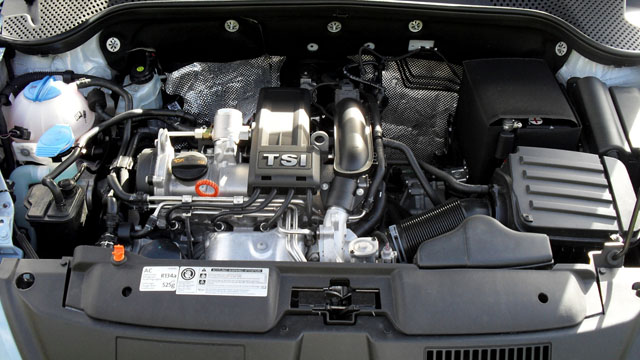 1.2L turbo is spirited even if it only delivers 105bhp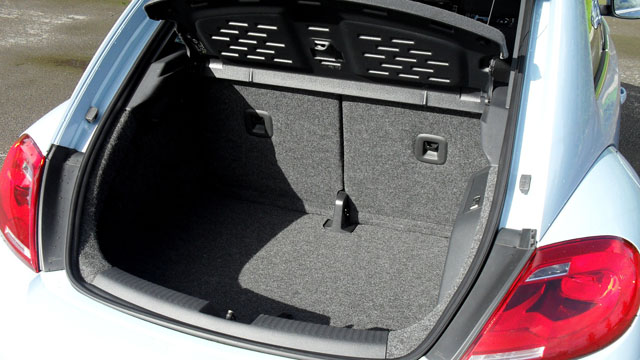 Boot space isn't too bad either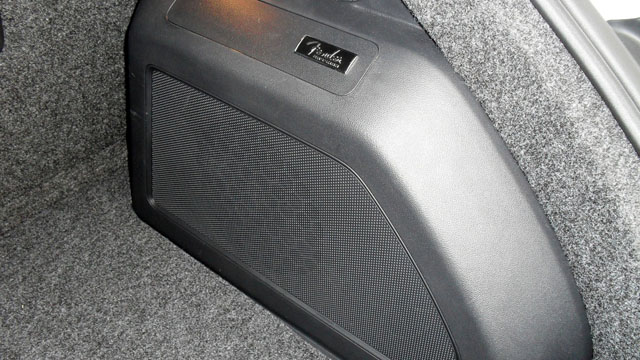 Boombox in the boot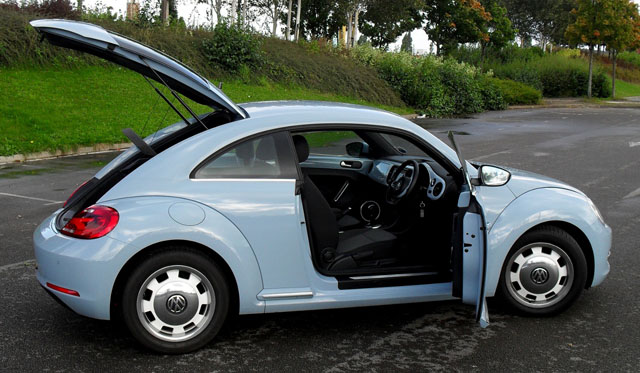 Doors open side and tailgate lifts high
Spatial awareness
My test car was a Design model that will set you back £18,900 but if you are happy to ditch the DSG gearbox, the designed-to-look-like-steel Orbit alloy wheels and metallic paint, you can get something very similar for £15,765 including satnav and parking sensors.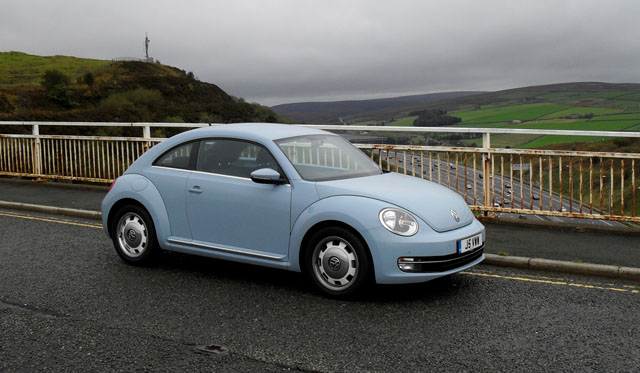 Wider and lower than 1999 Beetle
If you are wondering why I suggested coughing up for the parking sensors it's because though visibility is very good you have little if any idea exactly where the car ends at either the front or the back so parking in either direction is a bit of an adventure.
The one option my test car came with that really is worth having is the Fender-branded sound system. Stuff me but it's good, thanks to a 400W, 10-channel amp and a huge subwoofer that sits over the driver-side wheel arch in the boot. By some margin, it's the best audio system I've encountered in a mass market car.
Verdict
I still can't imagine old man Porsche approving of the new Beetle but I suspect his disapproval would be tinged with a wry smile, rather than the outright scowl I suspect the previous model incurred. Of course, it's no people's car – that is the Up's job in the VW model range – but it is a fine combination of style, practicality, performance, value and fun. As such, it goes into the Good column of retro car design alongside to the Fiat 500. ®
More Car Reviews

Toyota
Prius Plug-in
Peugeot
508 RXH estate
Volkswagen Up!
Vauxhall Ampera
Hyundai Veloster