Original URL: http://www.theregister.co.uk/2012/11/09/assassins_creed_3_game_review/
Assassin's Creed 3 game review
Scales and tales
Posted in Personal Tech, 9th November 2012 11:30 GMT
"His name is Desmond Miles and he has brought us to the end." So begins Assassin's Creed 3. Frankly, if you believe this really is the end then you'll believe anything. No, rather than an end, AC3 is a fresh beginning, a place for new hero Connor Kenway to "rise" as the game's tagline puts it – form an orderly queue behind Batman, Mr Kenway.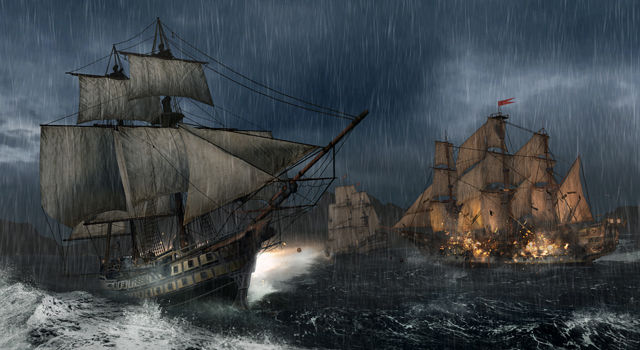 Jolly boating weather
For those not au fait with the on-going tribulations of the Assassin's Creed franchise the series tells the tale of a secret war which has waged for centuries between the Templars (bad) and the Assassins (good – though just as likely to indiscriminately kill, it seems).
Thankfully, there's a whole three minute intro sequence which explains the nuances. Yet, for those of us who have toiled through the previous four titles, it's with no small amount of chagrin that all those hours of stabbing, climbing, leaping and then climbing some more, can be condensed into a three minute summary. This rather confirms what I've always suspected: that the second and third parts of AC2 really could have been add-on packs.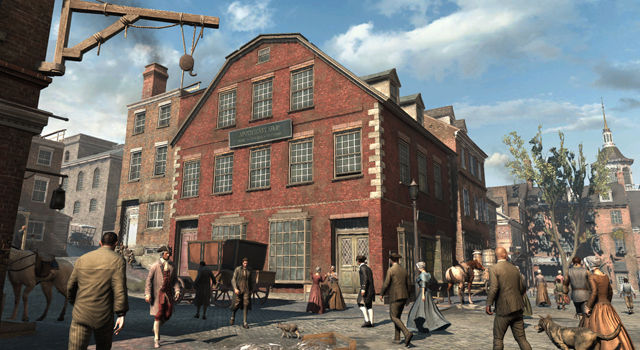 Village people
Regardless, here we are, taking the first tentative steps into a full successor replete with aforementioned debutant hero. The fresh setting takes us away from continental Europe's Renaissance period and into the brave new world of the American Revolution. It's an even more expansive area to play in and for the first time includes naval battles, as Connor turns captain and takes to the high seas.
A word first on the visuals. Admittedly, I'm judging by the Xbox 360 version, they've not improved too much in terms of textures or draw distance. However, they have been wonderfully expanded in terms of animation – making Connor's interaction with his world all the more believable. See him sidle up to a wall before smoothly edging around it, or subtly easing a passer-by out of his way as he stalks his prey.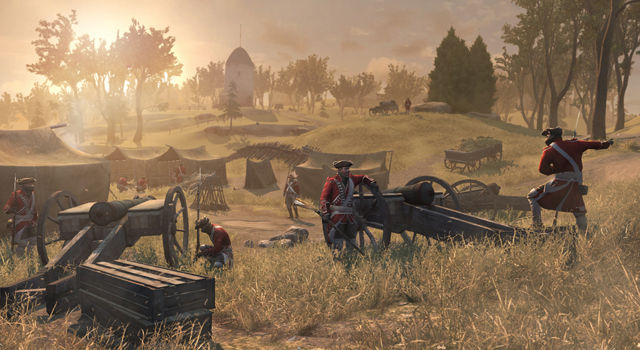 Field of their own
His surroundings are more dramatic as well with snow drifts, the use of sunlight, trees as climbing aids and that luscious water during naval sections. These all combine to push current generation hardware to the maximum. Similarly, the repeated use of the same areas during summer and winter cleverly shows off not only how flexible the game's engine is, but its capacity for unveiling breath-taking vistas. Indeed, you'd do well to take this in before pushing on to the next objective marker.
Silence is a virtue
On to the game and all begins briskly enough. For me, one of Assassin's Creed's flaws has always been in its posturing – yes AC2's Ezio was an action man for all seasons, capable of decimating a city's watch singlehandedly, but is that really the point?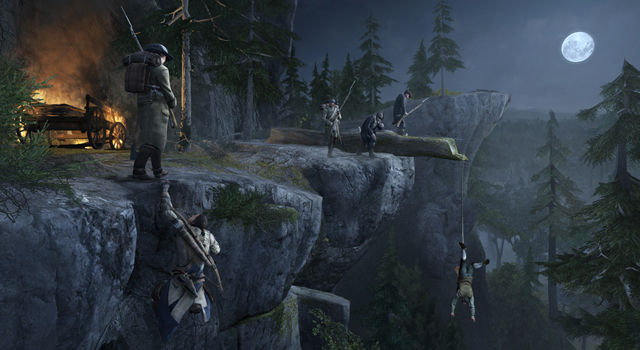 Cliffhanger
Surely assassins aren't about confrontation, they're about the quiet kill and soundless escape. Without spoiling AC3's interesting opening, that's exactly how things kick off, with a silent, efficient assassination within Covent Garden, of all places.
Soon enough, we're firmly on American soil and from there, well, it's back to business as usual. The series largely distances itself from its stealthy beginnings and plumps for all-out warfare as the Revolutionary War heats up.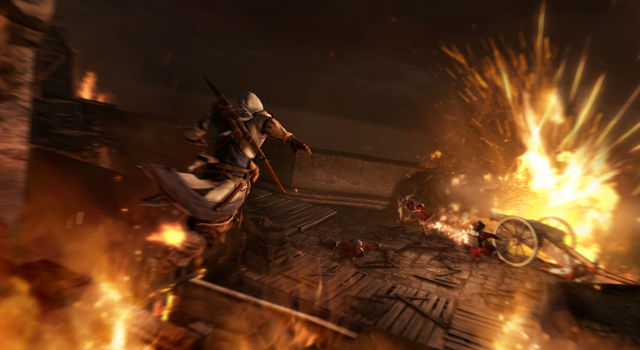 Cannon fodder
The breadth of AC3 is immense and Connor's missions are ever-changing to keep the player guessing. One minute you'll be chucking buckets of tea into the docks in an RTS-lite timed challenge, the next you'll be duelling with your next assassination target – the tweaked swordplay makes the latter more interesting too. And then you'll be heading off to the high seas to play ship's captain.
And that's not counting other myriad tasks such as side missions, building up the tradesmen at your base and upgrading your weapons, armour and the like.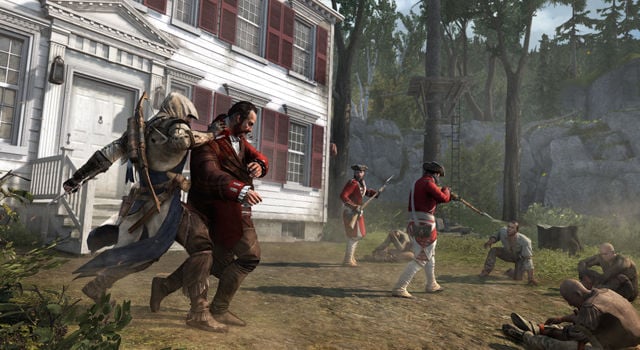 Taken from behind
In a nod to Red Dead Redemption we're handed huge areas to explore this time around and, as in Rockstar's western, the best means of transport is on horseback. Here, riding into dramatic sunsets rarely feels as smooth, the horse's animation never quite dovetailing with its environment in the same manner as Red Dead, making trotting through the forested wilderness something of a chore despite the beauty of the environments.
Hit the town
When on foot such forests offer more excitement, providing opportunity for much free-running across beams, logs and branches – not to mention providing plenty of handy hiding places from which to ambush troops. Indeed, Connor's deadly toolkit includes all manner of gadgets to silently pick off unwitting patrols.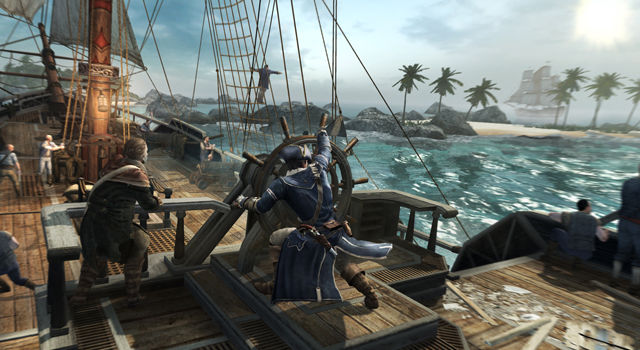 Wheel life
Town sections offer a couple of new tricks too, the most fun being the chance to throw yourself into open windows and out the other. The necessary low heights of buildings – early America hardly being renowned for its towering skyline – means that once you're viewed as suspicious by guards, getting away is far from simple.
It's an issue worsened by plentiful adversaries, their capacity for cat-like climbing and the many rooftop spotters dotted around camps.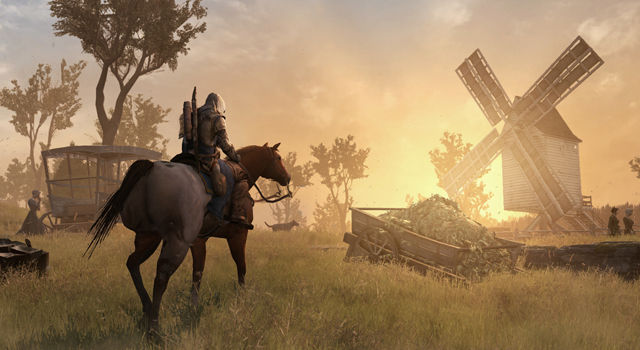 Nothing for mills around
Hence, Connor will be chased by gangs of guards shouting such witty lines as "So slow!" over and over, which might as well be accompanied by The Benny Hill Show theme tune.
As with the horse-riding, such scenes serve only to dispel the illusion. Consequently, you become overtly conscious you're playing a game which lacks just that last little bit of polish, something that would turn a mostly enjoyable experience into a seamless one.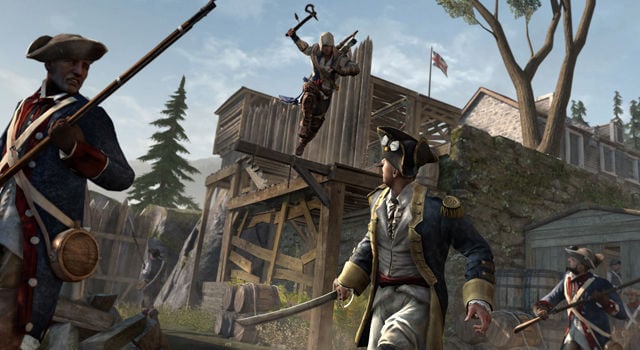 Heads up
Verdict
Earlier I speculated that AC3 marks the beginning of a new path for the series and of that I remain convinced. The new dynamism in terms of animation, mission variation and scope bodes well for the series and in Kenway they've hit upon a noble, if stern, warrior.
Now Ubisoft must tighten such irritations as overzealous AI and slightly too expansive environments – why not open up the world still further with building interiors too? Most of all, it must continue to surprise us and, in this respect, AC3 is worth playing if only for the odd moment of incredulity as, time and again, the developers throw the kitchen sink at us. ®
More Games Reviews

Halo 4
World of Warcraft:
Mists of Pandaria
Resident Evil 6
Dishonored
Borderlands 2