Original URL: https://www.theregister.co.uk/2012/11/08/review_amazon_kindle_fire_hd/
Amazon Kindle Fire HD 7in Android tablet review
Perfect bind?
Posted in Personal Tech, 8th November 2012 13:15 GMT
Carl Jung once wrote that a beautiful woman is a terrible disappointment. And so it is with Amazon's long awaited (it's been a year) British release of its Kindle Fire 7in tablets. Having pre-ordered the top-end 32GB Fire HD model, I was thrilled when I found it waiting for me at home and excited as I tore open the box, but grew progressively more pissed off as I spent the night discovering what I couldn't do with it.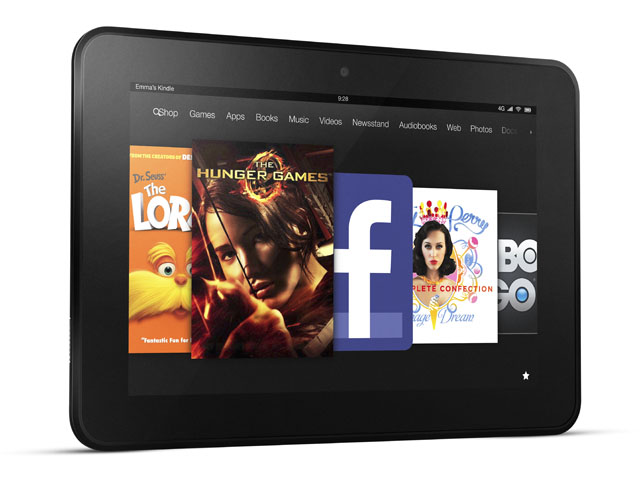 Shiny, heavy, Amazon-only tablet – the Kindle Fire HD
At first look, in its shiny black front and matte black casing, the Kindle Fire HD resembles a shrunken Motorola Xoom. It feels heavier than expected: indeed, it's more than double the weight of the regular e-ink Kindle and some 55g heavier than the nearest equivalent tablet, Google's Nexus 7.
It's also unexpectedly wide at 137mm thanks to a consistent 2cm bezel around all four sides of the display area, which makes it an annoyingly tight fit in my old Kindle Keyboard neoprene slipcase. Although this thick bezel might give you somewhere to put your thumbs while reading an e-book in conventional portrait mode, it makes it slightly less comfortable to turn the pages. There is no hardware button for page-turning.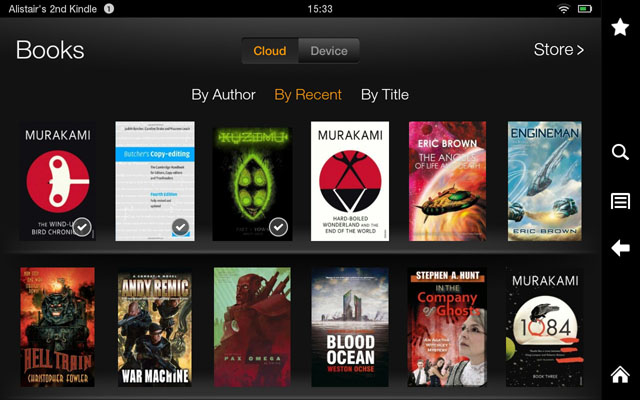 The Kindle Fire HD is a great Kindle reader but doesn't recognise ePub, the industry standard for ebooks
On that note, the matte surface at the back is excellent at collecting marks from greasy fingers but no good at all at gripping them. Having an almost-400g, almost-£200 tablet slithering through your fingers while trying to hold it with one hand and constantly worried you might drop it is no fun during a busy commute.
The plain, light-absorbing blackness of the case makes it tricky at times to work out which way up to hold it: I use the (front facing) camera as a guide. This also makes it difficult to locate the power button, designed to be so flush as virtually impossible to locate by touch. More often than not, I ended up pressing the adjacent volume-down button by mistake.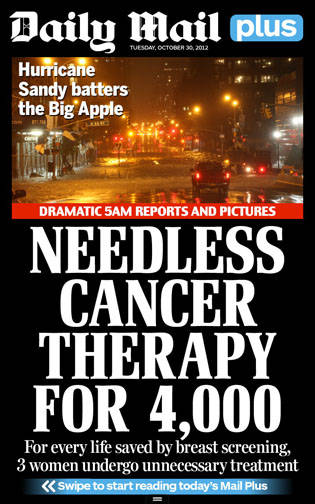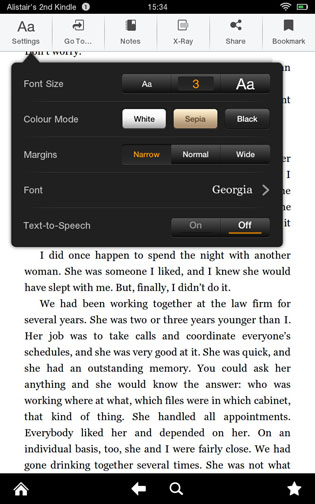 A good read? We defy you not to find a typographical style that you won't be comfortable with
Picture someone on a station platform waiting for a train, whipping out a mini tablet and then clumsily turning it in all directions, peering closely at each edge until he's found out how to switch it on. He might look like a dick but unfortunately that's what you'll look like too.
Silk ties
The initial out-of-the-box experience was dreadful. Expecting to enter my Google sign in and immediately have access to all my email, contacts, calendars and web bookmarks, I was disappointed to find that this particular Android tablet asks only that you sign in to Amazon.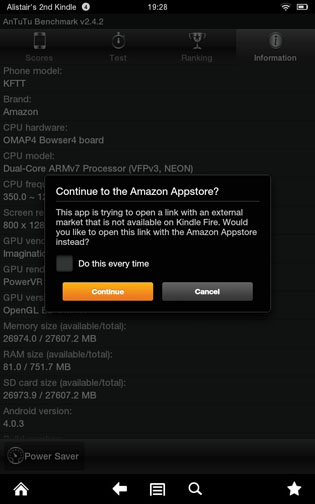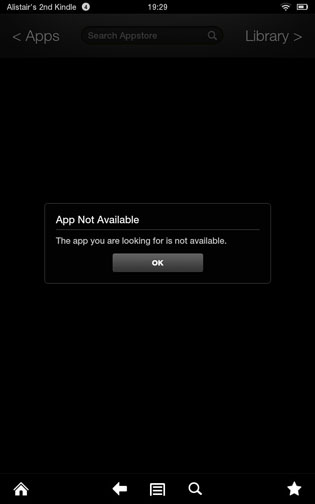 If it's not in Amazon's App Store, you can forget it. Get used to seeing this message... and this one too
Fine, this puts your previous Amazon digital purchases, such as e-books and music downloads, at your fingertips, but leaves you to plod around setting up email and everything else by yourself. If I gave a Kindle Fire HD to my mum for Christmas, I'd have to take a train up to Leeds simply to set it up for her.
Movies and TV shows are channelled to the tablet exclusively through Lovefilm, whether you want an account with them or not. Even as an existing Lovefilm customer, I found the registration process on the Kindle Fire HD to be a circular, confusing and unresponsive mess. After an hour of being asked to sign in again and again, only to be returned to the same dumb, half-blank screen with some untappable feature film slides at the top, I told myself that this was the worst tablet I had ever tested.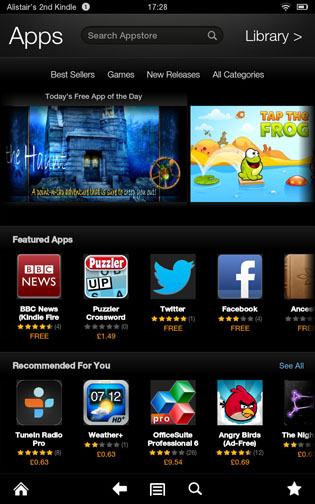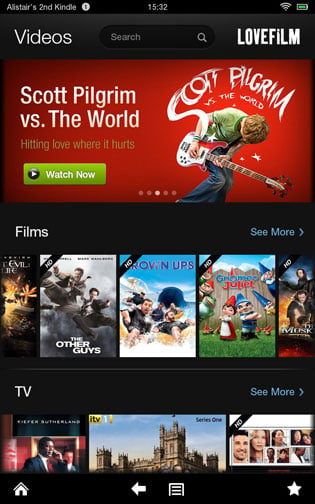 Restricted apps selection, with many out of date. There's no alternative video service, not even YouTube, you're tied in to Lovefilm
It was only the following morning that the Videos category inexplicably sprang into life by adding 'Watch' buttons and showing rows of browsable films and TV shows. It's a good job I'm patient: my mum would have thrown the Kindle Fire HD into a drawer the previous evening and never touched it again.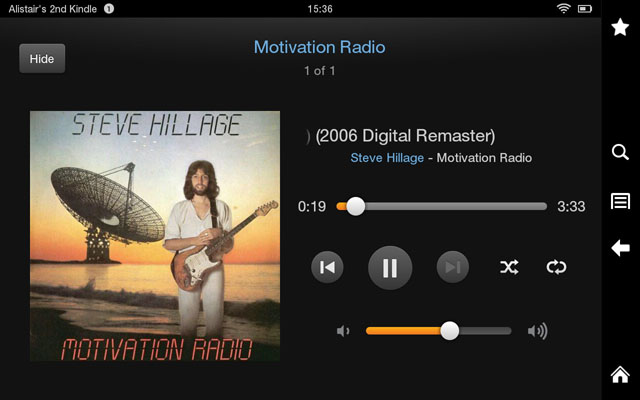 The Fire HD features a Dolby audio engine yet there's still no bass, but the external stereo speakers are loud and clear
Although Lovefilm is offers a terrific DVD and Blu-ray service, its range of digital delivery titles through the Kindle Fire HD is a bit too mainstream for me. The range of British TV shows was pitiful. No Father Ted, no Spaced, no The IT Crowd, no Not Going Out, although plenty of Downton bloody Abbey and similar shit. The search engine logic is clunky too: if you type "black adder" instead of "blackadder", you'll turn up no results at all.
Owners of iOS devices can find all of these British shows on iTunes, by the way.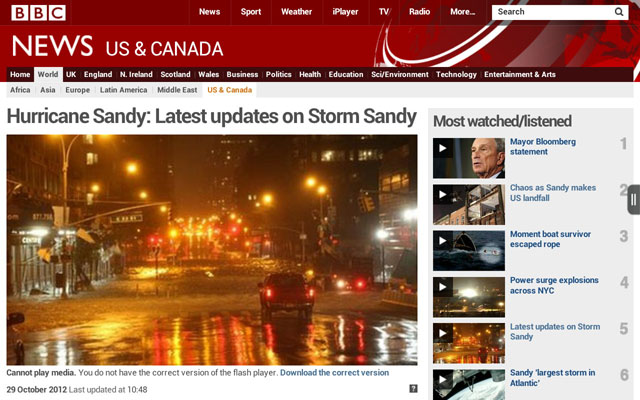 Here's Silk in action from its 'Trending' web pages. Note the error message immediately below the non-working video
Amazon's own webkit browser, Silk, is not just the default web browser but the only one you're allowed to use. This is a shame because it doesn't seem to be able to handle certain types of media. For example, Silk presents you with a list of 'Trending' sites such as BBC News, but when you go to a BBC News page, you will find that Silk cannot play any of its videos.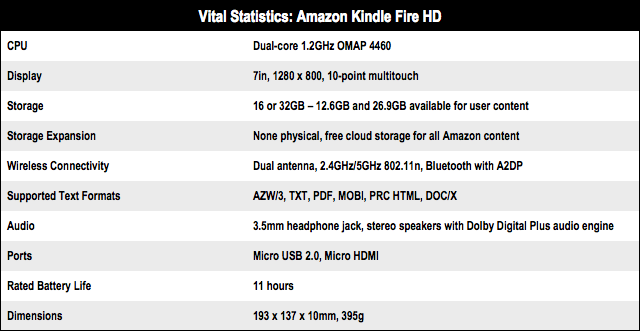 Fire wall
And herein lies what is potentially a deal breaker for El Reg readers: the Kindle Fire HD is so closely tied in to Amazon's own App Store that it blocks access to all other Android App Stores. The Fire may run on Android 4.0.3 Ice Cream Sandwich but don't expect to use it as a general-purpose Android tablet because Amazon won't let you.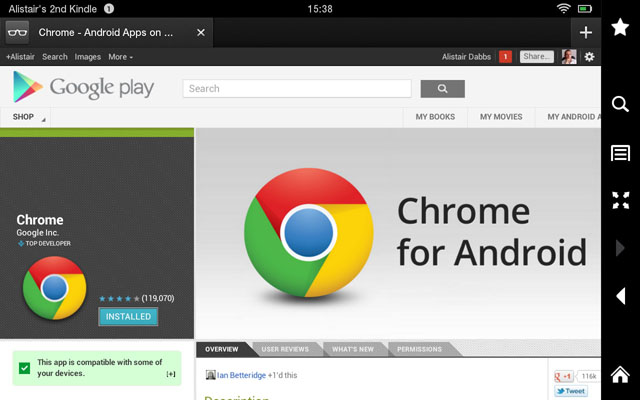 This is just to fool you: you can try to instal Chrome instead of Silk but it can't be done.
Competing apps for reading e-books in ePub format, such as Kobo, are banned, for example, which wouldn't be so annoying if the Kindle reader itself supported ePub, which it doesn't. I also came across apps in Amazon's App Store that, when launched, announced themselves as being out of date and prompted me to download a later version, whereupon Amazon's digital riot police stepped in and prevented me from doing so.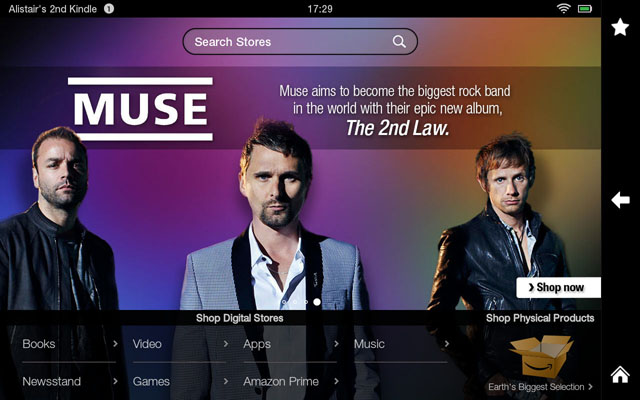 It's actually easier to buy digital music with the Kindle Fire HD than it is with a 'proper' computer.
Frankly, if I was a bookworm who made purchases from a variety of e-book stores, this would not be the tablet for me: I'd be better off with an Android device that allowed me to instal Kindle, Kobo, Blio, Nook, etc apps alongside each other. You can't instal Google's YouTube app, either. Hell, even iOS devices let you do all this, making Apple seem like a bastion of openness by comparison to Amazon.
Yet within these limitations, the Fire HD is still an affordable quality tablet that could suit Amazon fans down to the ground. Just don't expect to push the boundaries.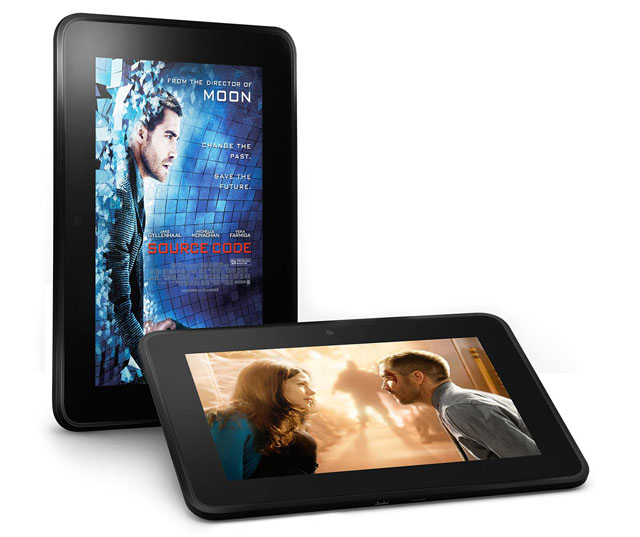 Amazon's walled garden approach to installing apps and other content is more stringent than Apple's
Verdict
OK, perhaps I could break down the Fire's defences with SDKs and sideloading tricks but why should I? My mum can't do this and I thought she symbolised the Fire's target market.
On the other hand, if you're technically competent or very patient or are buying it for someone who is happy to use it for little more than consuming digital media exclusively from Amazon and Lovefilm in the comfort of his or her own home, the Kindle Fire HD is undeniably an attractive purchase. The display is beautiful and, once you've set everything up, the device is pretty simple to use. Nor should you ignore the fact that it is significantly cheaper than any of its competitors while offering double their storage capacity. ®
More Tablet Reviews

Apple
iPad Mini
Acer
Iconia A110
Toshiba
AT300
Archos
101 XS
Samsung
Galaxy Note 10.1