Original URL: http://www.theregister.co.uk/2012/11/08/apple_ipad_4_wifi_only_review/
Apple iPad 4 Wi-Fi only tablet review
Better slate than never
Posted in Personal Tech, 8th November 2012 08:00 GMT
I didn't get the iPad at first. When the tablet was first announced, I was interested but couldn't see the value to me. I had an e-book reader, I had a phone on which I could watch films while travelling and listen to music, and I had a laptop for everything else. Why, I wondered, did I need a tablet too?
I was happy to take possession of a first-gen iPad a few months later - I won it in a raffle, oddly enough - but I thought that, after a brief play, it would just sit and gather dust.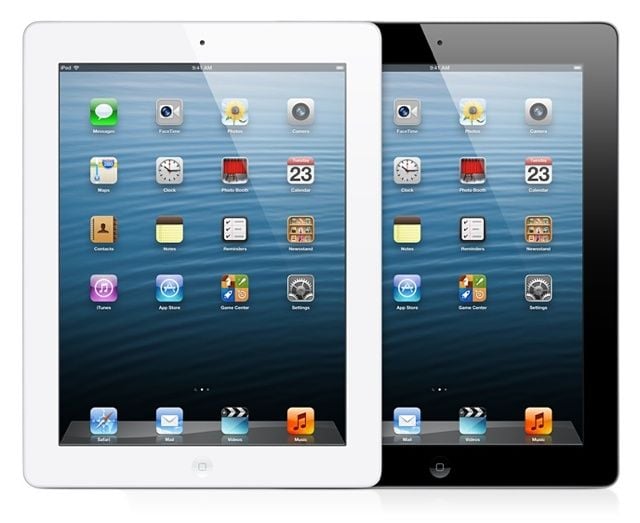 Not the iPad 4, the 'iPad with Retina Display'
How wrong I was.
To the tablet sceptics, all I can say is: I was one of your number, but no longer. My laptop gets plenty of use and so did the e-reader - unlike a ten-inch tablet, it fits in coat pockets - until I availed myself of a Nexus 7 earlier this year, but my iPad has become my prime home device.
I read my newspaper on it long I before head off to work and pass by a newsagent. I read magazines on it. I read lots of comics on it - like the papers and the mags, they are so much better viewed in portrait, in your hand, than on a notebook landscape display, or on a monochrome E Ink screen.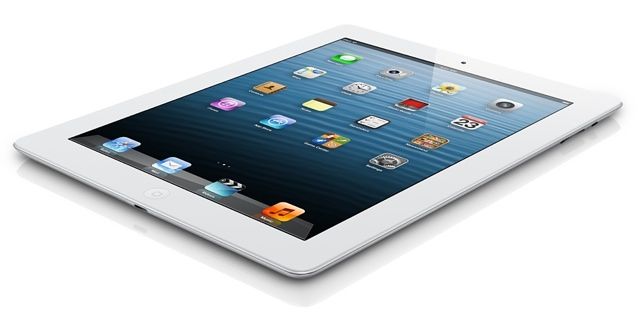 Now with added Lightning
The tablet's speed and big, colour display makes flipping around computer reference books so much more practical than it is on an e-reader, though the ability to take the equivalent of six inch-and-a-half thick books to work with no strain is much the same with either device.
While my phone remains my main music playback device, watching a stack of catch-up TV programmes and films on a tablet is a much more pleasant experience than the phone and certainly than the ropey back-of-the-seat screens you get on most flights these days. Travel by a no-frills airline and you don't even get that.

Not a laptop/e-reader/netbook replacement
The iPad, since upgraded to the thinner, lighter iPad 2, is used to check multiple email accounts, for a lot of web browsing and such, and occasionally I let the nipper play games on it. Once in a while, I hook up a Bluetooth keyboard and use it to report from events. It's not an efficient a writer's tool as a multi-window OS device is, but it'll do at a pinch.
So, for me, my iPad has become a crucial part of my working and home lives. It has taken over certain roles that I used to put other devices to, but hasn't superseded any of them entirely. I've never believed in a one-size-fits-all approach to technology. I won't limit myself to one device when there's another that's better suited to the task in hand.
Choice matters
To insist otherwise is the equivalent of refusing to watch video on a phone because you own a TV, or giving away your car because you have a bike too. Unless you're a skinflint, or woefully impecunious, there's no reason why you shouldn't have both and use each when most appropriate.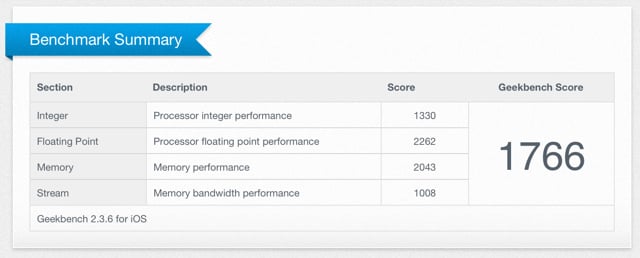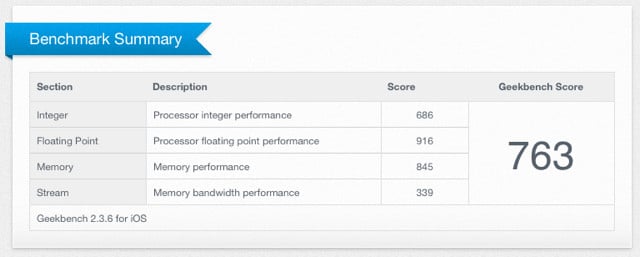 Geekbench 2.3.6 performance results: iPad 2 (bottom) vs iPad 4 (top)
But if there's no good reason why you should reject a tablet out of hand, is there a good reason to select Apple's latest iPad? For me, the gorgeous 2048 x 1536 screen is reason enough. It makes reading so much more comfortable than even anti-aliased text on a 1024 x 768 panel does.
Of course there are other tablets with display resolutions that approach that. Some exceed it. But they're Android devices and I don't enjoy using Android as much as I enjoy using iOS. It's entirely subjective. There's nothing wrong with Android - as I say, I use it on my Nexus 7. But I like iOS more and by choosing it I don't feel I'm limiting what I can do with a tablet.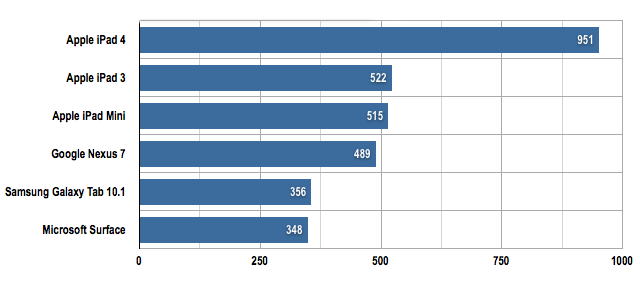 Futuremark Peacekeeper browser test results
It's not the choice you make that matters but the fact that you have a choice. This is the antithesis of a world where 95 per cent of personal computers come with Windows and you're forced to use it no matter what. Or one where there's no PS3, just Xbox.
No offence, but for that very reason, I'd rather not see Android on 95 per cent of smartphones or tablets - or iOS, for that matter. Monopolies, even unplanned or not-quite-total ones are not a good thing.
Not that I'm suggesting you buy an iPad for the good of a dynamic, competitive market. What I am saying is, value judgements aren't always a matter of choosing the best spec on paper. Indeed, the iPad 4's screen may be one of the best out there, but I have to face the inevitable claims, not unfounded, that there are cheaper alternatives and ones with more tech for my money.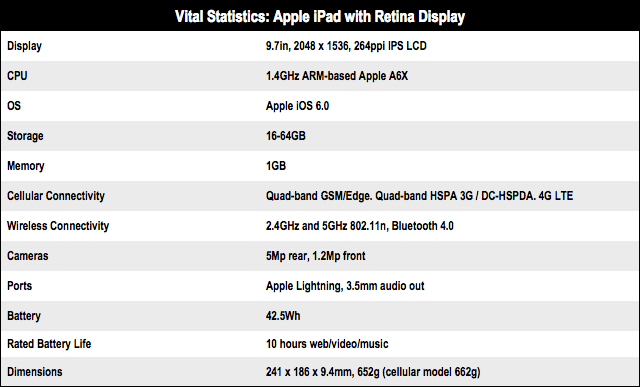 Big screen star
I don't fall into the 'I'd like a HDMI port on the off-chance' camp, having only occasional - maybe twice a year - need for it. And it's more a 'want' than a 'need'. Ditto SD and USB. My Nexus 7 has neither of these, either. It does have a GPS pick-up, mind, which the Wi-Fi only iPad lacks. Not that I'd ever use a 10in tablet as a satnav, so it's more a failing for the iPad Mini.
I would say that Apple is looking less competitive on storage. If it doesn't want to charge less than £400 for the entry-level iPad, it should by now be offering that model with 32GB of Flash, not 16GB. It can afford to be generous, and generosity will help sway many buyers who're also considering other tablets.

Extensive bezel colour choice, not
Beyond the screen, the iPad 4 delivers considerably more oomph than its predecessors. The Geekbench testing app showed that the iPad 3's performance was much the same as the iPad 2's, but the new model scores considerably higher: 1766 to the iPad 2's score of 763. That's in part because the chip is better, but also due to a 40 per cent increase in CPU clock speed.
Despite that, there's no degradation in battery life - up to ten hours, says Apple, and I concur. If that's due to a bigger power cell inside, it hasn't increased the gadget's weight or thickness. It has gained a pair of upgraded cameras and a Lightning port, for which Apple really, really should have bundled an adaptor. I've deducted points off the score for that. Lightning is unquestionably a more elegant technology than micro USB, but the latter is more universal so I'd have preferred it, even if I have to take care to put it in the right way.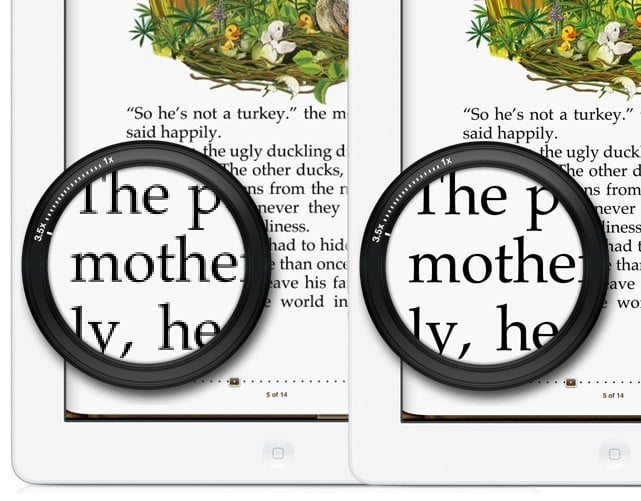 Retina gotcha: text is certainly better on the retina display (right) than that of the iPad 2 (left) but not all
website and app graphics have a resolution to suit the high-pixel panel
Thanks to the App Store, there are plenty of apps to help you access media content on remote Nas boxes, and there's Dropbox, Microsoft's SkyDrive, Google Drive and others of their ilk for smaller files. You don't even need iTunes any longer - there are third-party desktop apps for copying files into iOS apps' sandboxes. I wrote one of my own, using Jeff Laing's handy, reverse-engineered Mobile Device Access framework.
So there's very little reason, it seems to me, to reject the iPad 4 on grounds of connectivity. Or because the screen is pants (not the case), the battery life is poor (not so, either) or it lacks horsepower (ditto). To do so because you think it's too expensive, doesn't run a Google OS, lacks ports you want, or you just don't like Apple... well, knock yourself out - there are many, many equally capable alternatives out there for you. That's what choice is all about.
Verdict
It's daft to say Apple's fourth-generation iPad is its best yet - how could it not be? If you're sure you want an iPad, fanboy or not, it's the one to go for. Still, there's no need at all to upgrade if you have an iPad 3, of course - wait for the 5, at least. I wouldn't go from an iPad 2 if it wasn't for the retina display, though the new model's performance hike is welcome. Having to cope with a new connector is less so, but new buyers won't be overly inconvenienced, though they may baulk at the price. ®
Thanks to the missus for the review sample
More Tablet Reviews

Apple
iPad Mini
Ten...
Apple iPad Mini
alternatives
Microsoft
Surface
Toshiba AT300
Acer
Iconia Tab A700