Original URL: https://www.theregister.co.uk/2012/11/07/monitor_bird_of_prey_retrospective/
Bird of Prey: 1980s IT on on the small screen
How an overweight computer expert took on a Europe-wide conspiracy and won
Posted in Policy, 7th November 2012 12:03 GMT
Monitor is an occasional column written at the crossroads where the arts, popular culture and technology intersect. In this first instalment, we look back at the BBC's IT-themed Bird of Prey, a four-part conspiracy thriller "for the electronic age" and cult geek favourite.
Let's be clear about this right from the start: Bird of Prey, the fondly remembered 1982 BBC drama, isn't actually about computers and nor does it centre upon a "computer-based conspiracy", as the Corporation's publicity department described it at the time. Yet this "thriller for the electronic age" does feature computers prominently and, on the whole, it does so fairly realistically.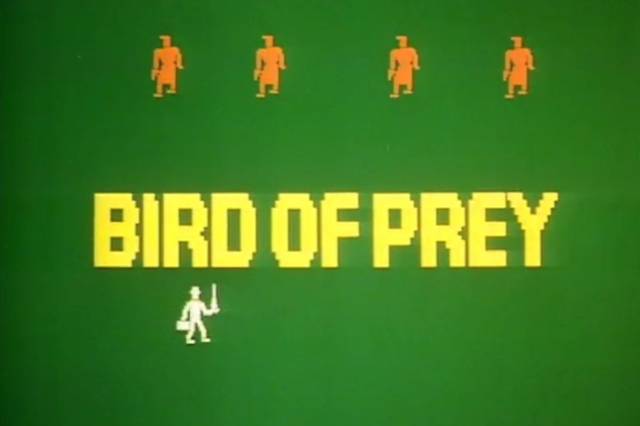 Written by Irish-born but English-raised playwright and screenwriter Ron Hutchinson Bird of Prey, centres on the murky dealings of a British Euro MP, aided - or perhaps controlled - by a nebulous network of the rich and powerful owed and owing favours. It has a name, Le Pouvoir, literally 'the power', an overtly Continental nom de guerre that tells you straight up that the show is playing on contemporary fears of a loss of control to faceless foreign powers.
Fears too of "the ever-seeing eye" and that we would soon have to wave goodbye to "that increasingly rare condition called private".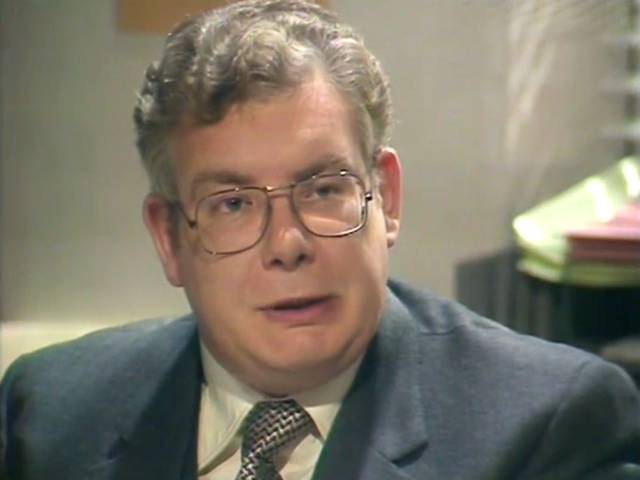 Richard Griffiths as Principal Science Officer Henry Jay
It's also about the threat to the established order of the then new Thatcherite entrepreneurialism, typified by the rise of the City of London. Big money had been coming into the City since the late 1960s - it wasn't a 1980s phenomenon - and the hardline into Europe had been established by the Heath Tory government in the early 1970s. But coupled with the new appearance of the home computer, and a greater awareness of the use of computers in communication, government and commerce, created a well of paranoia for Hutchison to tap.
Computers aren't the villains of the piece. Bird of Prey's unlikely hero, the unmasker of the conspiracy, is a Civil Service computer expert, Principal Science Officer Henry Jay, "another grey face on the 8.15". Ironically, he's no less a product of a rule- and regulation-led bureaucracy than the Eurocrats so many people feared at the time. But Henry's civil service is benign, an old-fashioned, cosy world of well-defined routine - in and out on time, exactly an hour off at lunch - and deference: all documents to countersigned and data-stamped by your superiors.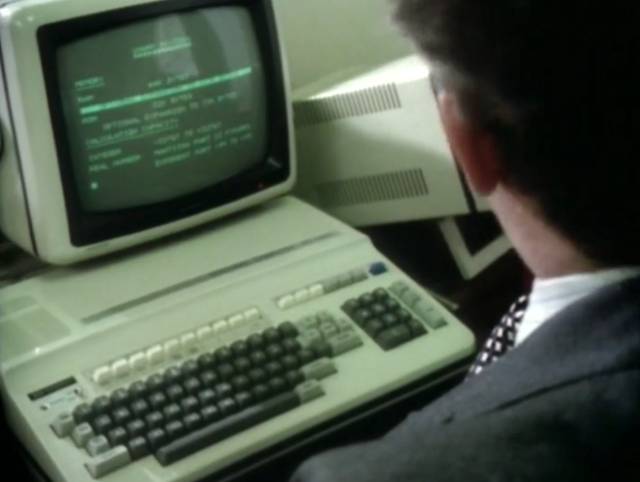 The 'magic machine'
It's all paperwork and permission slips, promotions boards and permanent under-secretaries. Despite Henry's expertise in matters electronic, there are no computers in the CDC offices. The only background sound to be heard is the clatter of the electric typewriter in the next room. No such menial work for Henry and colleague Harry Tomkins, of course - a spare typewriter sits off to the side, unused.
Henry himself is a harmless figure. He is overweight, under the thumb of an overbearing, unsatisfied wife, happy to spend his leisure time collecting stamps and listening to classical music, and to pen reports that will fill the filing cabinets of the fictional Department of Commercial Development. This is the old world of the typing pool, where Henry's boss, Tony Hendersley, dictates to secretaries, his desk home only to a phone and a blotter.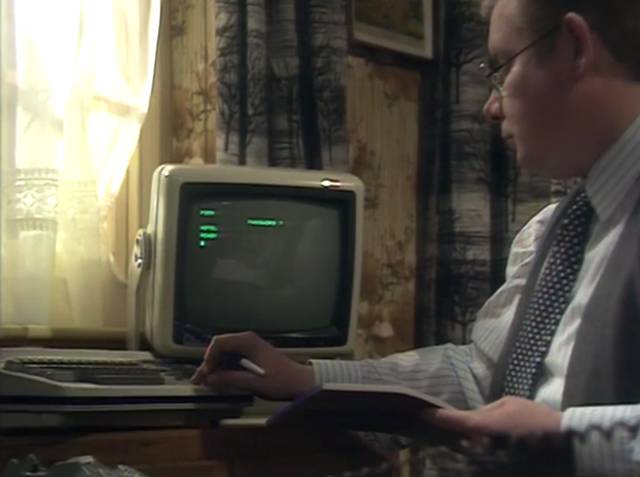 Making connections 1980s style
But Henry is not computer illiterate, and is able to harass his persecutors from the safety of any anonymous rented room with nothing more than a phone line and a personal computer. Prefiguring tasks we now take for granted, Henry searches remote databases and even books a British Airways flight to Brussels on his system.
Henry's expertise is computer security, but in this more innocent time he's able to gain users' log-in details by simply asking for them. The flaw is clearly the human. Him too: "You tripped a wire in computer security when you tried to get her records," he is later told.
'You don't need a licence for one. At least not yet'
Ironically, then, for all the suggestion we might all become merely numbers in the machine, it's Henry's computers skills - and the ready availability of computer hardware: "64K memory, disk drive, storage for 120,000 characters. And you'll need a modem," the sales assistant tells him - that allows our hero to unpick the web of conspiracy.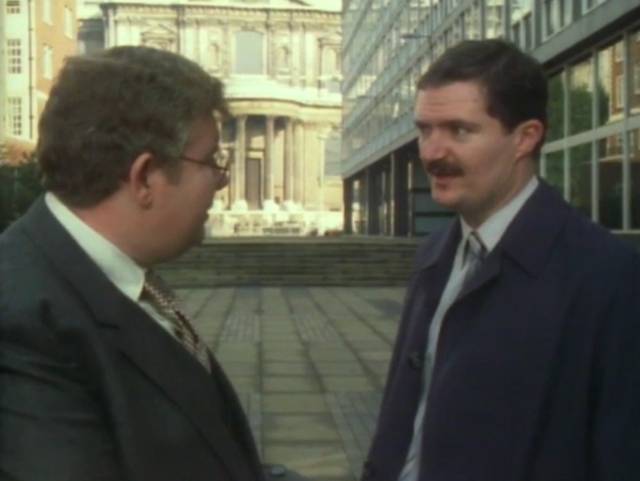 Henry talks crime with City of London Fraud Squad DI Richardson (Jim Broadbent)
Technology, Hutchinson was clearly saying, was as much a force for personal empowerment as an bureaucratic tool. Ayn Rand would have been proud.
Computers can act against you. "Just think of it as an extra couple of million PC Plods walking up the street very slowly and thinking even slower," says a Police Computer operator in episode two.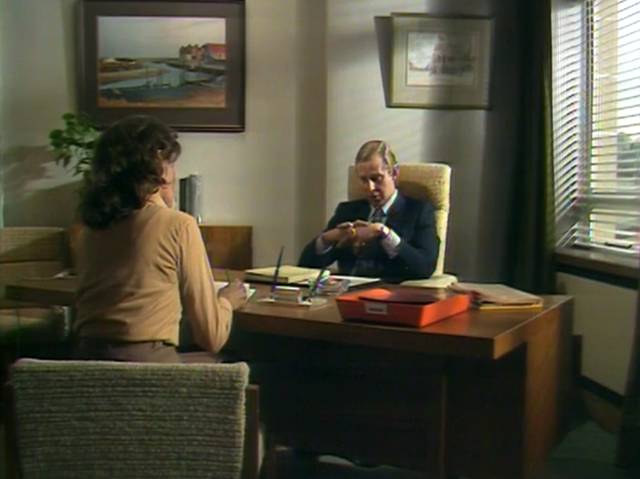 The computerless office. No typewriter, either
But then for exposing the nefarious they can't be beaten: "A few years ago [information] would have stayed in the file gathering dust. Now you put it in the magic machine and sometimes it comes up with connections you never dreamed of."
Computers for bad, computers for good. Yet gadgets do little to hinder Henry - or anyone else, for that matter. It's the human connections that drive the conspiracy. French fraudster Louis Vacheron hopes The Power will get him off the hook - instead, the danger posed to others by his cocked up crime gets him killed by the same mechanism, which is also employed to use the Vice Squad to scare Henry from getting too nosey. The killers, robotic though they seem, are human.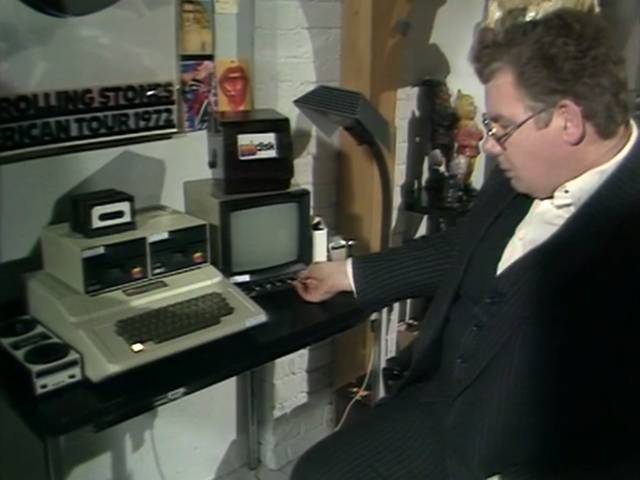 Friend or foe?
It's Le Pouvoir which is the anonymous power, not the computer, able to suborn not only the police but the security services to prevent a bigger crime from succeeding.
The show's one flaw, perhaps, is that a nebulous power makes for a less compelling 'villain' - there is no éminence grise using power and influence, murder and mayhem. Charles Bridgnorth, a colourful, larger-than-life intelligence operative who prefigures 1985's Edge of Darkness' grey area operating CIA man Darius Jedburg - Edge of Darkness was overseen, like Bird of Prey by veteran BBC drama producer Michael Wearing - here fills the villain's shows rather more fully than slimy Eurocrat Hugo Jardine, but he's no closer to the centre of the web.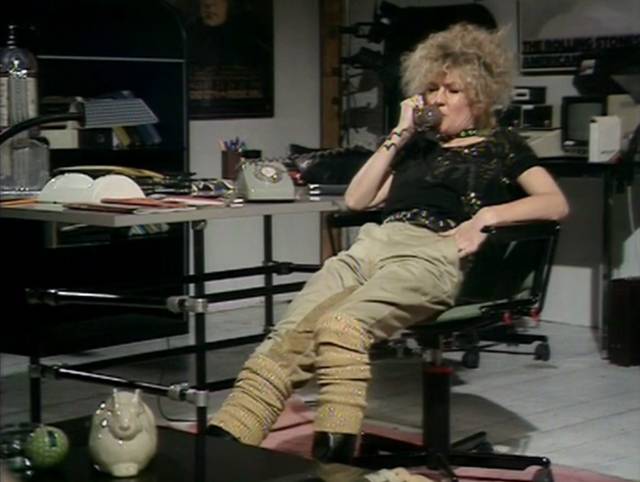 1980s kit
They're just cogs in the works, both repaying favours owed to others, though hoping to make a bob or two in the process of a scheme to monopolise the then yet-to-be-built Channel Tunnel. The year before Bird of Prey was shown, Margaret Thatcher and François Mitterrand agreed to back a solid but a privately funded attempt to create the 'chunnel'.
Still, you can't argue with the verisimilitude. Director Michael Rolfe sent a youthful Jim Broadbent - long before he achieved National Treasure status - to spend time with the City of London Fraud Squad, the better to inform his performance as DI Richardson, and he comes across as a believable copper. Richardson also gets the best lines.
Henry "And why do we keep meeting in pubs?"
Richardson "I like pubs. And they sell beer."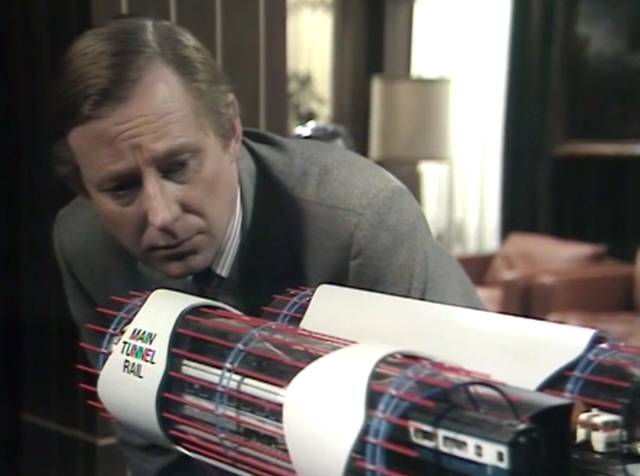 Civil servant Tony Hendersley (Jeremy Child) learns what it's all about
Richard Griffiths is no less effective as the put-upon civil servant Henry Jay, and it's a strong cast all round. Only Ann Pennington's investigative journalist who also runs a "commercial intelligence consultancy" stretches credibility, though as much because of her OTT 1980s wardrobe and mode of speech, Tiger, as anything else.
But Bird of Prey is never less than utterly entertaining and pulls you in, even now, through Hutchinson's plotting and splendid dialogue - "It's the 80s; death by violence counts as natural causes" - musician Dave Greenslade's 8-bit era synthy soundtrack and Griffiths portrayal of Henry. He is the innocent boffin splendidly isolated from the real world who is then forced to empower himself to protect his life and loves. He's an archetypal nerd hero who uses brains - and, occasionally, IT - not brawn to win through. ®