Original URL: http://www.theregister.co.uk/2012/11/06/feature_how_halo_became_the_foundation_for_a_decades_games/
In the loop: how Halo defined a new decade of first-person shooters
From 'Pillar of Autumn' to genre foundation
Posted in Personal Tech, 6th November 2012 12:00 GMT
Feature The glint of alien sunlight on green body armour; the spark of purple crystal shards arcing their way across the battlefield; the roar of a Warthog's engine as it bounces across uneven terrain; and the dull thud as the butt of Master Chief's gun impacts Covenant skull… familiar enough occurrences these days given the impact Halo has had on the first-person shooter scene, but never was it always thus.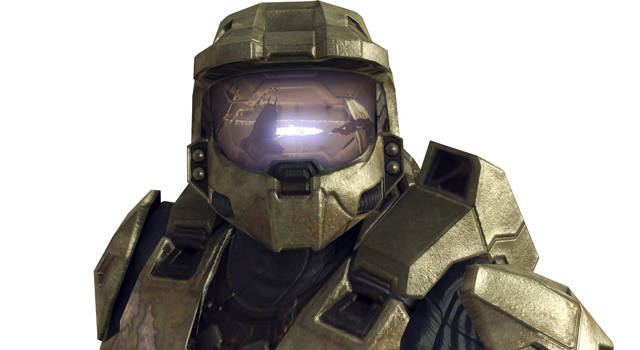 Picture the scene: it's late 2001 - going on to early 2002, depending on whether you're in the US or not - and Sony's PlayStation 2 is seemingly untouchable as it continues on the path of world domination laid down for it by the success of its predecessor.
Just coming to market are two competitors: Nintendo's GameCube, with all the knowhow and experience, not to mention iconic characters; and the unknown quantity of Microsoft's Xbox - more powerful than the PS2, perhaps, but where's the support? Where are those system-selling franchises that every fledging console needs?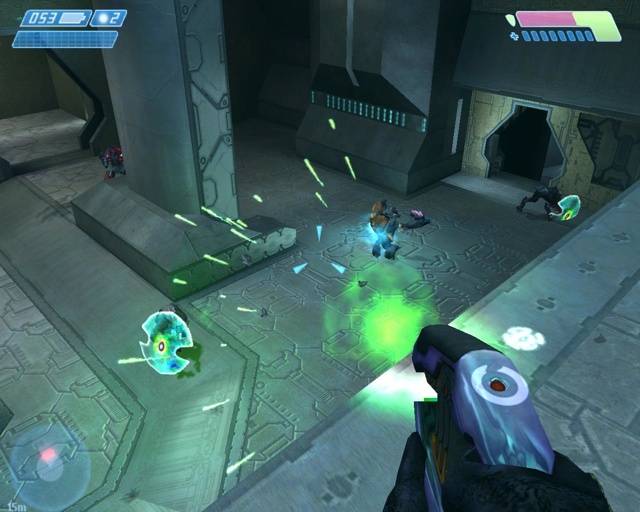 The highlights of its launch line-up read: Project Gotham Racing, Oddworld: Munch's Oddysee, Dead or Alive 3 and first-person shooter Halo: Combat Evolved by Bungie; an innocuous enough sci-fi shooter by a company famous solely for its Marathon FPS for Macs – fine, but hardly Goldeneye, is it?
Worse, Microsoft had caused some bad blood by buying Bungie in the first place. Halo had been announced as computer game and been first demo'd in public running on an Apple at Macworld Expo. Only hasty reassurances that the game would make it to the Mac and Windows could help calm Bungie's fans.
Fast-forward ten years or so and as Halo 4 finally explodes on to the Xbox 360 it's hard to argue a case for many other shooters - or indeed games of any genre - having had the impact that Halo has in the past decade of videogames.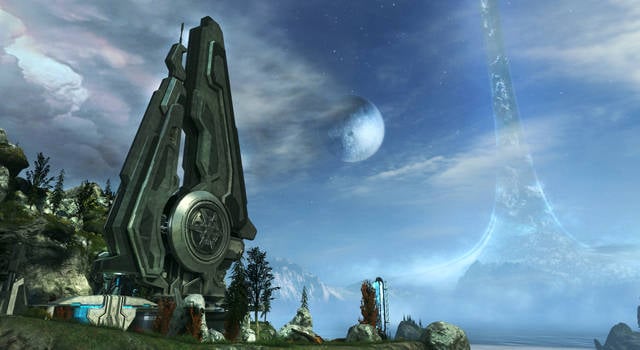 Half-Life 2 revealed Valve to still be kings of innovation, but then the developer has hardly been prolific in following up its successes; Call of Duty has sold in huge quantities, but without ever pushing the boundaries in quite the same manner; while Battlefield has taken online encounters to new numerical heights, it but has only ever looked to extend the vehicular combat that Halo laid down all those years ago.
Flooding the market
But what was it that made Halo: Combat Evolved so special in the first place? Soliciting such praise as "[Halo plays] like a 3D version of classic shooters like Contra and Ikari Warriors than just another first-person shooter", from GameSpot UK, and simply "Halo is one of the best videogames" from IGN, Combat Evolved quickly got under gamers' skin.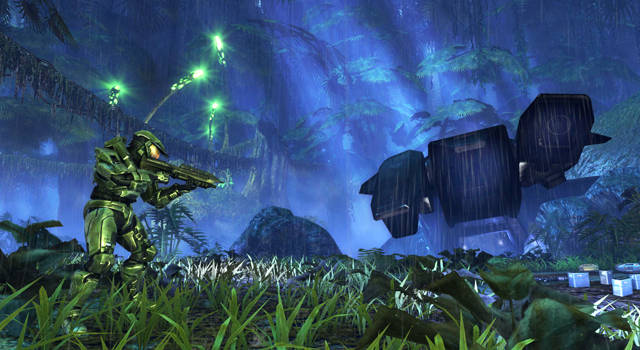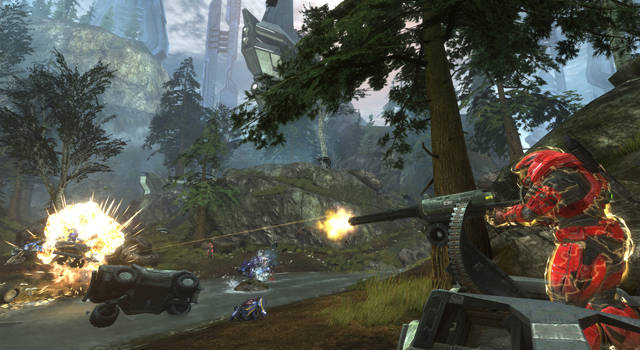 Surely the game's iconic hero, the Master Chief, was a big draw. Perhaps not in terms of his personality - which in truth has ever been largely one-dimensional - but more in the way he was realistically grounded in the Halo world.
Take, for example, the way his Terminator-like strength had him right overturned vehicles single-handedly, forearm smash enemies into oblivion and wield even the heaviest of rifles as if they were plastic toys. Then there was the brave decision to limit the number of guns he was able to carry to just two – and at a time when most contemporary shooters would regularly grant the player access to ten or more guns simultaneously. Tardis-like holsters, anyone?
The Chief's dual health system was a pioneering step too. The decision to have shields and health separately governed might be a largely standard occurrence now, but it was anything but back when Halo: Combat Evolved was making its debut.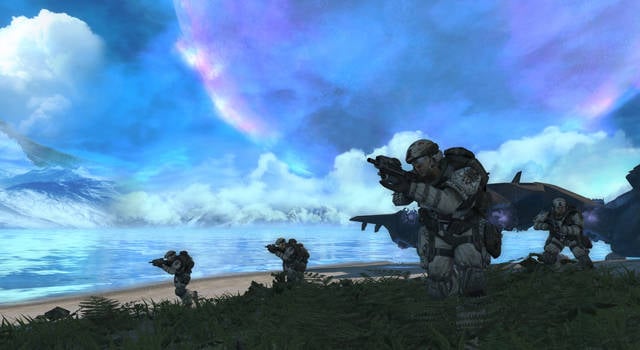 The hokum sci-fi setting, which borrowed heavily from Larry Niven's Ringworld novels, not to mention from both Aliens - see those gung-ho marines which accompany Master Chief on his journey - and Predator in terms of the cloaked Covenant Elite, was a major selling point as well.
Meanwhile, engine derived cutscenes added gravitas to the "universe in peril" narrative, and that same engine introduced dramatic environments to transport the player from corridor shoot-outs to exterior sandbox confrontations, complete with vehicles and any number of tactics for causing mayhem, in the blink of an eye.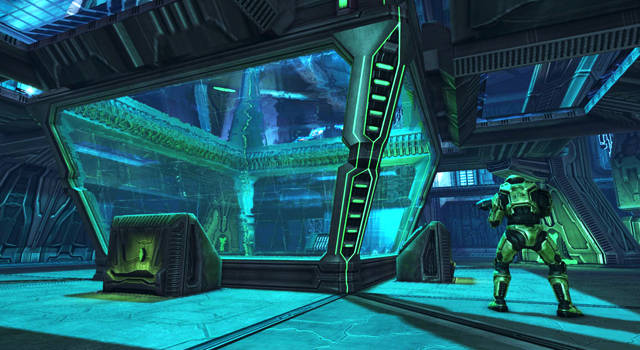 Then there was that control scheme, which has since become de rigueur for shooters as they're controlled on console joy pads. By effortlessly translating the accuracy - well, most of it - of the keyboard and mouse to the few buttons and dual analogue sticks of the 360's pad, Halo opened up the FPS genre to console owners, evolving the Goldeneye single analogue stick method.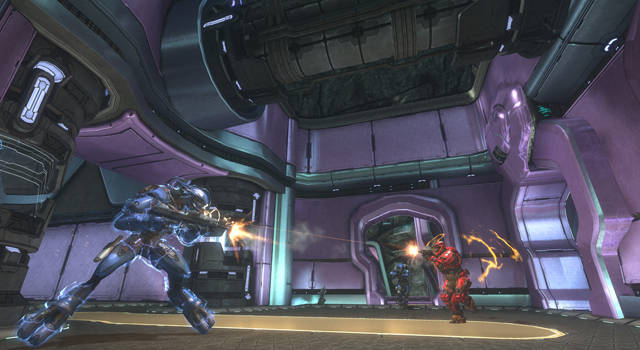 Unusually for a series with a character as iconic as the Master Chief at its heart, it isn't actually everyone's favourite Robocop wannabe who is the be-all and end-all. Indeed the Chief, though about to make his imminent return in Halo 4, hasn't been seen since 2007's Halo 3, other heroes filling the void: Reach's Noble 6, and ODST's 'Rookie' most notably.
Ring of gold
Not that the series' momentum has slowed any, with Halo: Reach taking $200 million in global sales on its launch day alone, and not a Master Chief or Cortana – his buxom, curvy AI companion – in sight. All told, some 46 million copies of Halo-related games have shipped, with takings of $2 billion over its lifetime - and that's before Halo 4's launch. Even the spin-off titles of Halo: ODST and Ensemble Studios' real-time strategy, Halo Wars, have easily topped the million mark.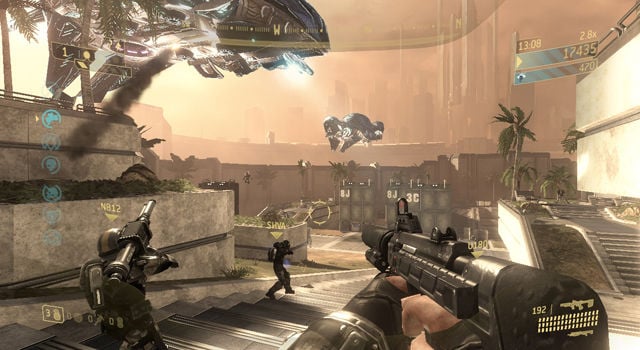 So successful has the series been that games created to rival it – generally borrowing and stealing any number of its aforementioned qualities – have even been dubbed "Halo Killers". Not that the likes of Killzone, Haze and NOVA have ever realistically come close to really rivalling Bungie's creation - but then nor have they ever really looked to copy what is arguably Halo's most interesting facet: those huge open environments chock full of malevolently intelligent Covenant opponents.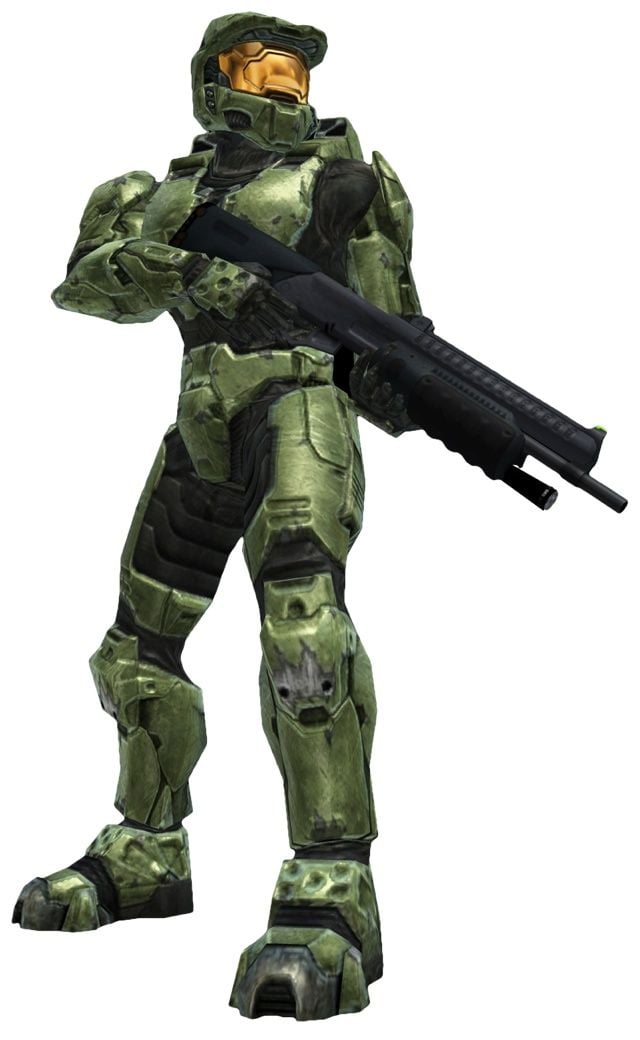 The legacy of Halo is such that it has penetrated into a multitude of other entertainment industries. Comics and books have followed, so too animated shorts - most created by fans using the game's own engine - and whole series of action figures by McFarlane Toys. The recently released Halo 4 soundtrack composed by Neil Davidge even sold 9000 copies in its first week of sales, taking 50th place in America's Billboard charts.
A franchise with such a following has inevitably led to flirtations with Hollywood. Screenwriter Alex Garland - The Beach, 28 Days Later, Dredd - having reportedly penned a script that such luminaries as Peter Jackson and Neill Blomkamp were said to have been hired to produce and direct, in a project joint-funded by Fox and Universal. That project fell flat, but Halo 4's launch has since brought about rumours of a revival with even Steven Spielberg's name being thrown into the orbital ring.
As I near the end of this look at Halo's impact I realise I've yet to even mention its multiplayer, which helped shape our expectations as far as the online components of shooters go. And I've not covered those happy days of Halo:CE LAN parties where Xbox consoles could be hooked-up locally to create 16 player games, nor indeed have I delved into the monumental AI which made the Covenant all the more pleasurable to annihilate – especially with a well-aimed plasma grenade.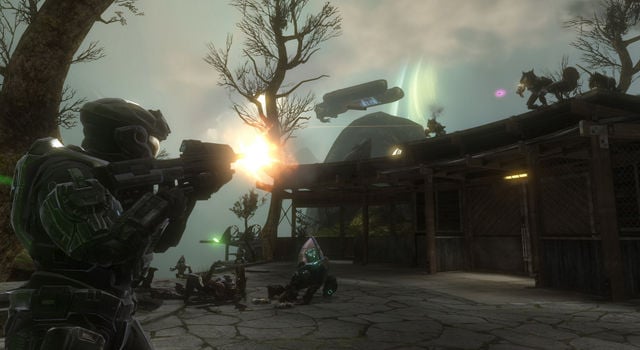 I suppose the series' main criticism is that in getting the formula so right in its first outing its successors have grown sequentially more stagnant. Yes Halo 4 plays very well, but one of its major critiques is how it apes Halo: Combat Evolved, with 343 overly conservative in ensuring they got the patented Halo "feel" just right after inheriting the reins from Bungie.
How the series progresses from here, with Halo 5 and Halo 6 certainties for the Xbox 360's successor, remains to be seen, but here's hoping that Frank O'Connor and his team at 343 Industries are brave enough to evolve its combat once again. ®